High protein banana pancake smoothie has become one our our favorite smoothies and is now in regular rotation in the school breakfast smoothie menu during the week. Smoothies make the morning rush out the door to get to school on time a lot, well,  smoother. See what I did there?
I know I talk about how smoothies really don't need a recipe and I try not to make too many blog posts about them. Just throw whatever you feel like having into a blender and blend. But sometimes we get in a smoothie rut so a new recipe is always fun.
When I found out that my kids's school was to start 20 minutes earlier than last year I panicked slightly at the loss of time for our morning routine and had to rethink how we did everything. Considering most of the time is spent asking my kids to find shoes and to brush hair, time for something else had to get cut out. That was a sit down breakfast.
We now save hot breakfasts like eggs, bacon, pancakes and waffles for the weekend and weekdays are smoothies. Quick to make and portable for the car ride to school and my kids love them. Chocolate peanut butter is their favorite, but mine is this banana pancake smoothie. I make banana pancakes for my girls on the weekend since they are a favorite of theirs ( besides chocolate chip pancakes of course) and I wanted to try to recreate that pancake flavor into a smoothie and still keep it highly nutritious and filling.
One of the ingredients in my banana pancakes is cottage cheese. I love the extra boost of protein it lends to the pancakes and it's perfect in smoothies. It adds a nice creamy texture to help make the smoothie seem more ice cream like. Frozen bananas are a must, same with a high quality protein powder. I love True Nutrition. They have an organic grass fed whey that comes in vanilla, chocolate and a few other flavors or it comes unflavored and unsweetened. The flavors are lightly sweetened with stevia and the vanilla is really good.
The morning rush out the door to school can be crazy for many people. A mom group I am in online that talks about recipes and meals had a post one day about school breakfasts. Some moms were waking up at 5 am to make pancakes every day! And saying that their kids would sit there not eating for several mornings a week. I told them to try out making smoothies and to get in good ingredients and it will not only save time but kids, at least most kids I know love them. They all flipped when I told them about this banana pancake smoothie and a few moms have reported back about how much their kids love them!
High Protein Banana Pancake Smoothie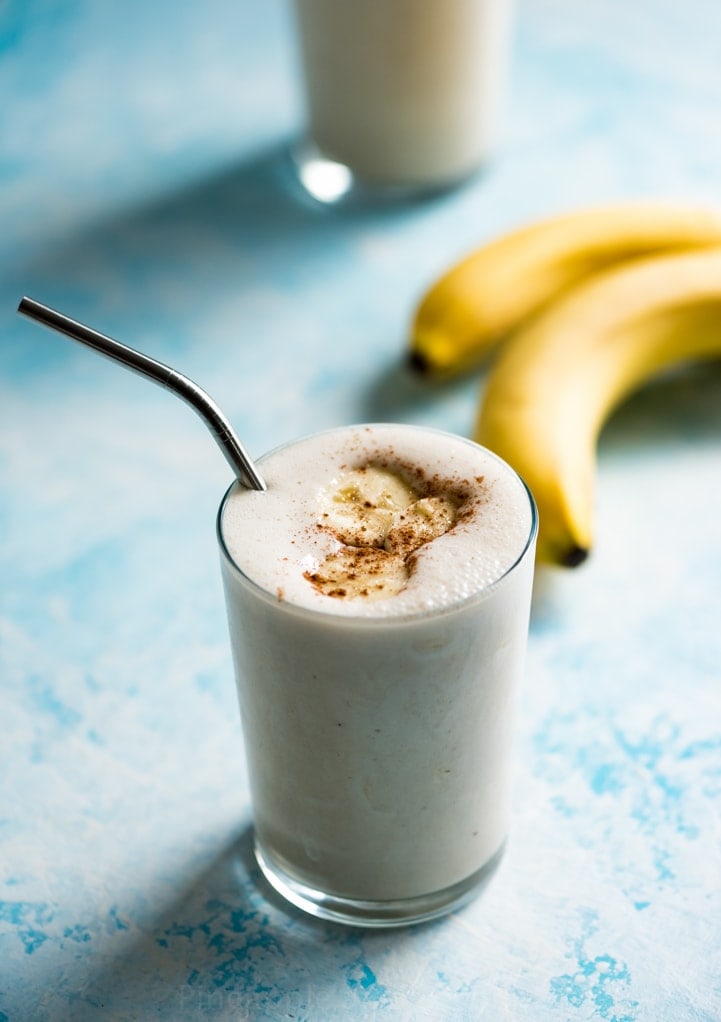 High Protein Banana Pancake Smoothie 2 large smoothies
Ingredients
1

C Cottage Cheese

1 1/2

Scoops Vanilla Protein Powder (I use True Nutrition Grass Fed Whey)

1

Frozen banana

1

C sugar free Almond milk ( or 1/2 C and 1/2 C water)

2

Tbsp Maple Syrup

1/2

tsp Cinnamon

1

Tbsp coconut oil, melted

1-2

C ice

Garnish

Banana slices

Ground Cinnamon
Instructions
Combine all the ingredients except garnishes in a high powdered blender with 1 cup ice. While blender is running on high, add the coconut oil and blend until fully mixed in. If a thicker smoothie is desired add more ice.
Garnish with thinly sliced banana pieces and a sprinkle of cinnamon
Serve immediately.
Frozen bananas help make the smoothie thicker like ice cream and the blender needs to be running on high to add the coconut oil so it emulsifies. This provides a healthy fat and sustainable energy for my kids to last them until lunch time at school. Especially since most days my kids find it to be more fun to chat with friends during lunch than eat their lunches. Then they eat them on the car ride home. This way I know they had a filling breakfast to last them all day, even on the days they don't eat their lunches.
When I was photographing these banana pancake smoothies the banana slices kept sinking into the smoothie so I would freeze the smoothie then add more banana slices and take a few pics before those would start to sink in. I did this a few times before I got all the shots I wanted. This is why the banana slices look different in the pics. And at the end the smoothies were so full of banana slices I had to reblend to drink it!!