I cannot believe it has already been a year since I started working with Cost Plus World Market. My first post/campaign with them was for Mother's Day last year and HOW appropriate is my one year anniversary with them a post that is all about HAWAII?? Best company ever.
Mother's Day means brunch. And to me bruch means bacon, pancakes, fresh fruit and mimosas.  When I was told this was a Hawaiian inspired recipe for World Market Mother's day brunch I was all over it. You know me, pineapple and coconut all the things. I knew exactly what I wanted to make, my favorite tropical pancakes and tropical mimosas..
I can't even begin to tell you how many times I have been to Hawaii, or how many times I have eaten coconut banana macadamia nut pancakes. But I can tell you how GOOD these are. When I was a kid I would always order them at places like Moose McgillyCuddy's (or Mooses's for short) or The Shorebird, Kihei Cafe, the Gazebo,  or anywhere I could get my hands on them. And of course I always had to have guava juice or POG to wash them down. The best part of the pancakes was the coconut syrup. Liquid gold. I decided for this post to try my hand at making the coconut syrup. Why I haven't made it before I don't know, probably because I would eat way too much of it. And the best part of this meal as an adult is adding champagne or prosecco to the guava juice. Guavamosa. Guamosa? I added in mango juice too so it would be a Guamanosa? Whatever. Damn good.
World Market carries my favorite juices for these mimosas. Ceres brand that is no added sugar and one sip of the guava takes me back to Waikiki as a kid eating my coconut syrup laden pancakes and sipping that juice I loved so much. The combo of the mango and the guava with the prosecco is so so so good. Really you can't go wrong with either and since I am not the biggest fan of orange juice and when I realized a mimosa doesn't HAVE to be made with OJ, I was forever changed the day I made it with tropical juice. So all my mother's day breakfasts or brunches include these tasty tropical cocktails.  To make these just fill the glasses half to two-thirds full with juice and top with prosecco or champagne. I prefer prosecco and for these I used Cupcake Prosecco from World Market. I love that I can buy all my tropical mimosa supplies there.
Another one of the many many things I love about Hawaii is the fresh tropical fruit. I could easily eat my bodyweight in mangoes, pineapple, star fruit, guavas….  So I was stoked when I saw some fun tropical fruits sent to me by Frieda's Produce the other day. Fresh fruit salads are a must for breakfast when I am in Hawaii, and this one here consists of strawberries, starfruit, dragonfruit and pineapple. YUM. Plus the fresh fruit balances out the pancakes and mimosas. Moderation, right? My mom loves fresh fruit salads and I would always help my dad make her one for mother's day brunch when I was a kid.
We would dine on the balcony at the restaurants in Hawaii for breakfast, or right on the beach, and there were always little birds hopping about hoping for a hand out. I have pictures of when I was a kid ( and a teenager too) feeding little bites of pancakes to the birds. They were courageous little guys, but can you blame them? They wanted in on the coconut pancake goodness too.
Normally I made pancakes, waffles etc from scratch. Easy and quick to do but for this post I wanted to make them with World Market's My Favorite Toasted Coconut Pancake Mix. I decided to kick them up a few notches by swapping out the milk for coconut milk, the butter for coconut oil and I added in mac nuts and banana. Just like the ones I used to eat as a kid. These were so quick to make and they cooked up perfectly. You can always make these with any pancake recipe you normally use, but I suggest not skimping on the coconut milk and add in toasted coconut like this mix already has in it, as well as my additions. Paradise on a plate. Perfect for Mother's Day brunch or any other day of the year.
Mother's Day Brunch Hawaiian Style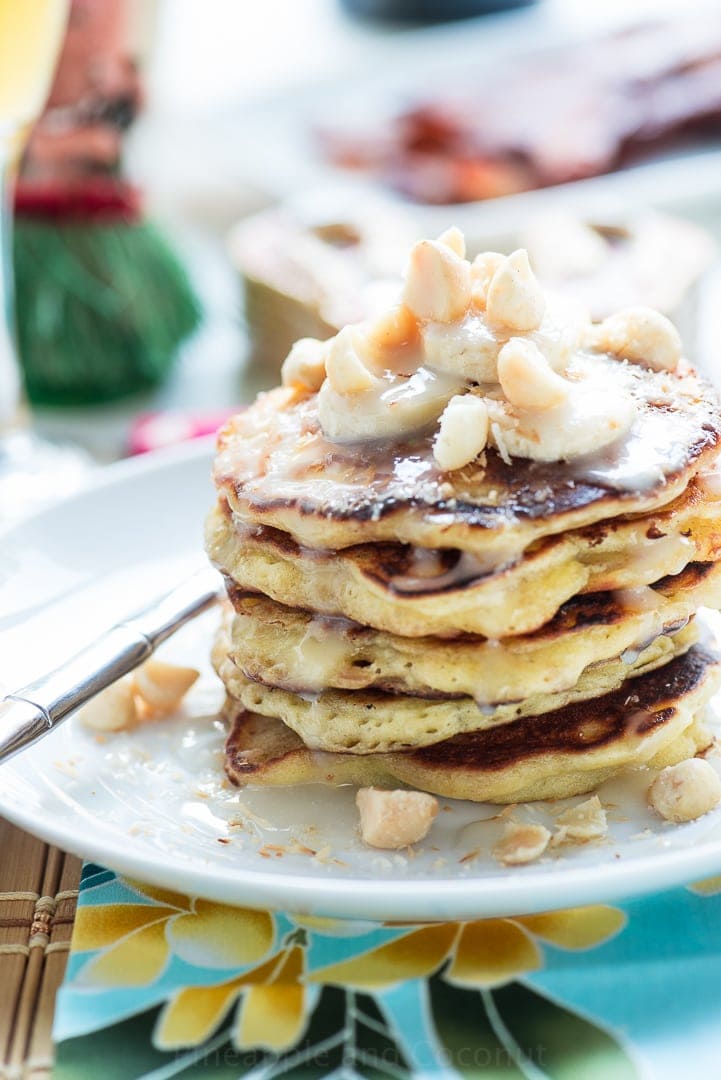 Coconut Banana Macadamia Nut Pancakes with Coconut Syrup Makes 16-20 pancakes
Ingredients
For the pancakes
Topping
Chopped macadamia nuts

Banana slices

Toasted shredded coconut
Instructions
Make the Syrup:
Combine all but the arrowroot ( or cornstarch) in a pan and bring to a simmer and stir until the sugar is dissolved. In a small bowl combine the starch and enough water to make it liquid ( 2-3 tsp) and stir until dissolved then add it into the coconut milk mixture and bring to a boil, stirring until the mixture thickens. Keep warm until ready to serve. Store in an airtight container in the refrigerator and reheat before serving.
Make the Pancakes:
Preheat a griddle or cast iron pan and season with butter or coconut oil.
Combine all the pancake ingredients in a large bowl and stir until just combined. Pour ¼ c batter onto preheated griddle or pan a few inches apart. Once edges start to bubble, carefully flip and finish cooking. Repeat with remaining batter, greasing pans or griddle lightly with more butter or oil when needed. Keep pancakes warm until ready to serve. Top the pancakes with macadamia nuts, sliced banana, toasted coconut and the coconut syrup.
Recipe Notes
For the Mimosas fill champagne flutes ½-2/3 full with chilled juice and top with chilled champagne or prosecco. I used
Ceres
brand Guava and Mango Juices and
Cupcake Prosecco
, All can be found at World Market.
Yummy tropical Mother's Day brunch.
This post is sponsored by World Market.  I am a World market Brand Ambassador and by now you all know how much I love working for them.
Items seen in this post that you can find at World Market ( Food items are linked in the recipe)