Oh my darlin' Clementine Cupcakes
Please tell me we aren't the only ones that go through ohhhhh 20 or 30 lbs of clementines a week? We are slightly clementine obsessed over here.
Clementines, Satsumas, Mandarins, Cara-Caras, Tangerines, and our favorite, Cuties. We go through 5lb bags in one day easily. Its mostly my 2 ½ year old. That kid can put them away like nobodys business. No scurvy for her. Plus the Cuties seem to be the easiest for her to peel so she snatches them off the counter, walks over to the cabinet and where the trash can is, takes it out and peels her Cutie and throws the peel away. Then puts the trash can back. Its impressive considering her older sister just peels hers and leaves the peel all over the place. For me to pick up. Ahhhhh kids. My friend Gerry of Foodness Gracious ( ahhhhhhmazing blog by the way he is one talented dude) and I were comparing notes on day on our kid's clementine consumption. He has a little boy about the same age as my little girl and they were pretty even one day for how many they were shoving in as fast as they could. So no scurvy for his little dude either.
I found myself somewhat absentmindedly eating some one day when I realized that they would make for some yummy cupcakes. I figured I could take some of the clementines from the stash we had and the kids wouldn't notice them missing. Plus taking 1o clementines to make clementine cupcakes with is a fair trade I think. Especially if I offered up a couple cupcakes for trade for not even making a dent in the stash.
I had some leftover ricotta from a recipe I made recently and I remembered I had made some lemon ricotta cupcakes a few years ago and thought that it would be a great recipe to make into clementine cupcakes. I was right. Of course I was. I am a woman after all, we always right ha ha
When I was going to make these I realized the only cupcake papers I had were either dark brown or Christmas themed. I hadn't made cupcakes in a long time that needed a lighter paper. So off to Michaels I went and was looking around for something besides white and I spied these adorable orange and white polka dot ones in the dollar aisle. Score.
When I made these as lemon cupcakes I only made the cupcake and the frosting, this time I wanted to add another element of the clementine goodness and make a curd filling. WOW! Is clementine curd crazy good.
I use my apple corer to make a hole for the filling. I used to use a Wilton bismark tip, but since I clearly underestimate my own strength, I would fill too much and blow out the bottom of the cupcakes. Every. Single. Time.
I used a baby food spoon to fill the cupcakes up with the curd. I filled with about a heaping tablespoon amount. The recipe for the curd made way more than what was needed for the cupcakes so I saved it and had it on buttermilk pancakes, oh oh oh soo good.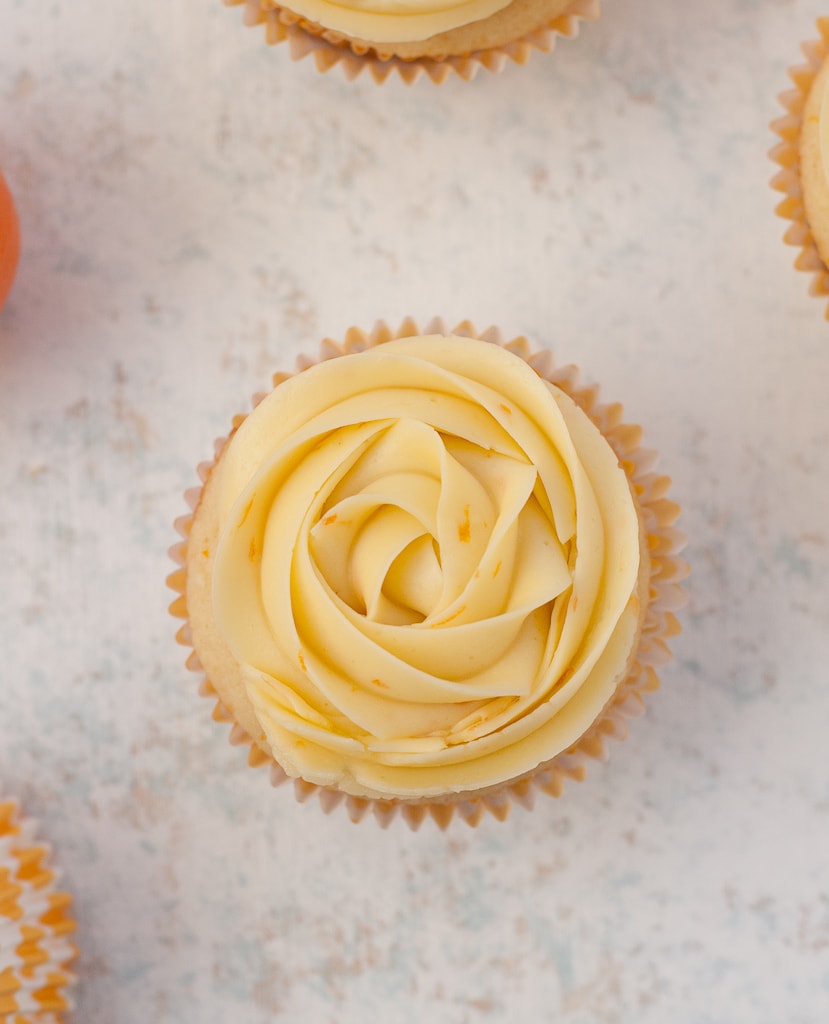 I did a slight variation of the swirl I normally pipe on cupcakes. I did the rose or reverse swirl. My friend Steph from Sweet Creations by Stephanie ( who is an amazing baker and cookie artist by the way) had told me about this and looked up some videos on youtube. It wasn't as easy as it seemed and the buttercream needs to be really smooth. I did a couple practice ones on a spatula and then went for it. My icing had some air bubbles and the clementine zest got caught in my piping tip a couple times so not all of my cupcakes looked very pretty. So those ones aren't in any pics. But I am pleased with how the good ones came out.
I love how the look on my favorite cake plate too. I really want to go back to Homegoods and get more dishes from this set. This is the sea glass color that I LOVE for my new kitchen and want to get a few more pieces to have as decoration.
Yield: 16
Oh my darlin' Clementine...Cupcakes
Clementine Cupcakes with Clementine Curd Filling and Clementine Italian Meringue Buttercream. Cupcakes - Yield 16 Curd - Yield 2 cups Buttercream Yield: 4-5 cups
Ingredients
For the Cupcakes:
2 c all-purpose flour
¼ teaspoon salt
1 ½ teaspoon baking powder
1 ¼ c sugar
¾ c fresh ricotta cheese, room temperature
1 stick plus 1 tablespoon butter, melted and cooled
1 large egg, room temp
½ c buttermilk, room temp
1 teaspoon vanilla extract
1 teaspoon orange extract
Zest from 3 clementines
¼ c clementine juice
For the Curd:
⅓ c sugar
Zest from 4 clementines
½ c clementine juice (Approx. 5 clementines)
Juice from one lemon
3 egg yolks
1 whole egg
8 tablespoon butter, unsalted cold, cut into tablespoon sized pieces
Pinch salt
For the Clementine Italian Meringue Buttercream:
egg whites (large), 6
1 ½ c granulated sugar
¼ teaspoon salt
cold water, ¼ cup
unsalted butter (at room temperature), 1 pound (4 sticks) ( make sure not too soft but out of fridge for 35-45 min, you don't want cold and you don't want melted)
2 teaspoon vanilla extract
For the Clementine variation: add in 1 tablespoon zest, ½ teaspoon orange oil or orange extract and up to ½ clementine juice (about 4-5 Clementines)
Instructions
For the cupcakes:
Preheat the oven to 350 deg and set rack in the middle of the oven. Prepare cupcake pan with paper cupcake liners and set aside
Sift together the flour and baking powder. Set aside
Using a stand mixer cream egg and sugar until pale and slightly thickened, about 2 -3 minutes. Add in the melted butter, lemon juice, zest, ricotta, butermilk and extracts until well mixed on medium speed. Lower the speed and slowly add in the flour mixture until just incorporated. Stop the mixer and scrape down the sides with a spatula. Mix again on medium for 30 seconds.
Spoon the batter into the cups of the prepared pans about ¾ of the way full. Bake for 18-20 min until golden or the tops bounce back when slightly pressed or a skewer comes out clean. Cool in pans for 5 min then remove the cupcakes and cool completely on wire racks before frosting.
If filling cut out a hole in the middle of the cupcake about ¾" down ( an apple corer works great for this) and fill with a heaping tbsp. of curd. You can fill to the top or replace a tiny bit of the piece of cupcake that was removed.
For the Curd:
Combine sugar and zest in a small bowl and rub together with fingers until thoroughly mixed and fragrant.
Set up a double boiler or a pan of water and a stainless steel bowl that fits on the pan but not touching the water. Bring the water to a boil and then let simmer. In the bowl whisk together the egg yolks, whole egg, sugar and zest mixture and juices. Set the pan in the double boiler or over the pan of simmering water and whisk until thickened, about the consistency of a thick pudding or custard.
Remove from the heat and whisk in one table spoon of butter at a time and whisk until it is fully combined before adding in the next tablespoon. Once all the butter is combined pour the mixture into a clean bowl (glass or stainless doesn't matter) and press a layer of plastic wrap over the top of the curd so it doesn't form a skin. Cover the bowl and refrigerate at least 2 hours until chilled before using. This can be made up to two weeks ahead of time.
For the Italian Meringue Buttercream:
Separate the egg whites into the bowl of a standing mixer fitted with the wire whip/whisk attachment.
Measure 11/4 cup sugar, salt and the water into a 1-quart, heavy- bottomed saucepan. Gently stir to combine.
Measure the remaining ¼ cup sugar into a small bowl and set aside.
Cut the butter into tablespoon-sized pieces and set aside in a medium bowl.
To make the sugar syrup, place the candy thermometer in the saucepan and heat the mixture over medium-high heat. Partially cover with a lid to capture the evaporating water—this helps to moisten the sides of the saucepan to prevent sugar crystals from forming.
With the mixer on high speed, begin whipping the egg whites to stiff peaks. When the peaks are stiff, you have a meringue, lower the mixer to medium speed.
Keep the mixer running and pour the ¼ cup of sugar into the meringue, and keep whipping
Raise the heat under the sugar syrup to bring the syrup to 245°F, if it is not there already. When the syrup is at 245°F, immediately remove from heat, remove the thermometer and slowly pour the syrup into the meringue, while the whisk is still mixing.
After 1 to 2 minutes reduce the mixer speed to medium-high for 3 to 4 minutes, or until the meringue is cooled. The bowl should feel cool to touch. This takes about 7 minutes. Add the butter 1 tablespoon at a time. Increase the mixer speed to high for 1 to 2 minutes, or until the butter is fully incorporated. If it looks soupy, keep mixing on high until it comes together. You will hear and see the difference once it thickens up to proper consistency
Notes
The curd can be made up to two weeks ahead of time The buttercream can be made ahead of time as well. Just bring to room temperature and mix with an electrix mixer on low until it come together again. The curd and buttercream recipes make more than what the cupcake recipe calls for so you can double the cupcake recipe if wanted or save the curd and buttercream for something else you make!
And the obligatory bite pic to show the curd filling. So so good.
And yeah this isn't even a weeks worth of these little orange citrus gems that we go through. I also see that Cuties are both clementines and mandarins. But Oh my darlin' mandarin just didn't sound quite right....