'Otai - Tongan Watermelon Drink.
Today is National Drink Watermelon Day, or is it National watermelon drink day? Either way I am celebrating. I don't make these things up, I just participate in these crazy national food holidays when some sound like they would be fun to participate in. I was on instagram the other day and saw that the Watermelon Board had posted about this upcoming food holiday.
I happened to have two watermelons in my kitchen and I knew exactly what I wanted to make. 'Otai. It's a delicious and really EASY to make watermelon drink.

'Otai originates from Tonga. A small Polynesian island chain in the south pacific. The kingdom of Tonga has over 170 islands but most are too small to inhabit, approximately 36-52 are inhabited (depending on which source is reporting this status) and 70% of Tongans live on the main island of Tongatapu. It is two thirds of the way from Hawaii to New Zealand.
So really, smack dab in the middle of the south pacific, south of Samoa, another gorgeous island nation I would love to visit one day.

The cuisine in Tonga is lots of tropical fruits and vegetables like taro, bananas, yams, coconut and lots of fish and seafood. Western culture introduced citrus such as limes and lemons and watermelon soon became a favorite amongst Tongans. And I can see why.
A hot day on a tropical island, watermelon is most definitely a welcome refreshing treat especially when made into a watermelon drink.
I first tried 'Otai in Hawaii about 15 years ago. I used to race Hawaiian outrigger canoes in California and a friend on my team was from Oahu and she invited me to come over one summer and race with her team, Lanikai outrigger. I got to go over and practice and race a couple of the sprint races for a small part of their regatta season. Much shorter races than the 16-20 mile races I was used to when paddling in California, but so much fun.
I have always been a water sports girl from being a competitive swimmer most my life growing up to surfing, snorkeling and paddling. I especially love the ocean in Hawaii so when she invited me to come do a couple races I was all for it. Paddling in Hawaii was amazing and I was named an honorary member of the team. It was so gorgeous getting to practice out of Lanikai beach and do a few races around Oahu.
A few times after outrigger practice we would go back to my friend Olivia's house and her mom would make us this amazing watermelon drink. She would grate or mash the watermelon in a big pot and add in whatever fresh fruit she had in the house. Sometimes mango, sometimes papaya, my favorite was pineapple and guava, the guavas came from a tree at their house.
She would also crack open a fresh coconut to add the water to the drink. It seriously hit the spot after a few hours of paddle practice. I learned how to make this drink plus some other fun island inspired recipes from my friends mom. She taught me how to make perfect sushi rice for hand rolls and how to make ahi poke. Poke is my favorite and I will soon be eating a ton of it during our family vacation to Hawaii.
This is amazing as is or blended fully for a smoother textured drink. I made popsicles with the leftovers since the recipe makes a ton. 'Otai is so delicious and I am sure it is amazing in popsicle form. I will find out later today when I unmold them for an afternoon treat!
There are many versions of Tongan 'Otai. This is the version we made in Hawaii all those years ago. Traditional 'Otai is much thicker, the chunks of fruit eaten with a spoon. Some recipes are made with evaporated milk, some with coconut milk. There are many ways to make it, and many people have their own adaptation or version of it. This is mine. Enjoy.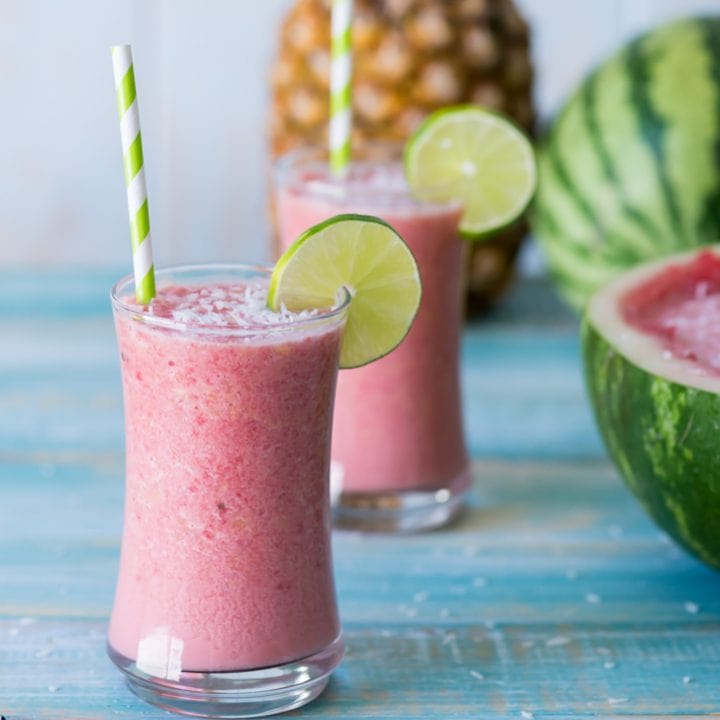 'Otai - Tongan Watermelon Drink
'Otai - Tongan Watermelon Drink. A refreshing watermelon coconut drink from Polynesia. Easy to make and delicious to drink. www.pineappleandcoconut.com Makes 2 liters 8-10 servings
Ingredients
5-6

cups

cold seedless watermelon

cubed

1

cup

cold crushed pineapple

1

can

13.5 ounces approx. cold full fat coconut milk

1

c

cold coconut water

2

tablespoon

lime juice

2-3

teaspoon

simple syrup - optional
Instructions
Traditional method:
Place watermelon in a large bowl and mash or grate until mostly liquid but still some small chunks remain. Add in the rest of the ingredients except simple syrup and mash a little more, stir well. Taste and add simple syrup if a more sweet drink is desired then chill 30 min then serve over ice

My way. The lazy way. Add all the ingredients except simple syrup to a blender ad pulse until blended but still chunky - you don't want a thin puree. This drink has texture to it. Taste and add in some simple syrup and pulse for a few more seconds taste again and add more sweetener if desired. Chill for about 30 min then serve over ice.
Notes
Chill everything well the night before you make the drink. I suggest chilling the whole watermelon then cutting and scooping out the flesh right before making the drink. You can use lighter coconut milk if desired instead of the full fat, it will have a lighter taste to it. Shake the can of coconut well before chilling so the cream layer doesn't stick to the top and shake again well before opening.
Simple syrup is a 1:1 sugar to water ratio. Place 1 cup sugar with 1 cup water in a saucepan and heat until sugar is dissolved. Chill completely in a glass container with a lid before using. I always keep a jar of this in my fridge to have on hand for recipes, cocktails etc.
Any fruits that mash/chop well do great with this drink. You can use mango, papaya, melons, berries. Really the possibilities are endless. Watermelon and coconut are traditional.