Quince Cranberry and Persimmon Crisp
I have three new recipes this week for you all for a week of Christmas recipes. First up is this simple Quince, Cranberry and Persimmon Crisp.
Out of all the seasons, Winter is my least fave. I don't like being cold. Living in Vegas has turned me into a desert tortoise. However, I LOVE Christmastime and winter fruits. Especially persimmons. And each winter I am always trying to find new ways to make recipes with them, whether it's a cocktail, a savory dish or a dessert. Persimmons are so versatile, Fuyu being my favorite, and I even turned my husband into a persimmon fan. I have to hide some for recipes since he now eats them like apples like I did as a kid. I knew I wanted to make a persimmon crisp, but I wanted to do more than just persimmons.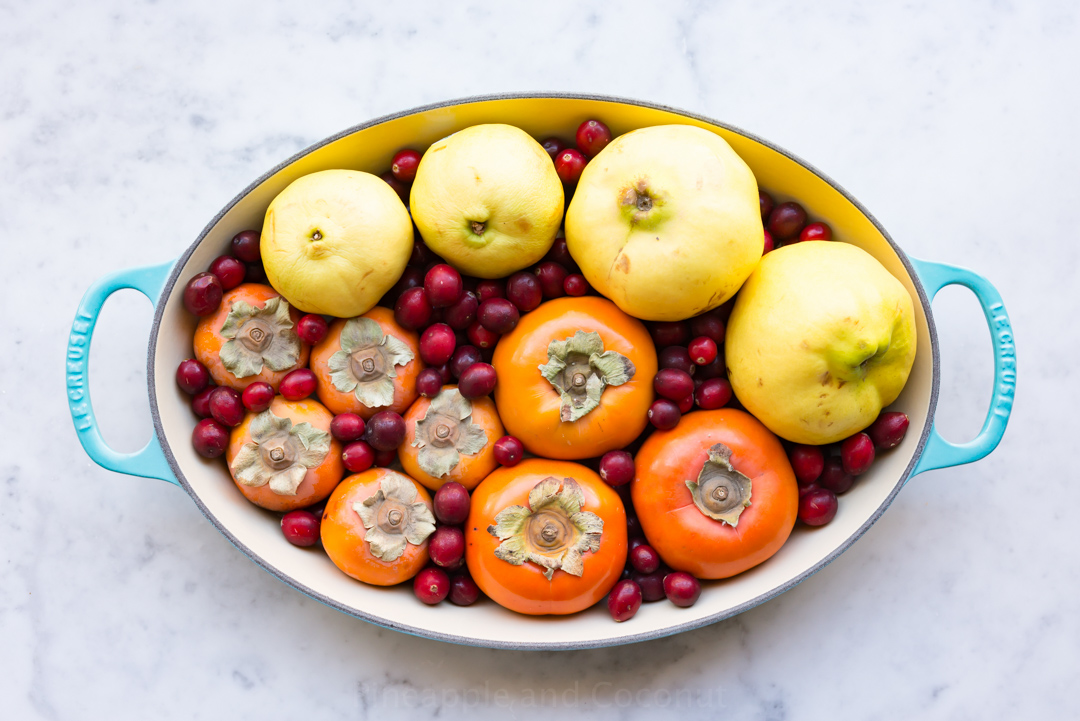 Quince is a fruit I am not as familiar with as I am with persimmon, having only eaten a few times. Its a bit like an apple and a pear but much firmer, and it is often made into jams or jellies. It's a late fall fruit that can be stored up to a few months at room temperature so they last through winter. They are best poached first then baked when used in a crisp since they take longer to soften up than persimmon or other fruits like apples or pears do. I knew they would be a great addition to the persimmon crisp. Making it a quince and persimmon crisp. But it still needed one more item. Cranberries.
I used frozen cranberries in this crisp. I always have a couple bags of cranberries in my freezer, usually saved for when clients ask me to make Christmas recipes in July and fresh cranberries are still over 4 months away in stores. They are a great tart addition to this crisp, making it a quince, cranberry and persimmon crisp.
I also went with spices in the fruit mixture as well as the topping. I wanted there to be a nice hint of spice that complemented the fruit well. Cardamom goes really well with quince and persimmon, crisps can't be without cinnamon and freshly grated nutmeg add that nice wintery spice to the crisp. This smells amazing when baking. I also added in a little maple syrup to the filling and topping to help take the edge off the tartness of the cranberries. The flavors in this crisp are really well balanced.
I bake the crisp with foil on for most of the baking. I don't like the topping too crispy, but if you like a crunchier topping, bake with the foil off the whole time.
I got this GORGEOUS pan from Le Creuset a few weeks back and I knew when I wanted to make this crisp I had to use my new pan. Its Carribbean color – my favorite and I was so enamored with the color, I forgot to add in Christmassy props or other items to this post. I was going with super minimal to show off my new pan. Its a fantastic cast iron baker, perfect for crisps.
A friend of mine had posted on Facebook the other day that ice cream ruins apple crisps. There were many arguing for and against. The ice cream might make the crispy topping a little soggy, but that sweet creamy ice cream mixed with the crunchy topping and tart fruits makes for many delicious mouthfuls of this dessert. I am definitely on team ice cream with crisps.
I did a week of christmas recipes back in 2013 – I made Chocolate Raspberry Linzer Cookies, Holiday Spiced Cranberry Margaritas and Gingerbread Whoopie Pies with Poached Pears. I think I was so ambitious that year that I skipped last year. So I am back at it this year with this Quince Cranberry and Persimmon crisp, and two more fun recipes this week. One which is great for Christmas breakfast and the other a fun holiday cocktail. But first this crisp!
Yield: 8-10
Quince Cranberry and Persimmon Crisp
Quince, Cranberry and Persimmon Crisp www.pineappleandcoconut.com #ChristmasWeek Prep 30 min Baking 40 min
Ingredients
2 lbs quince, peeled, cored, chopped
2 lbs Fuyu Persimmon, peeled, chopped
1 lb cranberries, fresh or frozen ( If frozen, do not thaw)
Poaching Liquid:
3 cups water
1/2 c sugar
1/2 c maple syrup
For the filling:
2 Tbsp lemon juice
4 Tbsp Maple Syrup
1 tsp cinnamon
1/2 tsp cardamom
1/2 tsp ground nutmeg
Topping:
1 c quick cooking rolled oats
1 c all purpose flour
1/2 c brown sugar
1/2 tsp salt
1/2 tsp cinnamon
1/4 tsp cardamom
1/4 tsp nutmeg
1/2 c butter, cold cut into cubes
2 tbsp maple syrup
Instructions
Lightly grease a 2 quart baking pan, or 9x13 pan. Preheat oven to 350 Deg F.
In a medium saucepan combine the quince and poaching liquid ingredients. Bring to a boil then simmer until the quince are pierced with a fork, but still firm, about 8-10 min Drain and place the quince to a large mixing bowl. Add in the persimmon and cranberries. Pour the lemon juice and maple syrup over the fruit and stir, then the spices for the filling and stir well. Pour into prepared pan making sure its in an even layer. In a separate bowl combine the oats, flour, sugar, salt and spices for the topping. Mix well. Add in the butter and maple syrup and mix with hands, fork or pastry blender until the entire mixture is moist and holds shape if you squeeze it together. Evenly distribute the topping over the fruit. Cover the pan with foil and bake for 30 min. Remove the foil and bake another 10 min or until bubbly and the topping is starting to turn golden. remove from oven and let sit 10 min. Serve hot with vanilla ice cream.