Cheers! Happy Aloha Friday! My third and final recipe for Christmas Week are these ridiculously good Spiced Hibiscus Cranberry Mojitos. A boozy welcome to Day 5 of Christmas Week. This annual event was started in 2012, and is hosted by Kim of Cravings of a Lunatic. This year we have over 35 bloggers sharing festive sweet recipes for the event. Plus we all chipped in for a huge Amazon Gift Card Giveaway so be sure to enter!
I have been laughing about my photos for all my recipes this week. I am an all or nothing stylist it seems. I have tons of dishes, glasses, napkins, props etc. And I either use tons when styling a recipe or none at all. I happen to own a ton of Christmassy items since I happen to do a lot of freelance recipe developing and photography for Christmas recipes for various brands. And for some reason, I forgot to use them in my posts for Christmas week.
I started out Christmas week with my Quince, Cranberry and Persimmon Crisp with minimal styling, highlighting just the dessert.  I wish I still had some of that left to eat. It was so so good. But for some reason I wasn't thinking about busting out all my Christmas food blogging props so it got very minimal styling. And I realized I could have made it look way more Christmassy. We were just at my parents house for Thanksgiving and the sheer amount of Christmas decorations my mom has is impressive and that made my kids get even more excited about Christmas coming since they got to help gramma decorate and now they want to decorate our house with as much stuff as she has. Ummmm I will have to think about that one kids. I don't have enough storage space for all that..
Then I made the Petite Chocolate Almond Croissants and I busted out the snowflake plates and coffee cups, but it still isn't THAT Christmassy looking. Wintery, sure, but not "Christmassy". So I knew for my last recipe I had to go more Christmassy. I knew these spiced hibiscus cranberry mojitos would look perfectly festive with their red and green colors.  One of the bloggers in the Christmas Week group joked "I guess it's good we're only doing three posts. At this rate, recipe number four would be wrapped up in twinkle lights and tinsel" to which I replied, " I was going to just shove whatever I made for a 4th post into my Christmas tree. Ha ha ha!!"
A couple weeks ago I made a cocktail recipe with this AMAZING Hawaiian spiced rum from Koloa Rum Co. and I knew I wanted to make another holiday recipe with it. They also sent me a bottle of their white rum which I am using in another fun cocktail this month!  But for this mojito I wanted to make it with the spiced rum and I am so glad I did. It is so good with the hibiscus simple syrup and white cranberry juice. I made the hibiscus simple syrup with dried hibiscus flowers I ordered off Amazon only because Whole Foods was sold out of them when I went looking for them and I figured one day shipping would work for me with Amazon. Hibiscus tea bags would also work as long as its 100% hibiscus leaf. The simple syrup can be made ahead of time and kept in the refrigerator. I use simple syrup in mojitos because I find muddling the mint with sugar and lime doesn't always dissolve the sugar and the sugar stays at the bottom of the glass. So simple syrup it is.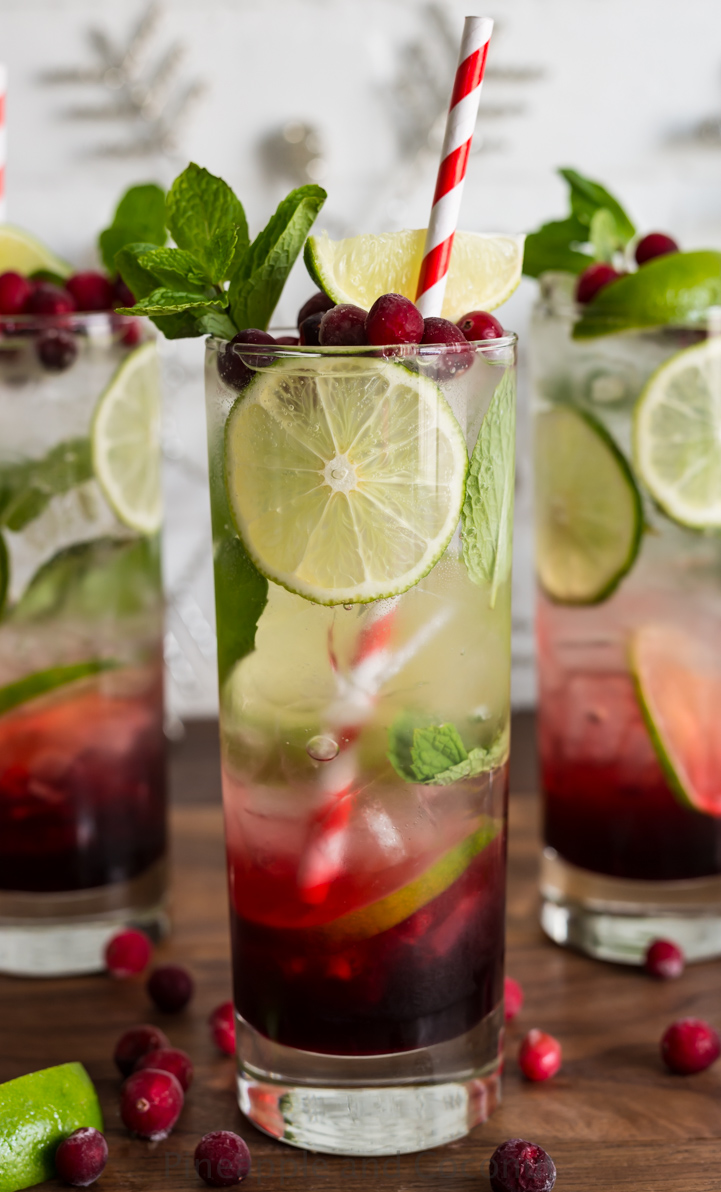 I also wanted to go for a layered effect so instead of mixing everything in a cocktail shaker I layered in some of the hibiscus simple syrup with a little mint and muddled that. Then added in ice and a lime slice to keep the syrup more towards the bottom of the glass. Keep layering with ice, mint and lime slices until the glass is full of ice. In a shaker cup I mixed the Koloa Kauai spice rum and white cranberry juice and added that to the glasses and then topped with soda water. So while the rum is a gorgeous amber color, the cranberry is a pale peachy yellow and the soda water is clear the top half of the drink looks more clear and gives that lovely layered look. Once you start sipping and stir around the syrup from the bottom of the glass the drink turns that pretty hibiscus red.
I am pretty sure we ate our body weight in popsicles this summer. We discovered a brand that had a hibiscus mint flavor that I fell in love with. So refreshing, sweet-tart and minty. I knew that would make for an amazing mojito flavor, and of course I had to add in cranberries to give it a holiday feel to it. Spiced hibiscus cranberry mojitos – a perfect Christmas mojito.
Spiced Hibiscus Cranberry Mojitos
Recipe type:
Cocktail, Christmas, Hawaii
Prep time:
Cook time:
Total time:
Spiced Hibiscus Cranberry Mojitos www.pineappleandcoconut.com #christmasweek Makes 4 large mojitos.
Ingredients
For the Hibiscus Simple Syrup:
1 cup water
1 cup sugar
½ c dried hibiscus flowers
For the Cocktails:
6 ounces simple syrup
8 oz Koloa Kauai Spice Rum
6 ozWhite Cranberry Juice
8-10 oz Soda Water
2 Tbsp lime juice
2 limes sliced into thin rounds
1 large bunch of mint leaves
Cranberries, frozen or fresh, for garnish
Instructions
Make the simple syrup:
In a small saucepan over medium heat combine the water, sugar and hibiscus leaves. Stirring until sugar dissolves, bring to a boil then remove from heat and cool. Strain into a jar to remove all the hibiscus leaves. Chill syrup completely until ready to use.
To make the cocktails
In large collins glasses pour one and a half ounces of hibiscus syrup and a couple mint leaves in each glass and muddle just to bruise the mint leaves. Add about 2 tablespoons of crushed ice then a lime wheel on top of the ice. Layer more ice, mint leaves and lime wheels until the glasses are full of ice. Combine the spiced rum, white cranberry juice and lime juice in a cocktail shaker with ice. Shake well then divide amongst the glasses and top with soda water. Garnish with a lime slice, a sprig of mint and whole cranberries. Serve immediately
Notes
if you can't find white cranberry juice you can use white grape juice or regular cranberry juice. If you use regular cranberry juice you will have an all red drink and not get the layered effect as seen in these cocktails. It will still taste just as good though.

To make the simple syrup with tea bags instead of loose leaf hibiscus flowers, heat the water to boiling and steep 4 hibiscus tea bags (make sure its 100% hibiscus leaf or as close to it as possible) for 6 minutes in the pan, until its very dark red. Remove the tea bags and add the sugar then bring to a simmer and stir until the sugar is dissolved. Transfer to a container with a lid, like a mason jar, and chill until ready to use.
And the giveaway again!! THREE winners. Three Amazon gift cards totally $800. Pretty dang awesome if I do say so myself
Good luck!!
Recipes from Day 5 of Christmas Week! Please visit all our talented participants:
Gingerbread Ornaments from Cravings of a Lunatic Holiday Chocolate Bark from Desserts Required Cranberry Cocktail from Poet in the Pantry Spiced Hibiscus Cranberry Mojitos from Pineapple and Coconut Homemade Toffee from All Roads Lead to the Kitchen S'mores Hot Chocolate from Hezzi-D's Books and Cooks Peppermint Truffles from The Bitter Side of Sweet Boozy Bourbon Balls from Amee's Savory Dish Cranberry Swirl Cheesecake from Comfortably Domestic Magic Cookie Truffles from Farm Fresh Feasts Chocolate Mocha Roulade from Mother Would Know No Bake Chocolate Peanut Butter Bars from My Catholic Kitchen Cardamon Coffee Bars with Mascarpone Frosting from Daily Appetite Peppermint Mocha Truffles from Try Anything Once Culinary Christmas Bundt Cake from Savory Experiments Mexican Chocolate Panna Cotta from Cooking In Stilettos Cherry Brandy Old Fashioned from Food Babbles Chewy Chocolate Gingerbread Cookies from Mind Over Batter Chocolate Covered Snowmen S'mores from Big Bear's Wife Habanero Orange Thumbprint Cookies from Everyday Southwest Peppermint Marshmallow Brownies from From Gate to Plate Spiced Rum Hot Chocolate from The Tomato Tart Chocolate Crinkle Cookies from CopyKat Recipes
This post contains Amazon affiliate links.