Air Fryer Coconut Shrimp with Habanero Passion Fruit Dipping Sauce. I always order coconut shrimp when I see it on a menu when dining out. It's my go-to appetizer next to ceviche.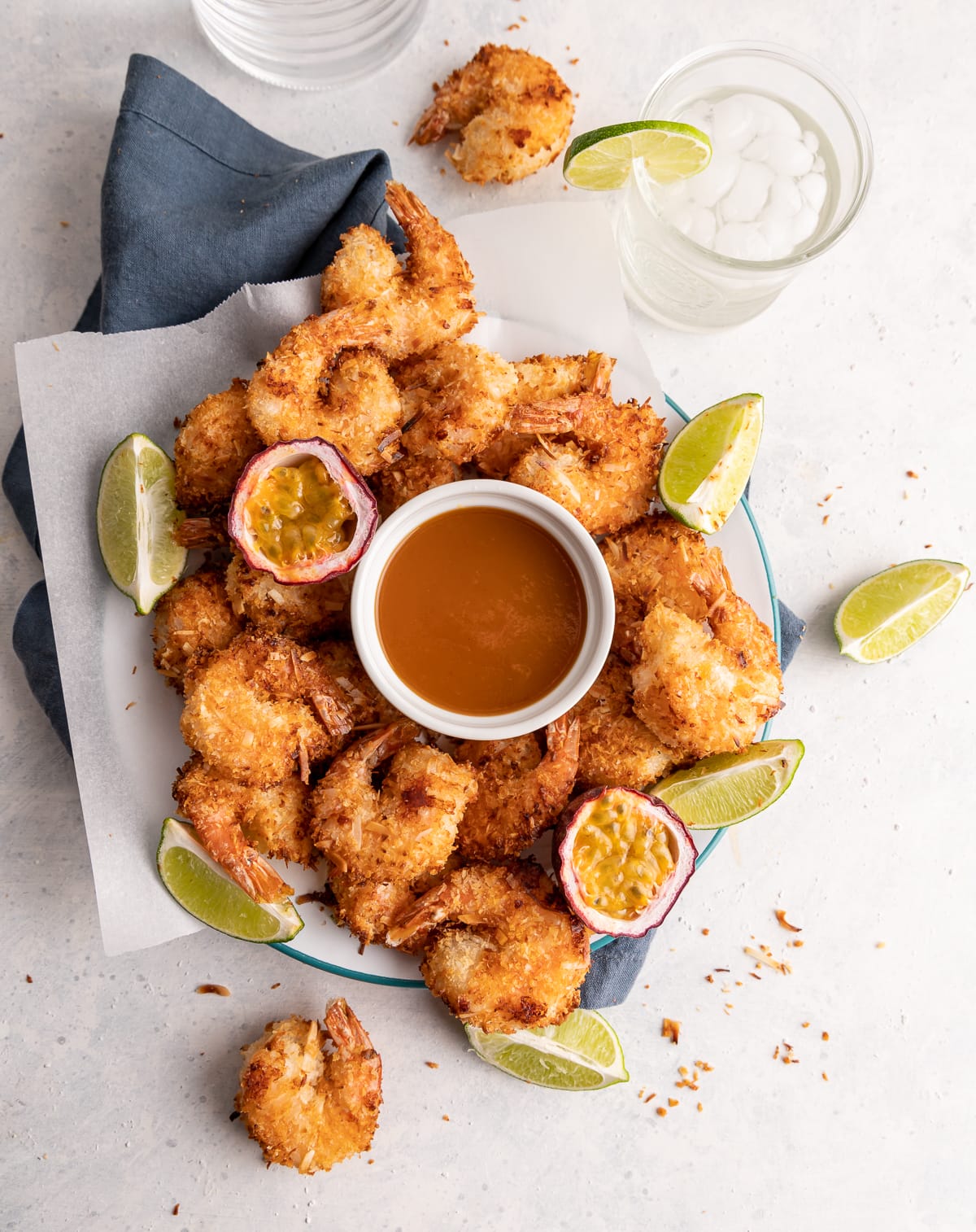 I love making so many different foods in my air fryer now. It heats up quickly and foods are super crisp on the outside while remaining juicy on the inside in just a few minutes. These air fryer coconut shrimp are my new favorite recipe I make in my air fryer.
I love being able to make restaurant faves at home and the air fryer make this possible without having to deep fry anything. We all know I am not a huge fan of deep frying.
And the habanero passion fruit dipping sauce? So perfect with the coconut shrimp.
I love making my own sauces for dipping, spreading, grilling etc. I have been making some sweet recipes using up my passion fruit stash and when I had these coconut shrimp in mind I wanted to make a sweet, spicy and tropical dipping sauce to go with them. I make my sauces a day or two ahead of using them.
The longer they chill the better the flavor. Details on the sauce in the recipe notes.
How to make air fryer coconut shrimp:
The coconut shrimp are really easy to make. I get big shrimp for these, 13-15 a pound. I peel and devein them but leave the tails on. Season with salt and pepper.
Next I set out shallow bowls with the following : tapioca starch in one (potato or cornstarch works too), full fat coconut milk in another ( mixed well), a mixture of panko breadcrumbs and two different textures of unsweetened shredded coconut.
I love the shredded coconut from Trader Joe's it is a larger shred so it offers a nice contrast in texture to the finer shredded coconut and the panko.
I work with one shrimp at a time dipping in first the tapioca starch then the coconut milk then the panko shredded coconut mixture. Pressing as much into the shrimp that I can. I set this all out on a tray and then once all are breaded and ready to go I chill for a little bit. Similar trick as making pork or chicken schnitzel.
The chilling helps the breadcrumb stick better and stay crunchier when fried.
While the shrimp are chilling preheat your air fryer. The amount of shrimp you fry at a time will depend on the size of your air fryer. I own a Cosori and I can fry 10-12 large shrimp before they start to overlap. I want each one to have its own space to get fried evenly.
My air fryer has a shrimp setting which is 370 for 6 minutes. This isn't enough heat or time for my recipe. I set the temp to 380 and cook for 14 minutes, flipping halfway through frying time.
Perfectly golden and crispy on the outside, succulent and juicy on the inside. Coconut shrimp perfection.
Coconut shrimp always needs a good dipping sauce. I love a sweet and spicy dipping sauce so I created one with passion fruit. I wanted it to be a little sweet and a little spicy.
I love habanero hot sauces and the sweet-tart passion fruit goes so well with it.
For this habanero passion fruit dipping sauce I wanted something similar to Thai sweet chili sauce with more spice. I didn't want to just add passion fruit and habanero to the chili sauce though. I decided to go completely from scratch.
This sauce has yellow bell pepper, shallot, garlic, habanero, passion fruit and more. To sweeten I used honey and sugar since both lend a different type of sweetness to the sauce as well as consistency.
A few notes about this air fryer coconut shrimp with habanero passion fruit dipping sauce first:
Make the sauce at least a day ahead of time. It will deepen in flavor the longer it gets to chill in the refrigerator once made. The sauce will last a few weeks kept in an air tight container or jar.
Get big shrimp for this recipe. Jumbo size at least 15 per pound. If you can find some already deveined, great! Just make sure the tails are still on. Much easier to handle for dipping in the starch, milk and coconut mixtures.
The frying time will vary depending on what size air fryer you have and how many shrimp fit in an even layer on the basket without overlapping.
I use tapioca starch instead of flour before dipping in milk. This makes for a crispier crust with the coconut and panko. You can use potato or cornstarch as well but tapioca works best.
Used canned, full fat coconut milk. I love Chaokoh and Mae Ploy brands.
I use two kinds of shredded coconut for this recipe. One is much finer and the other has larger flakes, I like using the combination of the two along with panko breadcrumbs for texture and crunch.
"Recipe"
Air Fryer Coconut Shrimp with Habanero Passion Fruit Dipping Sauce
Golden, crispy and juicy air fried coconut shrimp with a sweet and spicy habanero passion fruit dipping sauce.
Ingredients
1-2

lbs

tail on jumbo shrimp - 13-15 per pound

1

teaspoon

salt

1

teaspoon

ground black pepper

1

cup

Tapioca starch

2

cups

full fat coconut milk

2

cups

panko breadcrumbs

1

cup

finely shredded coconut - unsweetened

1

cup

larger shredded coconut - unsweetened
To serve:
Sweet and Spicy Habanero Passion Fruit Dipping Sauce

recipe and instructions in notes

Lime slices
Instructions
Peel and devein the shrimp but leave the tails on.  Rinse and pat dry, season with salt and pepper. 

Preheat air fryer to 400 Deg F.  Or per your air fryer instructions (See notes for conventional oven)

Set the tapioca starch in a shallow bowl, next to that the coconut milk in another shallow bowl and in the third bowl whisk together the panko and two kinds of shredded coconut. 

Working with one shrimp at a time, coat in the tapioca, tapping off excess, next dip in coconut milk and fully cover the shrimp, again tapping off excess then finally set into the panko coconut mixture and press the mixture into the shrimp making sure it is well coated. Set the shrimp on a parchment lined tray after they are coated in everything and ready to fry. Once all are coated set the shrimp on the tray in the refrigerator to chill for 20 minutes.

Preheat your air fryer according to manufacturers directions and spray the air fryer basket with oil.

Place the shrimp in the bottom of the basket in an even layer, do not overlap them as many that fit in your fryer. Spray with oil. Fry at 380 Deg F for 12-14 minutes, flipping carefully at 6-8 minutes, spraying the tops with oil after flipping, until golden brown. You will have to make these in batches, once fried, set them on a wire rack set on a baking sheet in a warm oven to keep hot ( set oven to 200 Deg F then turn off but keep baking tray in oven to keep warm). My air fryer basket fits 10-12 shrimp in an even layer. Frying time will vary depending on how many shrimp you can cook at once.

Once all the shrimp are fried, serve with sweet and spicy passion fruit dipping sauce. 
Notes
Sweet and Spicy Habanero Passion Fruit Dipping Sauce
Makes about a cup of sauce
1 yellow bell pepper, charred
¼ habanero pepper, charred
1 shallot, peeled and diced ( about ¼ cup)
1 large clove garlic, minced
2 tablespoon sugar
¼ cup rice wine vinegar
¼ cup fresh passion fruit juice, no seeds or pulp
⅓ cup honey
¼ teaspoon salt
Roast the bell pepper and habanero chili over open flame until fully charred. Transfer to a bowl and cover to steam.
Wearing gloves, remove the charred peel, stem and seeds from habanero chili. Cut a very small piece, about 1cm by 1 cm, roughly ¼ of the chili, and add it to a blender. Start with less these are very hot can always add more. 
Remove the charred peel, stems and seeds from the yellow bell pepper and roughly chop. Add to the blender along with the rest of the ingredients and blend until smooth
Transfer to a sauce pan and bring to a boil, lower to a simmer and stir until thickened. Taste and add more honey if a sweeter sauce is desired. 
Transfer to a bowl and chill to further thicken. Can be served cold or room temp. 
Notes:
Habanero chilis are HOT. They work really well with the bell pepper and passion fruit in this sauce. If you don't want a hot sauce at all, leave them out. If you want more heat, do so at your own risk by adding in more of the chili.  If you want an even sweeter sauce add more sugar or honey.