High Protein Banana Colada Smoothie is a great way to start off your school day with vitamins, minerals, protein, fiber and healthy fats. This post is sponsored by
Nutribullet
on behalf of their
Nutribullet University program
. They sent me a Nutribullet to try out the new Nutribullet University Pro.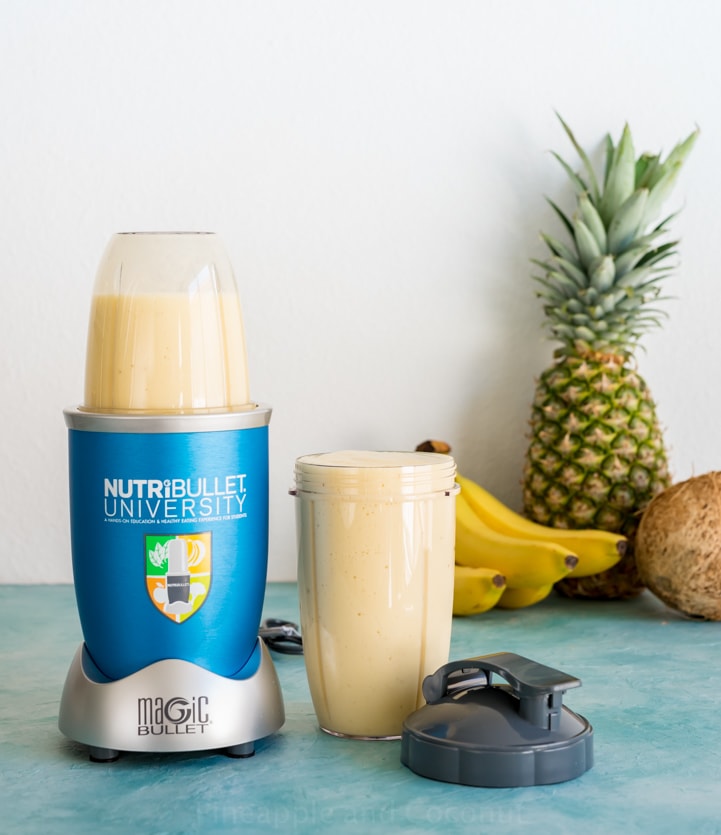 Nutribullet launched Nutribullet University back in 2013 over concerns of the growing rates of diseases such as obesity, diabetes and behavioral issues. Nutribullet University is a hands on healthy eating program to get school aged kids from pre-school to college involved with learning how to make better food choices so their minds and bodies can thrive while learning. Better nutrition helps students focus, helps them stay on task and sets them up for a lifetime of healthy eating habits. I know when I eat something that isn't the healthiest I could have chosen I don't feel and perform my best. The same with kids trying to sit and focus in school. A breakfast or lunch full of junk is doing them no favors. High quality nutrition is key.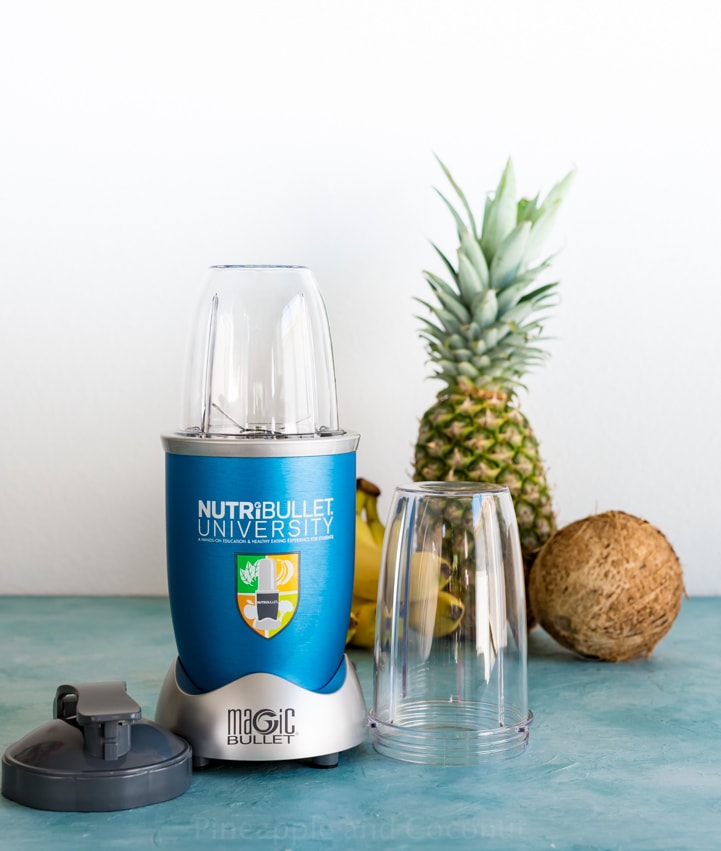 First off I have to say I am impressed with the Nutribullet University Pro. I have one of the original Magic Bullets ( hello late night tv infomercial purchase) and it's seriously on its last legs. I think it actually has been for a while now. We mainly use it now for grinding spices or a small amount of something, usually around a cup worth of food that needs blended.
This version of the Nutribullet has 900 watts of power, one extractor blade base and comes with two cups, one is 24 oz and the other is a smaller 18 oz and two flip top to-go lids. The size of this blender makes it so I can make two smoothies at once, perfect for my kiddos for their school breakfasts.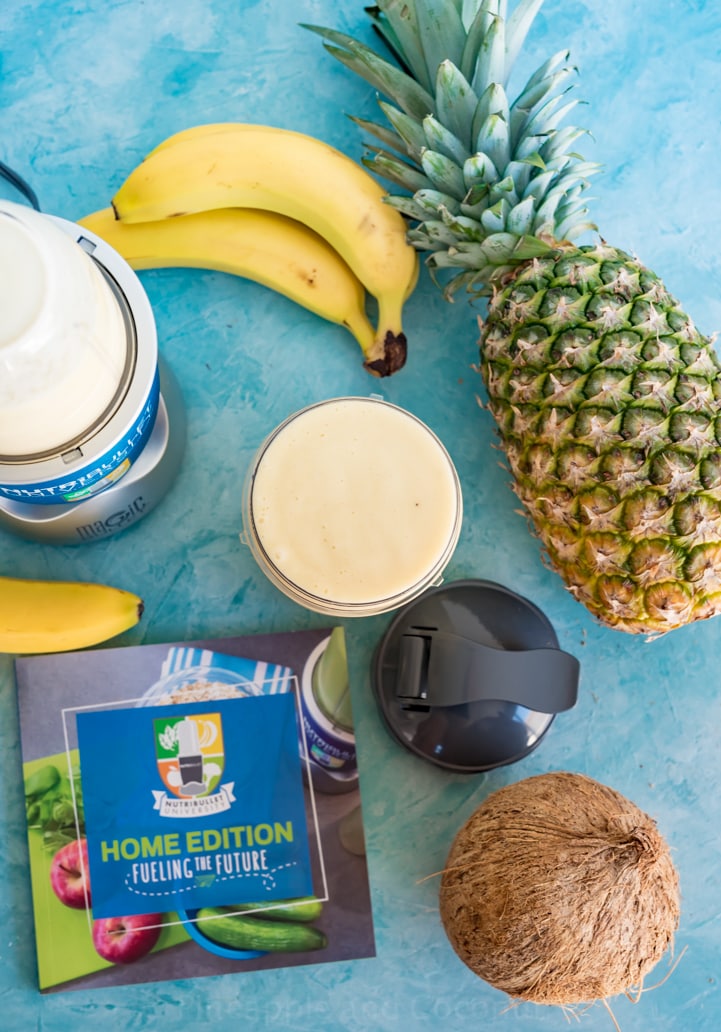 The Nutribullet University Pro comes with a booklet that has an introduction to the Nutribullet University program, recipes ideas for different age groups, as different ages require different amounts and types of nutrition, as well as some bonus recipes for soups, granolas and healthy desserts.
I went with one of the smoothies I make for my kids for school breakfast. Their school starts so early in the day and I want to make sure they start their day with high quality nutrition and this banana colada smoothie is one of their favorite smoothies.
Another thing I love about this blender is the size of the big cup as well as the to-go lid. After I drop off my kids at school I will head to the gym then go play tennis. I need something to last me through those couple of hours. The size of this blender cup is perfect to hold enough protein shake or smoothie to last me and I don't have to transfer the contents to another cup like I do with my other blender. Just blend, twist on the lid and go.
This banana colada smoothie is one of our regulars that we make. I have a list of smoothies and shakes that I rotate through so my kids and myself get a good variety of fruits, vegetables, fats and protein. I often start off the smoothie with frozen bananas as the base and go from there.
My daughters love chocolate peanut butter, and I love anything with tropical fruits. My daughters also love a combo of acai, blueberries, chia seeds and strawberries. I vary it greatly so they don't have the same smoothie twice each week.
Frozen fruits are a great way to keep smoothies cold without sacrificing flavor. I am not a fan of smoothies that are predominantly ice. I would rather add in a little bit of ice to keep it cold and frothy but not have the bulk of it ice. I want these to be nutritionally dense for my kids so it lasts them until lunchtime or longer if my kids decide that talking is more fun than eating at lunchtime.
I also add in coconut milk, frozen pineapple, chia seeds, coconut oil and whey protein powder. I keep it simple, mostly so it doesn't take me an hour to make with 700 different ingredients. Flavor as well as nutrition is important. I will add in spirulina sometimes too. My kids like when their smoothies are green.
"Recipe"
High Protein Banana Colada Smoothie
High Protein Banana Colada Smoothie. A nutritious, high protein smoothie great for breakfast, snacks and post-workout
Ingredients
1

C

Coconut milk

or a little more if a thinner smoothie is desired

1

C

frozen pineapple

2

frozen Bananas

1

tablespoon

Chia seeds

1

tablespoon

coconut oil

1

scoop vanilla protein powder

ice if necessary
Instructions
Combine ingredients to blender cup and blend until smooth. Taste and add more ice or coconut milk if desired. Serve immediately
Notes
If you don't care for coconut milk feel free to sub with milk of choice. I like macadamia and oat milks as other non-dairy replacement choices.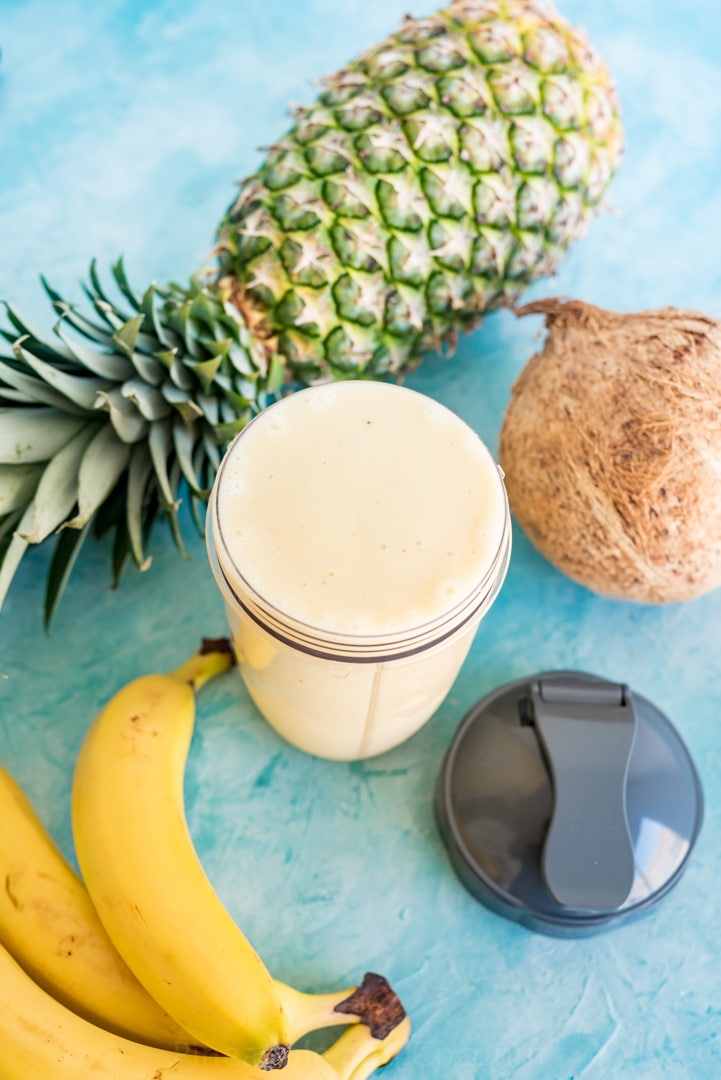 Thanks again to Nutribullet University for sponsoring this post. As always, opinions are my own. I love the program they are running, and proceeds from sales of their nutribullets help fund their Nutribullet University Program.