I am SO excited for this Blackberry Cobbler Ice Cream for several reasons.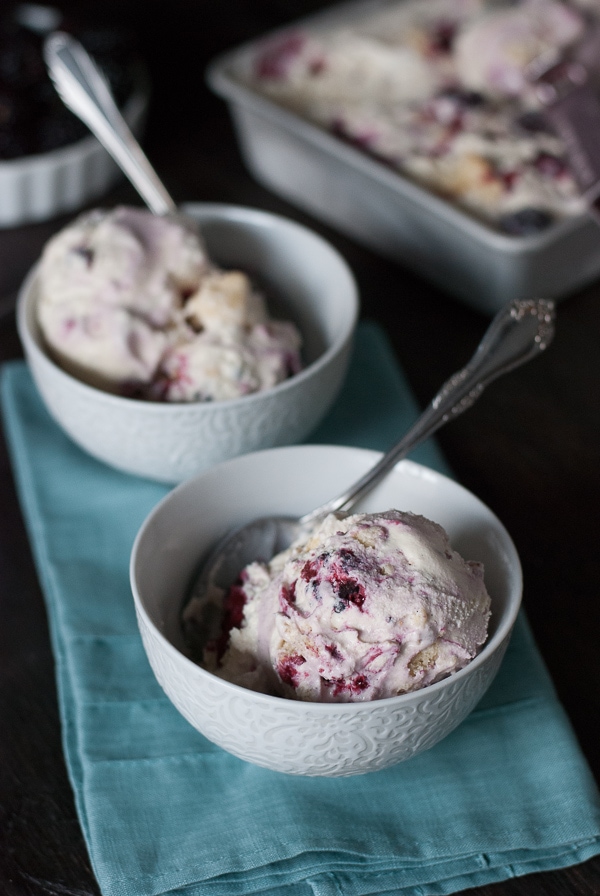 One I made it and I get eat it , two it brings back a fond memory of a fun summer job I had when I was younger, and three its for #Berryweek!!!
I actually didn't know about berry week until a couple days ago when I saw a few amazing recipes online and saw they all had this picture on them. I told my friend Beka of the AMAZING blog, Kvetchin Kitchen ( go check it out she is great, world traveler, awesome cook and baker and great sense of humor) that I would be interested in joining the next time she was doing a " week" of something. Well little did I know, that a bunch of other blogging friends of mine were also part of the group and Beka said if I had a recipe with berries I could jump in with the group this week!! And I just happened to be making Blackberry Cobbler Ice Cream! Perfect timing, huh?
The original reason I was making this blackberry cobbler ice cream, was because for some reason I was thinking about it last week when we had some fresh blackberries from a farmer's market and it was bringing back a memory from a summertime job I had when I was younger and I thought it would be perfect to make. Plus its HOT in Vegas and ice cream is always the answer for the heat.
When I was about 21-ish I moved to Summit County, Colorado to be a ski bum for a while. A break from college of sorts. I got a job working for Copper Mountain working the lift lines and snowboard instructing and when ski season was up I needed another job. We all had several jobs living there. Most worked on the mountain and waited tables. Well I had grown up riding horses and I thought it would be a blast to work on a ranch in the summer taking guests on horseback rides.
I ended up working on two different ranches two summers in a row. Both ranches were working cattle ranches and the horseback rides were a side income for the ranch. The second ranch I worked at had a "cattle drive" for guests. Not like the Billy Crystal adventure City Slickers, but a 3 hour condensed version with a chuck wagon lunch at the end. It was SO fun to walk around slow on the horses, chat with guests and push the cattle from one end of the ranch to the other and go have lunch. Until the cows figured it out and as soon as they saw the horseback riders coming, they would get in a single file line and try to take a shortcut to where we would "drive" them. Guests thought this was funny, but the cows doing this would cut the 3 hour tour down to about 30 min. And for the price the guests paid, we needed to figure out how to make it a 3 hour cattle drive.
So when the cows started going for their single file line short cut, one or two of us would go run up ahead on our horses and chase the cows to other parts of the ranch and then have guests go find them with us to bring them back to the rest of the herd. It was SO fun hauling ass around a ranch on a horse. The other best part about the cattle drive was the lunch. The cook that made the lunch was a real deal cowboy cook. He brought his own chuck wagon and everything he served was made from scratch. I always wanted to be one of the cattle drive guides just for the lunch. Particularly the black berry cobbler he made. It was amazing
I would always bring a tupperware to take home extra blackberry cobbler and have it for dessert at night with vanilla ice cream. I would mix it all together and knock back a beer or two with it. Ranch work was hard work!! Once in a while he would bring peach cobbler, but the blackberry was hands down the ranch favorite. That was a fun summer. I got paid to ride around on horses, chase cows and eat blackberry cobbler. I also learned a lot about running a ranch. When we didn't have guests to take on rides, we would do all sorts of things like baling hay, fixing fence lines and checking on cattle on their off the main part of the ranch property. I would often help with the veterinary issues with some of the horses or help the farrier aka crazy Curtis that hated horses, yet owned a ton and would do all the trimming of the horses hooves and shoe some of them. I also learned how to drive a team of horses pulling a wagon and crack a bullwhip. That was cool.
"Recipe"
Blackberry Cobbler Ice Cream
Blackberry Cobbler Ice Cream. A deconstructed blackberry cobbler of sorts. Instead of a scoop of ice cream served with the cobbler, the cobbler biscuts and berries are mixed into the ice cream. Ice cream recipe slightly adapted from The Perfect Scoop, by David Lebovitz. The biscuits are a combination of several recipes online and trial and error.
Ingredients
For the Ice Cream
2

cups

milk

I use[url] Straus Organic∞http://strausfamilycreamery.com/[/url]

2

cups

heavy cream

I use [url]Straus Organic∞http://strausfamilycreamery.com/[/url]

1

cup

sugar

6

egg yolks

½

teaspoon

sea salt

1

teaspoon

vanilla extract

1

vanilla bean

optional
For the Cobbler Biscuits
4

tablespoon

sugar

1

cup

plus 1 tablespoon all purpose flour

1 ½

teaspoon

baking powder

¼

teaspoon

sea salt

4

tablespoon

butter

¼

cup

milk

1

egg

1

teaspoon

vanilla

Coarse sugar
For the Blackberry Sauce
2

cups

of fresh blackberries

⅔

c

water

⅓

c

sugar

1

teaspoon

lemon juice
Instructions
For the ice cream

In a medium saucepan add the sugar and scrape the vanilla bean seeds into the sugar. Rub the sugar and seeds together to disperse the seeds and release the vanilla flavor more. Add the vanilla bean, salt, 2 cups of milk and 1 cup of heavy cream and heat over medium low until starting to steam, stirring to dissolve the sugar. Turn off the heat and let steep for one hour to get more vanilla flavor. When an hour is almost up, have the egg yolks ready in a medium bowl next to the stove. Pour the remaining cup of cream in a bowl and set a strainer over the top. Warm the milk mixture back up over medium heat. Slowly add some of the heated milk mixture into the egg yolks while whisking them to slowly warm them up. Add another cup or so of milk slowly in until its all mixed. Add the egg yolk mixture into the pan and stir over medium low with a spatula, scraping the bottom to make sure no egg yolk is sticking. Keep stirring slowly until the mixture thickens, like custard. Remove from heat and strain into the bowl with the cream. Stir to combine with the cream and add in the vanilla extract. Store in the refrigerator until completely chilled. Once you are ready to churn ( after the biscuits and berry sauce is made) churn the ice cream according to manufacturers directions. Once it is churned drop spoonfuls of the ice cream into a container or bowl and add in pieces of biscuits, berries and swirls of the sauce and keep layering. Freeze the ice cream for 4-8 hours before serving.
For the Biscuits:
Preheat oven to 350

Prepare a baking sheet with parchment paper

In a food processor combine the sugar, flour, baking soda and salt and pulse a few times to combine. In a separate bowl whisk the egg and milk together. Add the butter to the food processor and pulse again until the mixture is crumbly. Slowly pour in the milk mixture and pulse until combined. Scoop out heaping tablespoons onto a prepared baking sheet. Sprinkle the tops with coarse sugar and bake for 8-10 minutes or until tops are firm and edges are golden. Cool for 5 min on baking sheet and then remove to a wire cooling rack to cool completely. Cut into ½" size pieces and freeze. This way they won't crumble when mixing into the ice cream.

For the Blackberry Sauce

In a saucepan combine all the ingredients and bring to a boil, simmer until slightly thickened. Cool completely and keep in a sealed container in the refrigerated until ready to add to the ice cream.
Notes
I only use organic milk and cream for my ice creams. It is such an incredible taste and flavor and my favorite dairy to buy organic from is
Straus
I have been staring at these pictures of this blackberry cobbler ice cream all evening, it's time for me to go eat a bowl of it!!