A sweet tart and very refreshing tangerine and blood orange granita made with freshly squeezed juices. Italy's version of shave ice. This really couldn't be easier to make.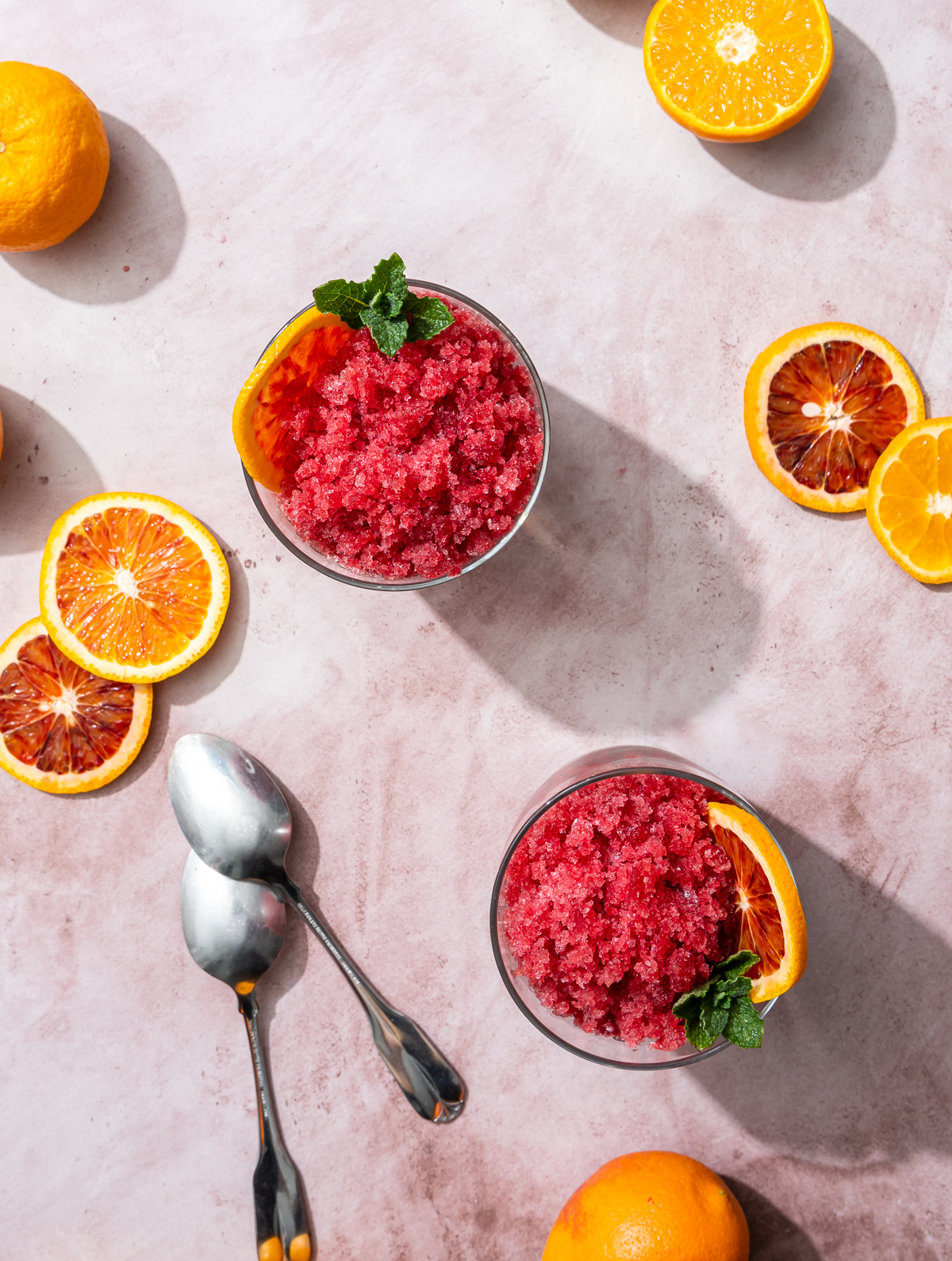 This page contains affiliate links. Affiliate links support Pineapple and Coconut at no additional cost to you. If you choose to make a purchase via these links, I earn a small commission to help keep this blog running and it is much appreciated. I am an Amazon and Adorama affiliate.
Still on my Master Chef Australia inspired recipe kick over here. One thing we noticed is the contests really really really love to make a granita with their desserts. So much so that we would joke, "I wonder if they are going to make a granita for dessert?" right before they said " for dessert I have a granita..." So funny. Granitas are so good, easy to make and super refreshing, so I decided to make one to share with you all!
I had some gorgeous blood oranges from the store and a few tangerines left from our tree and I knew I needed to make a granita with them.
Jump to:
What is a granita?
A granita is basically Italy's version of shave ice. Usually made from fruit juice, frozen in a thin layer, scraped with a fork several times throughout the freezing process to "shave" or fluff the ice. Think sorbet but more of a shaved ice consistency. It is really very easy to make and you can make it with literally anything you like. Doesn't have to just be fruit juice. You can start with frozen fruit, use any combination of liquids, coffee is fantastic. You can even make it with a hit of liquor in it for a more adult version. The only real rule is that it has to have enough water in it to get that icy consistency.
Steps to making a tangerine and blood orange granita:
Prepare your ingredients - if using citrus - fresh squeeze then strain the pulp. You may have to strain more than once.
Whisk in a simple syrup - can be homemade, store bought. Plain or flavored works great. You can also steep herbs or other spices into your simple syrup if you like for another layer of flavor.
Have freezer space available that is level for the tray/baking pan to rest on and not spill over

Enough blood oranges for around 600 ml juice (about 2 ½ cups juice)
Enough tangerines for around 300 ml juice ( about 1 ½ cups juice)
Simple syrup 60 ml ( ¼ cup)
Baking tray - can be shallow sided like a jelly roll pan or a deeper pan like I used. Depends on your freezer space. A shallower pan will freeze the granita faster.
How to make this recipe:
Cut your citrus in half, get out a juicer - I like using an electric juicer to make this go by quicker. You could squeeze by hand but that would take a while.
Set a strainer over a large measuring cup and if it fits under your juicer you can strain as you juice the cut citrus. If not, pour the juice from whatever you use to catch it after being juiced over the strainer.
Once you have around 950ml or 4 cups of juice, whisk in the simple syrup.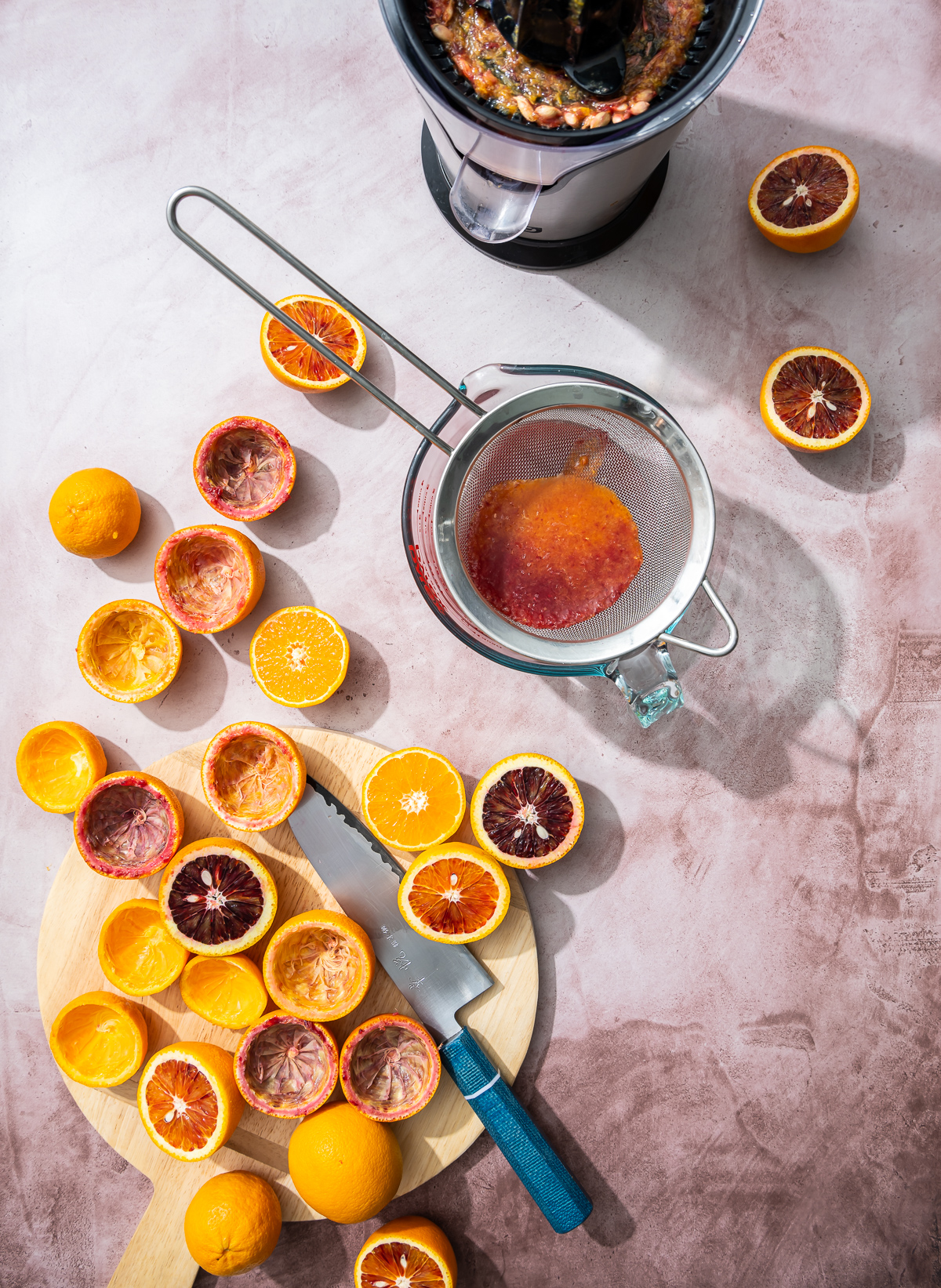 Next, pour the mixture into a shallow pan. I have made this in both a short sided 11x15" jelly roll pan and this smaller 9x13" pan seen here which has 2-3" high sides. Any pan works. The thinner the layer of juice, the quicker it will freeze.
Pro Tip:
Make sure you have the freezer space for your pan and keep a fork ready to scrape. Some granita recipes say to scrape every 30 minutes. I wait longer to scrape so it starts to get that fluffy texture and keeps it. You can see here that there is still a lot of liquid when I was scraping. Don't take the pan out of the freezer to scrape since it will start melting again quickly. I only removed it for photography reasons.
Once you start to scrape the ice and fluff with a fork it will stay that way. I repeat the scraping and fluffing steps a few times over the course of a few hours, about every half hour, until its all the same texture. Making sure to scrape the bottom of the pan well and breaking up any larger chunks. I will then cover the pan with plastic wrap before serving.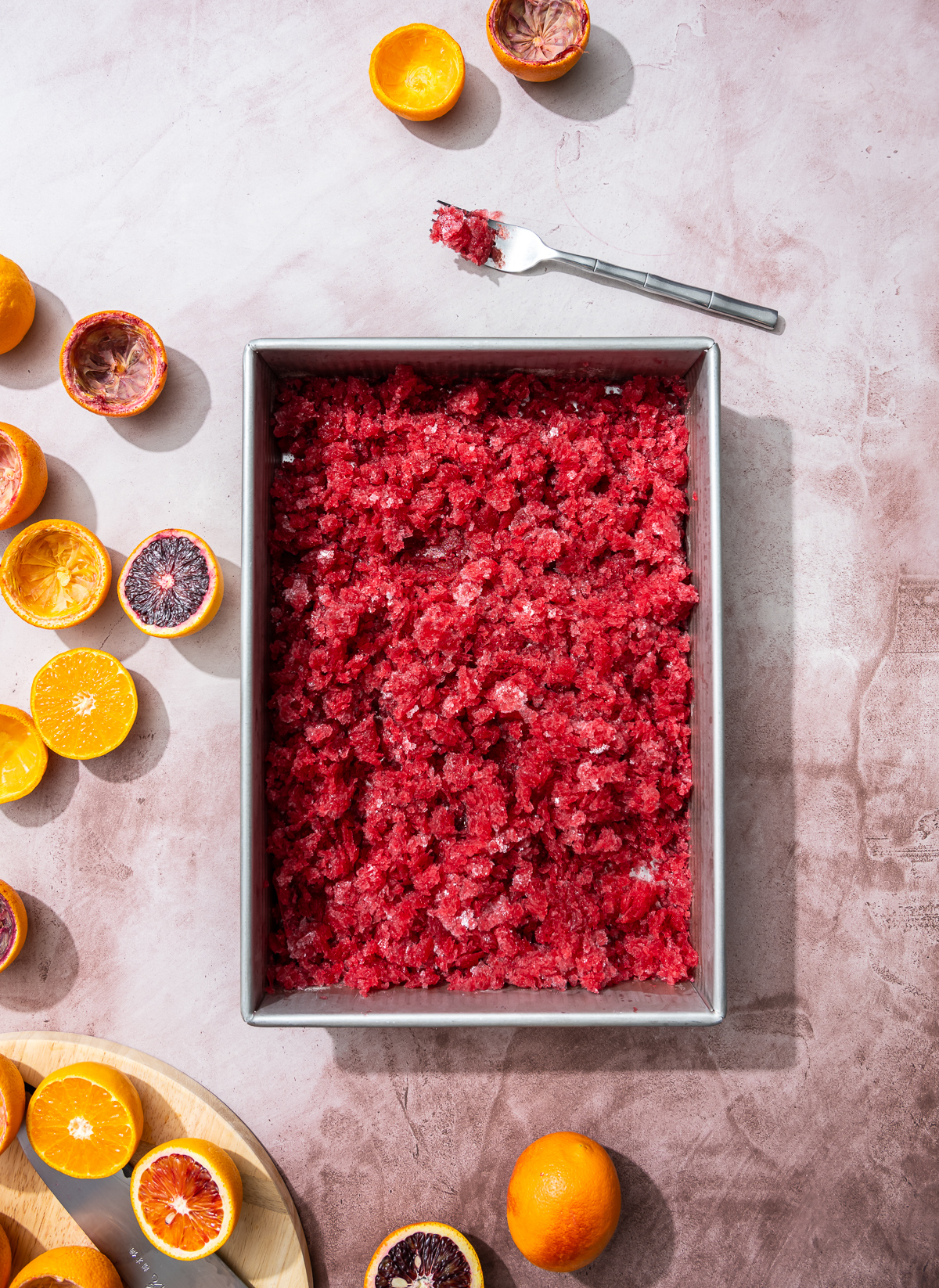 How long does it take to make granita?
A few hours. If you want to make it to serve same day, I suggest starting earlier in the day to make sure you have enough time to freeze it all the way
Can I use any ingredient I want for granitas?
You could. Citrus and other fruit juices are most common since they have a higher amount of water in them to get that ice crystal structure. I suggest pairing whatever fruit juice you like with a citrus juice.

You could also make granitas from coffee - make sure it is cold first, any frozen fruit, strawberry is delicious to using a non-dairy milk such as almond or macadamia.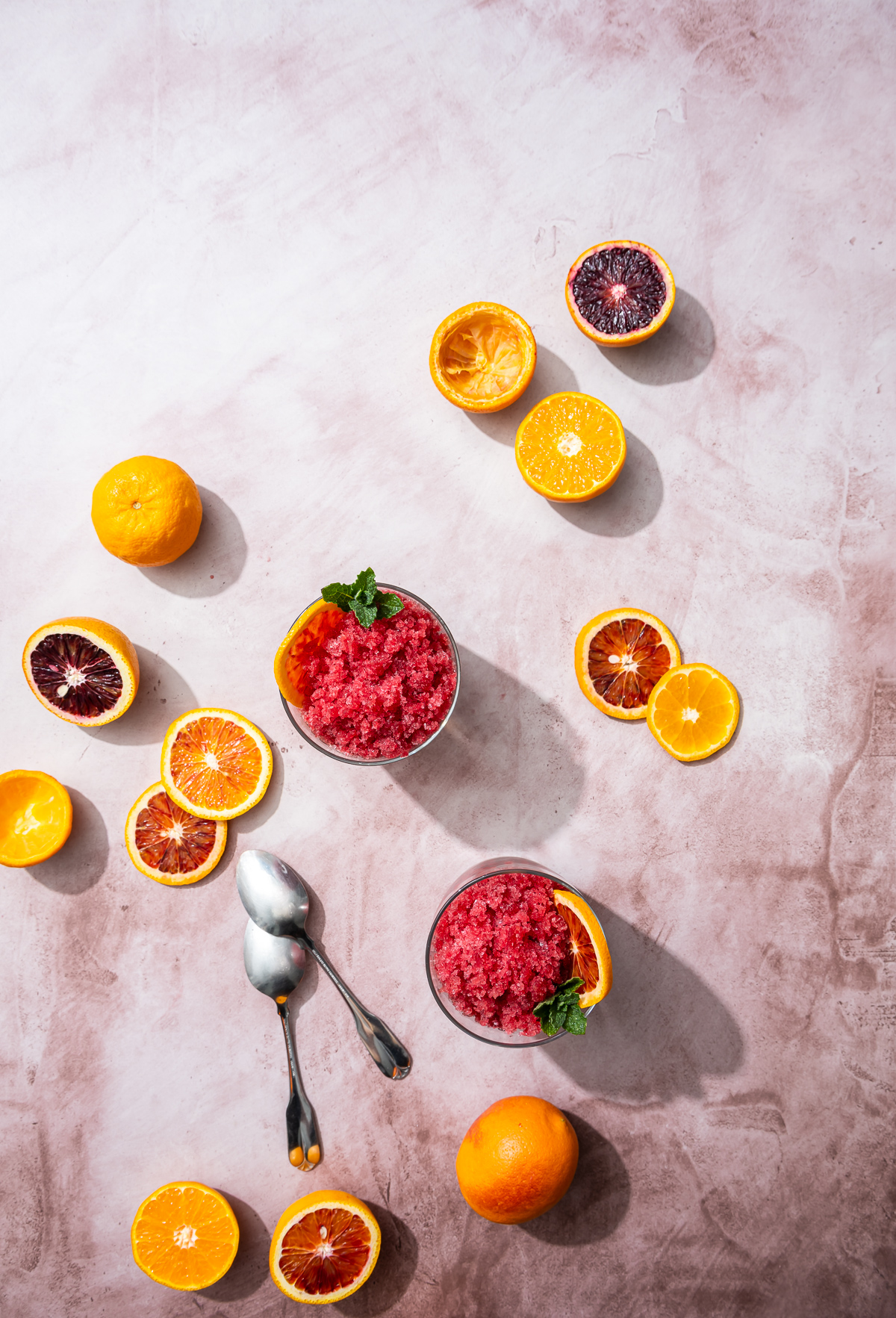 Other frozen desserts you might also enjoy: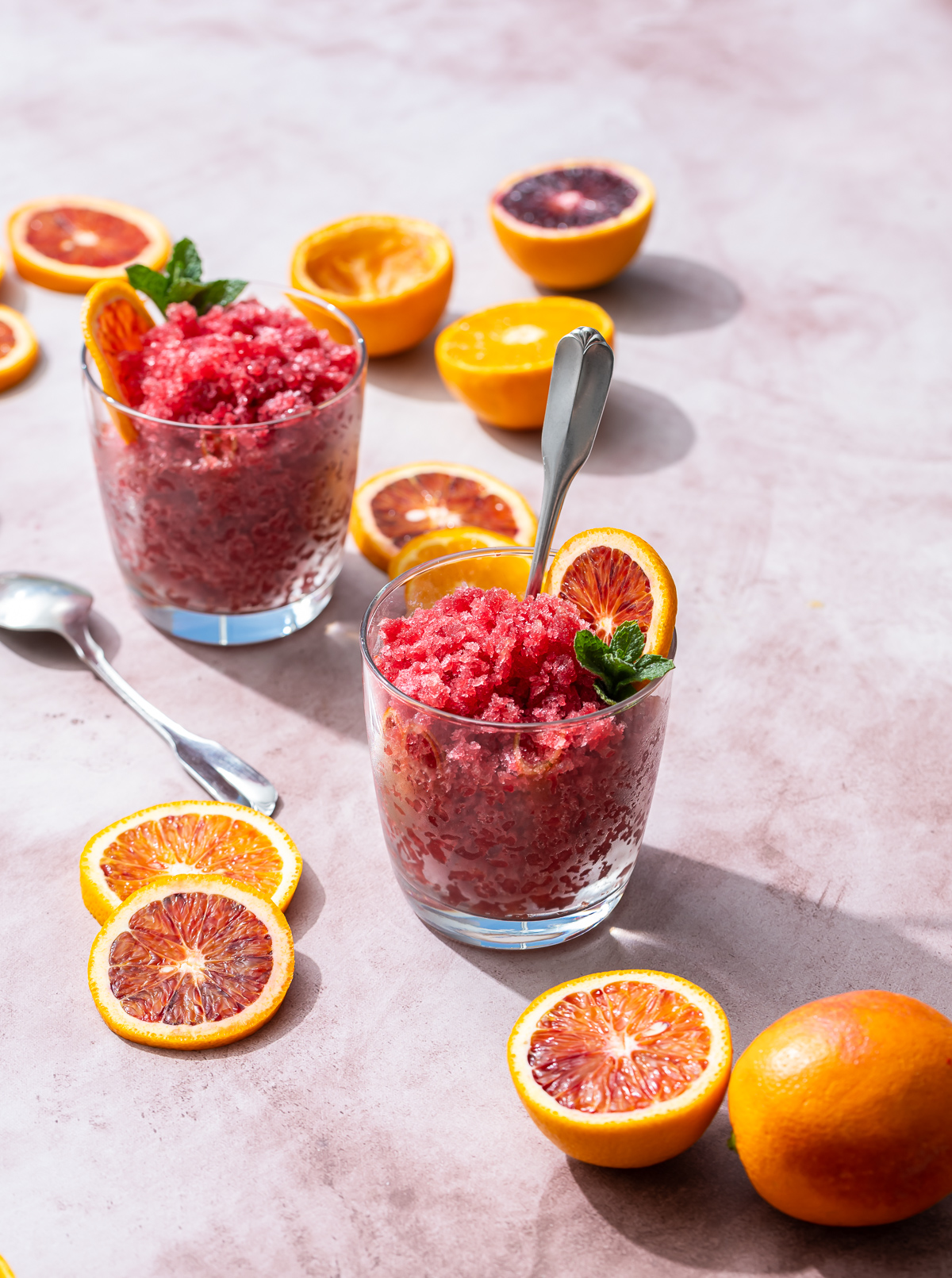 This tangerine and blood orange granita really couldn't be easier to make. The recipe is quite simple, most of the time is freezing and scraping. You could save even more time by buying bottles of juices, I haven't personally seen bottles or jars of blood orange juice before in stores, but that doesn't mean it doesn't exist.
"Recipe"
Tangerine and Blood Orange Granita
A sweet-tart and refreshing tangerine and blood orange granita made with fresh squeezed juices.
Ingredients
600

ml

Blood Orange Juice

about 2 ½ cups from around a dozen or so blood oranges, depends on size

350

ml

Tangerine juice

about a cup and a half from around a dozen or so tangerines, depends on size

60

ml

simple syrup

¼ cup, can be plain or flavored - see notes
Instructions
Cut all citrus in half. Set out either an 11x15 inch baking sheet or a 9x13 inch pan. Make sure you have an even surface in your freezer to set the tray on it.

Using a juicer ( hand or electric) squeeze the cut citrus to get the amounts of juice needed. Strain into a larger measuring cup or bowl to strain out any seeds and pulp ( you may need to strain more than once)

Whisk in the simple syrup to the juice then carefully pour into your tray or pan. You could do this with the tray or pan already placed in your freezer, so you don't need to worry about spilling any as you walk with the tray to your freezer.

Freeze the granita, checking on it every 30 minutes until ice crystals start to form. Once its starting to freeze, scrape with a fork to fluff the ice. You will repeat this process a few times over the course of a few hours until the entire pan is scraped. Gently break up any small pieces with your fork.

Once the tray is fully scraped and fluffed, cover with plastic wrap until ready to serve.

Serve in cold glasses or bowls, garnish with a sprig of fresh mint if desired.
Notes
To make simple syrup you need a 1:1 ratio of sugar to water  - 60 ml water to 60 grams sugar or ¼ cup of each. You can also make a larger amount and keep in your refrigerator in a well sealed jar or bottle. It doesn't have to be completely cold before adding to the juices since it will be frozen once added in. 
If you want to make a flavored simple syrup you can add in fresh herbs -rosemary would be good here, peppercorns, or any other fruit juices or herbs ( lemongrass, ginger etc). Add them in when simmering the sugar water, let steep until cool then strain before using.