Creamy Leek, Apple, and Brie Risotto with Thyme and Walnuts. Apples and brie go so well together, and in this risotto?? Amazing. 
I am a huge fan of risotto, and am always thinking up new flavor combinations, this is a very cozy for fall or winter version and it is oh so yummy.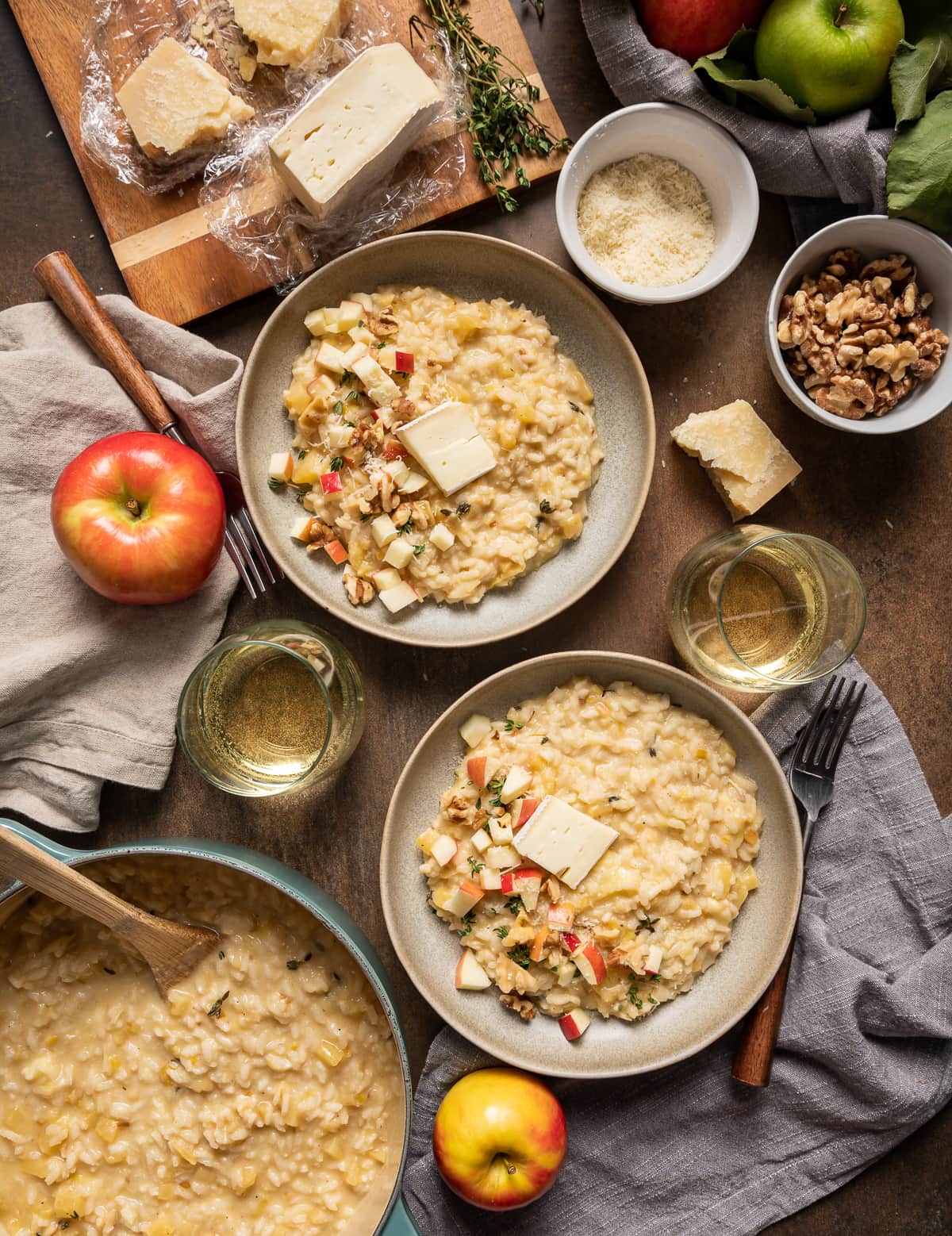 This page contains affiliate links. Affiliate links support Pineapple and Coconut at no additional cost to you. If you choose to make a purchase via these links, I earn a small commission to help keep this blog running and it is much appreciated. I am an Amazon and Adorama affiliate.
Why risotto is so good:
I love love love risotto - eating it and making it. And ordering it at restaurants. It's one of those therapeutic recipes, similar to some baking recipes, where you have to slow down and take your time stirring it to get it just right. 
I am a fan of shortcuts for certain recipes to get the meal on the table faster, but to me, risotto is never a shortcut recipe. I don't trust "risotto in 20 minutes!" recipes or "no stir risotto".
Maybe some of those work, but they haven't for me. I don't even want to talk about the instant pot risotto I attempted once and it was a giant disaster.
I save risotto for when I have a little more time to relax and cook and take my time to stir. This brie risotto recipe takes about an hour to make.
Jump to:
The idea for this apple and brie risotto came to me out of my love of risotto, the fact that my pandemic panic purchase was a ridiculous amount of Arborio and Carnaroli rice for risotto as well as a sweet apple risotto recipe I found in an Austrian desserts cookbook I have.  Perfect for my series of apple recipes. 
The only similarities between this risotto and the one in the book are the apples and rice. The rest came from me experimenting until I got it right.
The recipe in my Austrian desserts book is much more like a dessert rice pudding, very sweet. I might have to try their version soon, it sounds delicious.  I thought apples in a savory risotto would be amazing, so here we are. 
What kind of rice is used for risotto?
The key ingredient for any risotto is the right kind of rice. You need a high-starch, short grain rice. The best are either Arborio or Carnaroli. Vialone, Nano and Baldo rice are more options but they are more commonly found in Italy than in the US.
Arborio is most common, it's not as starchy as the others and makes for a thicker risotto. Carnaroli is known as the "king" of risotto rice. It makes for super creamy risotto and is perfect for this recipe.
What ingredients are in risotto?
Rice - like mentioned above you have to have the right kind. Arborio and Carnaroli are best.
Broth - this is in a pan heated up ready to be added to the risotto. Any kind of broth you like works great.
Fat - either in oil or butter or both. To get your aromatics cooking and to add more flavor to the dish.
Aromatics - these are your base flavor ingredients - onion, leeks, shallot, garlic, herbs, wine, lemons etc. These are what help boost the risotto's flavor
Cheese - parmesan is most common but any kind works that melts well. Do you need cheese for risotto? Nope. You can leave it out, I prefer it with it.
Mix-ins. This is where risotto gets fun. You can add anything you like from mushrooms to squash and other vegetables such as butternut squash or zucchini, proteins such as shrimp or sausage. Really anything you like. 
How to make risotto:
While the leeks and apples are caramelizing you can prep the rest of the ingredients. The apples and leeks take about twenty minutes to caramelize.
I start out this brie risotto recipe with getting all my ingredients ready first. I heat the broth first so that is ready to go then I prep the leeks and apples.
Once the apples and leeks are caramelized the garlic, thyme, seasonings, lemon juice and wine or brandy and rice gets added. Then the broth gets added. I start with two cups to get the rice going then I add a half a cup at a time until I reach the consistency that I like.
Risotto shouldn't be mushy at all. The rice should be cooked but still have a little "chew" to it like al dente pasta.
When to add the cheese in risotto:
The cheese gets added to the risotto once it is off the heat. Move the pan to a non-hot side of your stove and add in the parmesan and brie. I trim the rind off the brie and cut into one inch pieces before stirring it in. Stir well until mostly melted. 
Decadent, creamy apple and brie risotto goodness. Apples and brie go so well together I knew they would be great in risotto.
To serve the risotto:
To serve the risotto I ladle into a dish and add some fresh, chopped apple, chopped toasted walnuts, some more fresh thyme, and a sprinkle of parmesan. And if you like, another slice of brie cheese. 
How to store risotto:
Risotto keeps well in an airtight container in the refrigerator up to five days as long as it doesn't contain meat of any kind. If it does then three days is best. Do not freeze cooked risotto, the texture will turn to mush once thawed and reheated.
You can reheat it either in the oven, stovetop or microwave.
Other risotto recipes to try:
Creamy Leek, Apple, and Brie Risotto with Thyme and Walnuts
A creamy brie risotto with caramelized apples and leeks. Garnished with fresh apples, toasted walnuts and fresh thyme.
Ingredients
8

cups

chicken or vegetable broth

1890 ml

2

cups

diced leeks

2 leeks, white and light green parts only (180 grams)

2

cups

apples

cored, peeled and small dice (about 2 large apples - Honeycrisp or pink lady are great here) (236 grams)

2

tablespoons

butter

28 grams

2

tablespoons

olive oil

3

garlic cloves

minced

1

tablespoon

fresh thyme

leaves removed from stems

1

tablespoon

lemon juice

1

teaspoon

kosher salt

½

teaspoon

ground black pepper

¼

teaspoon

ground nutmeg

100

ml

dry white wine or Calvados brandy

between ⅓ and ½ cup

2

cups

Carnaroli or Arborio rice

400 grams

4

ounces

brie cheese

rind removed, cut into small pieces (114 grams)

2

ounces

parmesan cheese

freshly grated (57 grams)
Garnish
1

cup

or so diced apple

cored, no need to peel

⅔

cup

toasted walnuts

¼

cup

parmesan

grated

1-2

tablespoons

fresh thyme

brie cut into small squares
Instructions
Pour the broth into a 4qt sauce pan on a burner next to the one you will be cooking the risotto on. Heat until steaming but not simmering, keep on low heat. 

Wash leeks well to get rid of any sand or grit. Quarter lengthwise then finely slice. Core the apples then peel and dice into small pieces - less than half an inch ( less than a centimeter). 

Heat the oil and butter in a large heavy bottomed pan ( enamel cast iron are great for risotto) and add the leeks and apples. Cook for 20 minutes over medium heat, stirring occasionally until the leeks are caramelized and the apples are very soft. 

Add in the thyme, garlic and lemon juice, salt, pepper and nutmeg and sauté for one minute. Next, add in the rice and wine ( or brandy if using) and stir, cook until the wine has been absorbed. 

Add in two cups of the warm broth and stir. Let the rice cook for a few minutes to start absorbing the liquid before stirring again, stir until it is almost absorbed then ladle in half a cup of broth and repeat the process. It takes about 5 minutes per ladling of broth, stirring, letting it absorb some then stirring some more before adding more broth. When around 6 cups of the broth has been added in, taste the rice and see how the consistency is to your liking. It should be cooked but still have "bite" to it. Al dente like pasta. You can add all the liquid if you like a thinner consistency to your risotto or add only around 6 cups if you like it thicker. 

Once the rice consistency is to your liking, taste and add more salt, pepper or nutmeg if you like. Remove from the heat and add in the brie and parmesan. Stir until the cheese has melted in, you might still have small pieces of brie, that is ok. Keep warm until ready to serve. Risotto is best served immediately after cooking. 

Spoon the risotto into bowls and garnish with fresh, diced apple, a sprinkling of parmesan, some chopped, toasted walnuts and some more fresh thyme. You can serve it with a square of brie cheese on the top as well if you like. 
Notes
The leeks and apple measurements don't have to be exact 2 cups, if you use larger leeks it can be a little over 2 cups since it will reduce greatly when caramelizing. 
The apple for garnish doesn't need to be peeled. If it is easier to core, peel and dice all of the apples at once, cut 3 cups and set one cup aside.  For the cup of apples for garnish, add in some lemon juice to keep from browning. 
Calvados is a brandy made from apples and is excellent in place of the wine. I have used both and it comes out great both ways. 
Let me know if you make this leek, apple and brie risotto!