Spiced Apple Streusel Brown Sugar Bundt Cake with Cinnamon Icing. If fall was a cake, this is what it would taste like.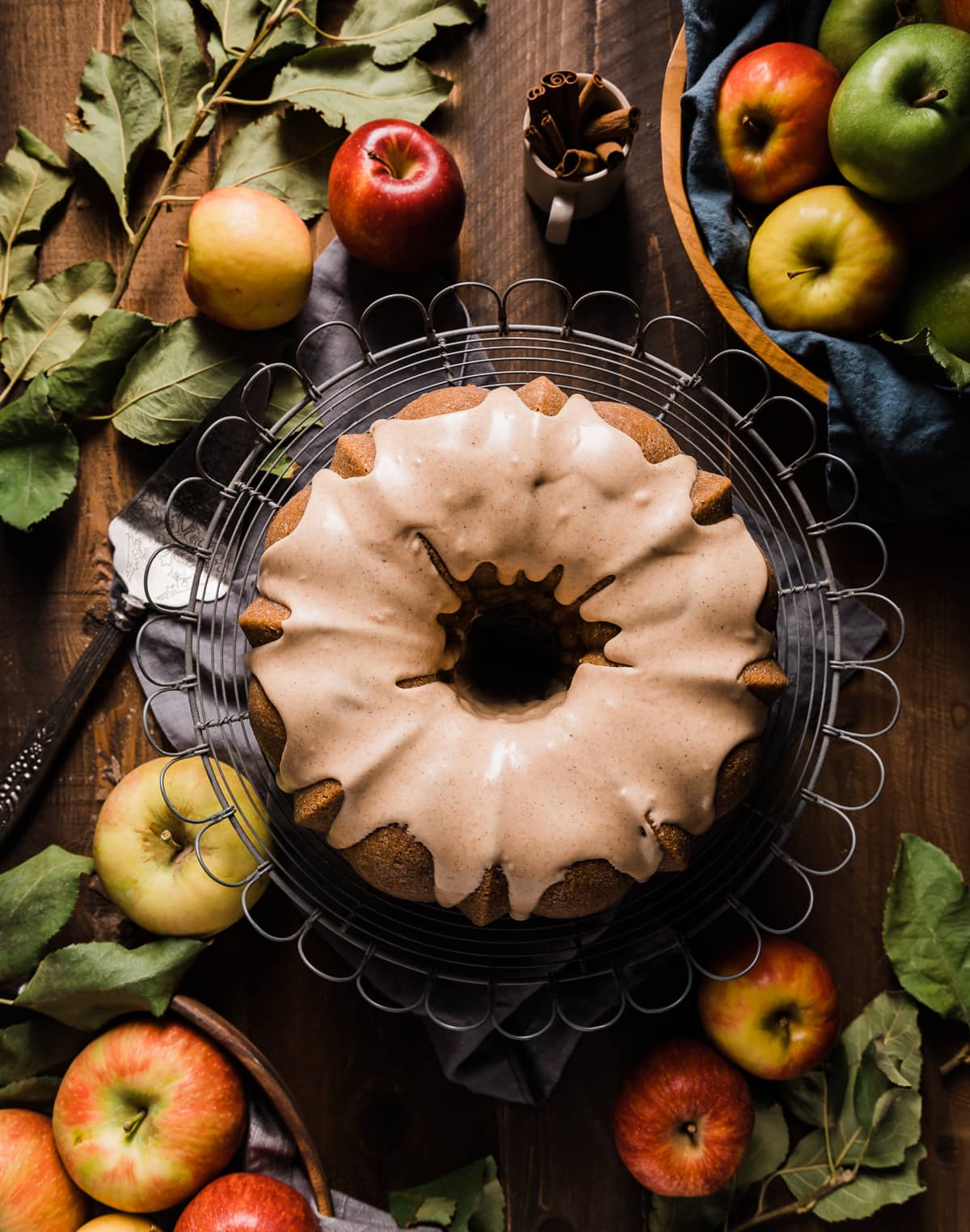 This page contains affiliate links. Affiliate links support Pineapple and Coconut at no additional cost to you. If you choose to make a purchase via these links, I earn a small commission to help keep this blog running and it is much appreciated. I am an Amazon and Adorama affiliate.
A moist, brown sugar bundt cake with warm fall spices, a brown sugar, pecan and apple streusel filling and a vanilla cinnamon icing. This cake has it all. We went apple picking the other day and got some gorgeous Honeycrisp apples that I knew I wanted to use for this bundt cake.
I love the way my house smells in fall with all the different spices I bake with, the smell of cinnamon and apples is one of my favorite kitchen smells and its a nice way to ease into pants wearing season from our hot pants optional Vegas summers. 
Jump to:
Apple bundt cake ingredients:
Brown sugar streusel ingredients:
Brown sugar - you can use light or dark, I use light
All purpose flour - helps bind the streusel together
Cinnamon - ground cinnamon
Nutmeg - a fave falls spice that pairs well with cinnamon and apples
Salt - always always always use salt with anything sweet, it balances the flavor. I always use Diamond Kosher salt unless otherwise specified.
Butter - cold, cut into small cubes. Always unsalted unless stated otherwise.
Pecans -raw or toasted, chopped
Apples - peeled and diced very small. Can use any variety you like, I used Honeycrisp and Granny Smith.
Lemon juice - to keep the apples from browning before baking
How you you make streusel?
For the apple brown sugar streusel I add everything but the apples and pecans to the mixing bowl and combine it all well with either fork, a pastry blender or my hands ( hands tend to heat up the butter so be careful with this method) until it resembles wet sand. Then I stir in the pecans and keep chilled until ready to use.
The apples get mixed with lemon juice to keep from browning, I drain off the excess lemon juice before adding the apples to the filling.
How to keep a bundt cake from sticking:
I prepare the bundt pan with homemade cake release ( an equal mix of oil, flour and shortening) which I brush on liberally and then I also dust with flour. I found just using the cake release alone would still cause my bundt cakes to stick in more intricate pans, but adding another layer of flour helps it release nicely. Nothing is worse than a bundt cake that half of it sticks to the pan once inverted after baking. Still tastes great, but don't look great. 
I fill the prepared bundt pan about two thirds of the way with the batter. Then, I add in half the streusel, the apples ( I use about a cup and a half of apples, I diced up more than that for these photos) and then the rest of the streusel. This is if you are using ALL of the streusel in the filling.
If you want to save some of the streusel for the top - use about one third on the batter then the apples then another third. Save a third for sprinkling over the top of the batter.
As you can see above are the two bundt cakes with what they look like depending on how you add the streusel. The bundt cake with some of the streusel added on top before baking has a slightly different look and texture. It has a little more of a crunch to it. BOTH ways are amazingly delicious and will work out great no matter which one you choose.
Variations:
Brown sugar bundt cake perfection! I made this originally with a mix of white and brown sugars but when I made again I went with all brown sugar and it just works out so much better. This brown sugar bundt cake has a richer flavor to it and is so perfect with the apples. 
all the way down. This is why it is super important to cool the cake completely before icing. You can even ice the cake the day after you bake it. 
How do you make a bundt cake?
Bundt cakes are really easy to make since you are only using one pan, not cutting and layering etc.
I did not take any process photos of the brown sugar bundt cake batter since it is a fairly straight forward cake batter that I have detailed in the recipe card on how to make. You can use either a stand mixer or a large mixing bowl and hand mixer.
This cake recipe uses a reverse creaming method where the butter is added to the flour instead of the butter and sugar being mixed together first. I like using this method for bundt cakes, the batter comes together quickly.
More recipe tips:
Please read through the blog post and the recipe card well before baking. Gather all your ingredients first, making sure certain items are to room temp (65-90 deg F) before baking.
I made this recipe in a full size,

12 cup bundt cake pan

. If you use a smaller one you will risk overfilling it and having it spill over when baking.
You can make the streusel a day ahead of time and keep chilled until ready to use. Same with dicing the apples, I will keep them in bowl with lemon juice to keep from browning, just pour off the lemon juice before adding to the pan.
Storage:
This

bundt cake

keeps well at room temperature in an airtight container for a few days or refrigerated. 
Weighing ingredients Vs using cups:
I use my food scale and weigh out ingredients in grams because this is the most accurate way to get the best quality baked goods. Cups aren't accurate because not only are all cups not the same the sizes vary from brand to brand as well as from different countries. I have done tests with different brands of measuring cups and they all came out with different weights after I did the spoon and level as well as scoop method and then weighed in grams.
Baking is a science and science needs accuracy. Weighing is accurate and precise. Not to mention a lot easier. Another issue with cups is that I have no control over how people use measuring cups to measure dry ingredients especially flour. You could pack in way too much which would result in a sub-par baked good. Too much flour could throw everything off. Same with not enough. Not to mention also some ingredients are difficult to measure in cups such as nuts, dried fruit, chocolate etc. This is why weighing in grams is the most accurate.
I also use grams for most liquid measure since 100 grams equals 100 ml of water. Smaller amounts of items measured in teaspoons I usually leave as teaspoons, tablespoons are sometimes listed in grams as well but for the most part the different tablespoons I have used have all resulted in the same amount. Aside from cute, decorative ceramic tablespoons and teaspoons are never accurate. Those are better as decoration than for being used for baking.
More apple recipes:
Spiced Apple Streusel Brown Sugar Bundt Cake with Cinnamon Icing
A moist and delicious brown sugar bundt cake with warm fall spices, a brown sugar, pecan and apple streusel filling and iced with a tangy vanilla cinnamon icing. If fall was a flavor, this cake would be it.
Ingredients
For the Streusel Filling:
1

cup

light brown sugar

208 g

¾

cup

all purpose flour

97 g

1 ½

teaspoons

cinnamon

½

teaspoons

nutmeg

6

tablespoons

cold unsalted butter

cut into small pieces (85g)

¼

teaspoon

salt

¾

c

chopped pecans

70 grams

1 ½

cups

of finely diced and peeled apples

Pink Lady, Gala, Granny Smith (170 grams)

1

tablespoon

lemon juice
For the Bundt Cake:
422

g

all purpose flour

(3 ¼ cups)

364

g

light brown sugar

364 grams (1 ¾ cups)

2 ½

teaspoons

baking powder

½

teaspoon

baking soda

½

teaspoon

Kosher salt

168

g

butter

cut into tablespoon sized pieces, room temperature (¾ cup)

3

large eggs

room temperature

226

g

greek yogurt

226 grams, room temperature (1 cup)

157

ml

apple cider

157 ml (Apple cider - NOT apple cider vinegar), room temperature (⅔ cup)

2

teaspoons

vanilla

2

teaspoons

cinnamon
For the Icing:
1 ½

cups

Powdered Sugar/confectioners sugar

180 grams

2

Tablespoons

heavy cream

2

teaspoons

cinnamon

1

teaspoon

lemon juice

1

teaspoon

vanilla extract
Instructions
Make the Streusel First:
In a small bowl combine the sugar, flour, spices and butter and mix well with a fork until butter is completely combined. Stir in chopped pecans.Keep chilled until ready to use. 

Peel and finely dice the apples and place in a separate bowl, add a tablespoon of lemon juice and stir. Keep both the streusel and apples chilled until ready to use. 
Prepare Bundt Cake Pan and Oven:
Preheat the oven to 350 deg F. Butter a 12 cup bundt pan very well and then coat with flour, tap the sides and shake out the excess flour. Or use cake release and add flour. 

In a medium bowl whisk the eggs well, then add the Greek yogurt, apple cider the vanilla extract and mix well again. Set aside.
Make the Bundt Cake:
In a bowl of a stand mixer, or large bowl if using a hand mixer, combine the flour, brown sugar, baking powder and baking soda and salt. Turn mixer on low and mix until just combined. 

Add in the butter one tablespoon at a time and mix on low until well combined. It will resemble wet sand.

Slowly add in the egg mixture and beat on low, stopping to scrape down the sides of the bowl. Once all is combined, raise speed to medium and mix for another 30 seconds. Scrape down the bowl again to make sure it is well mixed. 

Pour two-thirds of the batter into the bundt pan, making sure it is spread evenly.  Add in either one-third to half the streusel, then the apples and then the remaining third or rest of the streusel. If filling with all the streusel add the with remaining batter and carefully spread it so no streusel is showing. If adding streusel to the top, fill the top with the remaining batter then sprinkle the rest of the streusel over the top.

Bake for 70 minutes or until a toothpick comes out clean. If the top is starting to brown too much and the middle isn't done yet cover with a piece of foil until done.

Let cool in the pan for 10 min then flip onto a wire cooling rack a cake plate or serving platter and carefully remove bundt pan. Let cool completely before icing. Around 4 hours. You can wrap the cake in plastic wrap and store at room temperature overnight before icing. 
Make the Icing and Serve:
To make the icing combine all the ingredients and mix well using a whisk until smooth. Drizzle  or pour over the top of the cake. Serve cake at room temperature. This cake keeps well in an airtight container at room temperature for three to four days. 
Notes
If it's your first time making this recipe then make sure you read all of the information in the main post as it includes lots of additional tips, as well as the answers to some common questions.
If you have any further questions then do let me know in the comments and or email me

[email protected]

and I'll do my best to help.
If you choose to make substitutions to the recipe that I have not tested yet please do so at your own risk. I cannot guarantee the same results if you change a lot of the ingredients or method. However, if any of your changes are successful I would love to hear about it and will add to my recipe notes for other readers to try as well.