Blackened Cajun Sockeye Salmon with Smoky Cheddar Grits. Thank you to Prince William Sound Salmon for sending me this gorgeous wild Sockeye salmon.
This blackened Cajun sockeye salmon meal is so easy, flavorful and comes together in just minutes thanks to both quick cooking salmon and grits.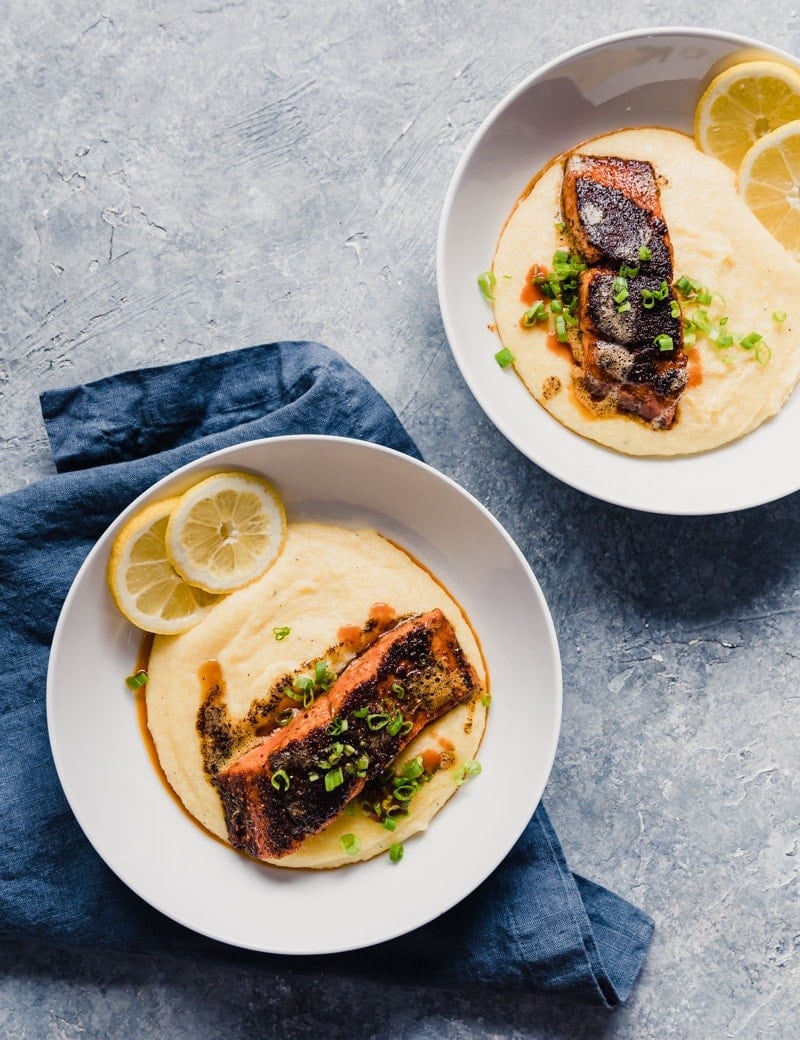 I was supposed to be in Alaska for the first time in my life this month, visiting the gorgeous coastlines of Cordova, salmon fishing, photographing the scenery.
Getting to meet the amazing small families that make up the fishing crew of Prince William Sound Salmon and seeing how the salmon fishing operations are run.
Unfortunately since 2020 hasn't been the best year, travel anywhere is not happening any time soon. Alaska came to me in a shipment of the most gorgeous, fresh, wild Prince William Sound salmon.
Prince William Sound is home to some of the most pristine waters on our planet. Glacial and protected, a perfect environment for these gorgeous fish.
Wild salmon is one of the healthiest foods you can eat. High in Omega-3s and taste amazing no matter the preparation from baked, seared, grilled, smoked, raw or poached. Incredibly versatile as well as tasty.
Years ago I had a blackened cajun salmon and grits dish at a popular cajun restaurant in Santa Barbara, CA, (Cajun Kitchen) and have wanted to recreate it at home since. I am a huge fan of shrimp and grits and I love the flavors of cajun seasonings. I think they work well with a variety of fish and seafood with grits.
People sometimes think fish doesn't pair well with cheese but I am here to prove that wrong. It is amazing with the creamy, smoky, cheesy grits.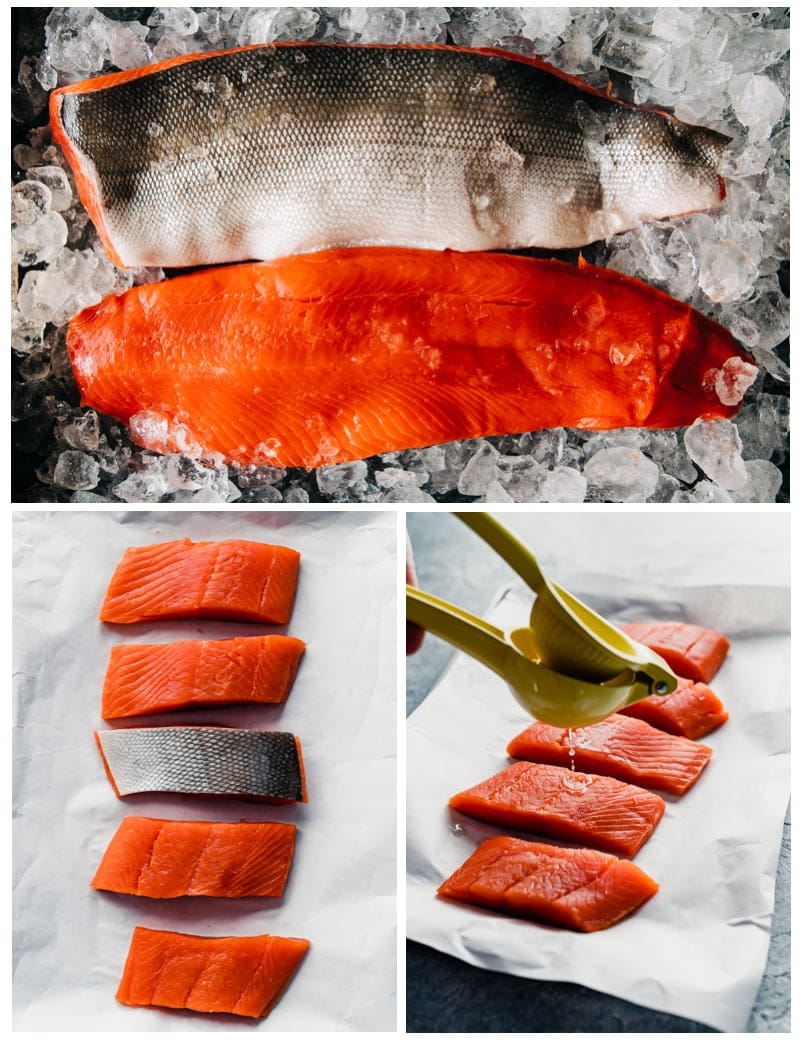 What ingredients are in blackened cajun sockeye salmon?
Fresh, wild Alaskan sockeye salmon. You could use other varieties of salmon, I would suggest only using wild salmon.
Cajun seasonings - I make a mix of salt-free store bough Cajun blend and add in some more cayenne, smoked paprika and some Old Bay
Lemon Juice
Olive Oil and Butter
What ingredients are in cheddar grits?
Grits - I like to use quick cooking grits or corn polenta
Broth - I prefer to use a chicken or vegetable broth for grits instead of water
Cheddar and Smoked Gouda cheeses
Half and Half (can use milk or cream)
Salt, pepper
Liquid Smoke - completely optional but it adds a bit of smokiness to the recipe that makes it so good.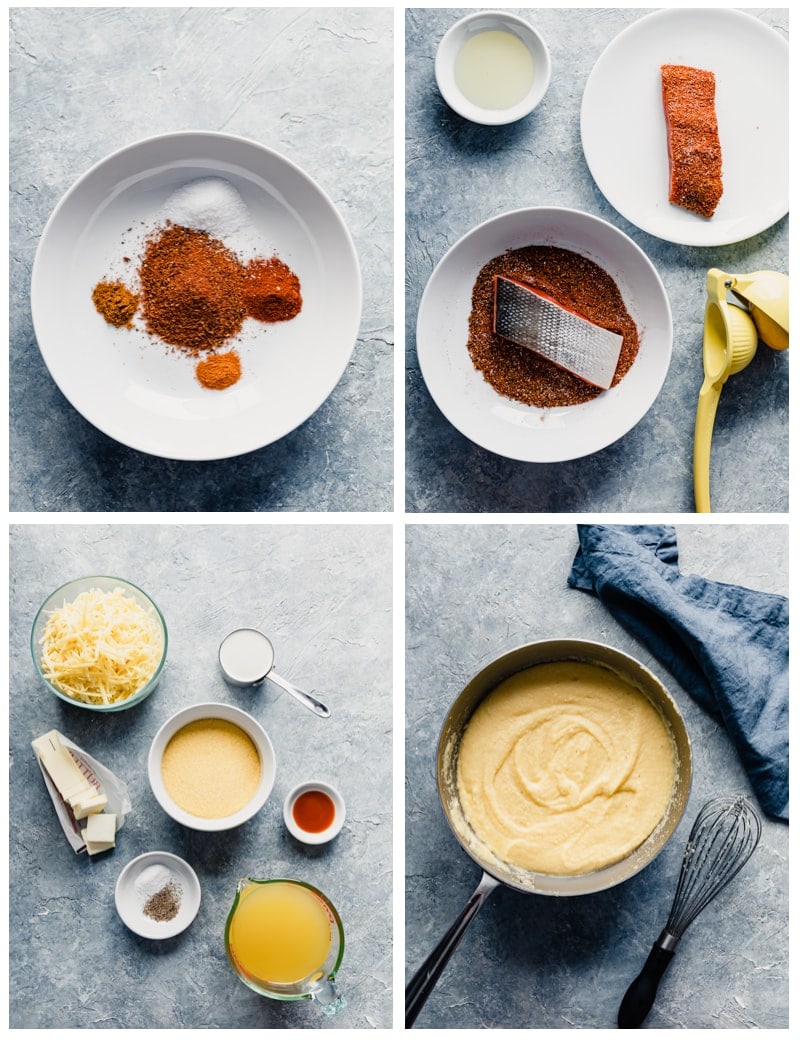 How do you make blackened salmon?
This blackened salmon dish is super quick to make. I cook the fish in a hot cast iron pan at the same time as whisking up the grits. I use quick grits that cook up in about 5 minutes.
The fish takes 3-4 minutes a side so they are cooked at the same time. Whisk with one hand, flip fish with the other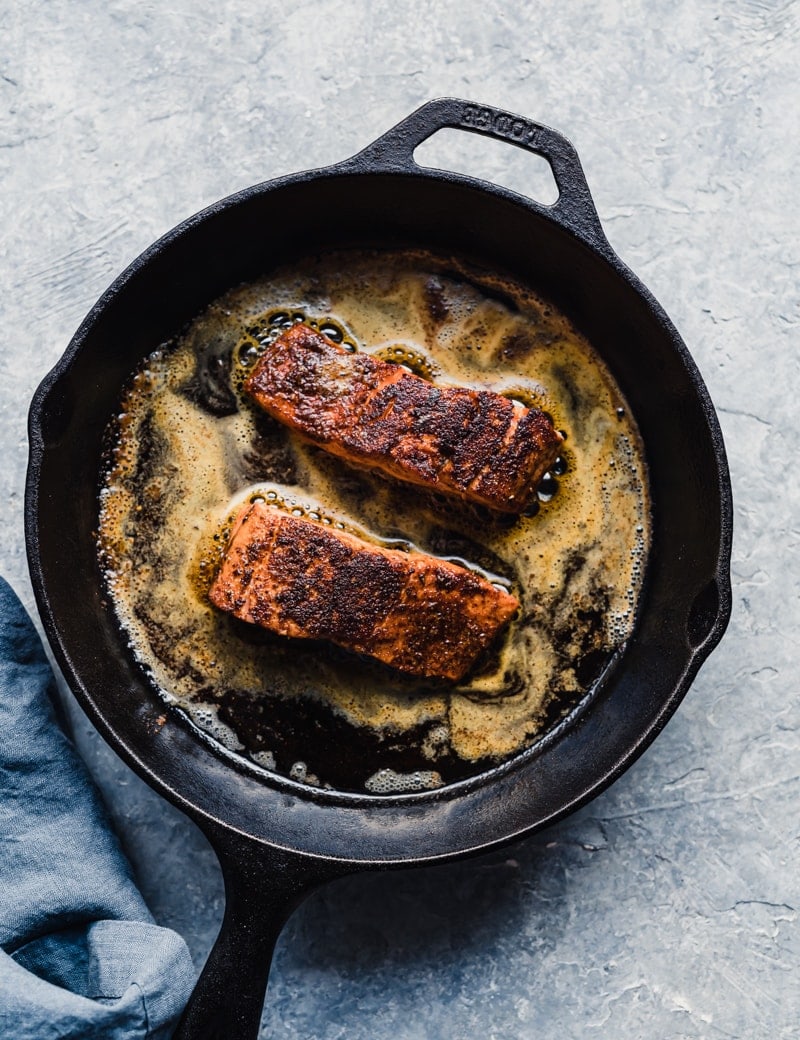 This dish is simple yet flavorful. The spices complement the salmon, they don't overpower its mild taste at all. And it pairs so well with the cheesy grits.
I like to make my grits a little smoky with a little bit of smoked gouda. You can use just cheddar cheese, the dish will be just as amazing.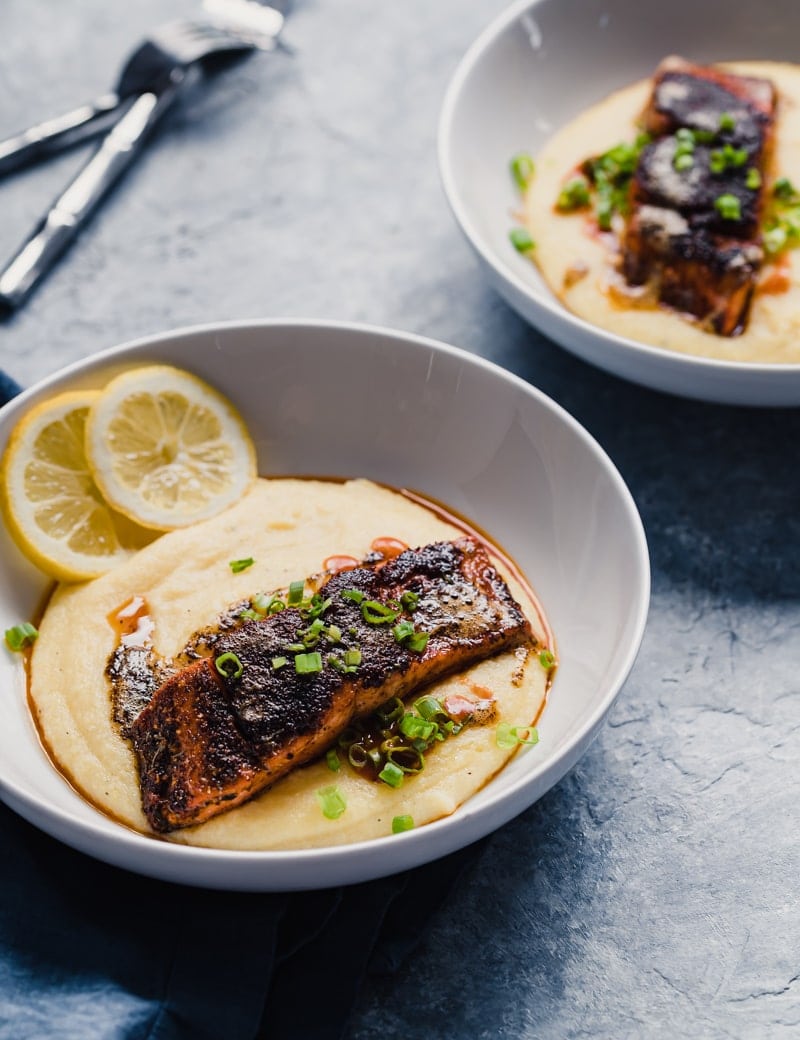 A few notes about Blackened Cajun Sockeye Salmon with Smoky Cheddar Grits Recipe first:
This dish cooks up quickly. Have everything prepared ahead of time as you will be watching the salmon cooking while you are whisking the grits
I cheat a little with using a cajun seasoning blend, I like Spice Hunter, Tony Chachare's. Slap Ya Mama. So many great ones to choose from.
I add salt to my seasoning mix ONLY when the cajun blend I use doesn't have any salt in it. Omit salt if it does.
I like to up the smoky flavor with smoked paprika
This dish is best eaten when cooked fresh. You can reheat it, I suggest adding the grits back to a pan and adding in more broth and stirring until creamy instead of microwaving.
Lemons add a nice hit of acidity that works well with the fish, the seasonings and the grits
Hot sauce is a must. Tabasco is king for this recipe, I add it into the sauce in the pan before drizzling over the fish and of course I add a few extra drops.
Other salmon recipes you might enjoy:
Hot Smoked Salmon Tacos with Avocado Crema
Vietnamese inspired Salmon Rice Noodle Bowls
Salmon Musubi with Passion Fruit Ponzu
Spicy Furikake Salmon with Quinoa and Quick Pickled Cucumbers
Creamy Lemon Vodka Sockeye Salmon Pasta with Arugula
"Recipe"
Blackened Cajun Sockeye Salmon with Smoky Cheddar Grits
Blackened Cajun seasoned Wild Sockeye salmon sits atop creamy, smoky cheesy grits for a super flavorful and quick to prepare meal.
Ingredients
For the salmon:
4

Wild Sockeye Salmon Fillets

4-6 ounces each

2

Tablespoons

olive oil

divided

2

Tablespoons

butter

1-2

Tablespoons

freshly squeezed lemon juice

2

Tablespoons

Cajun Seasoning

preferably salt free

2

teaspoons

smoked paprika

1

teaspoon

Old Bay seasoning

¼

teaspoon

cayenne pepper

½

teaspoon

kosher salt

only if cajun seasoning has no salt

½

teaspoon

ground black pepper
For the grits:
1

cup

quick cooking grits or polenta

4

cups

broth

chicken or vegetable

2

Tablespoons

unsalted butter

½

cup

half and half

1 ¼

cups

shredded cheddar cheese

½

cup

shredded smoked gouda

½-1

teaspoon

kosher salt

½

teaspoon

ground black pepper

¼

teaspoon

liquid smoke

optional
Garnish:
Lemon slices

½

cup

finely diced scallions

Tabasco
Instructions
1. Preheat a cast iron skillet to medium-high heat for the salmon. For the grits have a 4 qt sauce pan on medium heat and bring the broth to a simmer.  This will be made while the salmon is cooking. 

2. Prep the salmon by removing any bones, rinse then pat dry. Cut into desired fillet sizes. Brush the fillets lightly with one tablespoon of the olive oil then a squeeze of lemon juice

3. Combine the seasonings in a shallow dish. Again only add salt if you use a salt-free Cajun blend. Press the salmon fillets into the seasoning to cover them well, don't season the skin side. 

4. Heat the remaining olive oil and one tablespoon of the butter in the cast iron pan. Place the fillets in the pan skin side up and cook for 3-4 minutes. Carefully flip over and cook for another 3-4 minutes to crisp up the skin. Remove the salmon from the pan and add in the remaining tablespoon of butter and a few drops of tabasco sauce. Stir to make a sauce. 

5. While the salmon is cooking, make the grits. Add the grits to the simmering stock and quickly whisk. This should take about 5 minutes to thicken so you can do this while the salmon is cooking. If the grits are too thick for your liking add in a little more stock. Once the salmon is about done remove the grits from the heat. Add in the butter, half and half, cheeses, half a teaspoon of salt, black pepper and optional liquid smoke. Stir until cheese is melted. Taste and add more salt if desired.

6. Divide grits amongst shallow bowls, top with a piece of the salmon. Spoon the sauce from the cast iron pan over the salmon, top with diced scallion, a few more drops of tabasco and garnish with a few lemon slices. Serve immediately. 
Notes
You can use all cheddar cheese in the grits if you don't care to use smoked gouda.