Tropical Calamansi Mango Sorbet Bars. Perfect for the record heatwave this country is experiencing this week and all we want to do is sit in our freezers and eat popsicles and ice cream.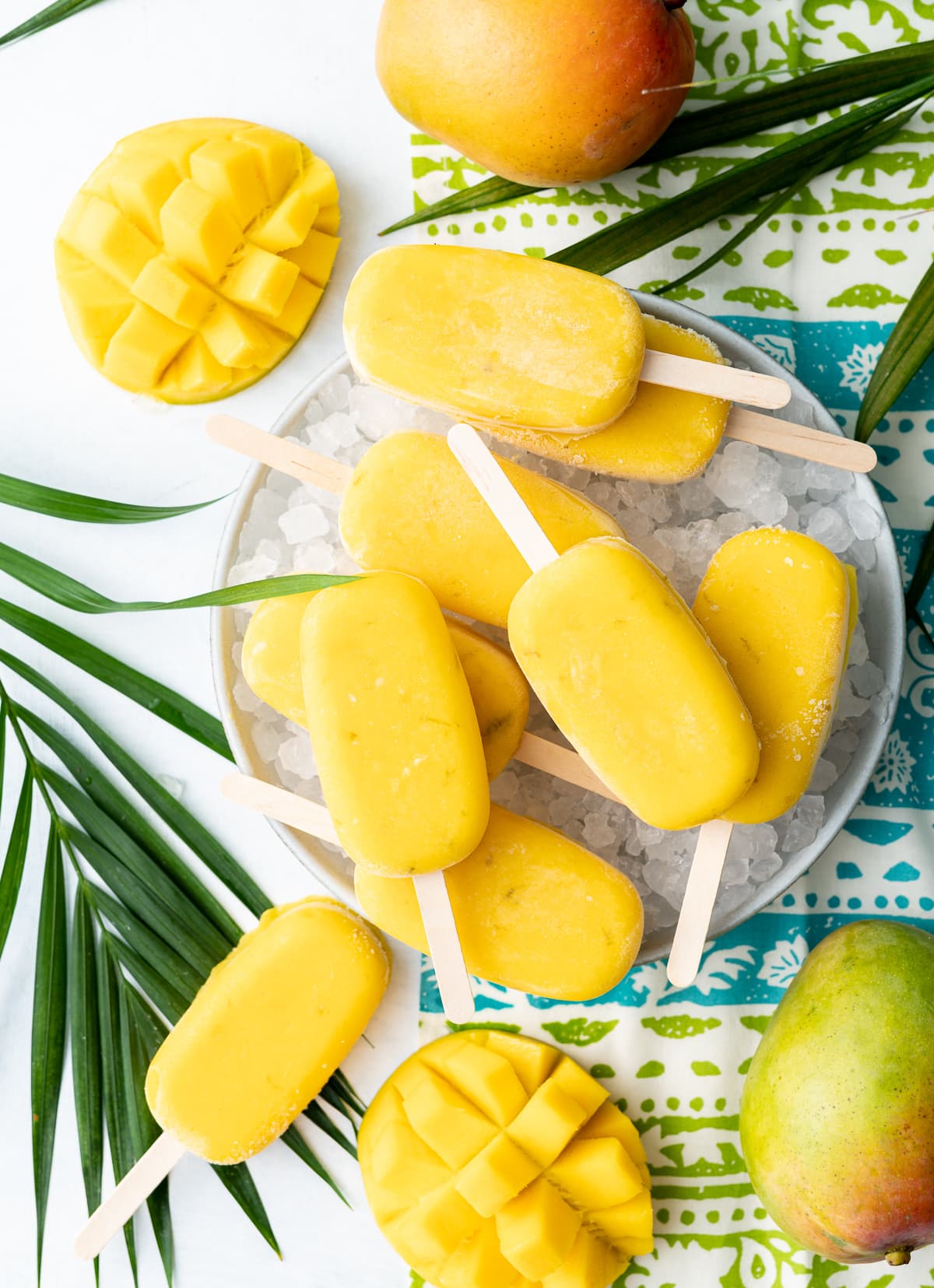 We have been living on a diet of anything and everything cold, no bake, no cook, no grill these days. Too hot to turn on the oven, too hot to grill.
All about salads, smoothies, cold fruits, ice cream and of course popsicles and sorbet bars. These calamansi mango sorbet bars fit the bill to help keep us cool.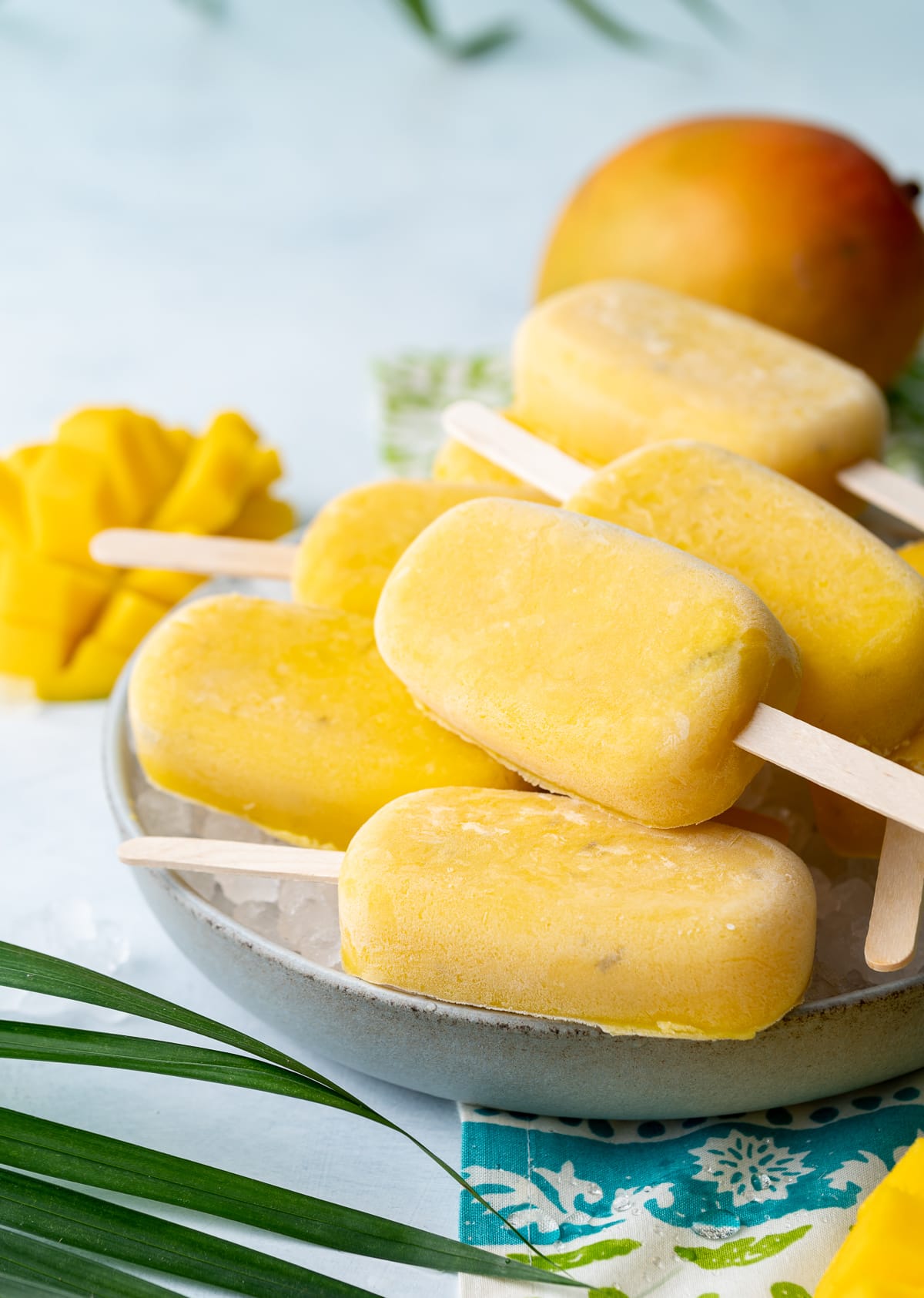 I love making popsicles and sorbet bars at home. Easy to do and can make in a variety of flavors. I will often make smoothie leftovers into a few pops whenever we have them.
Mango popsicles were on my list to make for my batch of mango themed recipes. I decided to go with a mango sorbet and add in some calamansi for a bit of tartness. I love calamansi and they go great with mango.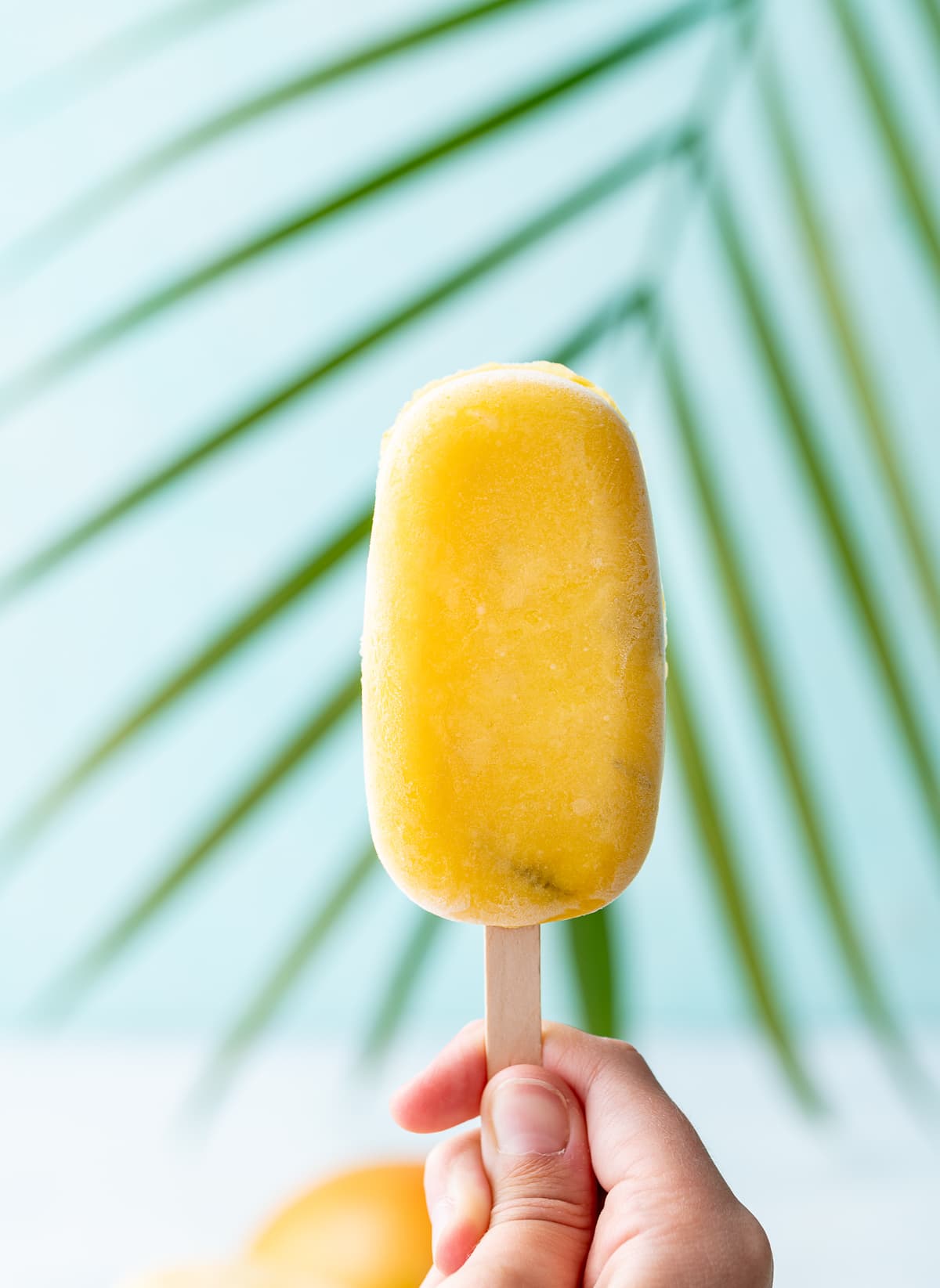 Calamansi are a tropical citrus, originating in the Philippines. They are a hybrid citrus, a cross between a mandarin orange and a kumquat, but are often referred to as a lime. They are sweet-tart that have hints of lime and orange.
I often can only find the juice in freezer sections of well stocked Asian grocery stores here in Las Vegas that carry a variety of Asian cuisines. Sometimes I get lucky and find the whole fruit, depends on the season. The frozen and thawed juice is what I used for these sorbet bars.
If you can find fresh Calamansi, please use those. You can substitute lime and orange juice if you can't find them.
For these calamansi mango sorbet bars I made a sorbet first, churned in my ice cream maker then filled the popsicle molds.
The molds I use are great, but the sticks tend to lean towards the bottom of the mold and I found that adding in ice cream or sorbet when thicker helps keep the sticks even and not poking through one side. If that doesn't matter to you, then fill the molds with any consistency puree, juice or mixture you like.
Use whatever popsicle molds you have or you can even just make the sorbet and freeze in a tub and scoop like ice cream. Any way works!
I love having the sorbet bars on hand so my kids can just grab one and go. Portable snacks are great. Popsicles and sorbet bars are one of the best portable snacks during hot summer days.
What ingredients are in calamansi mango sorbet bars?
Fresh mango, pureed. I used red mangoes, use whatever mangoes you can find
Calamansi juice and zest
sugar
water
pinch of salt
I did use fresh lime zest in these sorbet bars, I love the texture and flavor it adds. Again, if you have access to fresh Calamansi, use the zest of those, if not, use a regular lime.
I made these bars with fresh mango puree. Took about four to five large, red mangoes to get the amount of puree needed, 4 cups total. I then heated it with some water and sugar to thin it a little as well as sweeten slightly.
If your mangoes are extra ripe, you can use less sugar, or taste and sweeten to your liking.
To get a more sorbet like texture, I churn the mango puree mixture in my ice cream maker then add to my molds. I find that this gives a better texture as well as the bars freeze solid a lot faster.
If you don't have an ice cream maker, that is fine. Just freeze the mixture until thick but still scoop-able, then add to your molds.
Tropical Calamansi Mango Sorbet Bars
Sweet, tart, tropical sorbet bars with fresh mango and calamansi citrus. Perfect for hot summer days.
Ingredients
4

cups

fresh mango puree

5-6 large mangoes (1000ml)

1

cup

granulated sugar

200g

½

cup

water

125ml

¼

cup

Calamansi juice

or half lime, half orange juice (75ml)

1

tablespoon

Calamansi zest

or lime

Pinch

salt
Instructions
Peel and cut the mangoes into chunks, blend or add to a food processor until smooth.

Heat the mango puree with the sugar and water in a 4 quart sauce pan, stirring until sugar is dissolved. About 5 minutes. Let cool. Mix in juice, zest and salt. Chill 30-60 minutes until cold.

Make sorbet in an ice cream maker, according to manufacturers directions or pour into a freezer safe tub until almost frozen but still soft. Stirring often to aerate the sorbet mix if using the no-churn method.

Divide amongst popsicle molds with sticks - you can use the molds like I have or any mold you may have

Freeze until solid. About 2-3 hours. Carefully remove from molds and wrap in wax paper, place in a freezer safe bag. 
Notes
You can just make this as sorbet if you like instead of making popsicles. Just churn, transfer to a freezer safe container and freeze until solid. If you don't have an ice cream maker, just transfer the sorbet mixture to a container, and stir every half our or so while it is in the freezer until you get sorbet consistency
Another option is to use frozen mango, puree with simple syrup and the remaining ingredients, then pour into molds. This mixture will be very thick. 
Calamansi juice can be found in any well stocked Asian grocery store that carries a wide variety of different Asian cuisines. Usually in the freezer section. Make sure it is 100% juice, no other additives. Calamansi are seasonal in some areas, if you find fresh use those.