Chicken and Waffles - Coconut Milk Baked Panko Chicken with Sweet Potato Waffles. My version of the classic dish.
Chicken and waffles is a delicious combination of juicy, fried chicken and a crisp, thick waffle. Sweet, salty, crunchy and soft. A meal of different textures and flavors that really work well together. I changed it up a bit by baking the chicken, instead of deep frying, but still making it super crispy and moist to where you can't tell it isn't deep fried and the waffles are made with sweet potato!
Just like many dishes, exact origins of Chicken and Waffles isn't entirely known. Waffles has its own beginning as well as fried chicken. But the combination on a single plate, there are several theories as to where it got started. Most agree that it got its start in the American south.
Waffles were introduced to America in the 1600s. Fried chicken appears in American cookbooks in the late 1800s, although it was reported to have been cooked by slaves in the mid 1800s on southern plantations. In the early 1800s, several restaurants in Pennsylvania served fried catfish with waffles, they also served fried chicken as well. Catfish wasn't as readily available as chicken, so fried chicken soon took its place next to the waffles on the plate.
Fast forward to many establishments offering the dish across the country as it expanded westward. They came to Los Angeles, California ( where I first had them). They were first served at The Maryland in Glendale, Ca. Their popularity came and went but came back in the 1970s due to the famous Roscoe's House of Chicken n Waffles starting up. That is where I tried them for the first time. But in the late 1990s, not the 70s.
The very rare times we have gone out for brunch in our lives, I always order the chicken and waffles if I see it on the menu. Here in Las Vegas, the Hash-House has an amazing version. Huge portion, easy to share, or to take home for leftovers. Since I always joke that I am horrible at deep frying foods, I made my version a baked version.
I marinade chicken strips in coconut milk and a few seasonings, bread with panko and more seasonings. Bake until crispy and juicy. The waffles have baked, mashed sweet potato in them as well as warm spices, cinnamon and nutmeg. They smell amazing when cooking.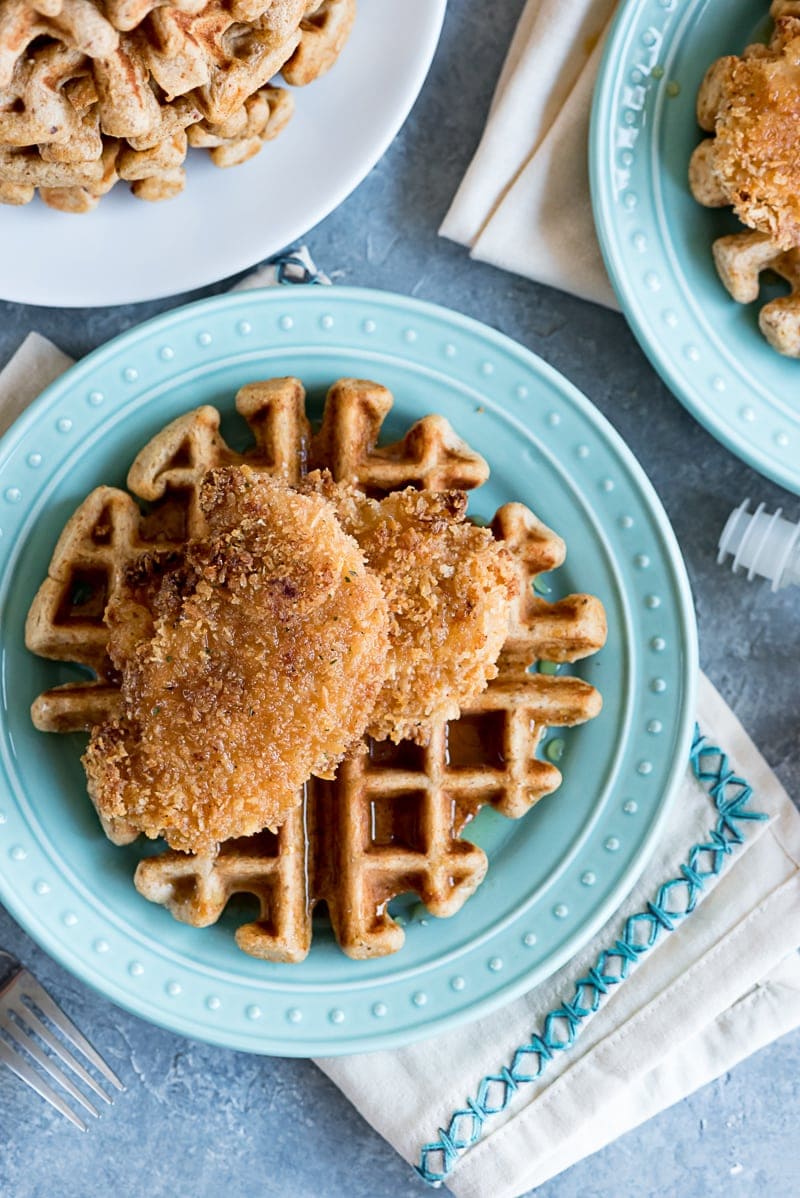 A few notes before the recipe:
I used chicken tenders for this recipe. I use 2-3 tenders a serving. Feel free to use whatever cut of chicken you like, cooking times will vary. If you choose to deep fry, that will also vary in time as well as oil temp.
I used leftover mashed sweet potato for these waffles that I had baked. Check recipe notes for baking sweet potatoes. If you choose to use frozen and thaw it or canned, make sure they are well drained, they tend to be more watery than baking it from a fresh potato
Check recipe amounts if you want to make less servings, or more. Both the chicken and waffles easily double to feed a crowd.
The waffles freeze well after being cooked. Just place in a resealable freezer bag. Thaw to room temperature then crisp up in a toaster oven or oven.
If you aren't a fan of honey mustard, go ahead and use whatever syrup you like.
"Recipe"
Chicken and Waffles - Coconut Milk Baked Chicken with Sweet Potato Waffles
My version of chicken and waffles with crispy, baked chicken tenders, spiced sweet potato waffles and a honey mustard syrup.
Ingredients
For the Chicken:
3-4

lbs

Chicken Breast tenders

or chicken breasts cut into 4-5 strips each breast

Marinade:

1

can full fat coconut milk

15 ounces

1

teaspoon

salt

½

teaspoon

ground black pepper

Panko Coating:

3

C

Panko breadcrumbs

⅔

C

arrowroot starch

1

teaspoon

salt

1

teaspoon

garlic powder

½

teaspoon

smoked paprika

½

teaspoon

ground black pepper
Waffles:
2.5

cups

flour

½

cup

sugar

3

teaspoon

baking powder

½

teaspoon

tsp baking soda

½

teaspoon

salt

¾

teaspoon

cinnamon

⅛

teaspoon

ground nutmeg

4

tablespoon

melted butter

or melted coconut oil

1

cup

mashed sweet potato

baked, cooled, mashed

2

cups

buttermilk

or non-dairy milk

3

eggs

separated

1 ½

teaspoon

vanilla extract
Syrup:
1

tablespoon

Dijon Mustard

¼

C

Honey

1

C

Maple Syrup
Instructions
The chicken and waffles can be made at the same time. Just prep everything first so both are ready to go at the same time. 
For the Chicken:
Pour the coconut milk into a large bowl. If it has separated, like some canned brands do,  whisk to an even consistency. Season the chicken breast tenders with salt and pepper. Add the chicken to the coconut milk and cover each tender well with the coconut milk. Marinade at least 30 minutes up to overnight. You can make the waffle batter while the chicken is marinating.

When ready to bake the chicken, preheat oven to 400 Deg F. Spread the panko out on a baking sheet and lightly toast, about 6-8 minutes, stirring every 2 minutes to ensure even toasting. Let cool then transfer to a shallow bowl. Add in the arrowroot, salt, garlic, smoked paprika, black pepper and stir to mix well. 

Prepare baking sheets with silicone bake mats lightly sprayed or brushed with oil. You can also use parchment paper sprayed or brushed with avocado or sunflower oil. Don't use foil or just the baking sheet - the chicken will stick. 

Working with one chicken tender at a time remove from the coconut milk marinade but don't scrape or shake any of it off. Immediately place in the panko mixture and press the mixture into the chicken gently rolling the chicken tender several times to make sure it is well coated, while pressing the mixture into the chicken.  Next place the coated chicken tender on the prepared baking sheet. Repeat until you have a sheet full of chicken tenders ready to bake. Lightly spray the tops of the chicken tenders with avocado or sunflower oil. This may take several batches to cook if you only have one oven.

Bake the tenders for 15-20 minutes, flipping over once during baking, being careful not to knock off any of the coating. Keep warm on a plate covered in foil while you bake the other batches. Once the chicken tenders are in the oven you can bake the waffles so everything is done at the same time.
Prepare the waffle batter:
Heat your waffle iron. In a large bowl whisk together the flour, sugar, baking powder and soda, salt, cinnamon and nutmeg. 

In a separate bowl mix together the milk, egg yolks, melted butter or oil and mashed sweet potato. Pour this into the flour mixture and mix well. Whip the egg whites until you reach medium-stiff peaks then fold into the flour mixture to lighten it.

You may make more or less waffles depending on the size of your waffler maker and how much batter you use per waffle. I use a heaping ½ c of batter per waffle and they take about 3-4 minutes to cook. 

Keep the cooked waffles warm on a wire cooling rack set on a baking tray and covered in foil until the rest of the waffles are finished cooking and chicken is finished baking. 
For the Syrup:
Whisk together the dijon, honey and maple syrup. Keep in a bowl or transfer to a glass syrup bottle for easier pouring. 

To serve place one waffle on a plate and top with 2-3 chicken tenders. Sprinkle some parsley on top of the chicken then drizzle with syrup. Enjoy!
Notes
If the panko coating starts to get gummy or runs out while covering the tenders you can make up a new batch of it. Sometimes I end up making two batches of the panko mixture if I drip too much of the coconut milk in it. The coconut milk helps keep the breading to stick this is why it is important to not scrape it off. 
To make the mashed sweet potato, wrap sweet potatoes in aluminum foil and roast in a 425°F oven for 1 ½ hours. Turn off the oven and allow the sweet potatoes to cool in the oven for 2 hours. This allows more of the starches in the sweet potato to transform into complex sugars, making the sweet potato flesh both sweeter and softer. Peel and mash the sweet potatoes.