Air Fryer Chicken Schnitzel Sandwiches on Pretzel Buns with Lemon Herb Mayo.
A mouthful in name as well as sandwich. And a delicious one at that. These chicken schnitzel sandwiches are soon to be your new favorite sandwich. They are my new fave.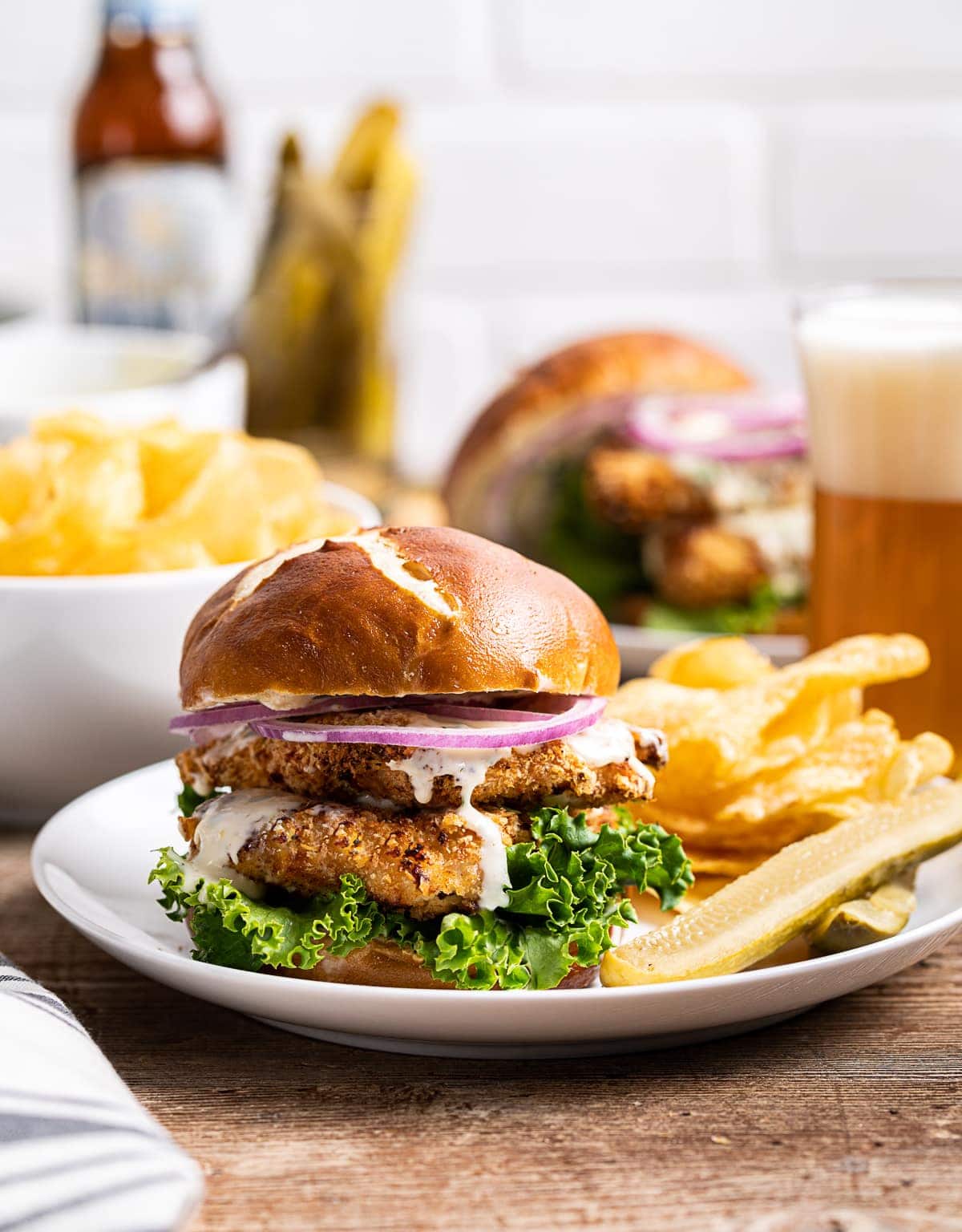 This page contains affiliate links. Affiliate links support Pineapple and Coconut at no additional cost to you. If you choose to make a purchase via these links, I earn a small commission to help keep this blog running and it is much appreciated. I am an Amazon and Adorama affiliate.
This might be the best sandwich I have ever made. Crunchy and juicy chicken schnitzel, tangy lemony herb mayo sauce, soft pretzel bun, crispy lettuce and onions. Served with kettle chips, dill pickles and of course some German Hefeweizen beer to make for a perfect Oktoberfest inspired meal.
My husband and I were talking about some of the things we miss this year, going to local Oktoberfest celebrations being one of them. When we lived in Vail, Co, we would go over to Breckenridge for their Oktoberfest. So fun, such amazing food and drink and atmosphere. I would love to go to the real deal in Germany one day ( if that will ever happen), but until then I am bringing it to my house.
These chicken schnitzel sandwiches are so easy to make, and I am blown away by how crispy the chicken gets while staying moist and juicy on the inside with my air fryer. I have way too many small kitchen appliances as it is but when I decided to join in on the air fryer craze I am so glad I did. I got a Cosori, and while it is on the big side, it has a large tray for frying a decent amount of food at once. It stays on a shelf in my room adjacent to my kitchen when I am not using it, but everything we have made so far has been excellent. Can't wait to share the air fried potatoes my husband has made a few times now.
My recipe is a little different from traditional schnitzel, but that is ok since recipes can have so many variations and still be amazing. I start out with smaller pieces of chicken so they fry up faster and fit onto sandwiches without having to cut them after being fried. I try to get 2-3 ounces for each piece of chicken. I cut them after I pound the larger chicken breast thin with my meat mallet, which I named Mjolnir ( fellow Thor fans will get this ha ha), then I cut into smaller pieces before the breading process.
How to prep chicken for perfect schnitzel:
Pound chicken breasts to about ¼" thick, sandwiched in plastic wrap. This helps keep the chicken from splattering juice all over and helps it be pounded to an even thickness
Get your three bowls ready with flour mixture, egg-milk mixture and breadcrumbs.
Work quickly dipping one piece of chicken at a time in the flour, egg-milk then breadcrumbs, gently shaking off excess after each bowl.
Place prepped chicken on a parchment lined pan and chill in fridge for one hour. This is so important. This will help bind everything to the chicken so none of it falls off in the frying process
Air-fry to golden-brown, juicy chicken schnitzel perfection.
While the chicken is in the fridge chilling for the hour before frying, make the mayo sauce. Combine all the ingredients in a bowl, mix, chill. Just like Ina would say "Isn't that easy?"
Traditional chicken schnitzel, or any schnitzel for that matter, is served with a squeeze of lemon over the top and a sprinkling of fresh parsley. Schnitzel is often served with side dishes such as spaetzle, sauerkraut, potato salad etc. Since I made a sandwich I wanted something to not only go with the chicken, but a spread or sauce for the sandwiches as well. No one likes a dry bun. I went with this lemony mayonnaise sauce with diced, fresh parsley.
I made my sauce a little thinner than mayo or say an aioli sauce, but you can make it thicker if you like. I spread some sauce between the two pieces of chicken schnitzel on the sandwiches as well as one of the halves of the pretzel bun. The other half got some good, German mustard spread on it.
I grew up eating schnitzel for holidays and whatnot, since half of my family is Bavarian. My mom would make Wiener Schnitzel for Christmas dinner along with many other German/Austrian foods to go with it. She always made it authentic with veal. I no longer eat beef, haven't since I was a kid and much prefer chicken or pork. I usually save pork for pork katsu sandos. YUM.
A few notes about the chicken schnitzel sandwiches recipe first:
They say "the secret is in the sauce" but my secret is in the flour mix. Corn starch. It helps make the chicken extra crispy when air fried
The key to extra crispy chicken is the hour rest in the refrigerator after the breading process. Do not skip this step!
You can marinate the chicken in the milk - egg mixture for a few hours up to overnight. This will definitely add to more flavor. Up to you depending on how much time you have. If you go this route, drain off the marinade then go through the breading process from flour to breadcrumbs and chill
Speaking of breadcrumbs, traditional schnitzel calls for regular, unseasoned breadcrumbs. I like to use a mixture of breadcrumbs, Japanese panko and seasonings. Again, my version and it is so tasty this way.
Pretzel buns are a must. They just go so well with schnitzel and are very Oktoberfest-y. I LOVE big, soft, German pretzels. I get them either from a local grocery store ( Sprouts or Whole Foods) or from the German bakery nearby when they have them.
I also add in green lettuce and thinly sliced red onion. Love the flavors and textures these add to the sandwich. I serve with pickles on the side, but feel free to add thin pickle strips to the sandwich.
Serve with kettle chips and good German beer. I love Hefeweizen.
Don't have an air fryer? It's no problem. You can bake in the oven or pan fry. Details in recipe notes.
Air Fryer Chicken Schnitzel Sandwiches on Pretzel Buns with Lemon Herb Mayo
My new favorite sandwich. Crispy air fried chicken schnitzel sandwiches with a tangy lemon herb mayo sauce and of course pretzel buns. Do't forget the pickles, kettle chips and a cold German beer.
Ingredients
For the chicken:
1-1.5

lbs

chicken breasts
Flour mix:
1

cup

4.5 ounces all purpose flour

1

tablespoon

cornstarch

1

teaspoon

kosher salt

½

teaspoon

pepper
Egg mix:
1

cup

Milk

2

large Eggs

1

tablespoon

dijon Mustard
Breadcrumb mix:
1

cup

plain breadcrumbs

1

cup

panko breadcrumbs

1

teaspoon

kosher salt

½

teaspoon

black pepper

1

teaspoon

ground garlic

1

teaspoon

ground onion
For the mayo sauce:
¾

cup

mayonnaise

I use Sir. Kensington's

2

teaspoon

lemon zest

2-3

lemon juice

1

teaspoon

kosher salt

½

teaspoon

black pepper

2

tablespoon

diced

fresh Italian parsley
For the Sandwiches:
Pretzel buns

split

Lettuce leaves

I used green

Thinly sliced red onion

German mustard or Dijon mustard
Instructions
1. Prepare the chicken:
Place one chicken breast a time between plastic wrap and gently pound with a meat mallet until its an even ¼" thickness. Cut each breast into 2-3 ounce portions. 

Get three, wide shallow bowls and combine the flour mixture in one, egg mixture in another and the breadcrumb mixture in the third. Set out a baking tray and line with parchment paper. Have a second sheet of parchment paper ready in case you need to make a second layer of prepped chicken on the tray.

Working quickly dip the chicken one at a time in the flour, shaking off excess, dip in egg mixture to fully coat the chicken and cover all the flour,  then dip into the breadcrumbs, carefully pressing into the chicken on all sides, carefully shake off excess. Place chicken on prepared baking sheet then repeat with the rest of the chicken. Once it is done, chill in the refrigerator for an hour. If the chicken fills the pan and you need to chill more, just lay another sheet of parchment on top of the already prepare chicken and make another layer. 

2. Mayo Sauce

While the chicken is chilling, make the mayo sauce. Combine everything into a bowl then mix well. Taste and add more lemon juice if desired,  or more mayo for a thicker sauce. Chill until ready to use. 

3. Fry the chicken

Preheat your air fryer to 400 Deg F for 5 minutes. Preheat your oven to 200 Deg F. Place a wire rack on top of a baking sheet and set inside your oven. This is to keep the chicken warm while you air fry other batches. Spray the basket of your fryer with oil ( I like using Chosen Foods Avocado oil) then spray the tops of the chicken. Working in batches, fry a few pieces of chicken at a time at 400 Deg F for 14 minutes, flipping the chicken once at 7 minutes. Remove the chicken and place on the prepared baking sheet in the oven and repeat with remaining chicken, spraying the fryer basket before frying each new batch of chicken. 

Once all the chicken is fried, assemble the sandwiches. You can heat up the pretzel buns in the oven if you like. 

4. Assemble the sandwiches

Spread mustard on the bottom half of the bun, top with lettuce, one piece of the chicken, spoon some of the lemon mayo sauce on the top of that piece, then top with a second piece of chicken. Spread more mayo sauce on top of that. Top with a few red onion slices, spread some more mayo sauce on the top bun then put the sandwich together. Serve with kettle chips and pickles. Don't forget the ice, cold, German beer! Prost! 
Notes
Make sure you saw the notes in the post before the recipe card for tips on making this recipe
You don't have to have an air fryer to make these. You can pan fry. I suggest using a cast iron skillet, get it hot, add in a little oil and a little butter, one tablespoon of each is good,  then fry the chicken pieces only flipping once, after 7-8 min, with thin spatula to make sure the breading doesn't fall off. Fry another 7-8 minutes until done.
To oven fry/bake heat oven to 400/425, bake on a rack on a baking sheet, spray both sides of chicken with oil. Bake 7-8 min a side, flipping once. Oven baking will take a little longer than air frying.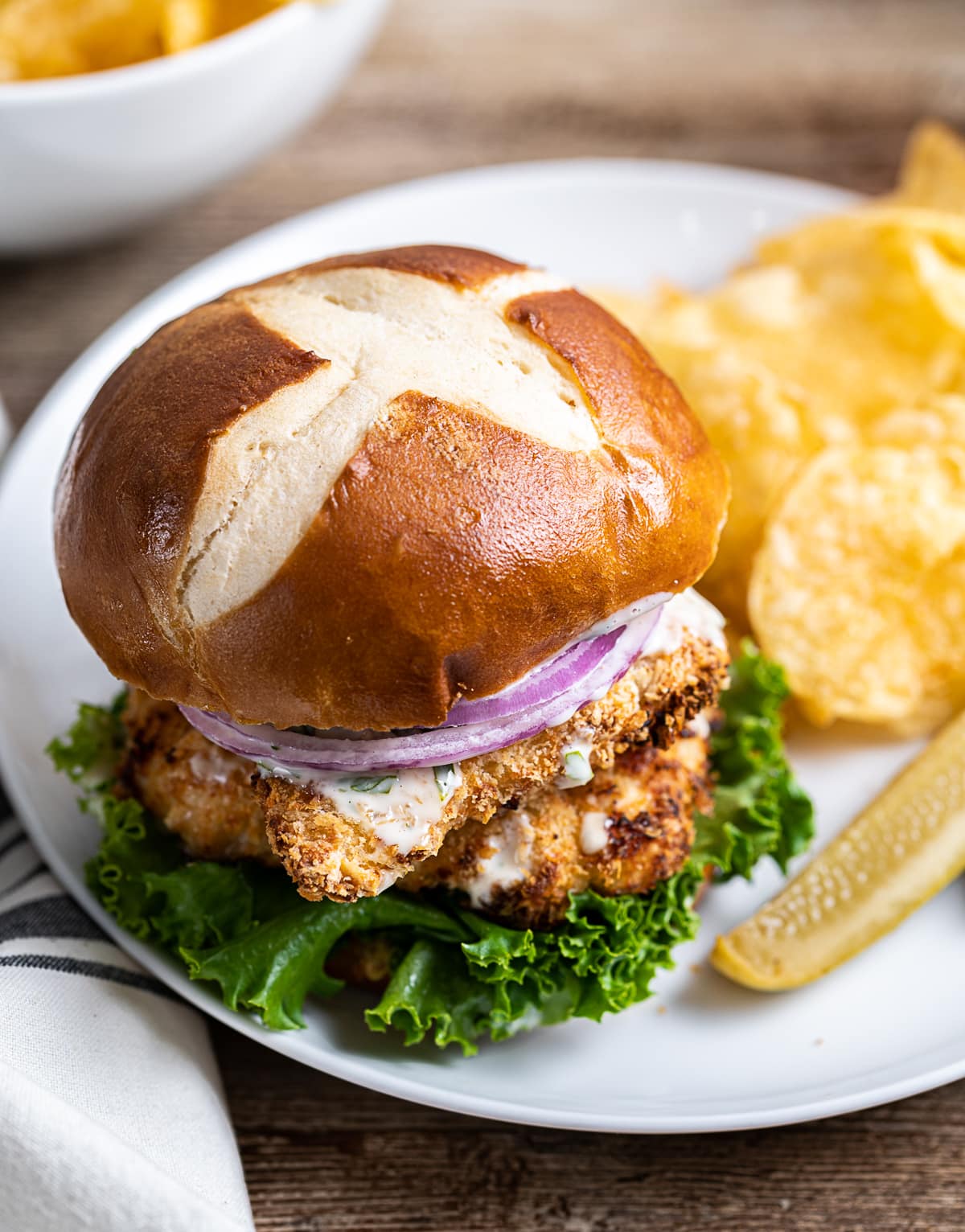 Since Google likes Questions here are some for you ( I honestly think some are pretty common sense. People should know what can and can't freeze, what can be made ahead of time etc.)
Can I freeze chicken schnitzel? Probably not. I haven't but I can't think it would be very good if thawed then refried. Best the first day. If you freeze it and it doesn't work, thats on you. I wouldn't ever freeze it after its fried.
Can I reheat chicken schnitzel? Yeah you can. Heat your air fryer to 400 Deg F for 5 minutes. Lightly spray the chicken and refry 3-4 min total. More than that you will get chicken schnitzel jerky.
What goes with chicken schnitzel? Besides making these sandwiches, traditional side dishes with schnitzel are sauerkraut, spaetzle (a delicious German dumpling noodle that is so easy to make), German potato salad - a vinegar based salad, potato chips, onion rings, buttered noodles, pickles. Really anything you like.
How do you keep chicken schnitzel crispy? Honestly, I have found air frying to be the best method for the crispiest chicken whether you are making chicken schnitzel, fried chicken, chicken wings, fried shrimp etc. I am so happy I finally bought an air fryer. But the BIG trick is to chill for an hour after breading. That leads to seriously crispy chicken schnitzel.