This jam sandwich cookie has been a recipe in my family forever. I am now sharing it with you all. One of my all time favorite Christmas cookies.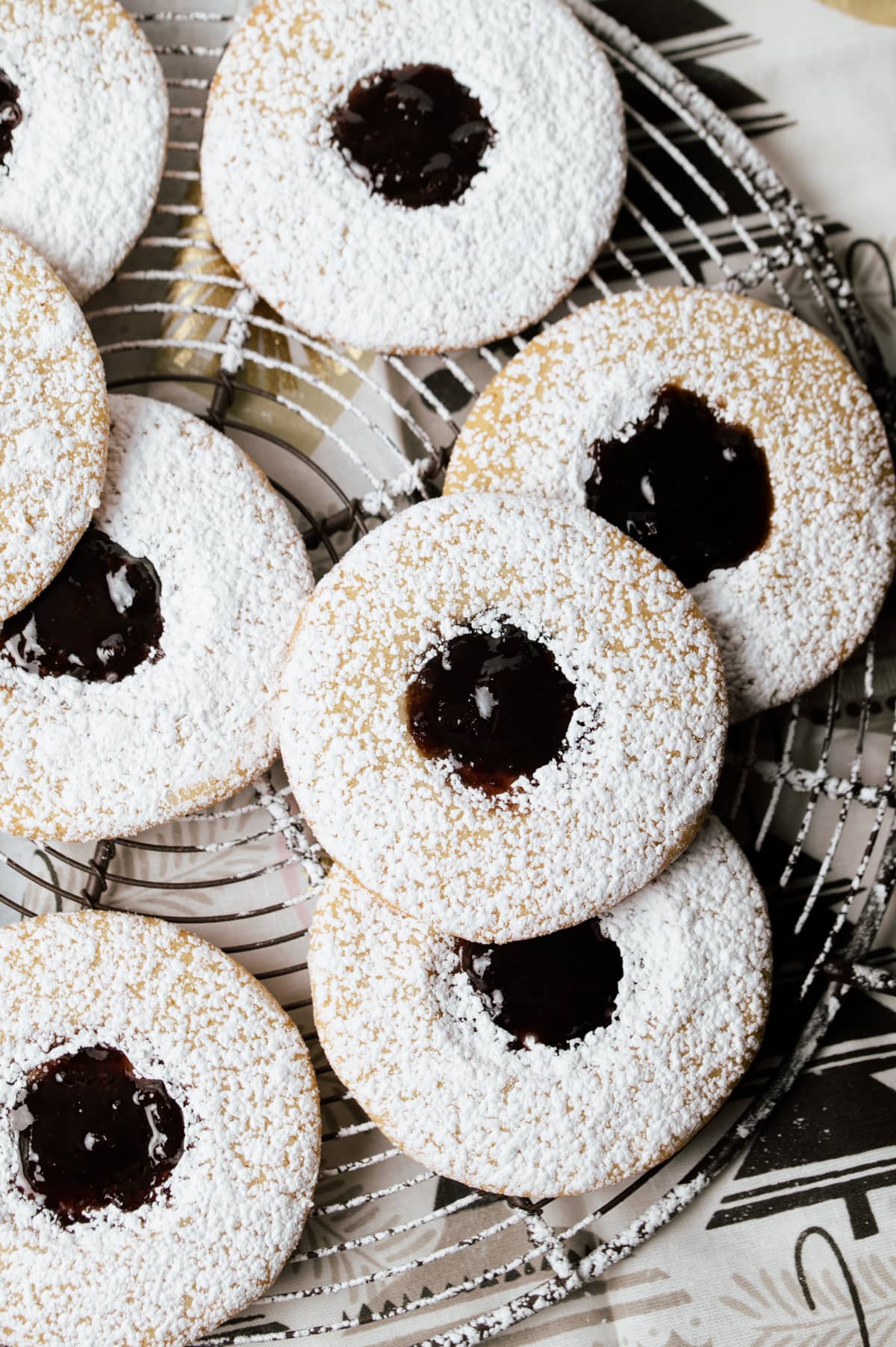 Buttery, soft vanilla cookies sandwiched with jam before baking, then dusted with powdered sugar. Similar to Linzer cookies, but the jam is added before baking and no nuts in the dough.
I helped my mom make these jam sandwich cookies every Christmas when I was a kid. These were my Austrian grandfather's fave cookie. She used a wine glass and a thimble as cutters. Use what you got, right? I have a set of round Ateco cutters. I used the 2 ¼" and the ½" ones. Bigger than what my mom made which means more jam and more cookie.
This is another cookie dough that requires chilling after making it and I roll out between two pieces of wax paper so the dough doesn't toughen up more and more after every time I roll it. The recipe from my mom called for all shortening, which makes for a super soft cookie, but I love the buttery flavor of cookies like this so I went half and half. They also have a little cream of tartar in them too help keep them from spreading too much.

Tips for making perfect jam sandwich cookies every time:
Use either all shortening or half shortening half butter. I like using

Nutiva

shortening.
Chill the dough well before rolling out. Let thaw just enough to roll out
Divide the dough and roll out between pieces of wax paper. Don't roll with adding flour every time. The more flour added, the tougher it will get.
Use a smooth jam or jelly, preferably one without large chunks of fruit in it. Seeds are ok. My mom used raspberry or strawberry jams. I found an amazing bourbon berry for these. Made by Bonnie's Jams.
After you cut out and assemble the cookies chill them for a little bit before baking. I set them on a parchment lined baking sheet then pop in the freezer for a few minutes
Baked just until they look set, edges barely starting to change color. You don't want these getting dark at all
Dust with powdered sugar when warm
These last a long time in the freezer in an airtight bag or container. Only a few days on the counter at room temp.
I asked one of my lovely assistants ( my daughters) to help me with this photo. I told her to just dust the cookies all over with powdered sugar as I snapped. One cookie got a lot more powdered sugar than the rest. She asked if that could be her payment. After all these years my kids still work for cookies. Who can blame them.
"Recipe"
Jam Sandwich Cookies
Soft, buttery cookies sandwiched with jam of choice before baking. Dusted with powdered sugar. Best served with a cup of hot tea or coffee.
Ingredients
½

c.

shortening

3oz/85g

½

c

butter

4oz/113g

½

c.

granulated sugar

3.6 oz/102g

½

c.

brown sugar

4 oz/113g

2

egg yolks

3

T.

milk

2

tsp.

vanilla

2-⅔

cups

flour

12 oz/340g

2

tsp.

cream of tartar

1

tsp.

baking soda

½

tsp.

salt

½

cup

jam of choice

5oz/170g *see notes (I used Bourbon Berry from Bonnie's Jams found at Whole Foods)

Powdered sugar for dusting
Instructions
Cream shortening, butter and sugars. 

Beat in yolks, milk, vanilla.  

Sift together dry ingredients.  

Add to creamed butter mixture. 

Chill up to 1 hour.  Let sit at room temperature before rolling and cutting.

Roll part of dough at a time to 3/16" thick in between pieces of wax paper.  Keep remaining dough chilled until you use it. Cut tops and bottoms of sandwich cookies with a 2 to ⅖ inch cutter.  Cut small hole in center of half of them.  A thimble or ½" to 1" round cutter will work. A Linzer cookie cutter set will also work.

Place ½  to 1 teaspoon of jam in center of bottom cookie.  Top with cut out one. Press edges gently to seal. Chill for 10 minutes in the freezer. When ready to bake heat oven to 350 Deg F/177 Deg C.

Bake 10-12 min.  Sprinkle with powdered sugar when warm.
Notes
The original recipe calls for all shortening. These wont spread at all but wont have a buttery flavor.
Use any jam you like, I used a bourbon berry jam, original recipe called for strawberry or raspberry. Don't use a jam with large pieces of fruit, such as a preserves. Jam with seeds is fine to use.