Coconut Butter Poached Lobster with Pineapple Green Curry Sauce. I would eat this daily if I could. It is just that good.
Actually the title of this recipe is Coconut and Butter Poached Lobster with Purple Sweet Potato Puree, Baby Bok Choy and Pineapple Green Curry Sauce. But there wasn't enough space to type that all. How does one go about naming a recipe without naming all the ingredients but telling what it is. You leave out one part and people think " Hey what is that purple stuff it's not mentioned in the title and neither are those green veggie looking things" Or you give too long of a title and it sounds way to complicated and no one would ever want to attempt to make it at home. Which is too bad because, um, coconut AND butter poached lobster is like the most insanely good lobster I have ever eaten, and I have eaten A LOT of lobster in my time.
Growing up in Southern California had its perks with amazing fresh seafood always available year round, whether it came from a local seafood market or a family friend that was a lobster fisherman, we were very spoiled with lobster growing up so that was our Christmas dinner every year. Not a typical "traditional" holiday meal but it was our tradition and I loved it. I think a lot of people look at lobster or other shellfish like king crab legs as something as a meal for a special occasion like a holiday or anniversary but I could seriously eat it every day if given the opportunity, and funds. ha ha
So when a friend of mine asked me if I was interested in receiving some lobster from Lobster.com in exchange for developing a recipe and blogging about you bet your booty I didn't have to think twice about it. Pam, from Practically Primal, emailed me some of the details and got me in contact with the marketing specialist from Lobster.com who had the lobsters shipped to me overnight.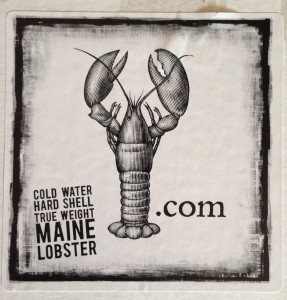 I so totally did a little happy dance when I found out about this and again when I saw the box of live lobster at my door the next day. I had talked with Pam about recipe ideas and decided on something Hawaiian-ish to go with the theme of my blog. So I sat down and came up with this recipe after looking on line for ideas, cooking methods and recipes. I didn't find any one that I wanted to copy exactly but I had an idea of flavors and took cooking methods from several to use with mine. I have always eaten lobster, never cooked it. My dad always did the cooking, usually grilling or broiling them, so this was totally a new adventure for me.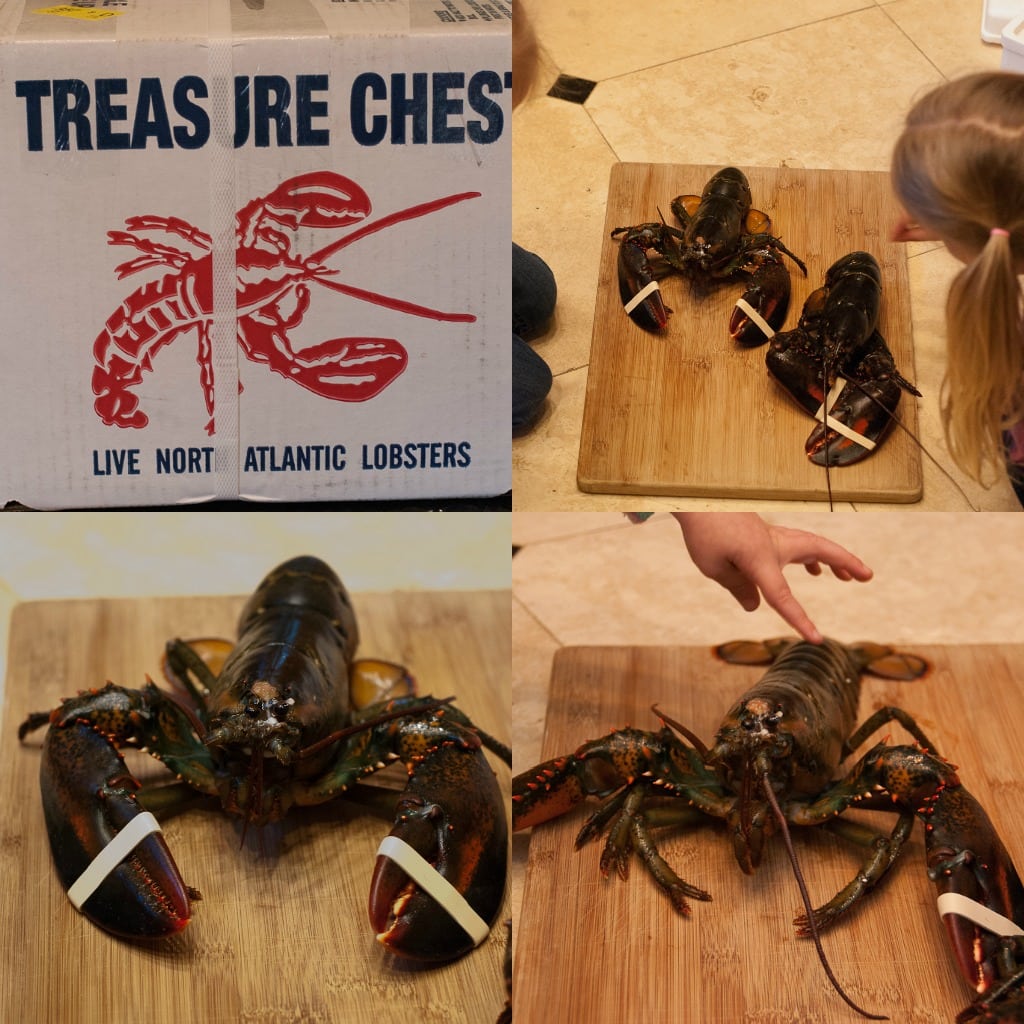 Best treasure chest ever. Two one and a half pound lobsters. My favorite bug. I told my kids that I had live bugs in the box and they wanted to see. My 4 year old " mom those aren't bugs those are lobsters!!" and proceeded to poke them, same with my 2 year old. We play with our food. One of the lobsters was more chill, no pun intended since they arrived packed on ice to keep them alive, and the other was quite feisty.
I was looking up the best way to go about the cooking method I was planning on when my modem decided to crash. Again. So I went into slight panic mode when the one method I had pulled up online was no longer accessible. I had live lobsters, a pot of water but that was it!! I don't know why I did but I looked at the packing slip from the lobsters and discovered that the company, Lobster.com, had included a "Ditty Bag" STOKED.
Seriously how sweet is this? A whole packet of different recipes and methods for not only the lobster they sell but other shellfish and crustaceans. This was such a life saver! And now I have more recipes I want to try, like the steamer clams, I LOVE steamer clams.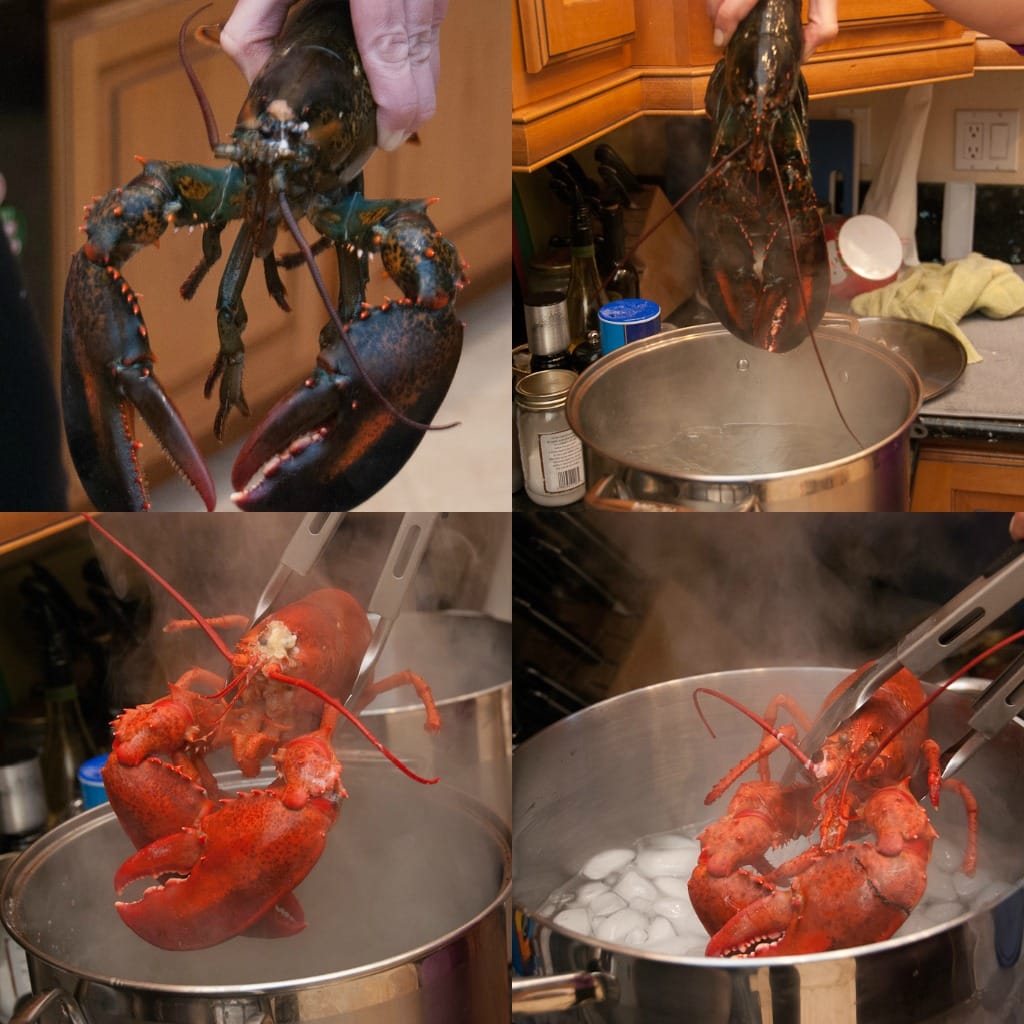 I was brave and took the rubber bands off the claws before plunging them into their "bath" and the feisty one was trying to pinch me so I spazzed out slightly and dropped him in the water instead of gently placing. Oops.
Par-boiled. I didn't take any pictures of the cutting of the meat out part, it was really messy and didn't want to keep washing my hands for pics. My husband was busy with our kids at that point so he couldn't play photographer for me. They wouldn't have made for the prettiest pictures either as I was quite messy with extracting the lobster meat. I used scissors which helped keep it all intact, especially with the delicate claw meat.
A little break from the lobstah and on to my most favorite potato of all, the purple sweet potato. Also called Ube, Okinawan sweet potato, Hawaiian sweet potato. LOVE these. I have only ever had them at luau's and in Hawaii. I found a market that sold them in Oregon when we used to live there and would stock up whenever I could. They have AMAZING flavor. They are starchier than normal sweets and take a little longer to cook, but their flavor is amazing and I add in coconut milk to make them creamier.
One would never think that these are naturally colored this dark purple inside given the light color of the skin since other sweet potatoes are the same color inside and out. If you haven't tried these before I say you should, you can find them at Asian markets, and you won't be disappointed. Unless you don't like sweet potatoes. I find that these are better made as a mash or a puree than as fries, but I may experiment with baking them as fries again. I made them once and they were very dry. I'll get back to you on that one.
Once I had removed all the lobster from the shells and prepped the poaching liquid it was time to finish cooking the lobster.
I kept the liquid at 185 deg f and poached the lobster for a total of 8 minutes, but added in different sections at different times since some pieces didn't take as long as others to cook. I think that poaching is a little more forgiving than grilling or broiling, since I thought it wasn't quite done and took one of the tails and poached for 2 minutes longer but it made no difference in texture. I am used to more chewy lobster from it being grilled ( probably for too long too - sorry dad) so when I tasted the lobster that I poached and the texture was like butter I thought maybe it wasn't done, but it was and OH WOW is butter poached lobster insanely good. So I told my dad I am cooking lobster from now on. ha ha
"Recipe"
Coconut Butter Poached Lobster with Pineapple Green Curry Sauce
Coconut milk poached lobster with pineapple curry sauce, purple sweet potato puree and sautéed baby bok choy Prep time and cook time is for the lobster. Prep and cook times for the Sweet Potatoes is about 30 min and can be done while the lobster is chilling in ice or even made a day ahead of time and reheated. The baby bok choy takes about 5 min to prep and 2-3 min to cook
Ingredients
For the Lobster:

2 1 ½

lb

live Atlantic lobsters with claws

1

tablespoon

water

1 ½

sticks butter

12 tbsp

1 ½

cans organic coconut milk

20 ounces

1 1

" knob of peeled ginger

1

cup

pineapple

sliced thin into ¼' thick matchsticks ( about 2" long)

2

lengths of pineapple cores

2 -3

teaspoon

canned Thai green curry paste

or to taste (I use Maesri brand found in Asian markets)

Hawaiian Sea Salt

For the Purple Sweet Potatoes:

2-3

Okinawan Purple sweet potatoes

½

c- ¾ c coconut milk

Hawaiian sea salt

For the Baby Bok Choy:

Baby Bok Choy

washed and leaves separated

2

teaspoon

coconut oil
Instructions
Prepare the sweet potatoes. Peel and chop into large chunks. Place in a steamer pot over boiling water and steam until very fork tender. Transfer to a food processor and process until smooth adding in coconut milk slowly until you reach desired consistency. Season to taste with salt and set aside

Prepare the lobsters. In a large stock pot, bring water to a boil, place lobsters one at a time head first into the water and poach for 4 minutes. Immediately remove and place into another large pot filled with ice water. Let rest in ice bath for 20 minutes. Repeat with other lobster. The lobsters can sit in ice bath in same pot if your pot has enough room. After 20 minutes take lobsters out of pot, drain out excess water and set on a cutting board

In a saucepan over medium low heat, combine the coconut milk and ginger and heat until warm, make sure it doesn't come to a boil. This can be heating while you prepare the butter. In a deep sauce pan over medium heat, heat the tablespoon of water, and add in the butter one tablespoon at a time, whisking until it its melted before adding the next. Slowly add in the coconut milk and ginger, whisking well to combine and turn off heat. Let sit 15 min for flavors to infuse. While the poaching liquid rests prepare the lobster. Carefully twist the tails of the body and clean under running water. Using scissors carefully cut the shell and remove the tail. Curl up the tail and stick a toothpick through it to hold its shape. Using scissors again carefully remove the claw meat and knuckle meat. You can also remove the leg meat if desired.

Turn the heat back on under the poaching liquid and once hot place the tails in the pot, after 4 minutes add in the claws and then the knuckle and leg meat last once two minutes are remaining for a total of 8 minutes of poaching. Remove immediately and set aside.

Add in 1-2 teaspoon of the green curry paste to the poaching liquid and whisk to combine, taste and add salt if needed. Add in the pineapple matchsticks and the two pieces of core and bring to a simmer. Simmer on low for about 5 minutes.

Prepare the bok choy. In a small sauté pan heat the coconut oil and sauté the baby bok choy leaves 1-2 min or until the greens start to slightly wilt.

Prepare your plate. Place about ¾ c of the purple sweet potato puree in the middle ( I used a biscut cutter to make the round shape, place baby bok choy leaves on top and then the lobster tail on top of that ( Remove the toothpick) Place the claw meat on one side and half of the leg and knuckle meat on the other . Spoon a few tablespoons of the curry sauce over the top of the lobster tail, and another 1-2 tablespoon of the sauce with the pineapple matchsticks over the leg and knuckle meat. Serve hot.

Makes 2 servings

If you want to make the lobster ahead of time, after the 20 min ice bath, place the lobsters in freezer bags and either refrigerate up to 48 hours or freeze 3 days up to 3 weeks. If frozen thaw in refrigerator for 24 hours before complete cooking. Bring to room temp before poaching.
I took pictures of the dish rather quickly because I wanted to eat the meal HOT!! So good. The flavors all worked together so well. I love Thai green curry and knew that I wanted to incorporate it in the sauce and I am so glad I did. I only added a little bit of the paste since I find it to be really spicy, but with the sweetness of the pineapple and creaminess of the butter and coconut it just really worked so well. This would be a great New Year's recipe. Why not ring in the New Years with coconut butter poached lobster?
I received two lobsters from Lobster.com for this post. I wasn't compensated any other way and opinions are my own. However I have to say these were some of the best lobsters I have ever tasted and I highly recommend ordering from Lobster.com. Life is way to short not to have live lobster delivered overnight to your front door at least once. Thanks again to my friends Jen and Dave for suggesting to their friends that I be included to receive lobsters and thanks to Pam for setting it up and a very special thanks to Lobster.Com. I am thrilled to be asked to be a part of this. And am more than happy to develop more lobster recipes in the future. Did I mention I love lobster? ha ha.