Coconut Mochi Waffles with Strawberries and Pineapple. Because when we can't go to Hawaii for a while, we bring Hawaii to our homes. Brunch Hawaiian style.
I have been meaning to blog these waffles for a long time now. Last year I was offered a cookbook proposal, and while at the time it sounded fun, I wasn't thrilled with some of the details. I had written up a list of recipes for the book, and I may write a cookbook one day, but for now I am going to add some of these recipes to my blog, like these waffles.
The theme of my cookbook was going to be tiki/Hawaiian inspired recipes from my travels to Hawaii and recipes that I have given a tropical and or tiki spin to. And no, not by just adding pineapple to it and calling it Hawaiian. That actually really annoys me since the pineapple didn't even originate in Hawaii. I do love pineapple in many recipes but just adding pineapple doesn't make it Hawaiian.
I am talking about recipes that I had a restaurants there that I wanted to recreate at home, or recipes that remind me of being on a tropical vacation. Recipes that I like to make at home with tropical flavors. These coconut mochi waffles are inspired by the strawberry mochi waffles from Hula Grill.
Hula Grill has locations on Oahu and Maui. They have amazing breakfasts, lunch and dinners. We always dine there for breakfast and dinner a few times when we visit Hawaii. The strawberry mochi waffles are my fave along with their kalua pig benedict, short rib loco moco and of course tropical mimosas. I want to try to recreate all their meals at home! Evey restaurant we have dined in on all the Hawaiian Islands I have taken photos of the menus.
Do you do that too? Take pics of menus while on vacation? I have a folder full of menu photos to try to recreate the meals one day at home.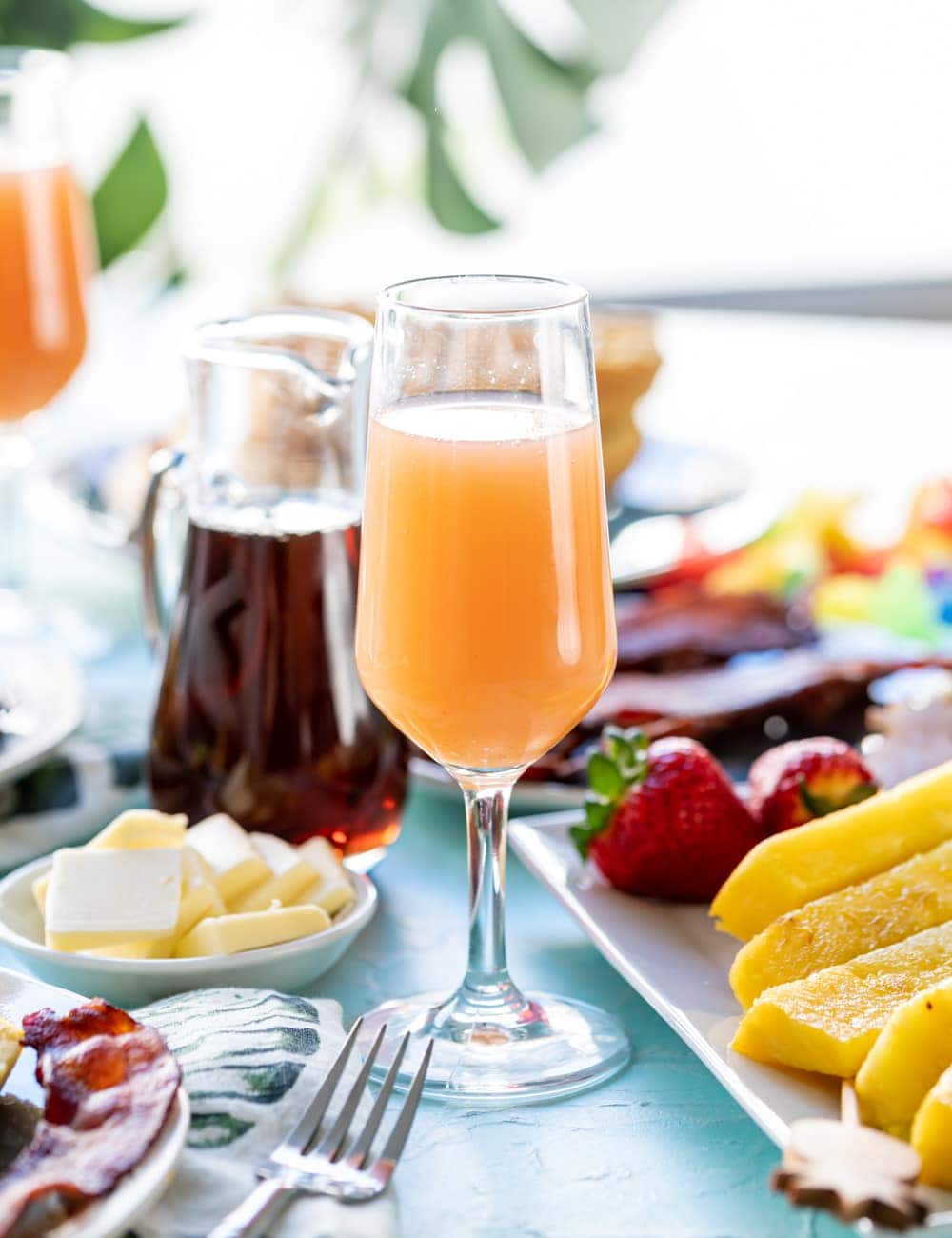 With any kind of brunch, mimosas are a must. And since we are pretending to be on vacation, mimosas go perfectly with these waffles.
I love mimosas but not with orange juice. I am all for a guava-mosa, mango-mosa, pineapple mimosa. Any tropical juice I am all for. Tropical mimosas are a must with these coconut mochi waffles. Or any Hawaiian breakfast or brunch.
The base of these waffles are Mochiko rice or a short grain sweet glutinous rice flour. It is a specialty rice flour that gives you that chewy texture for baked goods. Butter mochi being the more popular dessert. Mochiko flour is a very fine grain rice flour and it is perfect for these waffles since you get that chewy texture and not a grainy texture like some rice flours have.
You can find Mochiko flour at any Asian or International grocery store or online retailers. The brand I use is the most popular brand, Blue Star from Koda Farms. They come in one pound (16 ounce) boxes which is perfect for this recipe since it calls for 16 ounces of rice flour.
A few notes before the recipe:
Mochiko flour is a must for this recipe. You cannot substitute it for another flour. Mochiko flour can be found at any well stocked Asian or International store or online retailers. Look for Blue Star brand.
I use coconut milk from the carton for these waffles ( So Delicious brand). I have tested these waffles extensively with many different kinds of milk and this is what I like the best. You can use macadamia milk, almond or rice, cow's milk too. Even half and half would work, but for the correct texture and flavor the coconut milk is best. Canned coconut milk I liked the least - didn't yield the same consistency or texture that I was looking for.
I make my waffles on a Belgian style waffle maker that makes large, round waffles about an inch thick. These are my fave style of waffle and they make amazing mochi waffles. The exterior gets a nice deep golden crust while the interior stays soft and chewy. Different waffle makers will yield different results.
I don't cook these according to the timer or manufacturers instructions for my waffle maker. These take a little longer to cook so I go by a decrease in steam coming from the waffle iron as well as peeking at them to check color.
The batter for these waffles are thicker than traditional buttermilk waffles because of how the rice flour soaks up the liquid. The step that is a must for making these waffles is the separating of the eggs and whipping the egg whites until medium-stiff peaks. Once the whites are folded into the batter it is at the correct consistency. I always do this step for any kind of waffle I make.
You can make the batter for these waffles the night before, just wait until baking before whipping the whites and folding them in. Bring the batter to cool room temp for about an hour, add in the whipped whites then make the waffles.
Coconut Mochi Waffles with Strawberries and Pineapple
Coconut mochi waffles inspired by the strawberry mochi waffles from Hula Grill on Hawaii. Crispy golden waffles with a chewy, soft middle.
Ingredients
1

box Mochiko rice flour

16 ounces sweet glutinous rice flour, fine grain

¾

cup

all purpose flour

3 ⅜ ounce

4

tablespoon

sugar

1 ¾ ounce

2

tablespoon

corn starch

just over ½ ounce

2

teaspoon

baking powder

1

teaspoon

baking soda

1

teaspoon

kosher salt

3

eggs

separated

1 ½

teaspoon

vanilla extract

5

tablespoon

butter

melted (2.5 ounce)

2 ½

cups

coconut milk

20 ounces

extra melted butter for brushing waffle iron

or cooking spray

1-2

cups

strawberries

hulled and sliced

1

whole pineapple

trimmed and cut into slices or 1" pieces

syrup of choice

Tropical juice such as guava

mango, pineapple or passionfruit and prosecco or brut champagne for mimosas
Instructions
Preheat waffle iron to manufacturers directions. I like to set mine between heat level 3 and 4.

Combine flours, sugar, corn starch, baking powder, baking soda and salt in a large bowl. Whisk and set aside

Separate eggs into two separate bowls ( at least 4 cups in size). In the bowl with the yolks whisk together with the vanilla, melted butter and coconut milk.

Add the yolk mixture into the flour mixture and stir well. This will be a thick batter. Whip the egg whites to medium-stiff peaks. Fold into the batter in the large bowl until no streaks of whites remain. This will thin out the batter a little

Spray the waffle iron with cooking oil spray or brush with melted butter. Use heaping cups of batter per waffle. Cook for 3-4 minutes or until the steam has started to slow down and the waffles are deep golden and crisp.

Keep in a warm oven ( 200 deg f) on a wire cooling rack set on a baking sheet until all the waffles are cooked. 

Serve with sliced strawberries and pineapple, crisp bacon, syrup of choice and of course don't forget the guava mimosas! Mimosas are half juice, half bubbly. Enjoy!
Notes
I have a two sided waffle iron, the kind that flips so I can make two waffles at a time. The waffles take about 4 to 5 minutes to cook.
I make these in a Belgian style waffle iron. It makes large, round waffles about 1 inch thick. The amount of batter and time it takes to cook will depend on the type of waffle iron you have.
Do not try to substitute any other flours for the Mochiko flour. The recipe won't come out with the mochi flavor or texture.
If you want to make these gluten free you can substitute the all purpose flour for your fave gluten free all purpose blend. You need a little bit of a different flour from the rice flour to get the correct texture and consistency. I have not tested these with other flours, just the mochiko and all purpose flour so feel free to substitute at your own risk.