Captain Marvel Coffee Sugar Cookies. Made in honor of Captain Marvel movie FINALLY coming out in theatres this week. I have been waiting years for this movie and it is finally here! It opens nationwide on Friday, March 8th, which also happens to be international women's day. Yay girl power!
I love Captain Marvel. And Coffee. And Cookies. I share a love of coffee with Carol Danvers aka Captain Marvel so I decided to make some fun, and delicious Captain Marvel Coffee Sugar Cookies to take with us for our movie theatre snacks.

Carol Danvers got her start in Marvel comics in 1968 with a small part in Marvel Super Heroes comic. Carol was an Air Force officer and a colleague of Dr. Walter Lawson also known as Mar-Vell and Captain Marvel, a Kree superhero. Danvers gets caught in an explosion with Mar-Vell, some of his Kree DNA fuses with hers and she becomes part Kree and has new superhuman abilities. Super strong. Can fly in outer space. Healing abilities. A " seventh sense.
She can even go "binary" and absorb the power of the sun, she can punch planets. She is a badass. I discovered her comics about 10 years ago or so and have been collecting them since.

Carol Danvers has gone through a few transitions in her comic book runs. A short, but very fun, run of 23 issues in the late 70's has her in three different costume changes. Later on in the comics leading up to the late 90's and into the 200's she goes by a few different names; Warbird, Binary. Kelly Sue Deconnick started her comic run in 2012 with another costume change, this one happens to be my personal fave. It is a more functional superhero suit, not what looks like a skimpy bathing suit. She also dons the official title of Captain Marvel in this fabulous run and gets her famous mohawk helmet.
I want a helmet for myself. It is so awesome. I would wear it everywhere.
Love this image and quote. This is from Kelly Sue Deconnick's issue #1 In Pursuit of Flight.
If you are new to Captain Marvel comics, I highly suggest starting with Kelly Sue Deconnick's run. This is what the new movie is based off of, they are so fun, I love the Carol Corps storyline, and of course there is Chewie, her beloved Flerken-Cat, who was renamed to Goose in the movie as a nod to the 1990's setting and Top Gun character.
Carol is famous for her love of coffee. I too, love coffee dearly. I was online looking for Captain Marvel merchandise when I came across this super cute Hala Star ( Captain Marvel's symbol) cookie cutter on Etsy. I had to have it. It is 3d printed and you can get in a variety of sizes. I went for a big 3 inch cookie cutter.
A steal at only $3, and they shipped super fast too.
You can always make these cookies with any cookie cutter you like, I wanted to make these in honor of my fave superhero who loves coffee as much as I do.
Since I love coffee as much as Carol I wanted to make coffee sugar cookies. I took my usual sugar cookie recipe and added in coffee extract as well as espresso powder. Finely ground fresh coffee would work just as well too.
You can see the specks of coffee in the cookies. The Hala Star indent from the cookie cutter got a little lost in some of the coffee sugar cookies. I didn't chill the dough, which made the cookies spread a little more than usual for a sugar cookie cut out. Next time I will chill the dough. I normally don't chill sugar cookie dough, I use cool butter and eggs to keep the dough cool. When I am working with the dough I roll out half at a time and keep half in my fridge. Semi-chilled dough. Since my kids don't have a fondness for coffee like I do, I made them vanilla sugar cookies and decorated in Captain Marvel's colors.
I don't make decorated sugar cookies that often, my piping work is a little rusty, but I love how they came out. Another reason I love Carol Danvers so much is she never gives up on herself. Every time she gets knocked down, she gets right back up again. From being told she can't go to college by her dad, she enlists in the Air Force. Being told she can't do things because she is a woman, she goes out and proves herself time and time again that she can do anything she sets her mind to. She doesn't always think before she acts, she is flawed and she knows it. But she is ok with it. She owns up to everything she does, owns up to all her flaws and imperfections, all while kicking ass on Earth and in space. She is the boss of space. Princess Sparklefists. Spaceface. Captain Marvel.
I am taking my daughters to see Captain Marvel this weekend. We got tickets for several days in a row. Kind of crazy for us, but my daughters are just as excited as I am to see our fave superhero on screen. I love that there are so many more strong female superheros for my girls to look up to now. When I was a kid there weren't as many. Princess Leia, Wonder Woman. But not many shows or movies for them. Not like now. I LOVE Wonder Woman too. She is one of our faves. I loved watching her show as a kid, as cheesy as it was, and absolutely love her movie from a couple years ago. And now it is Captain Marvel's time to shine. We will be eating these coffee sugar cookies as our movie snacks. Well coffee for me, decorated vanilla sugar cookies for my girls.
"Recipe"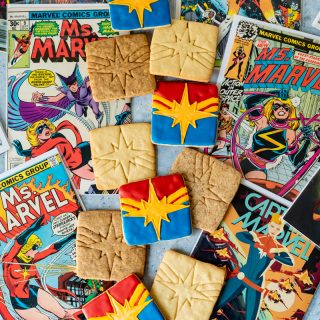 Captain Marvel Coffee Sugar Cookies
Captain Marvel Coffee Sugar Cookies www.pineappleandcoconut.com Makes 20 large 3 inch square cookies.
Ingredients
3

C

360 g AP Flour

½

teaspoon

kosher salt

½

teaspoon

Baking Powder

2

tablespoon

Espresso Powder

instant coffee, or fresh coffee grinds, finely ground

1

C

2 sticks approx 226 g Butter, cool room temperature

1

C

200g granulated sugar

1

Egg

large, cool room temperature

2

teaspoon

Vanilla Extract

2

teaspoon

Coffee Extract
Instructions
1.

Preheat oven to 350 Deg F. Prepare baking sheets with parchment paper

2.

In

a medium bowl whisk together the flour

salt, baking powder and espresso powder or coffee grinds.

3.

Cream together butter and sugar in a stand mixer until light

about 3 minutes. Add in egg and extracts and mix again until well combined, scraping down sides of bowl and beater when needed

4.

Add in flour mixture and mix on low until fully incorporated. Stop mixer and knead dough slightly by hand.

5.

Flour a smooth surface or silicon bake mat and roll out half of the dough to ⅓" thick. Flour dough as needed to keep from sticking. Keep remaining dough chilled until ready to use.

6.

Press cutter into flour then into the the rolled out dough. Carefully transfer to prepared baking sheets

7.

Bake 7-8 minutes until edges are starting to turn golden

and tops no longer look shiny. Let cool for 5 min on baking sheet then carefully transfer to wire cooling sheet to cool completely.

8.

Keep in airtight container or resealable bag up to two weeks at room temperature. Freeze up to 6 months.
Notes
To make these traditional sugar cookies omit the espresso powder and coffee extract and use 1 tablespoon of vanilla extract.
This dough does not have to be chilled. The dough will be a little sticky at first if using right away, dusting your rolling surface with flour and the dough with flour to keep from sticking to surface and cutter will add in a little more flour to the dough. You can chill the dough if you like. The cookies will spread a minimal amount when made right away, less if chilled before baking.
To make the iced cookies use Royal Icing mixed to just thicker than flooding consistency. Separate into three bowls, dye one red, one royal blue, one golden yellow. Use a piping bag with a #2 tip or no tip to decorate. Letting each color firm up completely before piping in the next color so they don't bleed into each other. For the decoration on the Hala Star I used edible gold dust mixed with vodka and painted on the Hala Star detail.
Higher, Further, Faster, Cookies.