Copycat Ritz Carlton Creamy Butternut Squash Soup
Silky smooth, rich with just a hint of spice. My favorite creamy butternut squash soup recipe. So easy to make.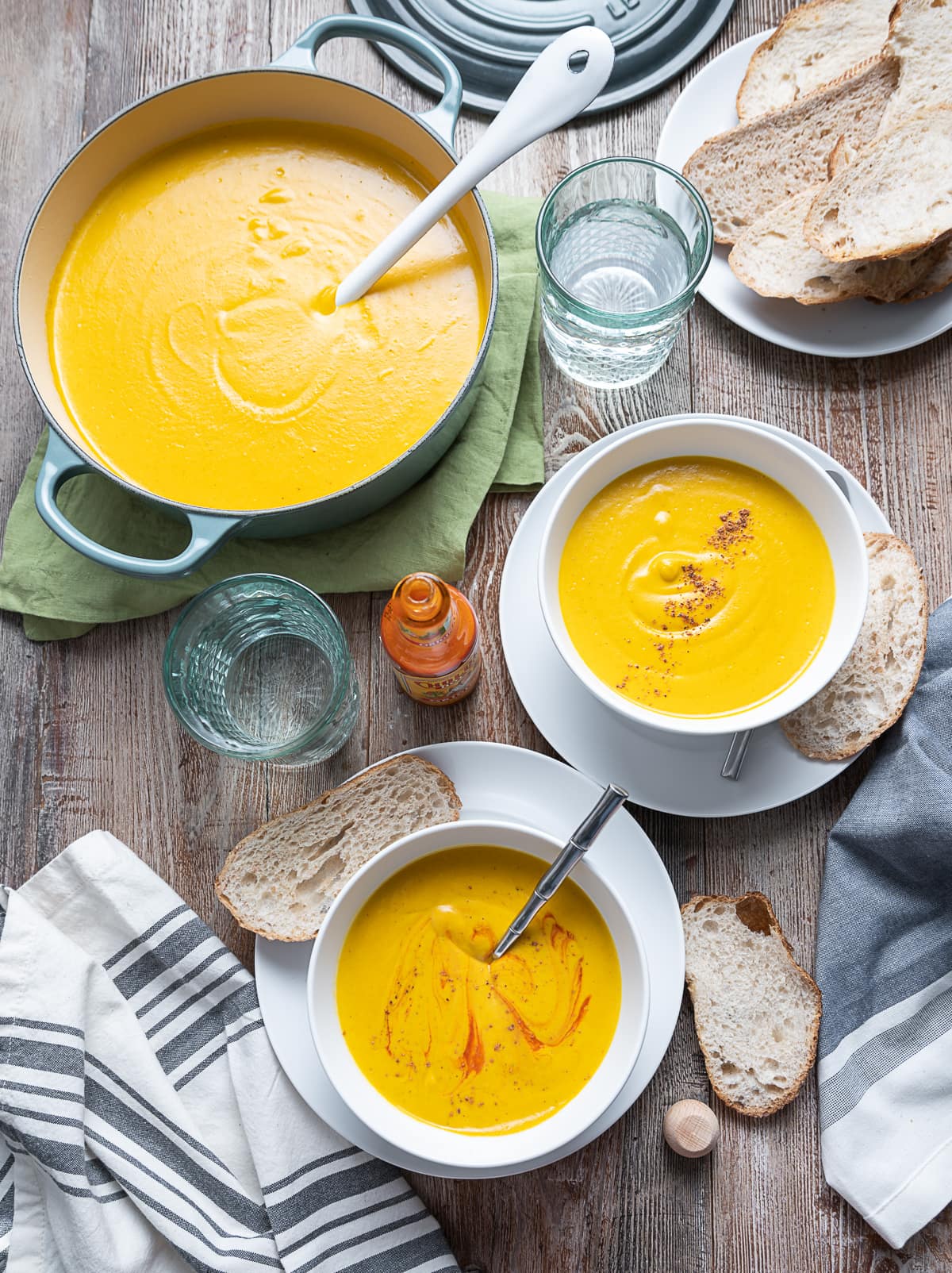 I had this creamy butternut squash soup at the lunch reception of one of my best friend's weddings years ago. An amazing traditional ceremony in the morning which I was a bridesmaid in and the most gorgeous Indian wedding ceremony I have ever seen later in the day. Besides my own, best wedding I've ever been to.
Food at lunch and dinner was some of the best wedding food I've ever had. We all seriously couldn't stop talking about how good it was, especially the soup at lunch. And literally everything at dinner.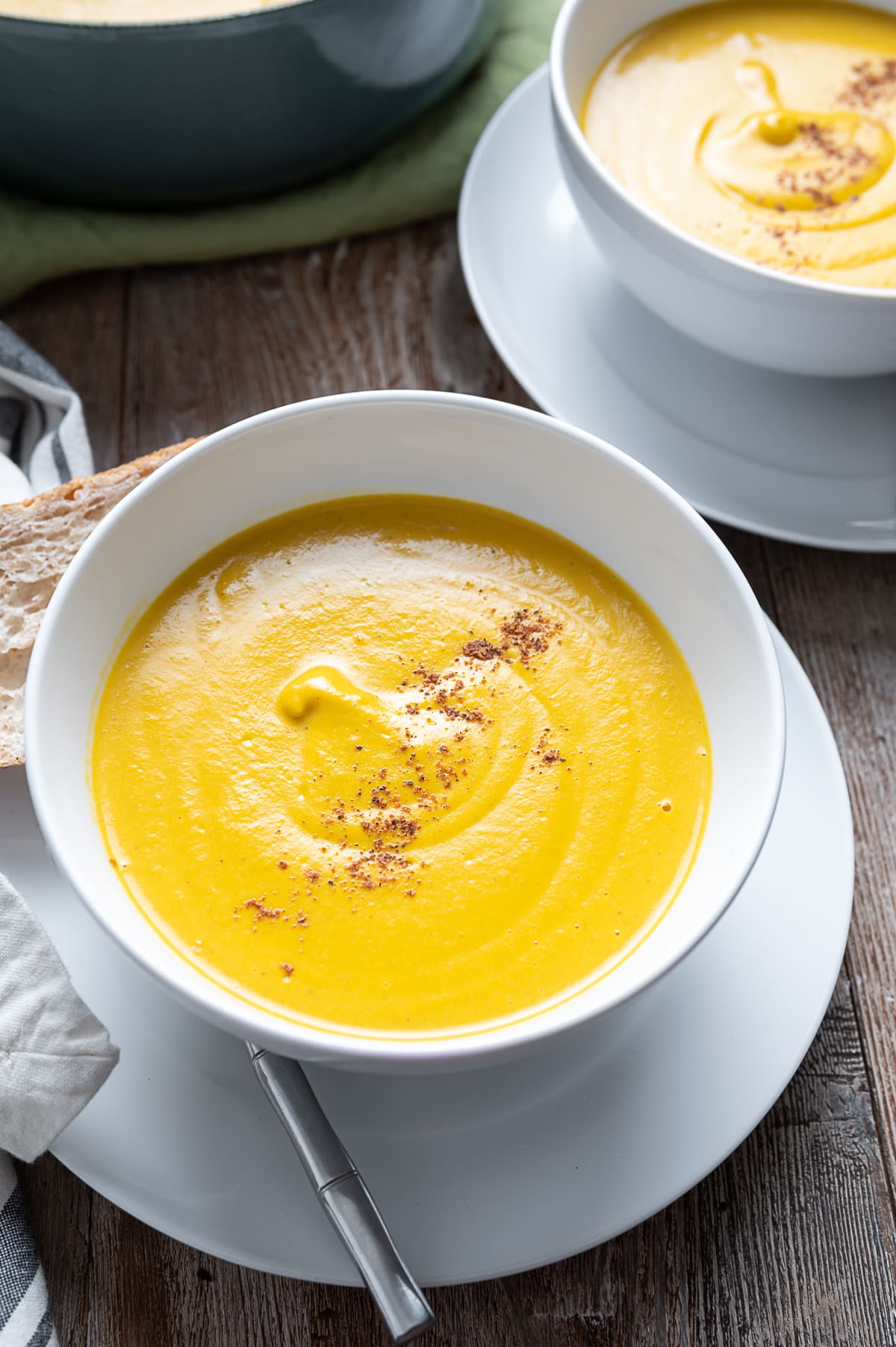 I knew I needed to have this recipe. When I got home I took a shot in the dark and emailed the Ritz Carlton to see if I could get the recipe. I know sometimes restaurants and hotels won't always give out recipes and I wasn't expecting to get the email I did. I was so surprised when the culinary administrative assistant emailed me with the recipe AND offered to give me any other recipes I wanted.
I was floored. And very grateful. So this recipe is shared for you all with permission of the Ritz. I did make a couple changes and updated with new pics in 2020. It is even better than before.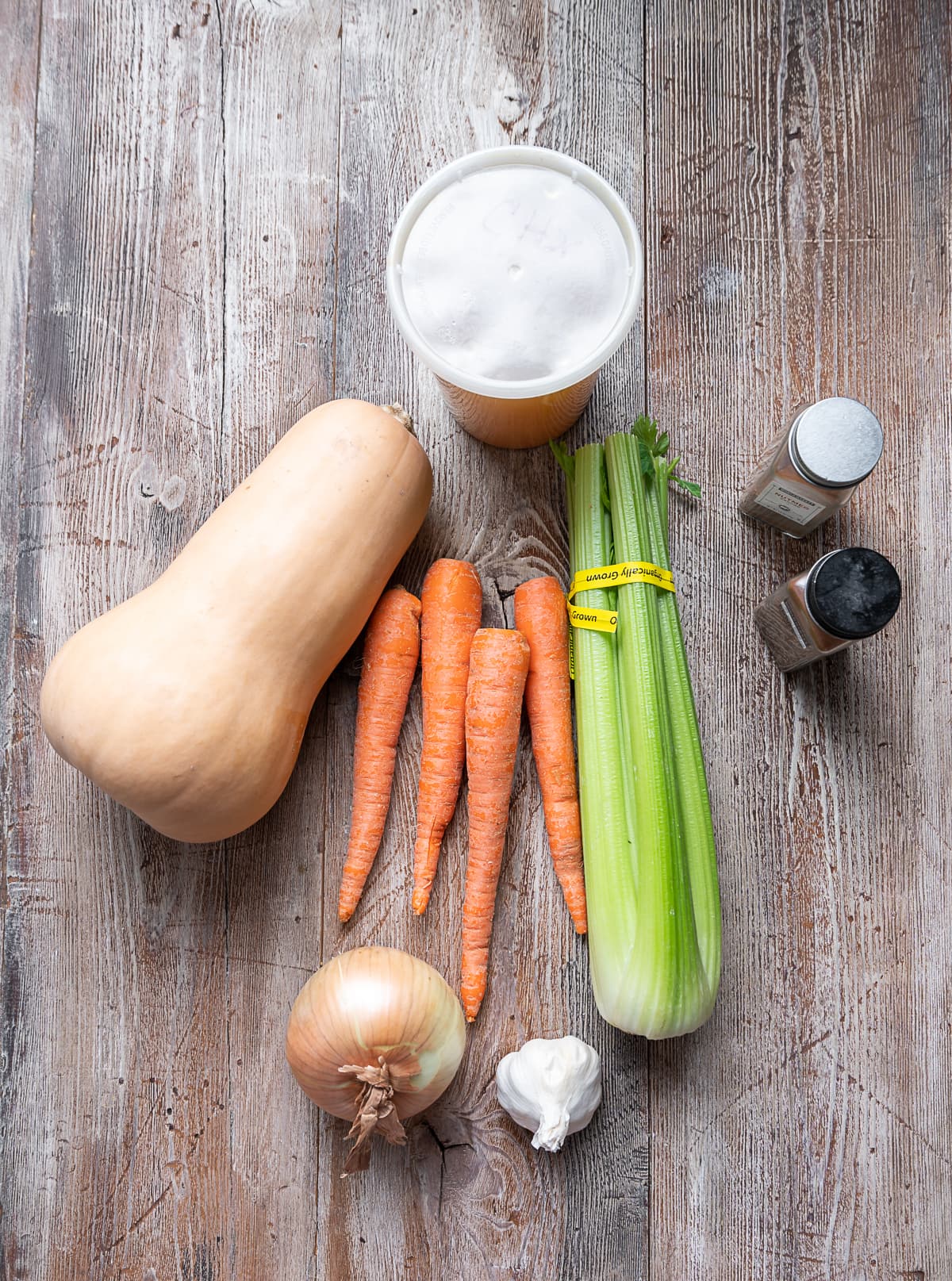 How do you make butternut squash soup?
Honestly, it can be made a variety of ways. I even have several different recipes for it on my blog.
This recipe starts out with mirepoix or also known as carrot, celery and onion. The three ingredients used in a lot of classic French cooking as well as the base of many soups, stews, pasta sauces etc.
It also has garlic, roasted butternut squash, spices, a little brown sugar, broth, cream and I added in my secret ingredient to take it over the top - fish sauce.
Fish sauce is my go-to for adding a hit of umami for soups, sauces, pasta dishes and more. Just a little does the trick, but it adds a depth of flavor that is unlike anything else. Red Boat is my fave brand to use. I find it at any well stocked Asian or international grocers, Amazon or even Trader Joes.
How do you roast butternut squash?
To roast the butternut squash for this soup you first cut off the stem and end, peel, cut in half lengthwise and scoop out the seeds. Cut into strips lengthwise then into 1-2 inch chunks. You then place in a bowl and drizzle a hight heat oil over it, such as coconut or avocado, and tossing well to coat. Spread out on a baking sheet and sprinkle with the spices.
This recipe calls for nutmeg and cloves. Cloves can be a very overpowering spices so use just what the recipe calls for.
Roast the squash while the celery, carrot, onion and garlic are sautéing. Season the sautéed veggies with salt and pepper.
Once the squash is roasted to fork tender, the stock is added to the pot and then the squash. Bring to a boil.
I will puree the soup in a blender, transferring to a separate bowl before back into the soup pot on the stove so I know it is all fully pureed. My immersion blender broke, so if you have one of those, use that in place of a blender. Just make sure the soup is really smooth.
The final steps are adding in the fish sauce, brown sugar, and cream.
Silky smooth, creamy butternut squash soup. I sprinkle a little grated nutmeg on top and a few dashes of hot sauce. Cholula and Tapatio are my faves. Of course serve with crusty bread for dipping and mopping up the last bits in the bowl, it is a thick soup.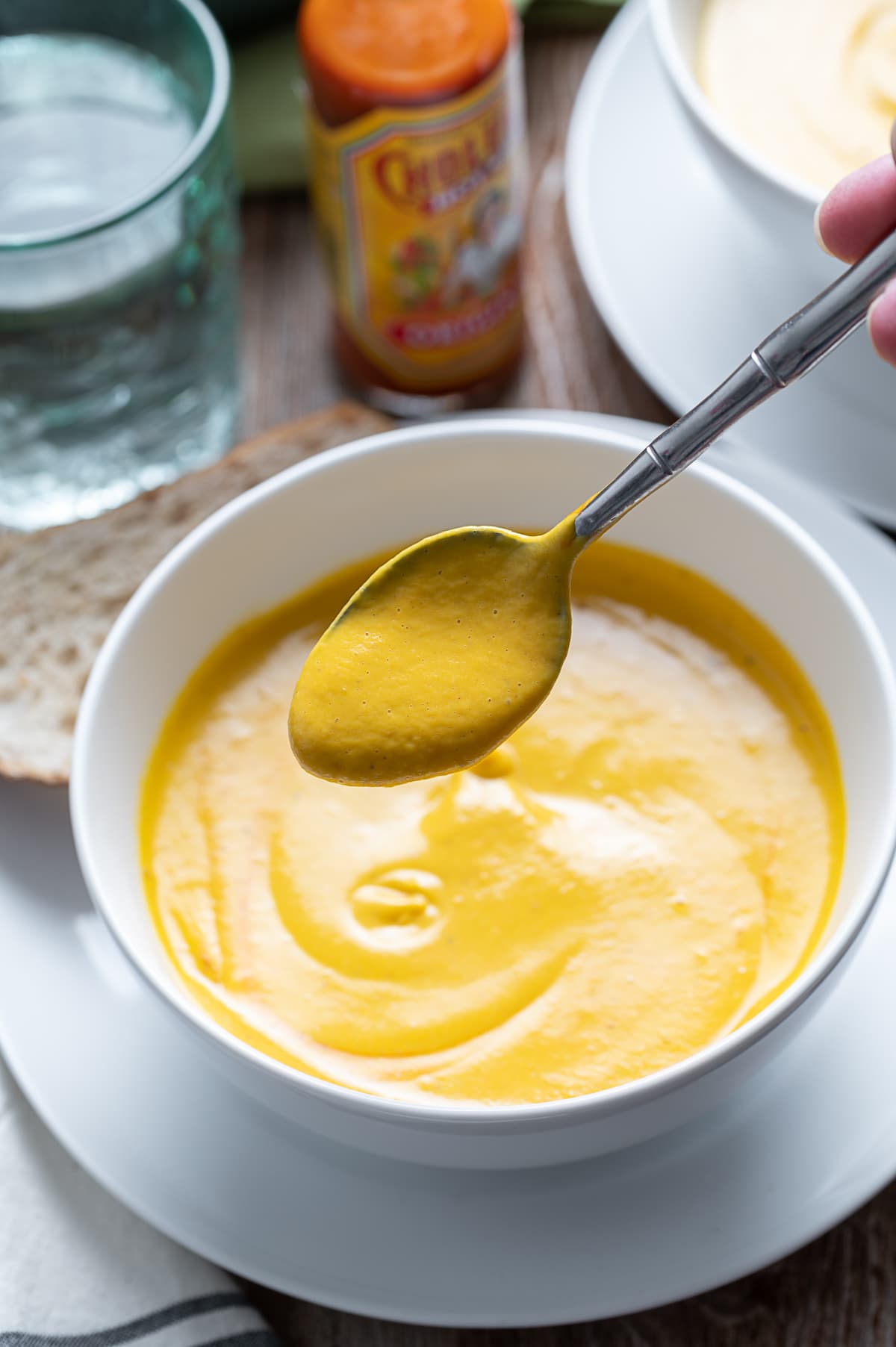 I now know to not be afraid to ask for a recipe from a restaurant or hotel. Taking this chance was SO worth it and now I get to share this amazing creamy butternut squash soup with all of you!!
"Recipe"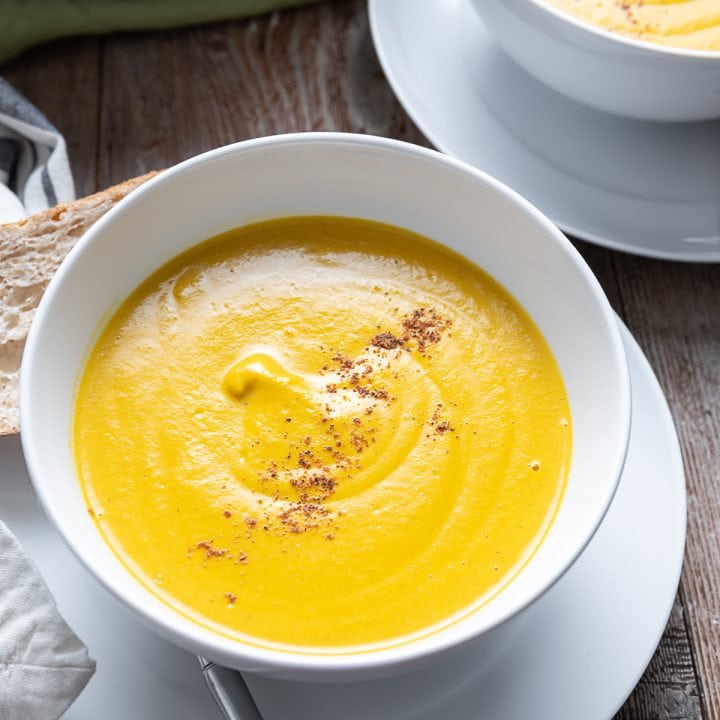 Copycat Ritz Carlton Creamy Butternut Squash Soup
Rich, silky smooth Creamy Butternut Squash Soup with a hint of sweetness and spices. A perfect cool weather soup.
Ingredients
6

pounds

Butternut Squash

peeled, deseeded and roasted see instructions and notes

2

Tablespoons

oil

divided - coconut or other high heat oil such as avocado or sunflower

1

Tablespoon

butter

1

teaspoon

ground nutmeg

½

teaspoon

ground cloves

1

cup

yellow onion

diced (150g)

1

cup

carrot

peeled and diced (150g)

1

cup

celery

diced (100g)

1

teaspoon

kosher salt

1

teaspoon

ground black pepper

3

cloves

garlic

peeled and minced

3

cups

chicken stock

can also use vegetable stock (750 ml)

1

teaspoon.

brown sugar

4

cups

heavy cream

can also use coconut milk (1000 ml)

1

teaspoon

fish sauce

optional - adds a nice umami flavor, not fishy at all
Instructions
Preheat oven to 400 Deg F. Peel, cut in half, and de-seed butternut squash. Cut into strips then into 1-2 inch chunks. Place in a bowl. Drizzle one tablespoon over the squash then spread out on a baking sheet. Season with nutmeg and cloves.

Roast the squash for 25 minutes or until fork tender

While the squash is roasting heat a large stock pot or Dutch oven, add remaining oil, the butter and sauté onions, celery, carrot, and garlic until soft, about 5-7minutes. Season with the salt and pepper.

Add chicken stock to the sautéed vegetables and stir

Add in butternut squash to stock mixture once it is removed from oven

Bring to a boil then let simmer for 30 minutes, stirring occasionally

Transfer in batches to a blender and puree until very smooth. You can also use an immersion blender. If you don't have high powered blender, strain the soup with a mesh strainer back into the dutch oven

Add brown sugar, cream and fish sauce, stir well then bring to a simmer. Taste and season with more salt and pepper if desired

Serve with a sprinkle of grated nutmeg and a few dashes of your favorite hot sauce
Notes
Sometimes raw squash can irritate skin so I will wear latex gloves ( or non-latex for those allergic) and peel the squash so my hands don't get irritated.
I roasted the squash for 25-30 minutes until fork tender. You can roast for longer if you like a more caramelized flavor. If you like a touch more spice you can add a pinch of cayenne pepper to the squash before roasting.
You can sub whole or low fat milk or half and half for the cream. I use organic heavy cream which makes for a richer, creamier soup.
To make vegan you can substitute your favorite vegetable stock and use coconut milk ( canned not from a carton). I am fond of using coconut milk in place of dairy in creamy soups.