I have a few new Cuban inspired recipes this week for you all that I created . First up is this amazingly delicious Cuban Shrimp Coconut Sofrito and Rice.
Sofrito is aromantic tomato based sauce used in many Spanish and Latin American recipes. Very popular in Cuban cuisine, it typically consists of onions, garlic, bell peppers, tomatoes and other spices cooked in olive oil. In Cajun cooking they have the "Holy Trinity" consisting of onions, bell peppers and celery. In French cuisine they have "Mirepoix" which is onions, carrots and celery. And in Spanish and Latin cooking it is Sofrito and all are the humble beginnings to so many amazing recipes.
In Cuban cuisine, sofrito is is a base for beans, stews, rices, and other dishes, including ropa vieja and picadillo. Other secondary components include, but are not limited to, tomato sauce, dry white wine, cumin, bay leaf and cilantro. There really are so many variations.
Shrimp is used in many Cuban recipes, Mojo shrimp being one of the popular recipes as well as shrimp in a tomato coconut sauce. I decided to make combination and go with the Sofrito mixed with coconut milk to give a creamier consistency to the tangy tomato sauce. I am glad I did.
This recipe is very quick to prepare and cook. Shrimp thaws fast if using frozen, and is one of the fastest cooking proteins there is. You can make the sauce and shrimp while the rice is cooking and have a meal on the table in under 30 minutes!
"Recipe"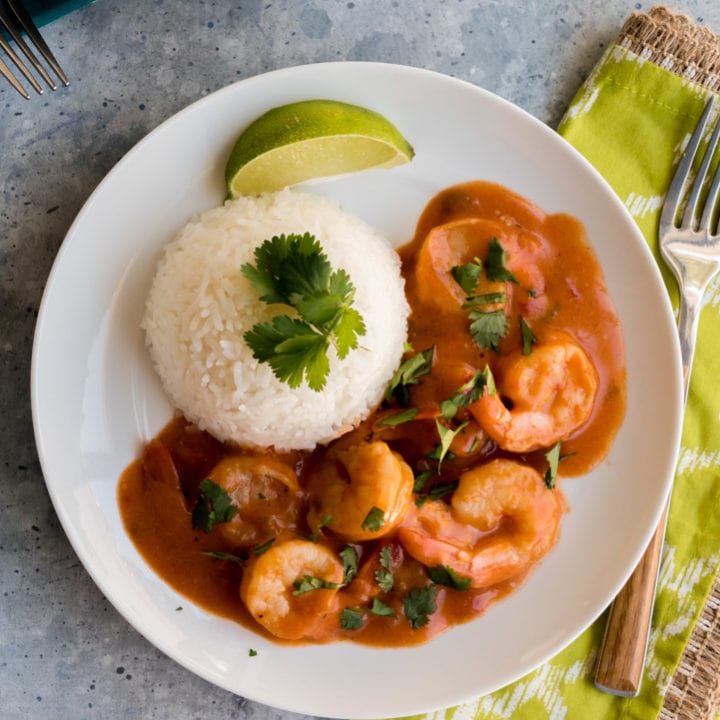 Cuban Shrimp Coconut Sofrito and Rice
Ingredients
For the rice:
1

cup

jasmine or long grain rice

1 ½

c

water
For the shrimp:
2

lbs

shrimp

26-30/lb tails on, thawed if frozen

1

teaspoon

Hawaiian red alae salt

½

teaspoon

ground black pepper

½

teaspoon

garlic powder

2

tablespoon

olive oil

divided

2 12

ounce

jars Goya Sofrito sauce*

1

cup

coconut milk
Garnish:
Cilantro

chopped

Lime slices
Instructions
Rinse the rice until the water runs clear. Add the rice and water in a sauce pan and bring to a boil. Cover pan with lid and simmer for 15 min. Turn off heat and let rice steam for 5 minutes. Fluff with a rice paddle. For a little more flavor chicken broth can be substituted for the water. 

Season the shrimp on both sides with salt, pepper and garlic. 

In a large sauté pan heat 1 tablespoon of the oil and cook the shrimp for one minute only, 30 seconds a side. Remove from pan. Add the other tablespoon of oil then the contents of the two jars of Sofrito sauce. Bring to a simmer while stirring. Slowly add in the cup of coconut milk while stirring. Once simmering add the shrimp back in and cook for another 5 min on medium-low until the shrimp are cooked. Total time to cook about 10 minutes.

To make the rice mold: Take a small cup size bowl and pour a little oil on a paper towel and rub the inside of the bowl well with the oiled paper towel.  Pack ¾ a cup of rice well into the bowl then unmold onto a plate. Repeat for how ever many servings you make.

Divide the shrimp among the plates with the rice molds, about 6-8 shrimp per serving, then top with the coconut sofrito sauce. Garnish with chopped cilantro and a lime slice. Serve hot. Add a little hot sauce if desired for a spicier meal. 
Notes
I take a shortcut with this recipe and use jarred Sofrito sauce from Goya which I find at my local Mexican grocery store. You can make this sauce homemade if you like. It is a Spanish tomato based sauce with onions, garlic, green pepper such as Anaheim, and paprika.