I love cucumber kimchi. I love traditional kimchi with cabbage too. But cucumber kimchi? I could eat every day and be a very happy person.
There is a Hawaiian poke shop in town that we will get a wide variety of ahi, octopus and salmon poke from as well as cucumber kimchi. I get at least a half a pound, sometimes a pound to last a few days. And every time we go it I always say I should make cucumber kimchi at home since the poke shop is across town, not somewhere we go on a weekly basis.
More like once a month. And cucumber kimchi is a lot easier to make than poke. Because the grocery store that sells the high quality sashimi grade fish is another 30 min across town the other way.
First few batches of cucumber kimchi were a success. And we gobbled it up quickly. I wanted to make another batch and was eyeing some green mangoes I had on my counter that I was planning on making mango pickle with.
I thought that mango would be amazing in kimchi with the cucumbers. I also had a pineapple on my counter as well. I was talking to my friend Sam about making kimchi and she said she has always wanted to make pineapple kimchi. I thought " why not? I think I will add in pineapple to this batch too".
After looking online for different recipes for mango and pineapple kimchi to see if there were any differences in prep or ingredients. I found one pineapple kimchi recipe that uses Asian pear. Asian pear juice is often used in Korean cooking to add sweetness and to tenderize meats. In this case it helps tenderize the unripe pineapple and green mango.
A few of the kimchi recipes I found use a large amount of the Korean red chili powder, or Gochugaru. It is a spice that has a good bit of heat, so I am not one to use too much of it. I want to be able to taste the kimchi. You can find Korean Gochugaru in international grocery stores, Asian markets or on Amazon ( Affiliate link). It is what gives the kimchi its distinct red color and spicy flavor.
The other important ingredient besides the Korean red chili powder is the fish sauce. It adds that salty briny flavor as well as umami. I love Red Boat fish sauce. I find it at the same stores as I find the chili powder and Amazon carries it as well. (affiliate link)
I also love pickled fruit and vegetables together and some kimchi recipes call for vinegar and some don't. I am a fan of making quick pickled cucumbers with rice wine vinegar and shoyu. So I added in some rice wine vinegar to my kimchi marinade.
"Recipe"
Tropical Cucumber Kimchi
Ingredients
2

tablespoon

Kosher Salt

2

English Cucumber

1

medium Pineapple

not very ripe, peeled, cored and diced into 1" pieces

1

medium Green Mango

peeled, sliced into 1-2" strips

3

Scallions

green onion, root ends trimmed off, diced into small pieces

Marinade:

½

Asian pear

peeled, cored and cut into chunks

3

tablespoon

Korean Red Chili Powder

Gochugaru

1 ½

tablespoon

Fish Sauce

I love Red Boat

2

tablespoon

Rice Wine Vinegar

2

teaspoon

grated fresh ginger

4

cloves

garlic

minced

2 ½

teaspoon

granulated sugar
Instructions
Wash and trim the ends off the cucumbers. Slice in quarters lengthwise then into 1 inch pieces. Place in a stainless bowl and sprinkle with kosher salt. Let sit for 20 minutes. Rinse lightly then set to drain.

While the cucumbers are brining in salt, make the marinade.

Place all marinade ingredients into a blender or food processor and blend until smooth.

Add the diced pineapple, mango strips and diced scallion to the stainless bowl with the brined cucumber. Add in the marinade and stir until everything is well coated. Divide mixture between two pint ( 16 oz) sized mason jars, including any leftover liquid in the bowl and cover with lids. Let sit out in a cool spot at room temperature for 12 hours. Then refrigerate 24-48 hours before eating. Kimchi lasts 2-3 weeks in refrigerator. That is if you don't eat it all at once!
Notes
The Korean Red Chili powder ( gochugaru) and Fish Sauce are a must. The asian pear and rice wine vinegar are optional. I loved the flavor the added to the marinade. Rice Wine vinegar is not sake. You can find it in Asian sections of well stocked grocery stores. I use the unsweetened kind.
The cucumber, mango and pineapple should amount to about 3 lbs. If it is a little over or under that is just fine.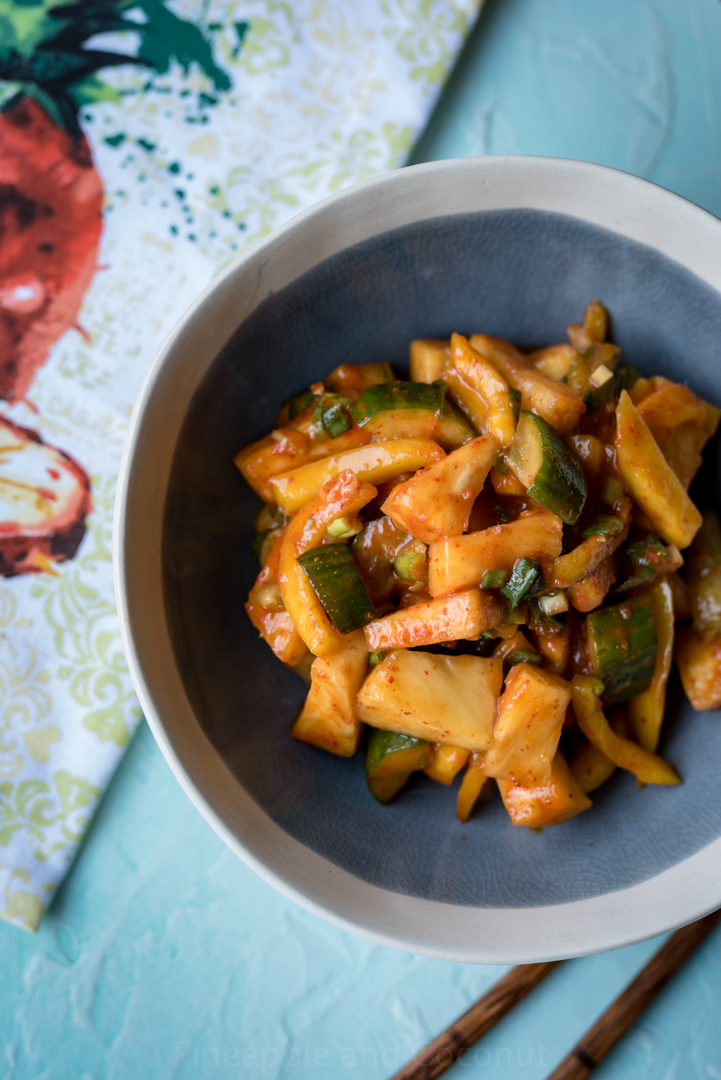 This tropical cucumber kimchi is great on its own, served with ahi poke or on fish or shrimp tacos. We had it with grilled mahi mahi tacos and avocado for dinner last night and it was most excellent.