Dark Chocolate Cookies with dark chocolate chunks, passion fruit feves and homemade hibiscus salt. I realized I can't make perfectly round cookies. I can, however, make extremely delicious cookies. Taste > shape.
I love the combination of chocolate with passionfruit, especially dark chocolate. And a hint of salt with sweets helps balance the flavor. I love making my own flavored salts and sugars and this hibiscus salt is amazing and so easy to make. This combination of flavors in a cookie recipe is perfection in my book.
The ingredients for these dark chocolate cookies with passionfruit and hibsicus salt are as follows:
All purpose and bread flours
Yes bread flour too. More on that in a minute.
Dark cocoa powder, good quality high fat cocoa powder too. Think what Ina Garten would use vs a generic low fat kind.
Dark chocolate chunks, not chips. Chopped into chunks from a chocolate bar, for lots of spots of melty chocolate goodness in each cookies.
Valrhona passionfruit Feves. Valrhona is famous for their giant, oval chocolate wafers and I got a bag of their sweet-tart passionfruit flavor.
Homemade hibiscus salt. Details in recipe notes.
Also the usual ingredients such as sugar and brown sugar. eggs, leaveners, butter etc.
These chocolate cookies are sweet, tart and salty. And so good. The tartness comes from these amazing passionfruit feves. They are huge!
Since the passion fruit feves are so big, I mixed most onto the dough but saved some to press into the tops of the cookies before baking as well as adding a generous sprinkling of the hibiscus salt.
I first tested this cookie recipe with just dark chocolate chunks for a double chocolate chocolate chunk cookie and because I only have one small bag of the feves. Didn't want to waste them if the cookie recipe didn't turn out the way I wanted. But they did so for the final test I added them in.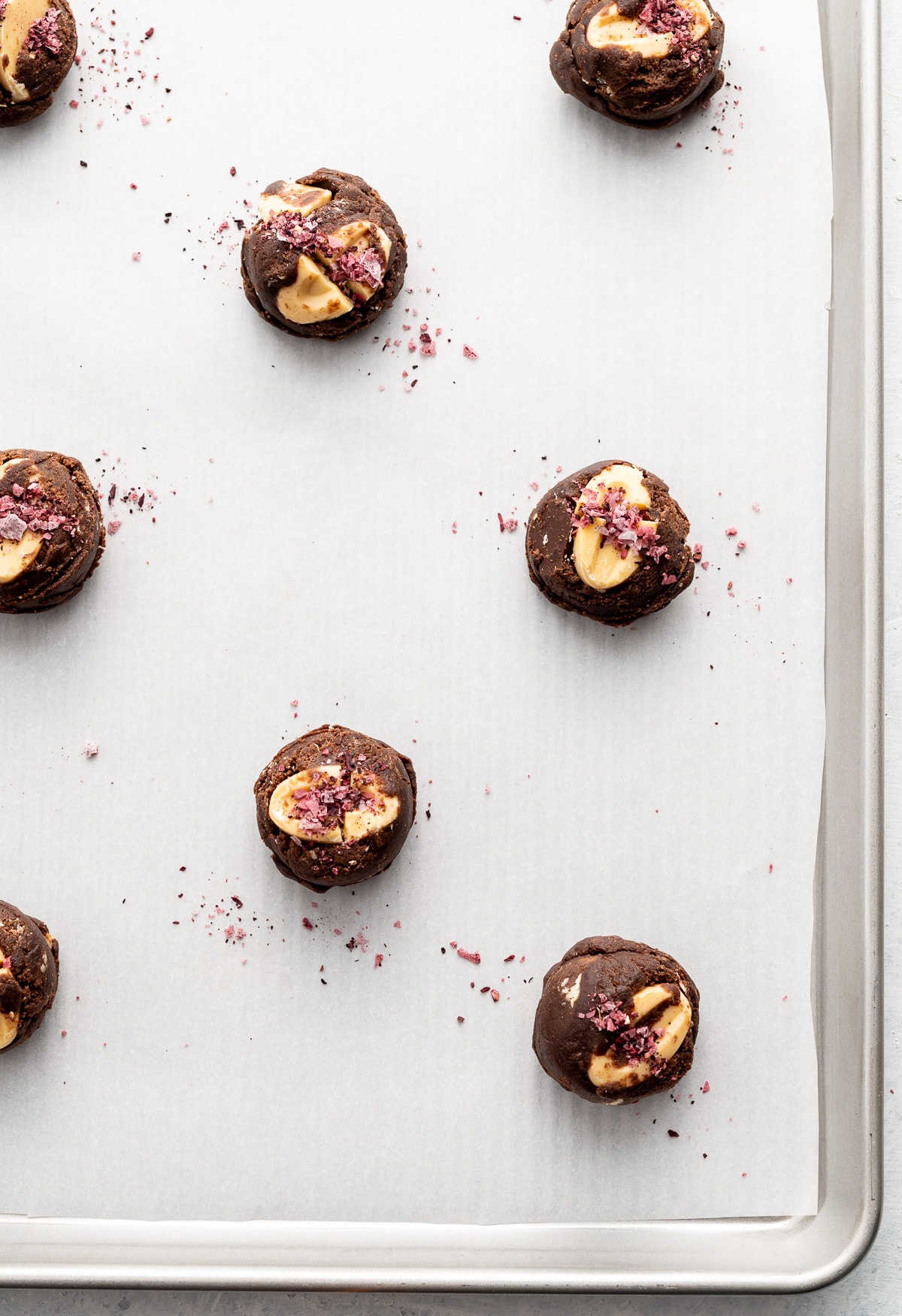 Hibiscus salt is very easy to make. I take dried hibiscus flowers, not from tea bags, but loose flowers I get from a local Mexican grocery store ( also sold as Flor De Jamaica), and blend them in a blender until a fine powder. Then I mix some with some large flake salt, Maldon sea salt is what I love to use. Mix well until the salt turns pink.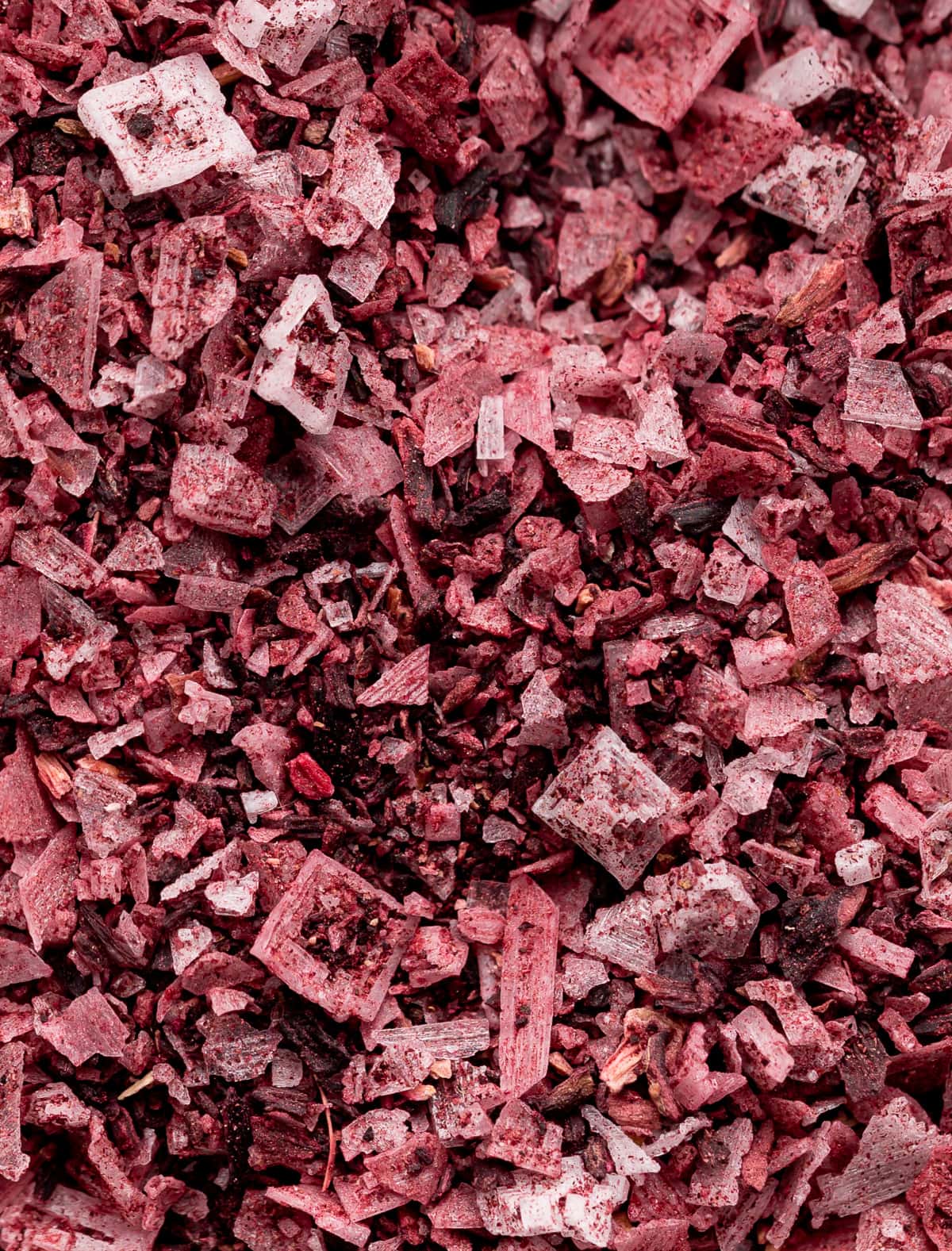 I sprinkle a little of the hibiscus salt on before baking the cookies and then a little more afterwards since some tends to fall off during baking.
The passionfruit feves didn't turn into complete puddles like some of Valrhona's other chocolate feves, but they are still melty and so good.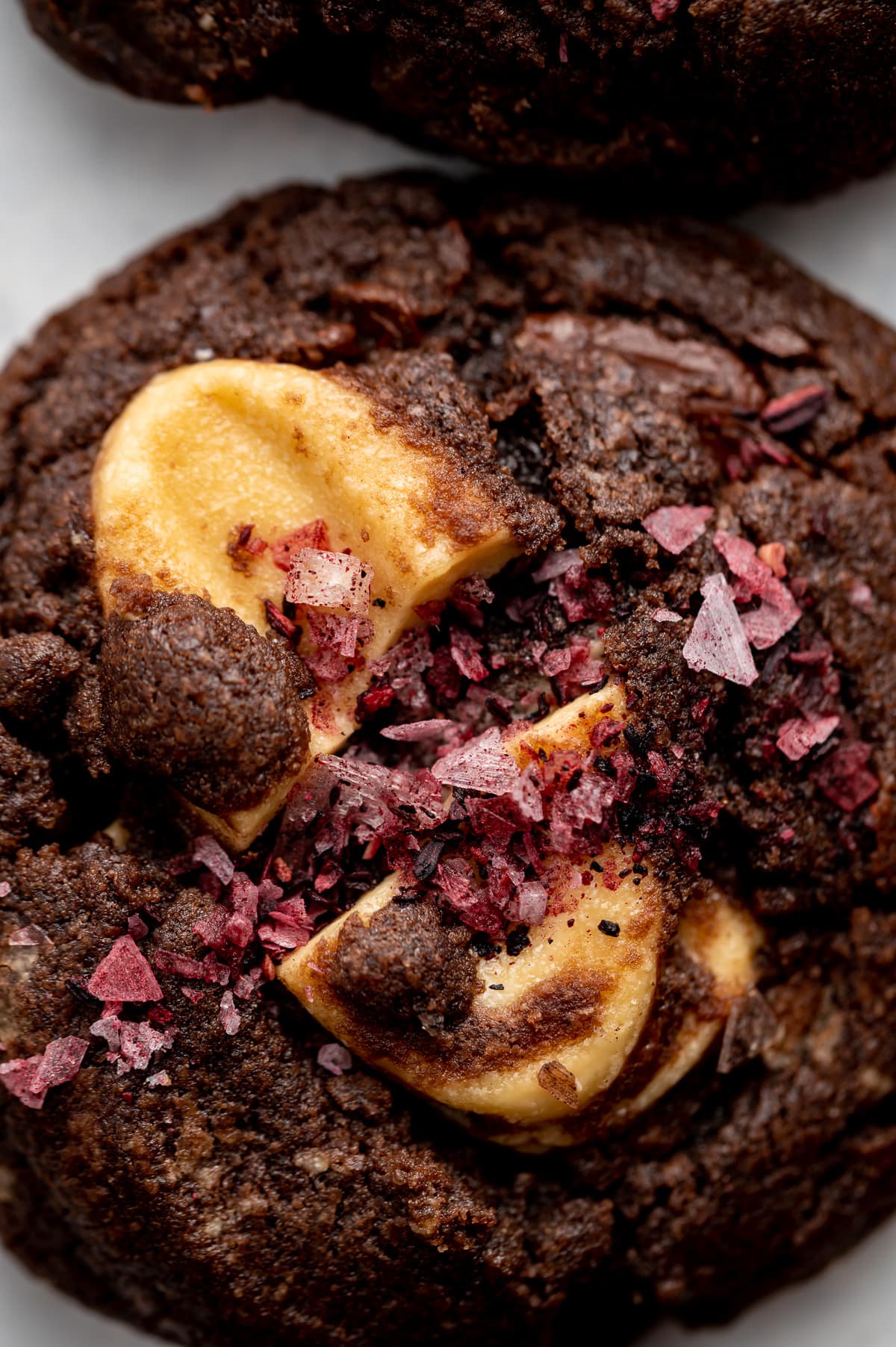 As I mentioned earlier I use bread flour as well as all purpose flour in these cookies.
Why use bread flour in cookies?
Bread flour is higher in protein which means more gluten production and results in a chewier cookie. Breads have such a lovely texture and consistency with bread flour so I swap out a cup of the all purpose flour with a cup of the bread flour.
I don't use all bread flour because these are cookies and still need the lower protein structure from all purpose. All purpose lends the snap like texture, bread flour keeps them chewy. I have found that by using bread flour these last longer days after being baked and still have a fresh baked texture.
A few more notes about this Dark Chocolate Cookies with Passionfruit and Hibiscus Salt recipe:
The cookie dough is refrigerated for 24 hours before baking. This gives the dough plenty of time to hydrate.
If you cannot find passionfruit feves ( I bought online at

Caputo's

Market,

Valrhona

sells them at several online retailers as well as stores such as Whole Foods) you can just use all dark chocolate chunks. These cookies are excellent as dark chocolate chunk cookies.
For the dark

chocolate

chunks find chocolate between 60-75% and roughly chop. Don't use chips.
Get good quality cocoa powder. I like Cacao Berry extra brute. 22-24% fat. It's the best cocoa powder I have ever used. Pricey, yes, but a bag lasts forever. There are a few ingredients I will splurge on and good cocoa powder is one of them.
Dark Chocolate Chunk Cookies with Passionfruit and Hibiscus Salt
Chewy dark chocolate cookies with dark chocolate chunks, passionfruit feves and hibiscus salt.
Ingredients
Makes 32 3 inch cookies

Ingredients are listed in cups/grams/ounces

Prep time is approximate

cook time is total time for all batches of cookies
For the cookies
1 ½

cup

all purpose flour 9195g/6 ⅞ oz)

1

cup

bread flour

120g/ 4 ¼ oz

½

cup

dark cocoa powder

not non-fat (1.5 g/4 oz)

2

teaspoon

cornstarch

6g/1/4 oz

1

teaspoon

baking soda

6g/ ¼ oz

1

teaspoon

kosher salt

3g

1

cup

butter

room temperature (226 g/8 oz)

1

cup

brown sugar

200g/8 oz

¾

c

granulated white sugar (155g/5 ½ oz(

1

whole large egg plus 1 large egg yolk

room temperature

2

teaspoon

vanilla extract

6

ounces

dark chocolate

roughly chopped

6

ounces

passionfruit feves

left whole plus extra for pressing into tops of cookies

Hibiscus salt

see notes
Instructions
To make the cookies:
Whisk together flours, cocoa powder, cornstarch, baking soda and salt in a medium sized bowl.

In a bowl of a stand mixer cream together the butter and sugars until light and fluffy, 6-7 minutes. Add in the whole egg and egg yolk and mix again, scraping down the sides of the bowl when needed, then add in the vanilla and mix for another minute. Add in the flour mixture and mix on low until combined and no flour streaks remain then mix in the chopped chocolate and passionfruit feves by hand so they don't break. 

Transfer the dough to another bowl and wrap well with plastic wrap. I will press the plastic wrap agains the dough then place another over the top of the bowl. Refrigerate the dough for 24 hours. 

When ready to bake heat oven to 350 Deg F and prepare baking sheets with parchment paper. 

Using a 2 tablespoon sized cookie scoop, scoop out generous balls of dough, placing a few inches apart on the prepared baking sheets. Press down lightly and press a passionfruit feve into the tops of each one. Sprinkle some of the hibiscus salt across the tops of the cookies

Bake for 10-12 minutes or until the cookies are set. Remove from oven and sprinkle a little more salt over the tops, let cool on baking sheet for 5 minutes, then transfer to a wire cooling rack to cool completely. 

These keep well at room temperature in an airtight container or resealable bag for a week or so, a few months in the freezer. That is if you don't eat them all in a few days. 
Notes
Hibiscus Salt:
1 tablespoon powdered hibiscus
2 tablespoon Maldon flake salt
Process a few tablespoons of dried hibiscus flowers in a blender and combine one tablespoons the powder with the salt, stirring well to combine. You can make a larger amount to keep on hand since this won't go bad. Hibiscus salt is great on cookies, seasoning for meats, salads, cocktails etc.