These melt-in-your-mouth Dark Chocolate Swirled Peppermint Chip Meringue Cookies are sure to be a hit this holiday season for any occasion you make them for like a cookie exchange, family get together, holiday party. Easy to make and so delicious, everyone will be asking you for the recipe!

We make meringue cookies often at my house. Easy to make, just a few ingredients and my kids love to help me make and eat them. I usually make them with mini chocolate chips, throw them in the oven in the afternoon before dinner and let them dry out until it's time for dessert.
The first time I had meringue cookies was at a Christmas party when I was a kid and I remember how they were crunchy and just melted in my mouth, yet I had always been intimidated to make them as an adult. Meringue seems so delicate, and I had attempted macarons a few times which all failed miserably.
The first time I made meringue cookies I was so surprised at how easy they were to make.
For these I decided to go with a more Christmassy theme to them and add in peppermint crunch baking chips and a swirl of dark chocolate. I am not a huge fan of Nutella but I LOVE the flavor of the dark chocolate spread from World Market. It has the same consistency as nutella but not as sweet. And goes perfect with the peppermint chips.
If you want super duper white meringues leave out the vanilla extract or use clear. I prefer to use just a little of the real stuff since clear tends to bake out since it's mostly alcohol and I don't mind not having perfectly white meringues. I would rather have that little hint of vanilla.
When whipped the meringue will be stiff and glossy, almost marshmallowy. I love these peppermint chips since they melt when baked and don't break a filling or knock a temporary crown loose, like what happens to me when I eat hard candy peppermints. Good times people, gooooood times.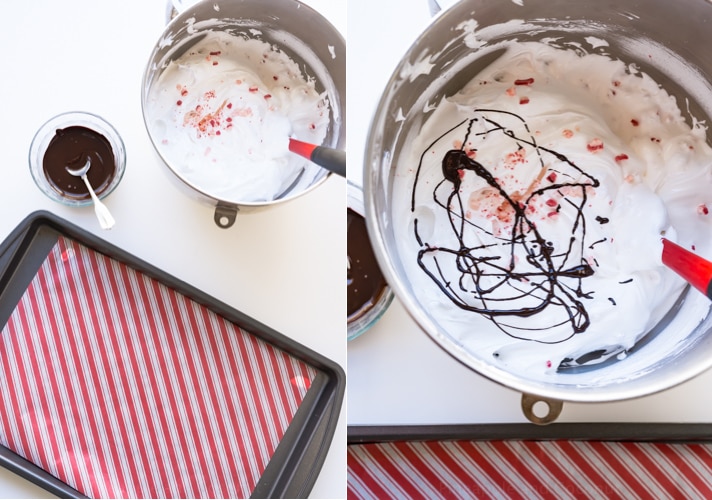 Drizzle in a little of the melted dark chocolate spread at a time. I found using two spoons to scoop out and drop the blobs onto the baking sheet helped keep the chocolate look more like a swirl than get mixed in like when I used a cookie scoop.
Unbaked blobs on the left, baked cookies on the right. You can see that they do puff up a little when baking so it's best to keep a little space between each cookie so they don't stick together when baking.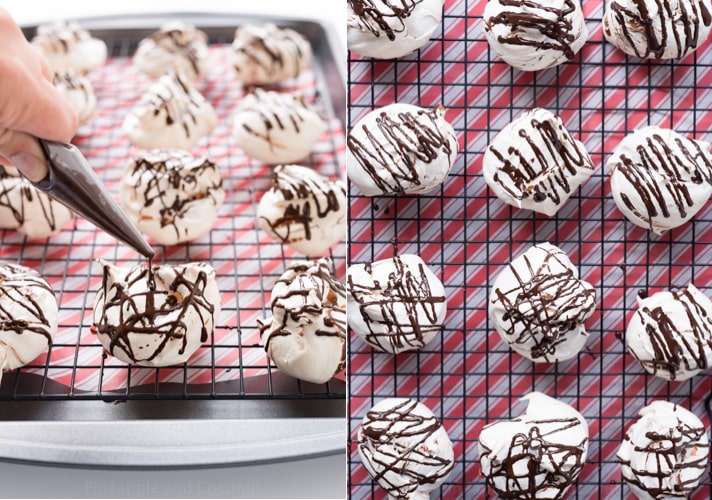 I decided to make some even more chocolaty but adding a chocolate drizzle to the top. This didn't make the meringues melt at all, but added another layer of that chocolate flavor to them.
The cookies may crack during baking and that is ok. I like to make these cookies bigger than they are usually made and since they are so light and airy they tend to crack a little. Adding the chocolate drizzle can hide those cracks!
Here you can see how the peppermint chips melted into the meringue cookies. These meringue cookies have a soft middle and the peppermint bits melt right in but doesn't leak out of the cookie at all. It's like a peppermint surprise inside!
"Recipe"
Dark Chocolate Swirled Peppermint Chip Meringue Cookies
Dark Chocolate Swirled Peppermint Chip Meringue Cookies www.pineappleandcoconut.com #worldmarketribe Makes 4 dozen large cookies Prep 10 min Bake 30 min Cooling 2 hours
Ingredients
6

egg whites

room temperature

1 ½

c

superfine sugar

¼

teaspoon

salt

¾

teaspoon

cream of tartar

½

teaspoon

vanilla extract

1 ½

C

Andes peppermint crunch baking bits

¼

c

Dark Chocolate Spread

melted

2

ounces

Dark Chocolate Bar

melted
Instructions
Preheat oven to 300 Deg (or 275 for Convection). Line cookie sheets with parchment or silicon bake mats. If using parchment, dot a little meringue under the corners to stick it to the baking sheet.

In a bowl of a stand mixer, whip the eggs with the whisk attachment on medium speed until frothy. About 2 minutes. Add in the salt, cream of tartar and half the sugar and whip until soft peaks form. Add in the remaining sugar and whip until the meringue is stiff and glossy and holds firm peaks. About 6-7 minutes. Remove bowl from stand mixer, scrape all the meringue off the whisk then fold in the peppermint chips carefully

Drizzle a tablespoon of the melted dark chocolate spread over the meringue, scoop out a heaping two tablespoons of the meringue with a spoon and scrape onto the prepared baking mats with another spoon, slightly swirling the chocolate spread. If the spread is starting to get too mixed into the meringue with each scoop of the spoon, rinse spoons before scooping more, drizzling more chocolate spread and repeating. Place the scoops of meringue 1-2 inches apart on the baking sheets.

Bake for 30 min. Turn off oven, let cool for 20 minutes then remove from oven and cool completely, another hour or so.

Drizzle melted chocolate over the tops of some for a more chocolatey flavor. Let the chocolate firm up before serving. These will store up to a week kept in an airtight container. They make for great cookie exchange cookies - just be careful when wrapping them us since the are a more crumbly, delicate cookie.