Big Stick Cocktail. Also called a Layered Frozen Pineapple Cherry Cocktail. An ode to the best popsicle of my childhood, the Big Stick.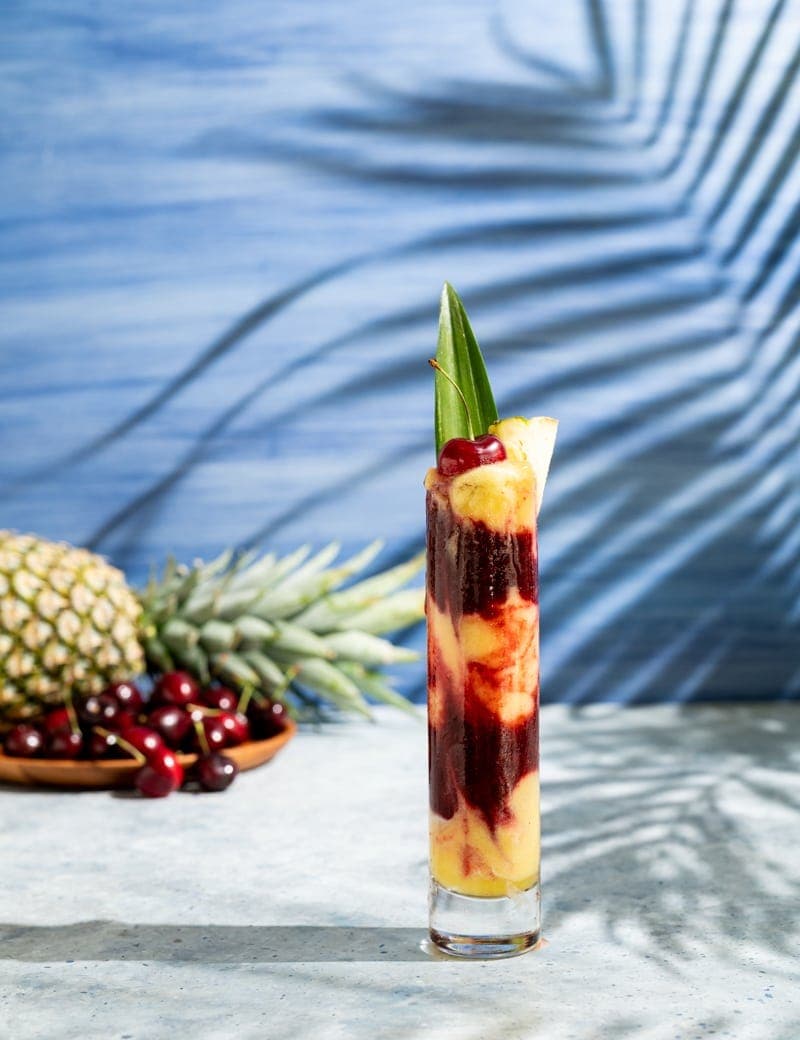 I spent my childhood growing up in Santa Barbara, California alternating between the beach and various pools around town. Whether it was a pool at a friends house, the fancy Montecito country club, sneaking into the Coral Casino via the beach or swim team. I was a competitive swimmer who would go to early am practice, spend the day at the beach with volleyball, surfing, junior lifeguards, you name it, then back at the pool.
I am pretty sure I was more than 60% water growing up. 10 % sand from the beach. I think another 10% percent was popsicles. Specifically Big Sticks.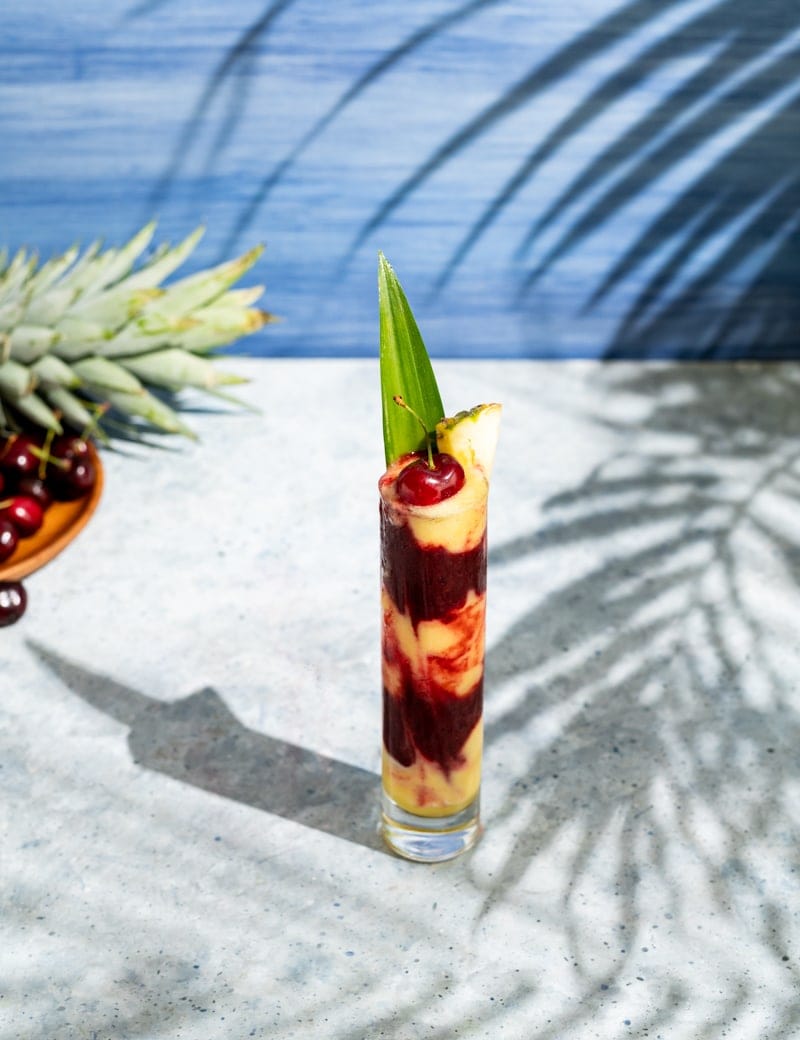 Long, hot beach days were the best. And as soon as we got home it was popsicle time. And not just any popsicle, the BEST popsicle of all time. The Big Stick. Sorry Otter Pops, you just weren't my personal fave. But the Big Stick? Oh yes. The biggest of all popsicles, saccharinely sweet, layers of cherry and pineapple and usually dripping all over our hands and faces as we tried to devour as fast as we could. Also some brain freeze added into that mix.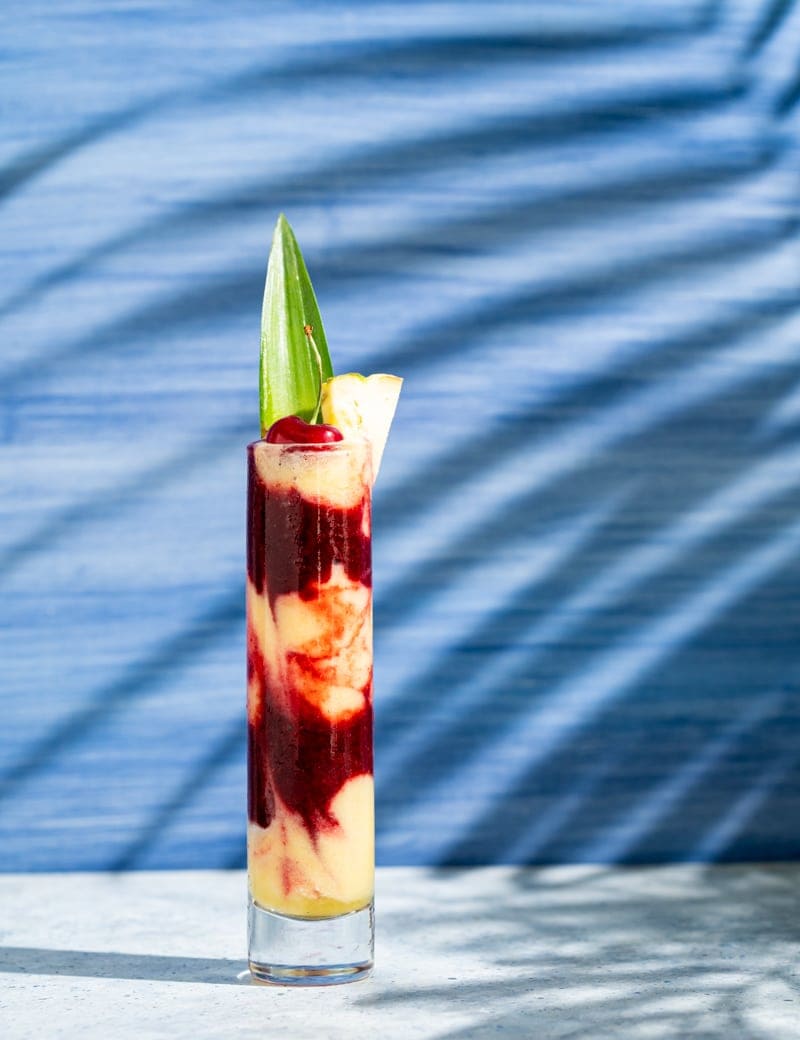 Popsicle is actually a brand name. The technical name in America is ice pop. They are also known as ice lolly, freezer pop, and a few other names. We often default to the brand name since that is the most well known. Similar to calling tissues "Kleenex" when that is just the brand name. Or Q-tips for cotton swabs. You get the idea.
I make homemade popsicles all the time. The amount of different popsicle molds I own is a bit out of control. One mold shape I have yet to find is a long tube mold to make copycat big sticks. I did however find these super tall, skinny collins glasses and I knew I needed to make an adult version and make it into a frozen cocktail.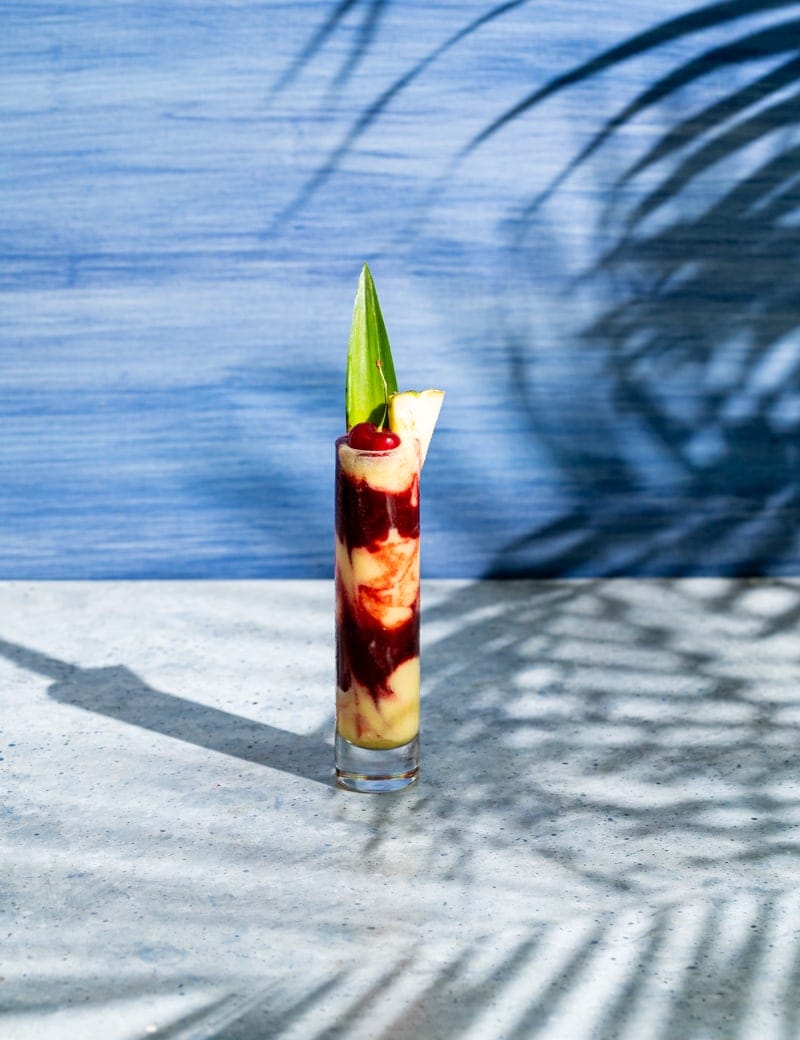 I have had the idea for this cocktail for a while. Never got around to it. Life blah blah. I finally made it physically to the grocery store for the first time since the beginning of March (!!) and saw that frozen fruit was on sale. Couple bags of frozen pineapple and sweet dark cherries later. The big stick cocktail was finally happening.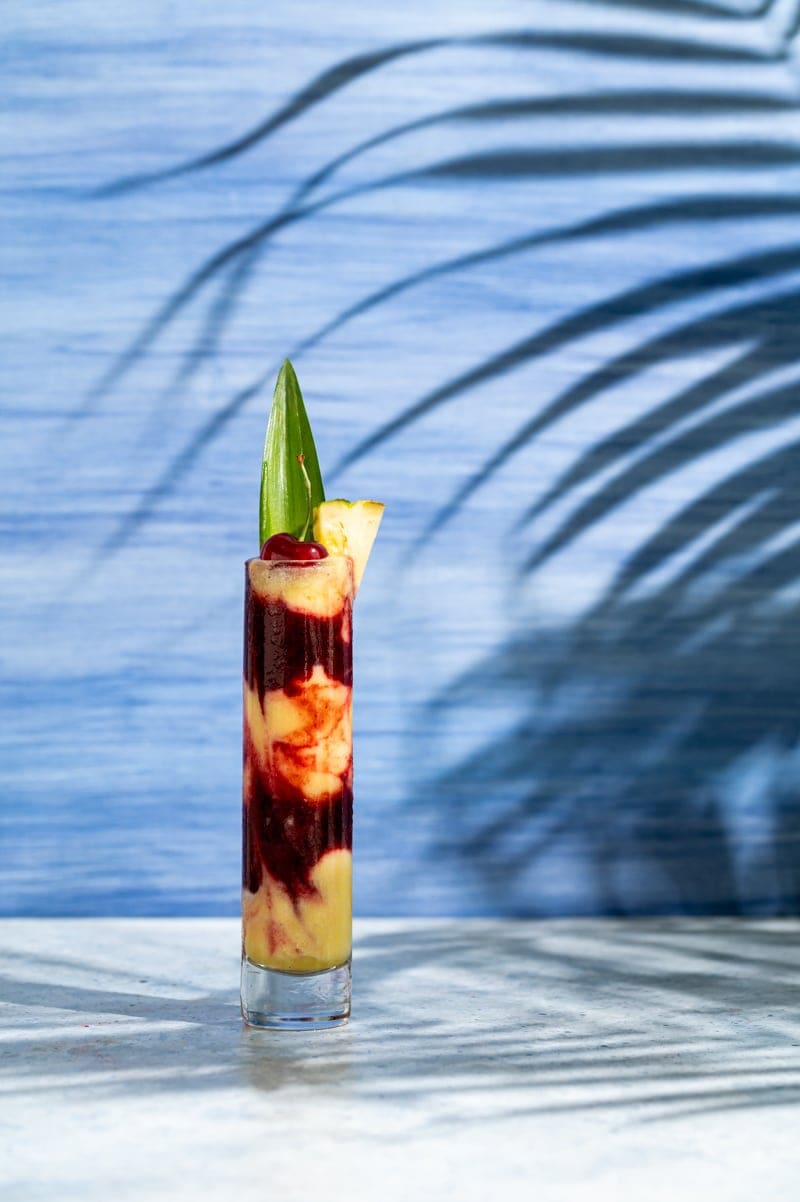 These cocktails are really easy to make. Just a few ingredients. Make the each flavor separately in your blender. Freeze for a bit. Layer it up in chilled glasses. Sip and enjoy and reminisce about childhood summers.
A few notes about the big stick aka frozen pineapple cherry cocktail recipe first:
Frozen fruit is the key to this cocktail. I used frozen pineapple chunks and frozen dark sweet cherries. You can let them thaw a little but I opened the bags of frozen fruit an added those straight away to my blender
I used

Pau Maui

vodka for these, you could also use white rum or tequila. Flavored vodka would be fun as well
To make these non-alcoholic swap out the booze for fruit juices or more coconut water
Coconut water helps thin the frozen fruit out a little so it blends nice and smooth. Only add in a little at a time until the mixtures are smooth
You can make both the pineapple and cherry layers ahead of time. I keep them stored in mason jars in my freezer then when I am ready to make the cocktails I just take them out and start scooping some out wiht a small spoon to layer. The alcohol prevents the mixtures from freezing solid so they are easy to scoop
Check recipe notes for more ideas and tips
"Recipe"
Big Stick Cocktail - Layered Frozen Pineapple Cherry Cocktail
Remember those amazing Big Stick popsicles you had as a kid? Here they are in adult cocktail form. Yield depends on size glasses you use.
Ingredients
For the pineapple layer
16

ounces

frozen pineapple chunks

3-4

ounces

Pau Maui vodka

white rum or silver tequila would also work

.25 ounce lime juice

about a tablespoon

2-3

teaspoon

simple syrup

1-2

ounces

coconut water *
For the Cherry layer
16

ounces

frozen dark sweet cherries

3-4

ounces

Pau Maui vodka

white rum or silver tequila would also work

.25 ounce lime juice

about a tablespoon

2-3

teaspoon

simple syrup

1-2

ounces

coconut water*
Garnish:
Pineapple wedges

Fresh dark cherries

pineapple leaves
Instructions
To make the cocktails:
I used tall collins glasses, any glass will work, check glass amount first. My glasses hold about a cup of liquid.
For the pineapple layer:
In a blender, combine the frozen pineapple, vodka ( or spirit of choice), lime juice, simple syrup. Blend and add in the coconut water a tablespoon at a time until you achieve a thick, smooth mixture. Transfer to a jar or container and pop into your freezer to chill while you make the cherry mixture
To make the cherry layer :
Same as the pineapple layer, combine the cherries, vodka, lime juice, syrup and blend. Add in the coconut water to thin to desired thick, smooth consistency then transfer to jar or container to set up a bit in the freezer. You want both the pineapple and cherry mixtures to be very cold and thick in order to layer properly

When ready to assemble the drinks take your chilled  glasses out of the freezer and alternate layers of pineapple and cherry, a few tablespoons each until you fill your glass. Garnish with a fresh pineapple wedges and a cherry with a stem and a pineapple leaf. Serve immediately. 
Notes
The key to these popsicles is keeping everything as cold as possible. Chill the glasses in the freezer and you can keep the pineapple and cherry mixtures separate until ready to layer. The alcohol will prevent the mixtures from freezing completely solid
You can make these non-alcoholic. Omit the alcohol and trade for either pineapple and cherry juices or more coconut water
These also make awesome popsicles. Fill popsicle molds layering like you do the cocktail and freeze. They will not be completely solid due to the alcohol, so you can use less alcohol for a more solid pop. Or make non-alcoholic pops.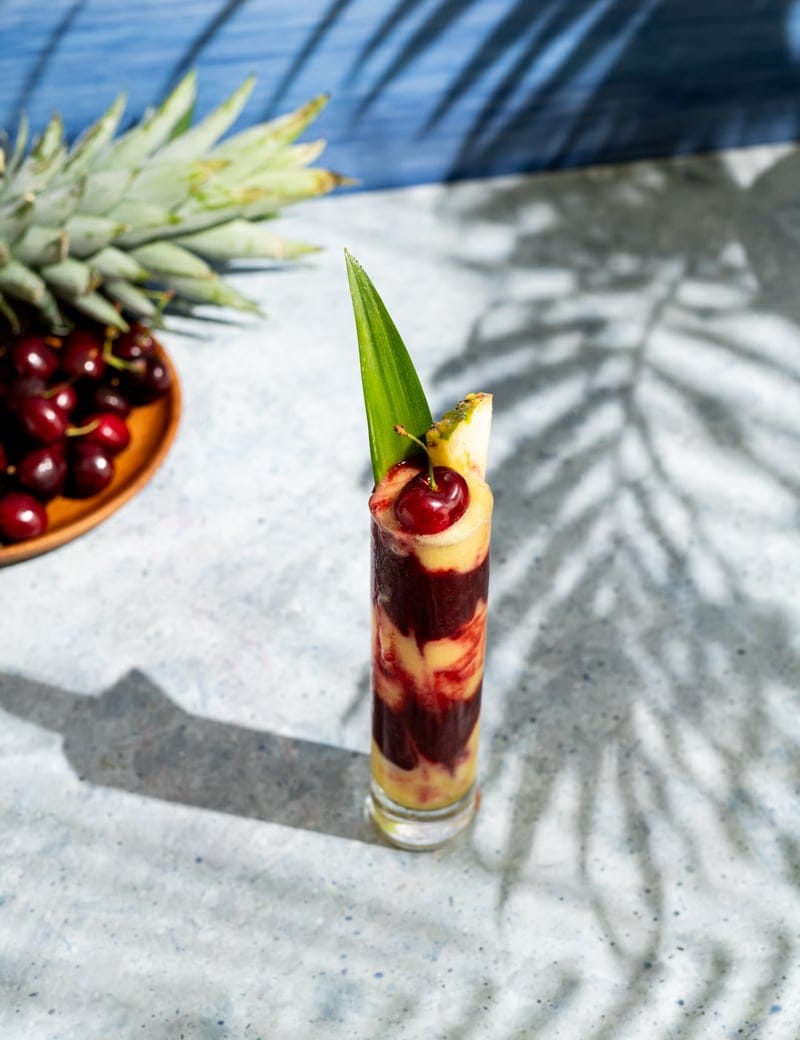 I hope you make this big stick aka frozen pineapple cherry cocktail and enjoy it as much as I do!