I made some whoopie pies for you today. Not just any whoopie pie, but Gingerbread Whoopie Pies with Maple Poached Pears and Maple Buttercream. These little bites of whoopie pie goodness have winter and Christmas written all over them.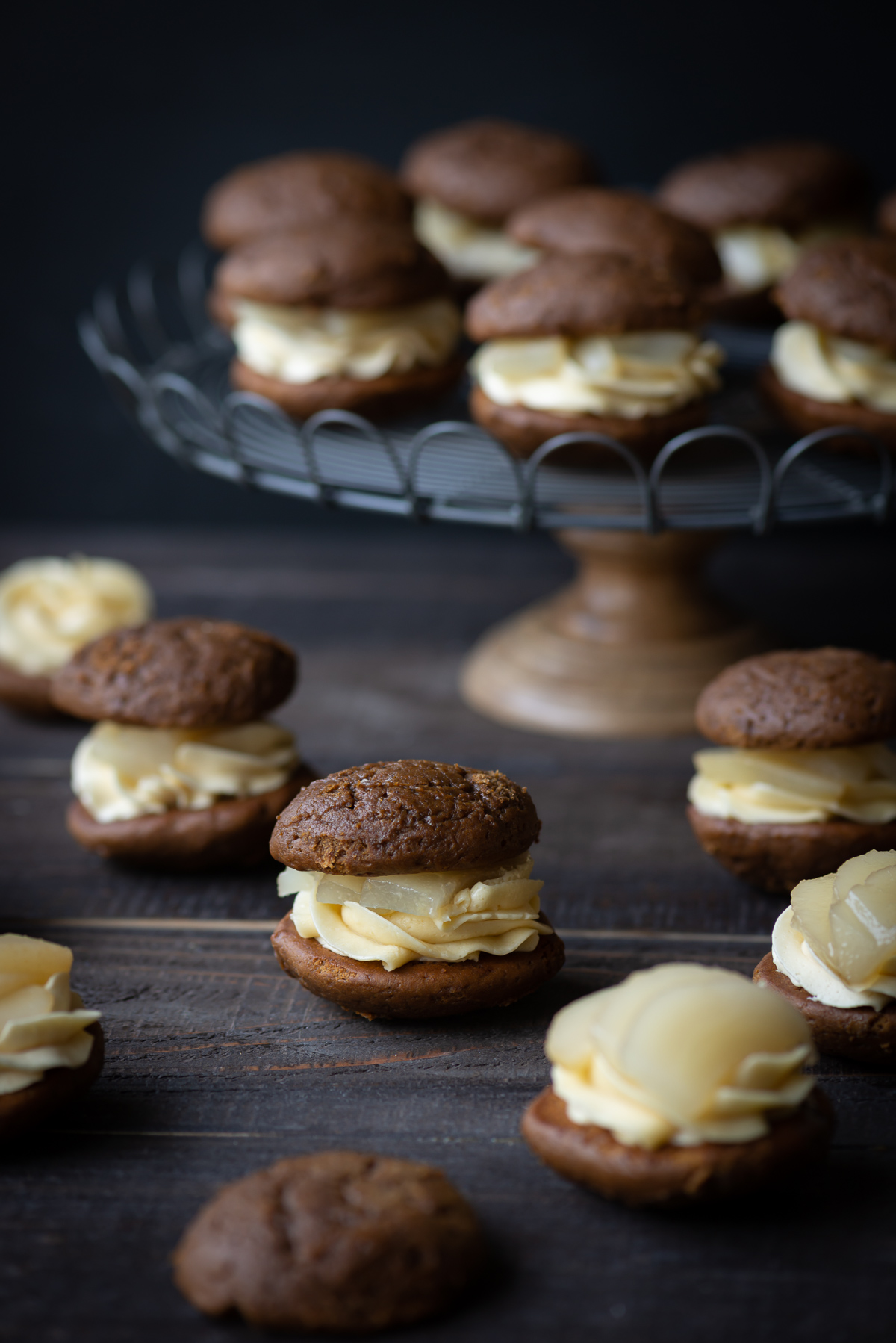 This page contains affiliate links. Affiliate links support Pineapple and Coconut at no additional cost to you. If you choose to make a purchase via these links, I earn a small commission to help keep this blog running and it is much appreciated. I am an Amazon and Adorama affiliate.
These were originally for a group project "Christmas week" recipes years ago, but many of those posts and blogs no longer exist. Time for a rewrite of this post and make it more SEO friendly since that is the way the blogging world is now. And also to add in some tips and advice for baking success.
Maple and pear go so well together, and poached pears are such an easy dessert on their own that look so elegant once presented. I wanted to go with something a little different other than just a bowl of the pears, and thought why not go with a whoopie pie. Basically a cupcake sandwich.
Jump to:
Ingredients for the whoopie pies:
All purpose flour
baking powder and salt
Gingerbread spices - giner, cinnamon, nutmeg allspice and cloves
Dairy - sour cream, whole milk and butter
Sweeteners - dark brown sugar and molasses
Egg and vanilla extract
Ingredients for poached pears
Bosc Pears - somewhat firm
maple syrup
cinnamon sticks and vanilla bean pods
water
Ingredients for maple buttercream:
Egg whites (save those yolks for homemade ice cream or curd)
granulated white sugar
salt
butter
maple syrup
How to poach pears:
Peel and cut the pears in half and scoop out the core and seeds with a spoon or cookie dough scoop. Then slice each half into another half so you have pear quarters.
Bring the water, maple syrup to a simmer with the cinnamon sticks and vanilla bean pods
Add the prepared pear quarters
A piece of parchment paper is set on top of the simmering liquid to help keep it from steaming too much ( you don't want a lid on the pan).
The pears are poached on the heat for 15 minutes then they stay in the pan until completely cool.
Once cooled they are sliced and set aside
Aside from adding the the major delicousness of these whoopie pies, poached pears are an amazing dessert all on their own with relatively little fuss. Poached and served with a  sauce reduction and creme anglaise or with a scoop of ice cream you can turn a simple fruit into a stunning dessert that will wow your friends and family.
Or you can go crazy like I do and take those lovely poached pears and make them part of a filling for these whoopie pies. Pear and gingerbread are a killer flavor combo. Gingerbread isn't just for building miniature houses.
How to make whoopie pies:
"Recipe"
Gingerbread Whoopie Pies with Maple Poached Pears and Maple Buttercream
Gingerbread Whoopie Pies with Maple Poached Pears and Maple Buttercream Makes 2 dozen whoopie pies
Ingredients
For the Whoopie Pies
2 ½

c

all purpose flour

1

teaspoon

baking powder

2

teaspoon

ground ginger

1 ½

teaspoon

ground cinnamon

½

teaspoon

ground nutmeg

½

teaspoon

ground allspice

¼

teaspoon

ground cloves

½

teaspoon

sea salt

1

c

sour cream

full fat, room temperature

½

c

milk

½

c

butter

4 ounces, unsalted and at room temperature

⅔

c

dark brown sugar

⅓

c

molasses

1

large egg

room temperature

1

teaspoon

vanilla extract
For the Poached Pears
2

bosc pears

¾

c

maple syrup

2

quarts

water

2

cinnamon sticks

2

vanilla beans

split
For the Buttercream
3

egg whites

¾

c

sugar

¼

teaspoon

salt

1 ½

c

butter

unsalted, not quite room temperature

½-⅔

c

maple syrup
Instructions
For the Whoopie Pies
Preheat oven to 350 Deg f. Line baking sheets with parchment paper or silicon bake mats.

Combine the flour, baking powder, spices and salt in a bowl and whisk to combine, set aside.

Combine the sour cream and milk together in a small bowl

In a bowl of a stand mixer or using a hand mixer, cream the butter until light and fluffy, add in the brown sugar and molasses and mix again until creamy, 2-3 minutes. Add in the egg and vanilla and mix until combined. Add in the flour mixture alternating with the sour cream mixture in 5 additions beginning and ending with flour. Mix until no flour streaks are combined.

Using a small cookie scoop or spoons, scoop rounded tablespoon and a half amounts of batter onto the prepared baking sheets, about 2" apart. Smooth out the tops with your finger tips so a dome doesn't form when baking. If the batter is sticky dip finger in water first then smooth out.

Bake for 9-10 minutes until the cakes have risen and set. Cool on the pans for 5 minutes then transfer to a cooling rack to cool completely before assembly.
For the Pears
While the whoopie pies are cooling prepare the pears. Peel, quarter and core the pears.

Take a medium saucepan and set it over piece of parchment paper and trace a circle. Cut out the circle and cut a slit in the middle, set aside. Combine the water, maple syrup, cinnamon sticks and vanilla beans. Bring to a simmer and add the pears. Place the parchment disk on top pressing down so its against the water. Simmer the pears for 15 min. Turn off the heat and let cool completely.

Once cool remove the pears and cut in half and slice ¼ " thick. Set aside.
For the Buttercream
Set a pan of water on the stove and bring to a simmer. In a bowl of a stand mixer combine the egg whites, salt and sugar. Set the mixer bowl over the simmering water, making sure the bowl isn't touching the water and whisk the mixture for 4 minutes or until it reaches 160 deg, if you have a candy thermometer to measure. The mixture will feel warm and slick to the touch, all the sugar dissolved, and it will be slightly foamy. Place the bowl back on the stand mixer and attach the whisk attachment. Slowly bring the speed up to high and whip for 7-10 minutes or until the bottom of the mixer bowl is cool to the touch and the meringue is thick and glossy. Lower the speed to medium and add in the butter one tablespoon at a time. Once all the butter is incorporated, stop the mixer and scrape down the sides then raise the speed to high and mix well until the buttercream is light and fluffy. Lower the speed to medium and add in the maple syrup one tablespoon at a time until desired flavor is reached.
For Assembly
Pipe or spread about 2 tablespoon of buttercream on the bottom of one whoopie pie half, top with a few pear slices and dab a little bit more buttercream and top with another whoopie pie half. Chill until ready to serve. Let the whoopie pies sit out at room temperature for about 15-20 minutes for the buttercream to soften slightly.
Visit all the other Christmas Week Peeps for more Holiday Baking Goodness:
Visit all the other Christmas Week Peeps for more Holiday Baking Goodness: