Gluten Free Vanilla Doughnuts with Mini Chocolate Chips.
Doughnuts or Donuts? Does it matter? Or is one the proper spelling and the other the Homer Simpson version of spelling it? Either way you will love these gluten free vanilla doughnuts I made for you all today.

Now I know that a lot of people don't think baked doughnuts are the real deal. Doughnut purists love the yeast raised deep fried glazed doughnuts. There is also the camp for the fried cake donut too. I am going to be banned from doughnut shops for saying I really don't like " real" doughnuts. I like baked. I guess they are more like a round cupcake. Or Muffin

This pic was crazy hard to get with having a 5 year old "assistant" press the remote shutter button while I dusted the doughnut with powdered sugar. At one point this one end of the pan had so much powdered sugar from multiple attempts I had to clean up and do over. Twice. I gave her one for helping me. Will work for doughnuts, she said. I kind of can't blame her for that one.
Notice the abundance of powdered sugar in that lower left-hand corner? Like I said, multiple attempts at that " action" shot. Why is the doughnut? These round confections have had quite the dispute over who invented them. Some say the early Dutch settlers to America invented them in North America, some say they date back to the early 1800s in England, another man claimed to have invented them while aboard a lime trading ship at sea. Whoever invented them doesn't matter now. All that matters was that they were invented and that there are so many kinds all over the world from different cuisines and they are all tasty.
We used to live in Portland, Oregon which is home to the world famous, Voodoo Doughnuts. That store is a trip. They have some of the craziest doughnuts ever and they even hold wedding ceremonies at their shop. Portland's motto is " Keep Portland Weird" and I would say a Doughnut shop that doubles as a wedding chapel is doing a great job of keeping that motto intact. Great doughnuts and we loved taking friends who visited us for a donut and to see the weirdness.
I would have to say my absolute favorite doughnuts are a tie between New Orleans style Beignets and Hawaiian Malasadas. Both fried ( which I am so not a fried foods person) and both super sweet. But SO GOOD. I don't make either of these at home. They are definitely a once in a very great while treat, but a treat I enjoy immensely. Especially with a good hot cup of coffee. I also dedicate this picture to my husband who thinks its funny to see how high I can stack things for pictures like cookies and pancakes.

I really have never been that big of a doughnut fan. Until one day I decided to buy a doughnut pan. I figured they would be almost the same as baking cupcakes. And I am blaming my friend Kristen of the amazing blog, Dine and Dish, for her way too crazy easy baked chocolate doughnut recipe. A few months back I decided to surprise my kids and make them with them. Their eyes lit up like fully decorated Christmas trees. They joy baking doughnuts brought my kiddos was so awesome. Plus they were chocolate doughnuts. Which we frosted. And added sprinkles.

I also blame social media for making these gluten free vanilla doughnuts. I will wake up and start scrolling my instagram and twitter feeds to see what people are up to and more often than not on weekend mornings I will see tons of doughnut posts and pics. So a few weekends ago after seeing many posts in a row about doughnuts I decided to play around with a recipe and see what I could come up with. I have been working on fine tuning my gluten free all purpose flour mix and I was really happy with the result. You really can't tell that these doughnuts are gluten free. I am not gluten-free due to health reasons, I just really like a variety of foods in my life, plus I really like the way it tastes. I also have lots of friends that are gluten free so I like being able to create recipes they can enjoy as well.
"Recipe"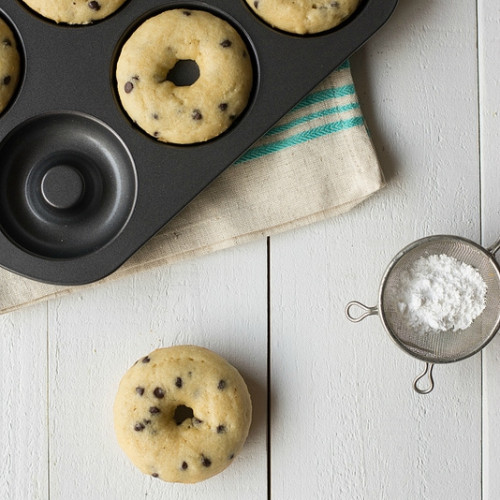 Gluten Free Vanilla Doughnuts with Mini Chocolate Chips
Gluten Free Vanilla Doughnuts with Mini Chocolate Chips Makes one dozen doughnuts Inspired by
Dine and Dish
Ingredients
2

C

All purpose Gluten Free flour blend (recipe here

1 ½

teaspoon

baking powder

¼

teaspoon

baking soda

¼

teaspoon

sea salt

⅔

c

coconut milk

full fat

2

large eggs

room temp

1 ½

teaspoon

vanilla extract

6

tablespoon

coconut oil

melted

½

c

honey

1

cup

mini chocolate chips

I use Enjoy Life brand

Powdered sugar for dusting on top of the doughnuts
Instructions
Preheat oven to 350 deg

Prep a regular sized 6-cavity donut pan by brushing each well with a little coconut oil

In a medium sized bowl combine the flours, baking powder and soda and salt and whisk until well combined.

In a glass bowl add the honey and then heat up for about 10 seconds in the microwave or over a double boiler on the stove. Add the coconut oil and stir well. Then add in the coconut milk and vanilla and whisk again and once it has slightly cooled add in the eggs and whisk well. Combine this mixture into the flour mixture and stir well. Fold in the mini chocolate chips and let the mixture sit about 5 minutes.

Transfer half of the mixture into a pastry bag or plastic baggie with one end cut off. Pipe an even amount into each donut well in the pan, filling to the edge of each well. Repeat with second pan if you have one.

Bake for 10 minutes. Let cool in pan for 2 minutes then remove carefully from pan and let cool. Dust with powdered sugar before serving
Notes
If you have two donut pans you can bake them at the same time in the oven side by side. If you only have one pan let the pan cool after the first batch bakes, clean and repeat with the coconut oil and remaining doughnut batter and bake again like the first batch.
*****You can make these with regular all purpose flour and sub 2 cups of regular flour for the 2 cups of gluten free flour ( bread flour would work too)*****
So if you don't have a doughnut pan, I suggest you go buy one. Because, Doughnuts/donuts.
I saved you one.