Double dose of mango goodness with this Grilled Citrus Mango Shrimp with Mango Avocado Salsa and Quinoa recipe.
This is a perfect light and delicious summertime meal. Prep takes longer than actual cooking since shrimp grills up rather quickly, about 4-6 minutes total.
Soaking the quinoa and prepping all the salsa ingredients takes longer which overall really isn't very long.
You can get this meal on the table in under an hour easily. Faster if you buy shrimp that is already deveined.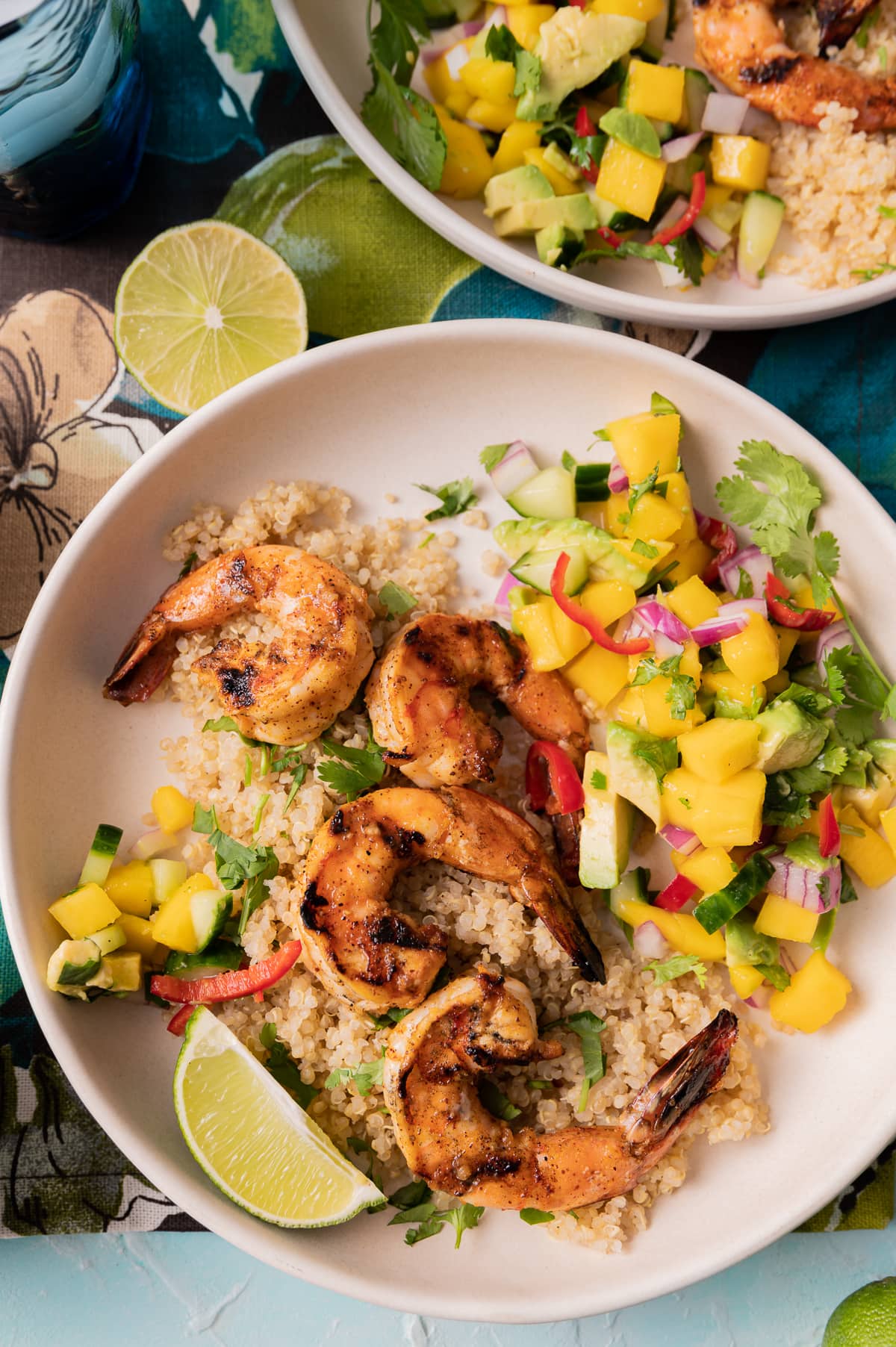 Continuing with my mango series this summer, since it is still mango season, I went with mango in the shrimp marinade as well as in the salsa. Or salad.
You could serve the mango avocado salsa with the shrimp over a bed of lettuce in place of the quinoa if you wanted to. It's great either way.
I used mango nectar/juice I had on hand for the mango in the marinade, but you could puree some of the fresh mango to use instead if you like.
I like using similar ingredients for marinades as well as salads or salsas to go with the dish. Less waste when one recipe calls for only a little bit of one item. Such as the lime, mango and orange. I use orange and lime juice in both the salsa and marinade.
For the shrimp, I like to buy wild size either 13/15 a pound or 16/20. No smaller, they are easier to grill when larger and take to the marinade better. Since there is citrus in the marinade it will "cook" the shrimp similar to how ceviche is cooked, so you want a larger shrimp and only marinate about 20 minutes. Smaller shrimp will start to react to the citrus faster.
Deveining shrimp can take a while, I like to find wild shrimp that is already deveined. Sometimes I get lucky with a great deal on wild shrimp at Costco or Sprouts.
I keep the tails on for grilling, but it's up to you if you want to keep them on or not. You could also skewer the shrimp too for grilling.
While the citrus mango shrimp is marinating you can prep the salsa and cook the quinoa. I start with rinsing and soaking the quinoa first before any other prep since that takes the longest.
The salsa is just a lot of slicing of items, I try to keep all the salsa ingredients around the same size but cut them how you like.
If making the salsa ahead of time, add in everything but the avocado, it will get mushy if left in for several hours first. Nobody likes mushy avocado unless it's guacamole.
I love making quinoa with dishes like this but if you prefer white rice or even make it a salad you can do that too.
The citrus mango shrimp and mango avocado salsa would be awesome over a bed of shredded lettuce. I make a decent amount of quinoa so I have plenty for leftovers.
I don't care for plain quinoa, so I make it with chicken broth then add salt, pepper and a squeeze of lime. I also add in some chopped cilantro for this recipe.
Perfectly grilled citrus mango shrimp, tangy sweet and a little spicy mango avocado salsa and a nutty quinoa. My kind of summertime meal.
"Recipe"
Grilled Citrus Mango Shrimp with Mango Avocado Salsa and Quinoa
Ingredients
For the shrimp:
1.5-2

pounds

shrimp

(13/15 or 16/20 size), peeled, deveined, tails on (24-32 oz)
For the Marinade:
¼

cup

olive oil

60ml

¼

cup

mango juice

60ml

2

tablespoon

lime juice

2

tablespoon

orange juice

2

teaspoon

honey

1

teaspoon

chili powder

1

teaspoon

onion powder

1

teaspoon

kosher salt

½

teaspoon

ground black pepper
For the Mango Avocado Salsa:
1-2

red mangoes

peeled and diced (1-1.5 cups) seed discarded

1

Japanese cucumber

diced ( about a cup)

½

red onion

diced ( about ⅓-1/2 cup)

1-2

avocados

peeled, pit removed and diced

2-3

Fresno chiles

stem, seeds and ribs removed, thinly sliced

½

cup

cilantro

chopped

2

tablespoon

lime juice

1

tablespoon

orange juice

1

tablespoon

lime zest

Kosher salt and ground black pepper to taste

around ½ to 1 teaspoon each
For the Quinoa:
1

cup

white quinoa

1 ½

cup

broth

chicken or veg

1

teaspoon

kosher salt

½

teaspoon

ground black pepper

2-3

teaspoon

Lime juice

2-3

tablespoon

cilantro

chopped
Instructions
You can work on all three components at once since the quinoa needs soaking and rinsing, the salsa is chilled, and the shrimp marinates for 20 min. 

Start with soaking the quinoa, then rinse the water until it runs clear and then keep soaking while you prepare the salsa. This should take about 10 minutes.

For the salsa, prep all the ingredients as stated in the list, mix in together in a large bowl and keep chilled until ready to use. If you want it milder use only one Fresno chile, if you want it spicier add more. Taste and season with salt and pepper how you like it. If you make this salsa a day ahead of time, add in the avocado right before serving. 

For the shrimp whisk together all the marinade ingredients in a bowl and pour over the shrimp. Mix well and let it marinade for 20 minutes. 

While the shrimp is marinating, cook the quinoa. Drain the quinoa from the soaking liquid first then combine the broth and quinoa in a medium sauce pan, bring to a boil. Place a lid on the pan and lower the heat to low and cook for 15 minutes. Turn off the heat and let steam for 5 minutes. Fluff with a fork and season with salt, pepper, lime juice and some diced cilantro. 

Preheat your grill to medium high, brush the grates with oil. Remove the shrimp from marinade but keep the marinade close by. Grill the shrimp 2-3 minutes as side until starting to turn opaque and curl, brushing with excess marinade. You want some nice grill marks but don't overcook. 

To serve: spoon some of the quinoa on a plate or bowl, top with 4-6 shrimps and a half a cup or so of the salsa and some slices of lime. Servings depend on how hungry you are!

The salsa is excellent with tacos or just with chips too.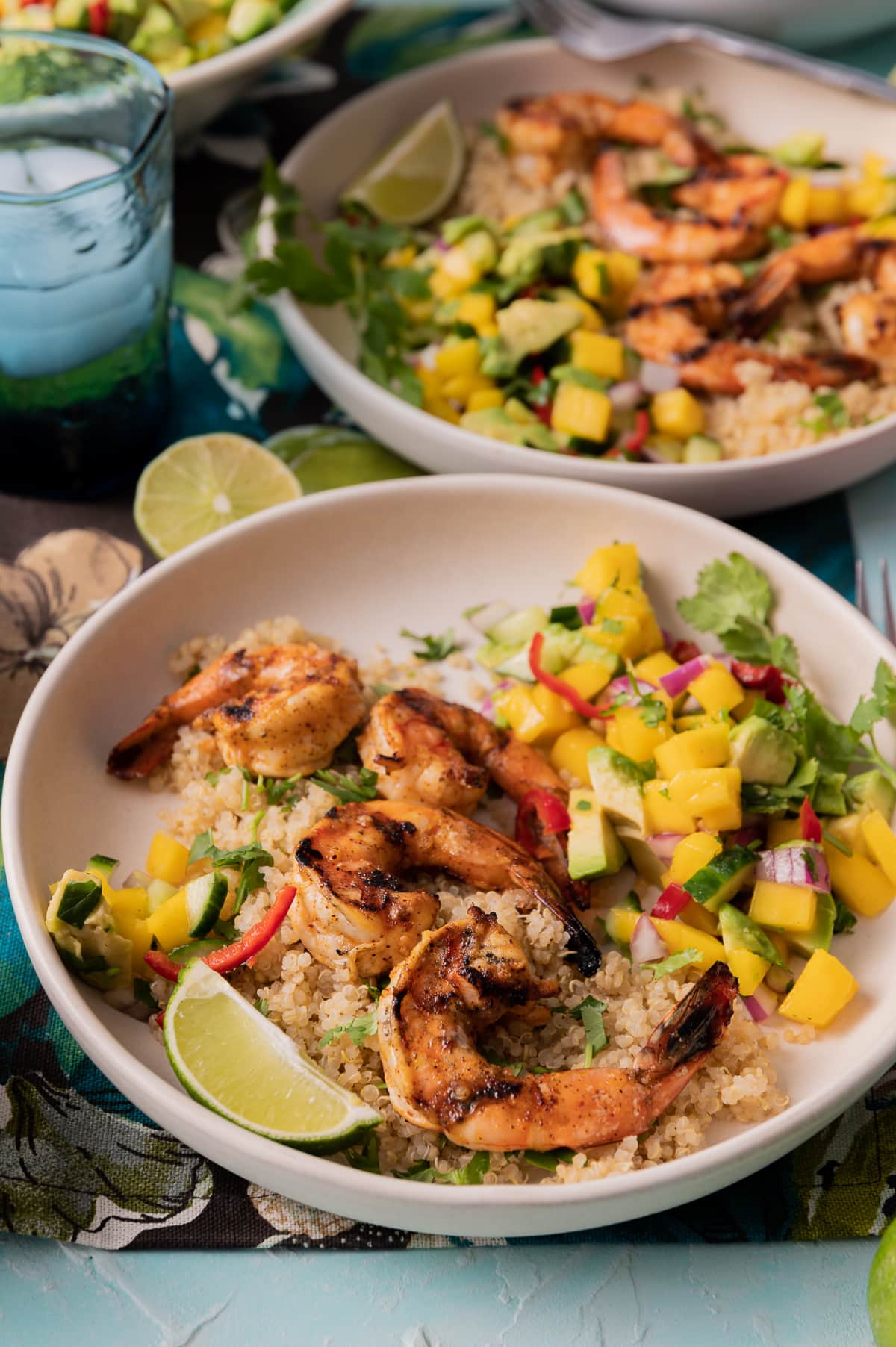 Hope you enjoy this grilled citrus mango shrimp recipe as much as I do. The mango avocado salsa would be great on other proteins such as chicken or salmon.
Stay tuned for even more mango recipes this summer.