Guinness Stout Skillet Brownies with Salted Chocolate Guinness Frosting are a perfect treat for celebrating St. Patrick's day. Chocolate and Beer. A perfect food pairing.
There are two camps for
brownies
the fudgy camp and the cakey camp. I am in the fudgy camp when it comes to brownies. I love the ooey gooey goodness of a brownie with melted chocolate chips fresh out of the oven. I save cake like texture for cake.
These Guinness Stout Skillet Brownies are so ridiculously fudgy. Chock full of melty chocolate chips and to make them extra decadent they are topped with a dark chocolate frosting made with more Guinness Stout and big fat sea salt flakes. YUM
I am not a huge fan of traditional Irish foods such as corned beef and cabbage and anything dyed green isn't my thing either. But Irish alcohol in baked goods? Oh yes. Guinness in brownies? Yes please.
I cheated a little and went with a box brownie mix. I am not a fan of boxed cake mixes, for the most part, but there are some amazing boxed brownie mixes and Ghiradelli is my fave to use when I don't feel like making brownies from scratch.
Best part about using a box mix? One bowl brownies.
I use the box mix as a starting point and always substitute or add things to make it even better. Guinness stout in place of water, extra chocolate chips too. You can add in toasted nuts like walnuts if you like too.
You can leave as is and make them truly a one bowl brownie recipe OR make it two bowl and add the frosting. I suppose it could still be one bowl, wash the mixing bowl while the brownies are baking and make the frosting in that bowl.
I could eat the frosting with just a spoon!
These are incredibly easy to make in a skillet. Easy clean up too. My husband took one of the batches of these Guinness Stout Skillet Brownies to work and he said they were gone in seconds and people asked him to have me make more!! Don't forget the big fat flake salt for the top.
The salt is perfect with the sweetness of the frosting. And of course sprinkle more chocolate chips on top as well. These go great with a cold Guinness stout to drink too.
"Recipe"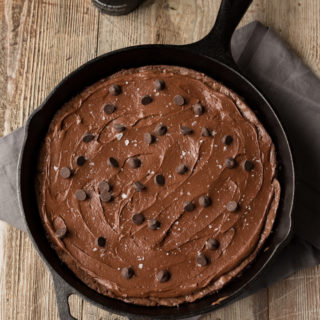 Guinness Stout Skillet Brownies with Salted Chocolate Guinness Frosting
I don't always make brownies from a box mix, but when I do I add Guinness stout, and I make a chocolate Guinness stout frosting to go with it. Servings depend on the size brownies you cut.
Ingredients
1

tablespoon

butter for greasing cast iron pan

1

Box Ghirardelli Double Chocolate Brownie Mix

¼

C

plus 1 tablespoon Guinness beer

1

large egg

room temperature

⅓

c

olive oil

½

c

Guittard dark chocolate chips
For the frosting:
4

tablespoon

unsalted butter

room temperature

¾

C

powdered sugar

2-3

tablespoon

Guinness beer

½

teaspoon

vanilla extract

¼

cup

Dark Chocolate Spread

Dark chocolate version or a product like Nutella or other chocolate-nut spread or a non-nut alternative such as a chocolate sunflower butter or chickpea spread
For garnish:
2

tablespoon

Guittard dark chocolate chips

1

tablespoon

Large flake salt
Equipment needed
10

" Cast Iron Skillet

2

mixing bowls

Spatula or spoon for mixing

Hand mixer

Spatula for spreading on frosting
Instructions
Preheat oven to 350 Deg F. 

Season the cast iron skillet well, if not already seasoned. This can be done a day ahead of baking the brownies.  Grease the bottoms and sides of skillet with butter. 

In a medium mixing bowl combine the brownie mix, beer, egg and olive oil and mix until just combined, fold in the chocolate chips then pour into the prepared cast iron skillet. 

Bake for 25 minutes, remove from oven and let cool for 45-50 minutes. Cast iron pans remain hotter for longer so the brownies will still " cook" a little once out of the oven. You don't want to overbake them in the oven. 

While the brownies are cooling, prepare the frosting 

In a medium mixing bowl cream all of the frosting ingredients together with a hand mixer. If it is too thick add a little more Guinness. Spread on the cooled brownies. Sprinkle with  dark chocolate chips and flake salt. Cut into 2" wedges and squares and serve. 
Notes
Feel free to use any box mix brownies you like. You can also make these from scratch just add in beer in place of water/milk/ whatever liquid is in your recipe.
Enjoy and happy St. Patrick's day!