Halibut Passion Fruit Ceviche. I adore ceviche and I think you will all love this recipe as much as I do.
I knew I wanted to make a passion fruit ceviche with these gorgeous passion fruit I got from Rincon Tropics and I am so glad I did. This recipe is amazing.
I have been a fan of fish and seafood since I was a kid. Growing up in Santa Barbara, CA meant lots of fresh fish and seafood all the time. I was introduced to ceviche at a young age and anytime I see it on a menu at a restaurant I am ordering it.
When I lived in San Diego friends there had a commercial fishing operation and we would go out deep sea fishing and catch the most gorgeous fish. Some we would fillet on board and make quick fish tacos or sandwiches, some they would put in coolers on ice to freeze and make ceviche with it a day later. The best ceviche I have ever had.
I could live off of ceviche, poke and sushi. I prefer raw and citrus "cooked" fish over heat cooked fish. Its just so fresh and flavorful. And a great excuse to use chips as spoons. I love meals with chips.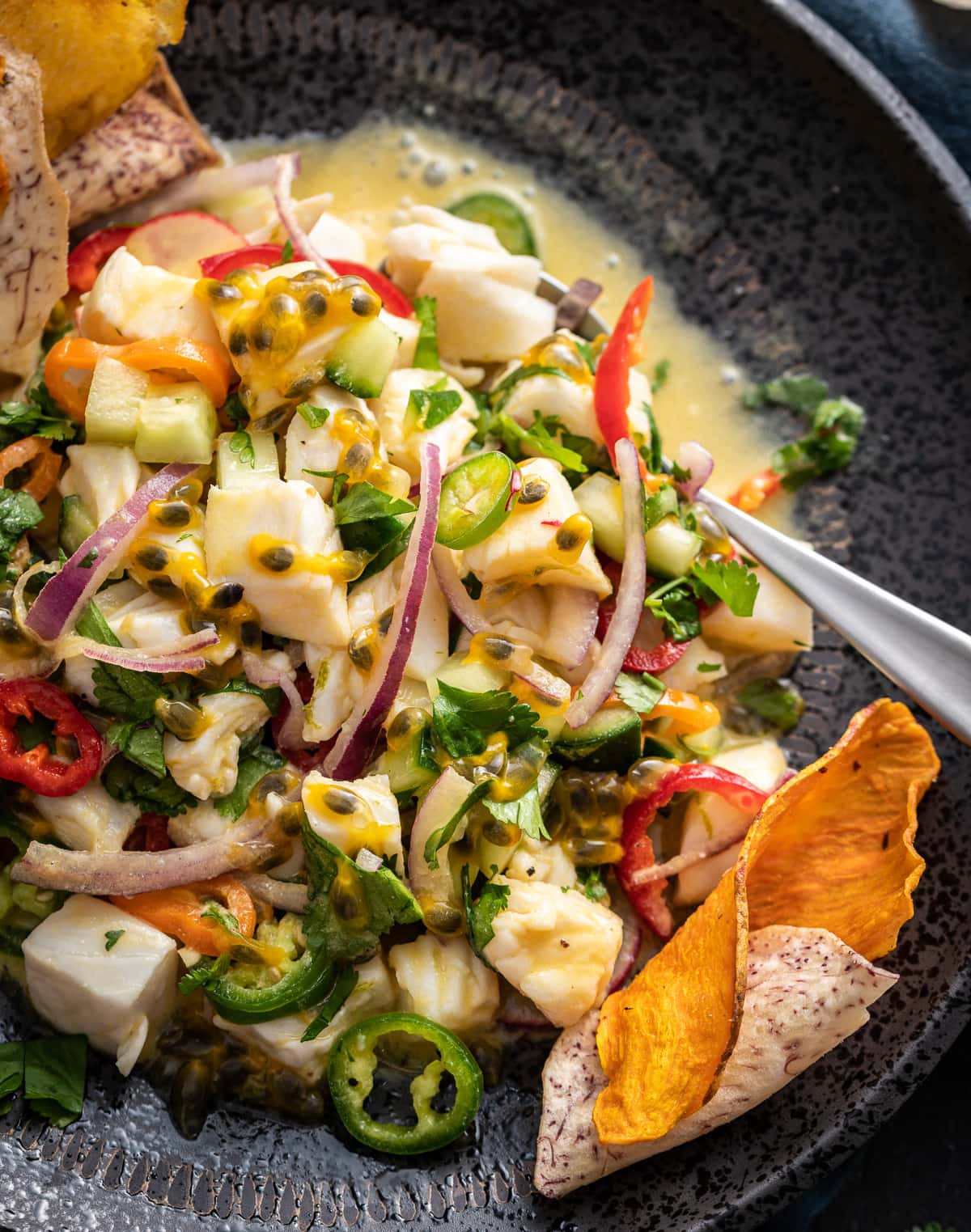 What is Ceviche?
Ceviche is a citrus cured fish recipe that originated in Peru. Also pronounced/spelled Cebiche or Sebiche, it is most commonly made with lime juice to "cook" the fish, aji amarillo, a Peruvian chile, onions, herbs and spices. It is a relatively simple dish that allows the fish to shine along side the rest of the ingredients.
Ceviche is most commonly served as an appetizer with chips. Many different Latin cuisines have different versions of ceviche, different peppers used, different aromatics and al ot depends on the area and what is available as well as what is more common to their cuisine.
Peruvian ceviche is different from Mexican. I have had Mexican style ceviche more often than any other kind, the perks of growing up in Southern California.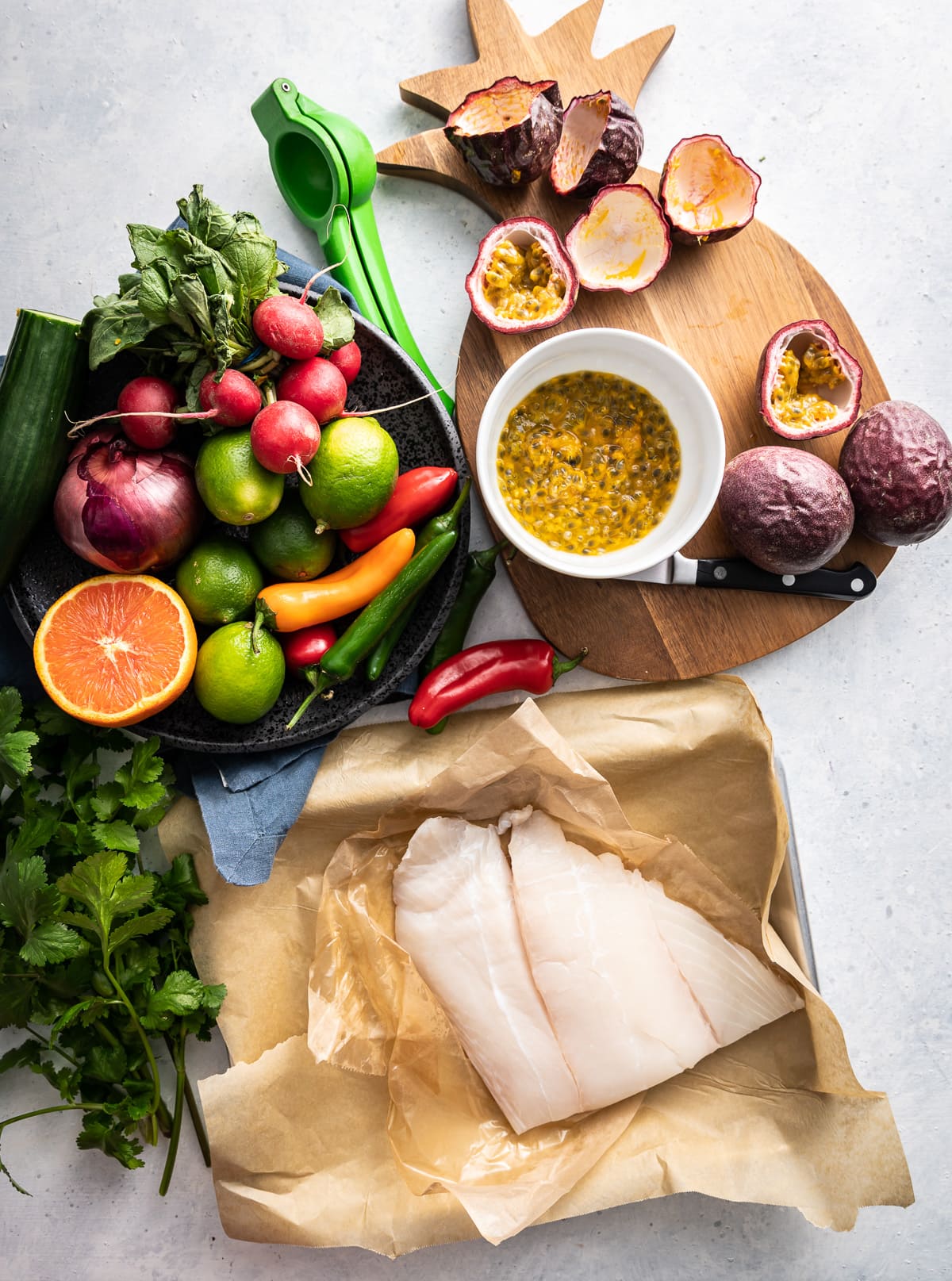 What kind of fish is used in Ceviche?
There are a few great fishes to use for ceviche, I love using a firmer white flesh salt water fish such as cod, halibut or sea bass. I opted for halibut here since it was on sale and it holds up really well in ceviche. Other fishes such as Mahi Mahi and Opah or moonfish would also work really well.
You want to make sure the fish was frozen prior to purchase or buy frozen fish, then thaw in the refrigerator. This is important to get rid of any bacteria. There is a risk with consuming raw fish and you can talk to your local fishmonger or seafood counter at the store you shop at to get the best quality fish for ceviche.
Curing in citrus doesn't fully "cook" the fish. It goes through a denaturation process where it becomes firm and opaque. Some ceviche recipes serve as soon as the recipe is made, no resting time in the refrigerator to cook. I chill mine for an hour because I like the texture of the fish at that time and it helps with curing off any bacteria that might still be present.
The most important thing is to use the absolute freshest fish possible - you caught it yourself then immediately froze it or you buy frozen fish then thaw.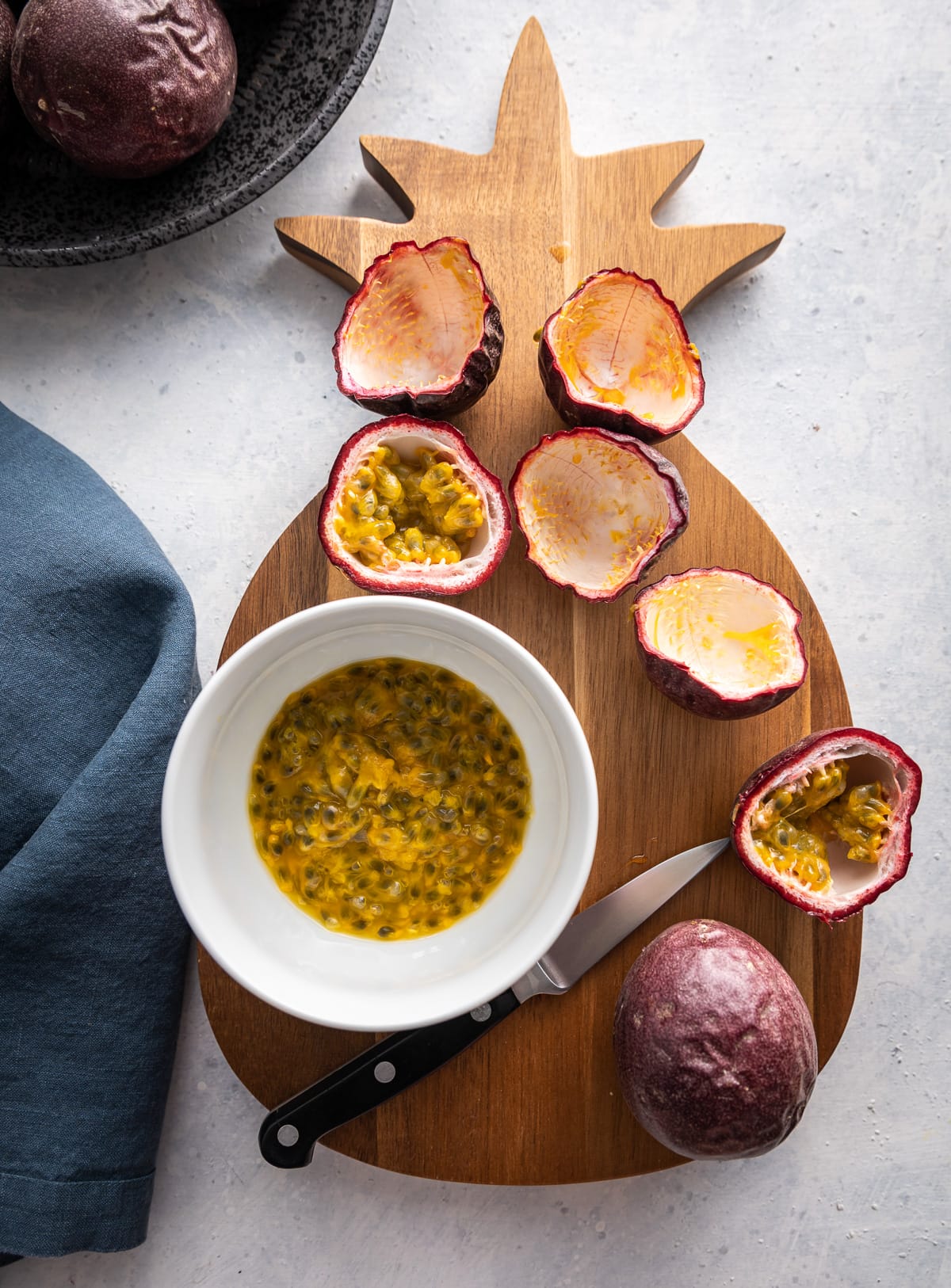 To make this halibut passion fruit ceviche:
First rinse and pat the fish dry then slice in to half inch cubes. I don't like to cut it much bigger than that, and any smaller it will start to fall apart, become more like a carpaccio or tartare.
For my curing liquid I used lime juice, orange juice and passion fruit juice. I scooped out the pulp from several passion fruit to get juice without seeds. I then whisked these together with a little honey and some mirin, a sweet rice wine. I like to add a little touch of sweetness to ceviche. The honey and the mirin really highlight the flavors of the limes and passion fruit.
Place the fish in a glass or non-reactive shallow dish and pour the citrus mixture over it making sure it is well submerged. A little of the fish may stick out of the juice and that is ok since you will be stirring occasionally as it cures in the refrigerator.
Cover with plastic wrap and chill for 45 minutes to an hour. The marinating time is all over the place with recipes online. The less time the less cured and the fish won't have a cooked texure. Several hours and the citrus will start to break down the fish too much. I prefer an hour. I like the texture of the fish at an hour.
Strain the fish and reserve the citrus juice mixture.
Combine the fish in a serving bowl with the rest of your ingredients. Common ceviche ingredients are chilis - hot or mild, red onion, thinly sliced radish. herbs such as cilantro. I like adding in cucumber for crunch. I then season with salt and pepper and stir well.
I add coconut milk to the citrus juice and then add that to the serving bowl. I top with fresh passion fruit pulp, seeds and all.
I then serve the ceviche with chips - I love either tortilla chips, taro or vegetable chips such as sweet potato.
A few noes about this halibut passion fruit ceviche first:
Use the freshest fish possible, preferably previously frozen. Firm white fish are best for ceviche over oilier fish such as tuna
I love using red onion and radish in ceviche and a great trick to take off the bitter edge is to soak them in ice water with a pinch of salt while the fish is marinating
I add in coconut milk to the marinade after the fish has "cooked" I love the taste it adds to the lime and passion fruit as well as its creaminess. You can leave out the coconut milk if you like.
Use any chiles you like. Some ceviche recipes marinate the fish with the chiles, I don't. Personal preference.
I sometimes like my ceviche to have a touch of sweetness so I add in just a little honey and

mirin

to the marinating juice for this recipe. Mirin is a Japanese sweet rice cooking wine, similar to sake but sweeter and adds a touch of umami to dishes. It also helps the flavors mix together really well. I use it in many recipes, not just Japanese cuisine.
"Recipe"
Halibut Passion Fruit Ceviche
Halibut ceviche made with passion fruit and coconut milk. A fresh, tropical take on a classic dish that originated in Peru.
Ingredients
1 ½

lb

halibut

previously frozen, cut into ½ inch cubes

½

teaspoon

kosher salt

½

cup

lime juice

Zest of one lime

½

cup

fresh passion fruit juice

from 8-10 passion fruits strained

2

tablespoon

orange juice

1

tablespoon

honey

1

tablespoon

mirin

¼

cup

full fat coconut milk
To serve:
2-3

Hot or mild red or green chilies

thinly sliced ( I used Fresno and Jalapeño, can also use Thai red chilies, Habanero if you are brave)

Half of a red onion

about half a cup, thinly sliced

5-6

radishes

washed and thinly sliced

1

cup

finely diced cucumber

I like using Japanese or Persian cucumbers

½

cup

fresh Cilantro

chopped

2

fresh passion fruits

pulp, juice and seeds

Chips of your choice - tortilla

taro, sweet potato, plantain etc.
Instructions
If using frozen fish, thaw in refrigerator until thawed. Rinse the fish well in cool water, cut into half inch cubes and place in a shallow glass fish, sprinkle with salt

In a small mixing bowl whisk together the lime juice, lime zest, passion fruit juice, orange juice, honey and mirin. Pour over the fish, making sure it is well submerged and cover with plastic wrap. Place in refrigerator for one hour, stirring every 15 minutes to make sure all sides of the fish are cured by the liquid

While the fish is marinating, prepare the rest of your ingredients. Slice the chilies in circles, you can leave in seeds if you want the dish to have more heat. Slice the red onion and radishes and soak in ice water with a teeny bit of salt for at least 20 minutes. 

When the fish is ready, strain out the juice into the bowl you mixed it in and transfer fish to a large mixing bowl. Strain the red onion and radishes form the ice water and add them to the bowl along with the chilies, cucumber and cilantro . Whisk the coconut milk into the marinade then pour over the fish in the mixing bowl and stir. Season with a little salt and pepper then spoon the fresh passion fruit over the top. You can serve now or chill again until ready to serve. The longer the fish marinades the more the texture will change.

Serve with chips of choice. 
Notes
This dish is best eaten the same day, you can keep it up to 48 hours well chilled but the texture will change the longer it sits in the marinade and then fish will no longer be as fresh after 48 hours. 
If you want a more traditional ceviche you can omit the honey, mirin and coconut milk.