Tropical Hibiscus Spritz Cocktail. My hibiscus riff of the classic Italian apertif, the Aperol Spritz.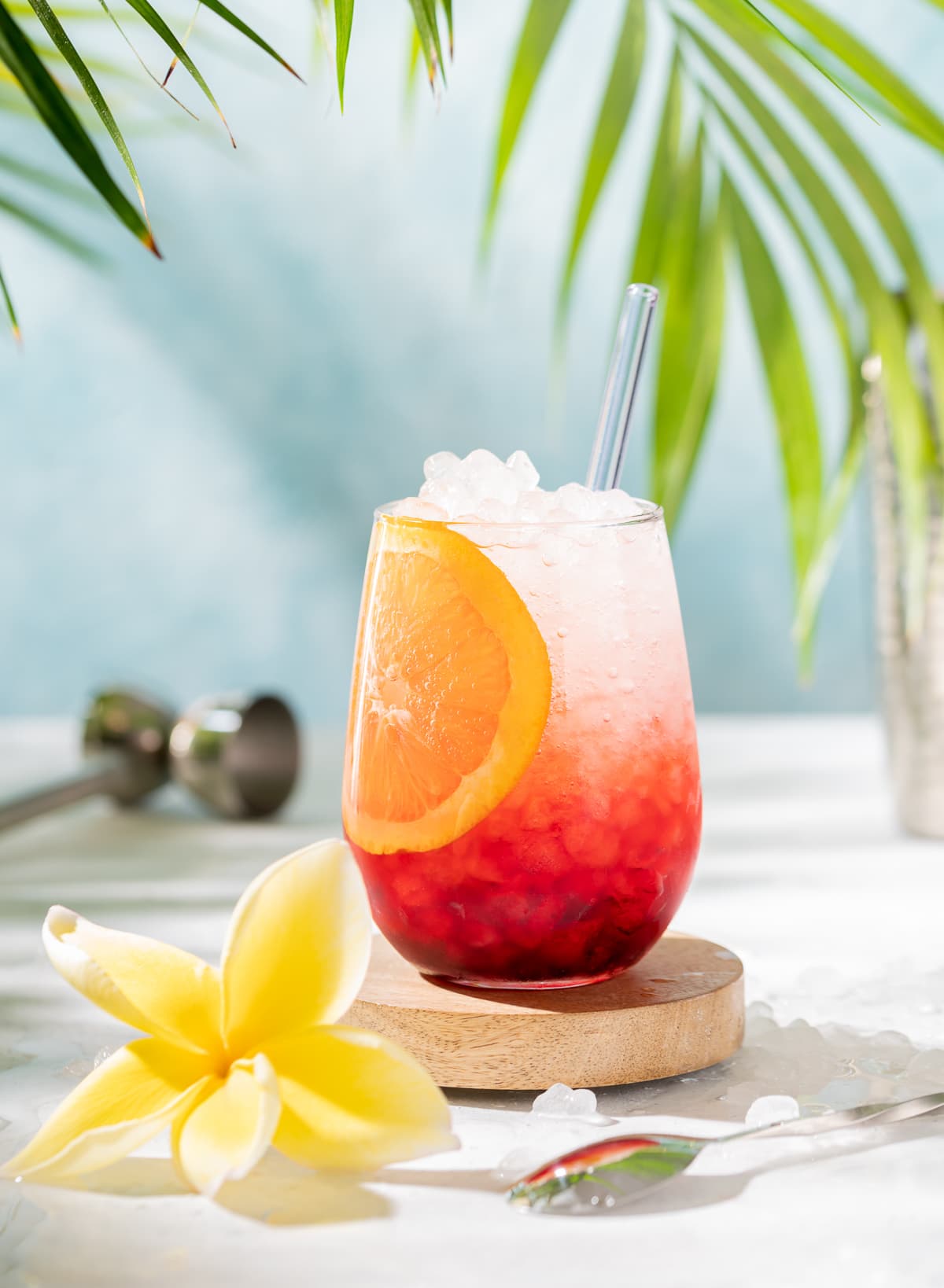 Still on my hibiscus recipe kick, still making my way through my 2 pound bag of hibiscus flowers. This time in cocktail form.
I love Aperol spritz cocktails, they are the ultimate when it comes to a refreshing cocktail, sweet, citrusy, a little bitter and fizzy. They are my idea of an almost perfect cocktail. I say almost since nothing is ever truly perfect.
A great low ABV option since Aperol is lower in alcohol percentage than a lot of liqueurs and so is prosecco. Sometimes when I want a cocktail I want it to be less boozy and this fits the bill perfectly.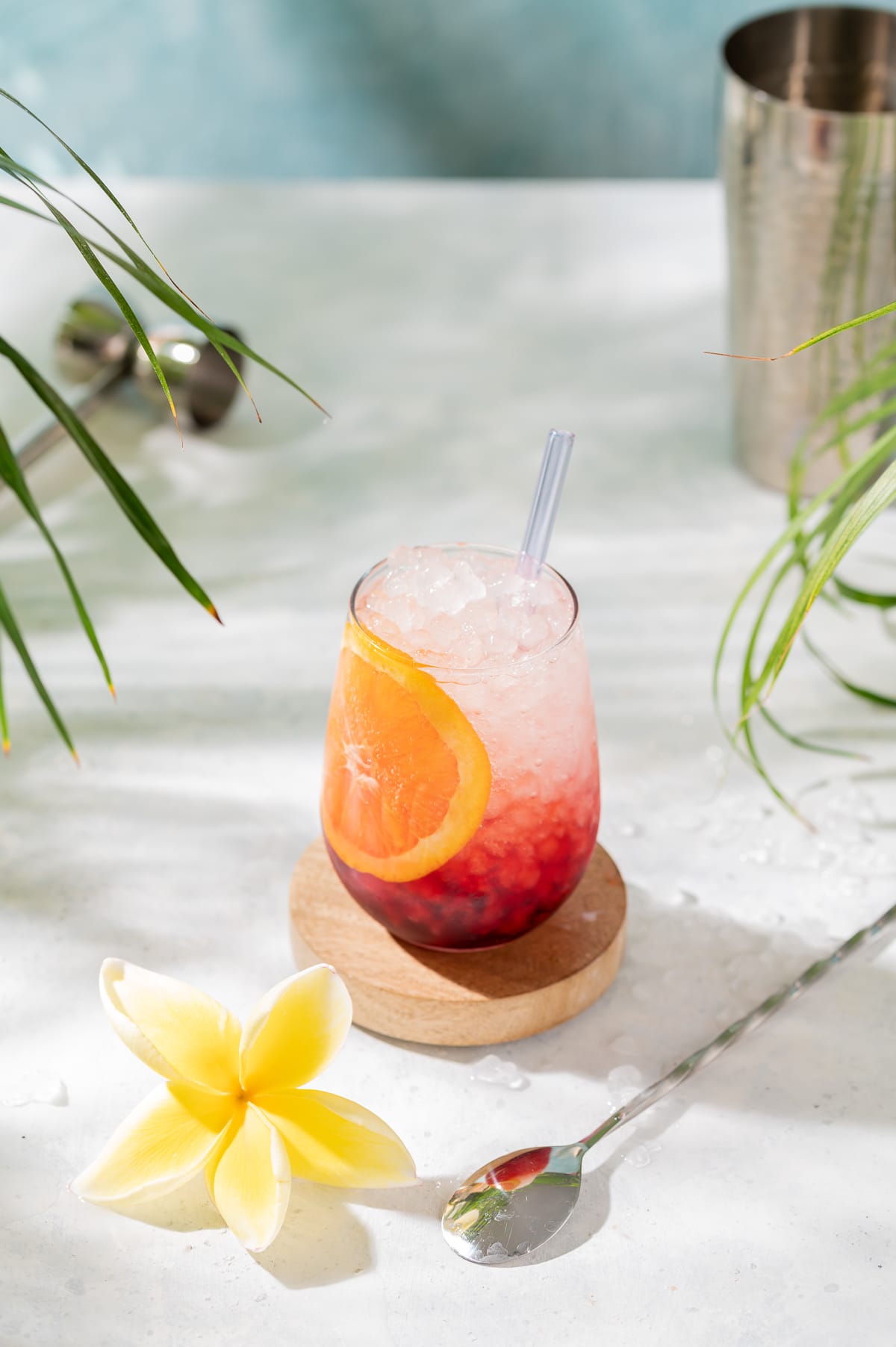 I like to make my own versions of cocktails, riffs, adaptations, whatever you like to call it. I think cocktails are a fun way to add your own spin to them, make a classic cocktail more "yours".
This is what I do with a lot of cocktails, not saying the classics are bad or need changing, just making variations of them. I love to tropicalfy recipes when I can. Which is almost always.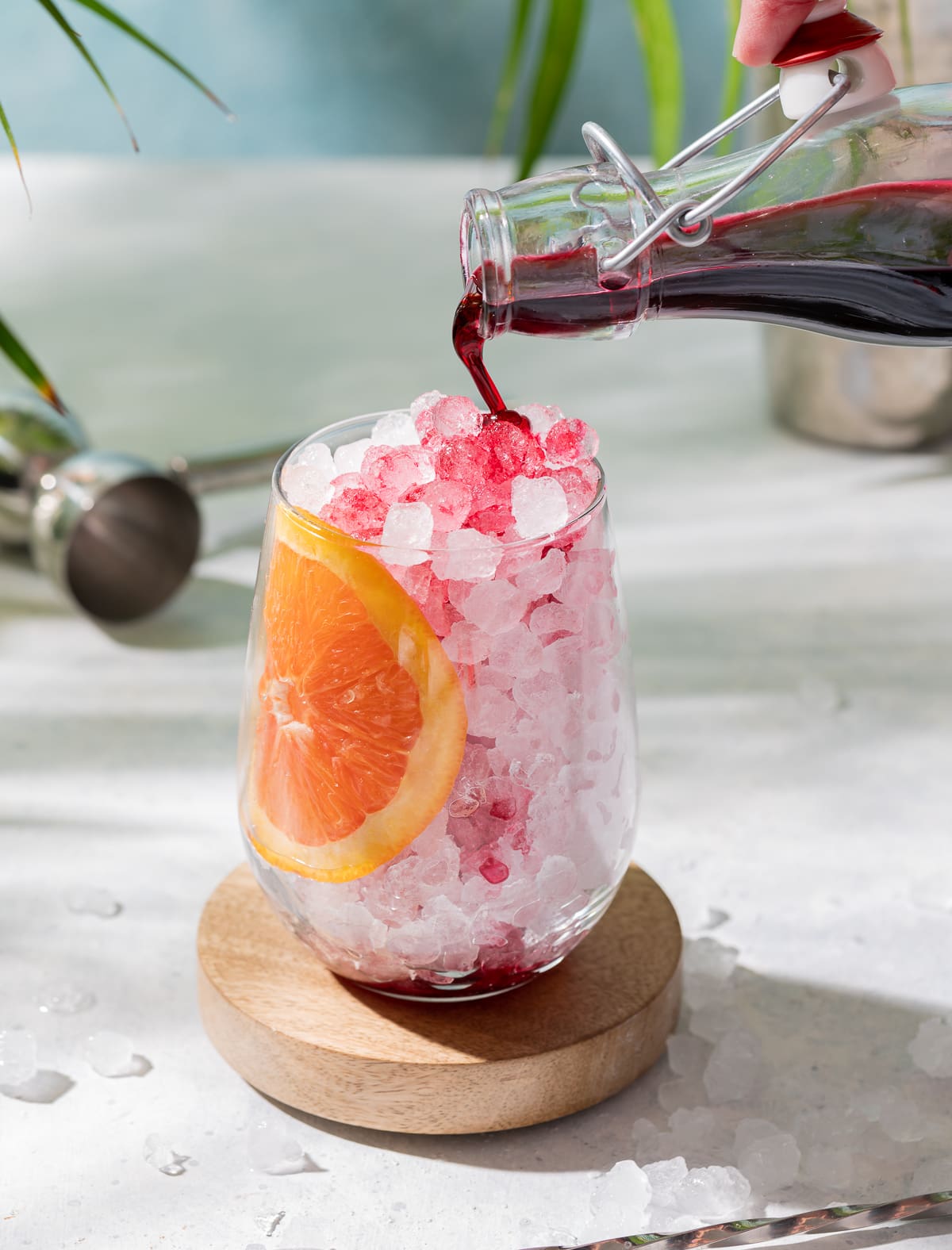 The traditional Aperol spritz is a 3:2:1 ratio of prosecco:Aperol:soda. And it is poured into the glass in that order. I change the order with my version since I like the way it looks color wise, before I stir it up that is.
I start with some hibiscus simple syrup. Yes, this makes the drink a little sweeter, I do like the bitterness of Aperol but sometimes I like the drink to be a teeny bit sweeter. So hibiscus simple syrup to start. Next I add the Aperol.
I have found that the biggest difference between a good Aperol Spritz and a so so one is the Prosecco. The better ( more expensive) the Prosecco the better the drink. But not always.I had an Aperol Spritz at Eataly here in Vegas and it was incredible. I looked up the type of Prosecco they had used and it was close a $100 bottle.
$100 bottles aren't in many people's budgets unfortunately. What I usually do when I am wanting a spritz but not wanting to open a whole bottle of Prosecco is I will get a split or two.
One split is enough for 2 drinks. There are many great options for cheaper Prosecco and since I add in hibiscus simple syrup, I like to go with a less sweet, drier Prosecco or sparkling wine.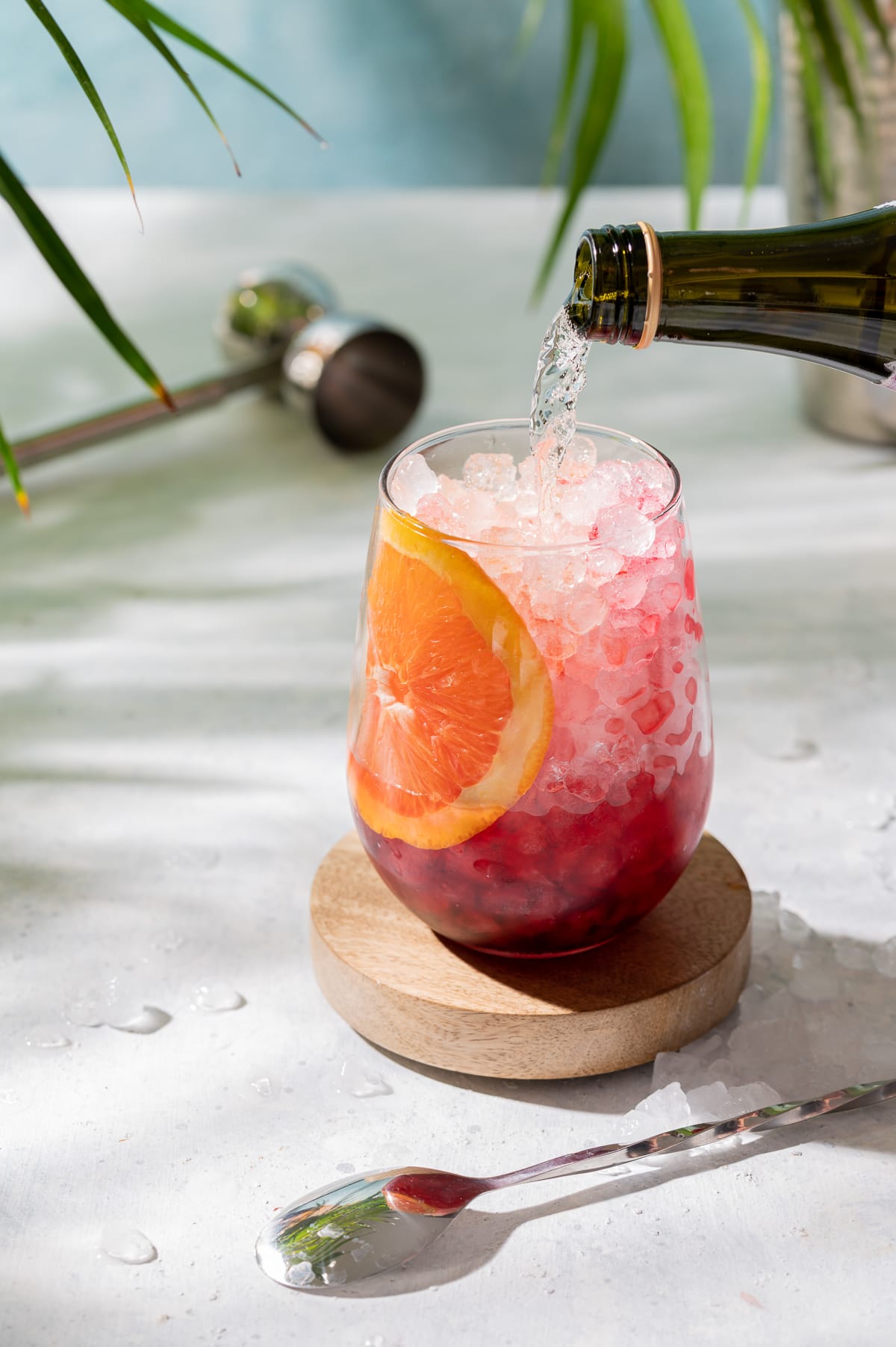 Spritzes are usually layered with the Prosecco first, then the Aperol followed by the soda water. I don't like how the Prosecco gets a little watered down when added to the ice so I will add that after the aperol and quickly top with cold soda water. I love using flavored, non-sweetened sparkling water or soda water with spritz cocktails.
I couldn't make these hibiscus spritz cocktails without using La Croix Hibiscus. It is my favorite La Croix flavor. I love it on its own, in a cocktail or mocktail.
Add a thin slice of orange and that's it! You have yourself a sweet, tropical, refreshing fizzy cocktail with just a hint of bitterness. Perfect for people like me who like just a touch of bitter in cocktails.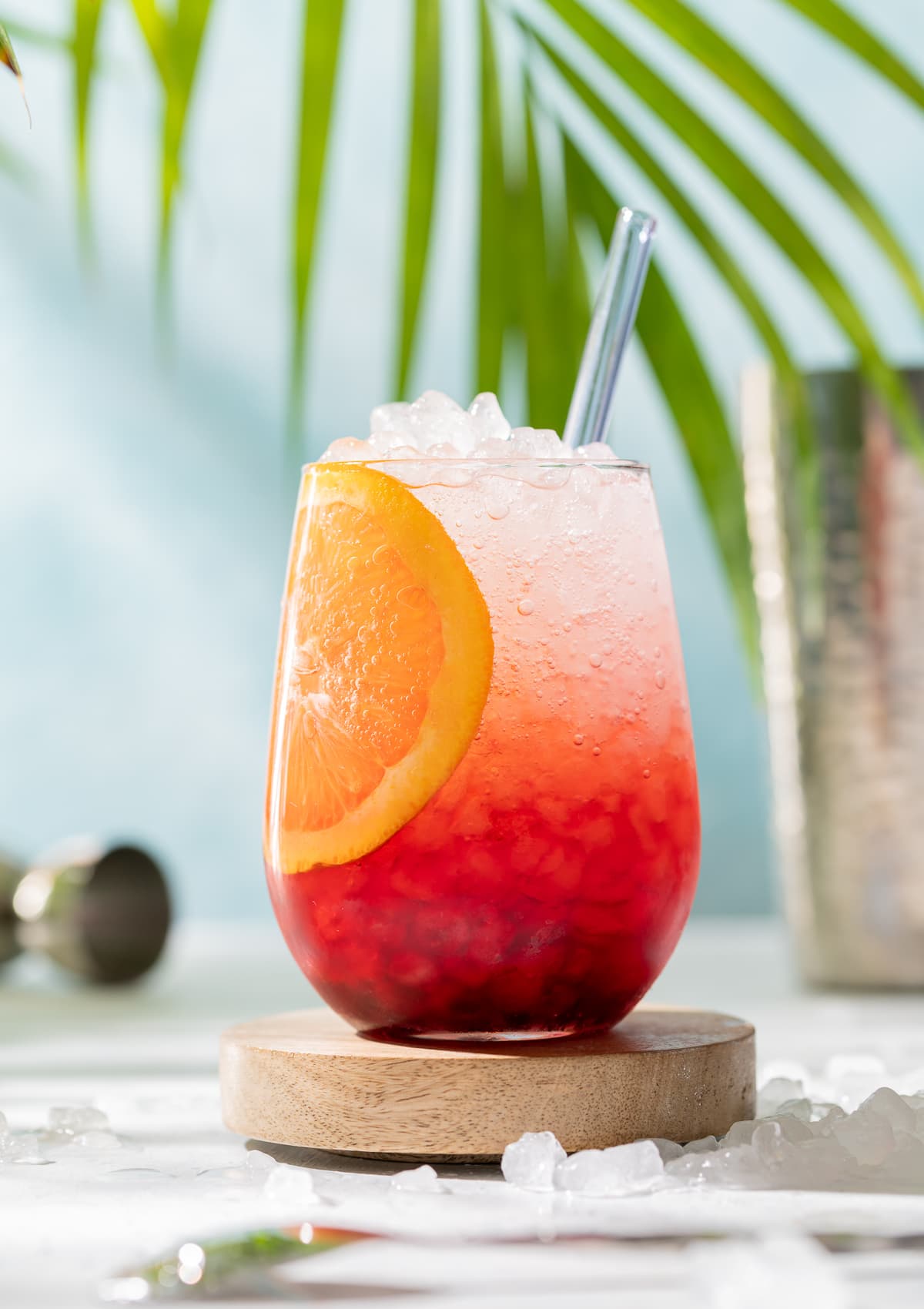 "Recipe"
Tropical Hibiscus Spritz Cocktail
A sweet, tropical riff of the classic Italian aperitif. Hibiscus simple syrup and hibiscus sparkling water transport this drink to a tropical isle, where I would like to be right now.
Ingredients
1

tablespoon

Hibiscus simple syrup

see notes

2

oz

Aperol Liqueur

3

oz

Prosecco

1-2

ounces

Hibiscus La-Croix

Orange Slice

Glass straw

@surfsidesips
Instructions
Instructions:
Place an orange slice on the side of the glass and fill with ice. Preferably pebble ice. Pour in the hibiscus syrup first followed by the Aperol, Prosecco and then top with the hibiscus soda water. Stir a little before drinking.
Notes
Hibiscus Simple Syrup
Makes about 1 ¼ cups of syrup
1 cup water (8oz/250 ml)
1 cup granulated sugar (7 ¼ oz/200g)
1 ounce dried hibiscus flowers ( a little over half a cup)
Combine all ingredients in a saucepan over medium heat. Stir until the sugar has dissolved. Bring to a boil then lower to a simmer and simmer for 10-15 minutes. Remove from heat, cover pan with a lid and steep for at least an hour. Strain unto jars or bottles that have airtight lids. 
Simple syrup will keep in your refrigerator up to a month. Keep chilled at all times. 
Notes:
To make a rich simple syrup use 1 ½ cups of sugar to 1 cup water. Same amount of dried hibiscus
You can add whole spices such as vanilla bean, cinnamon stick, cloves, star anise, nutmeg etc for a spiced version for holiday drinks. These get strained out before pouring the syrup into jars or bottles. 
Tropcal and refreshing, sweet and a hint of bitter. A really well rounded refreshing spritz cocktail for a hot day. Or any day.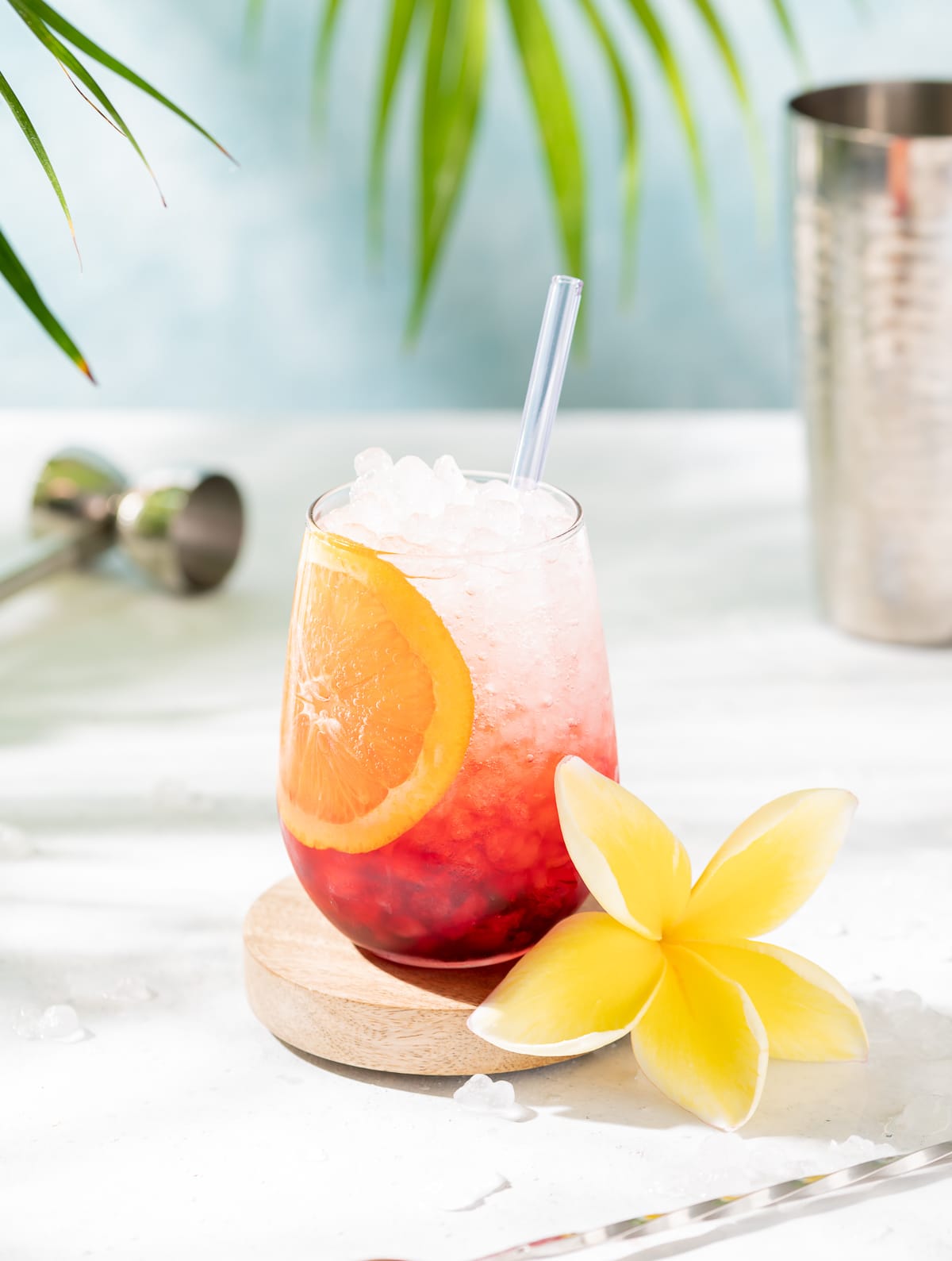 Hope you enjoy these hibiscus spritz cocktails as much as I do. Let me know if you make them or if you make your own version. I love hearing about all the different ways to make a spritz.