Homemade marshmallows are absolutely amazing and a lot easier to make than one would think. These honey vanilla marshmallows have so much more flavor than store bought, they melt in your mouth and are perfect for snacking on, making smore's, or topping a mug of hot chocolate. Marshmallows are traditionally made with corn syrup, I swapped it for honey to give these a little honey flavor that goes so well with the vanilla.
This page contains affiliate links. Affiliate links support Pineapple and Coconut at no additional cost to you. If you choose to make a purchase via these links, I earn a small commission to help keep this blog running and it is much appreciated. I am an Amazon and Adorama affiliate.
I have been "known" for my homemade marshmallows for several years now, and my homemade honey vanilla marshmallows are one of the reasons why. I usually make marshmallows every Christmas and send them out with my usual Christmas cookie care package to friends and family.
Marshmallows without corn syrup:
I wanted a marshmallow recipe without corn syrup so I developed these with honey. I first swapped half the corn syrup for the honey but realized that I could swap 100% if the corn syrup with honey and the marshmallows came out the exact same with texture and consistency but with a hint of honey.
Jump to:
?Ingredients needed for homemade marshmallows:
Sugar - granulated white, I have used organic unrefined sugar before and both work great
Water - for blooming the gelatin and making the honey sugar syrup
Gelatin - I use Knox gelatin. 3 packets equals 21 grams for this recipe
Honey - any kind of honey works. I haven't tried whipped honey though.
Vanilla - extract - use a good kind not imitation. You could also use vanilla bean paste or scrape the seeds from a vanilla bean pod for little flecks of vanilla in the marshmallows
Confectioners sugar
Oil spray
? Equipment needed for making marshmallows:
Candy thermometer - one that can clip on to a pot so you don't have to hold it while the honey sugar syrup gets to temp. These are relatively inexpensive and can be used for many more purposes than just candy making. I use them to check temps of cakes, muffins, breads etc.
Stand Mixer - you can make these with a hand mixer, however, my arm would get tired of holding the mixer for over ten minutes to whisk the syrup to fluffy, marshmallowy goodness. A stand mixer is a worthy kitchen investment. My first mixer was a hand me down and lasted me over 20 years and it was already 20 years old.
A pan for drying the marshmallows - you can use either a 9x13 for thinner or a 9x9 for thicker mallows. I am a big fan of USA Pans.
Spatula - preferably silicon so it doesn't stick to the marshmallows when scraping the mixture out of the mixer into a pan
Sifter for the confectioners sugar
Sharp knife for cutting into squares
? How to make marshmallows:
Start with blooming the gelatin with ice water
Make the honey syrup
Whisk it all together until thick and fluffy
Spread the sticky marshmallow fluff into a prepared pan
Dust with powdered sugar, lightly cover the pan and set out to dry - I let them dry overnight,
Pull the slab of marshmallow out of the pan and slice them, rolling the cut edges in powdered sugar to keep from sticking as you go.
Eat, serve, make into s'mores, add to hot cocoa etc.
Store remaining marshmallows in an airtight container.
Marshmallow flavor varieties:
Vanilla isn't the only option for marshmallows but its the easiest if this is the first time making marshmallows. Some of the easiest ways to change flavors is:
Swirl in jam or a sauce such as caramel. Once you spread the marshmallow in the pan, quickly swirl in jam or caramel sauce (butterscotch, chocolate sauce etc would also work) and swirl with a butter knife. Then dust with powdered sugar, cover the pan and dry the marshmallows. Cut as directed in recipe.
Extracts - peppermint is a fave for making holiday flavored marshmallows - just don't over do it as peppermint can be really strong.
Candy - you can mix in candy pieces such as peppermint bits, chocolate chips, toffee bits, mini M&Ms or even sprinkles. Mix these into the marshmallow before spread it into the pan. Sprinkle more on top, lightly pressing into the marshmallows then finish as directed by the recipe.
She seriously took one bite and put it back and tried to get another one, you know, to see if they all tasted the same. Like I was holding out on her or something.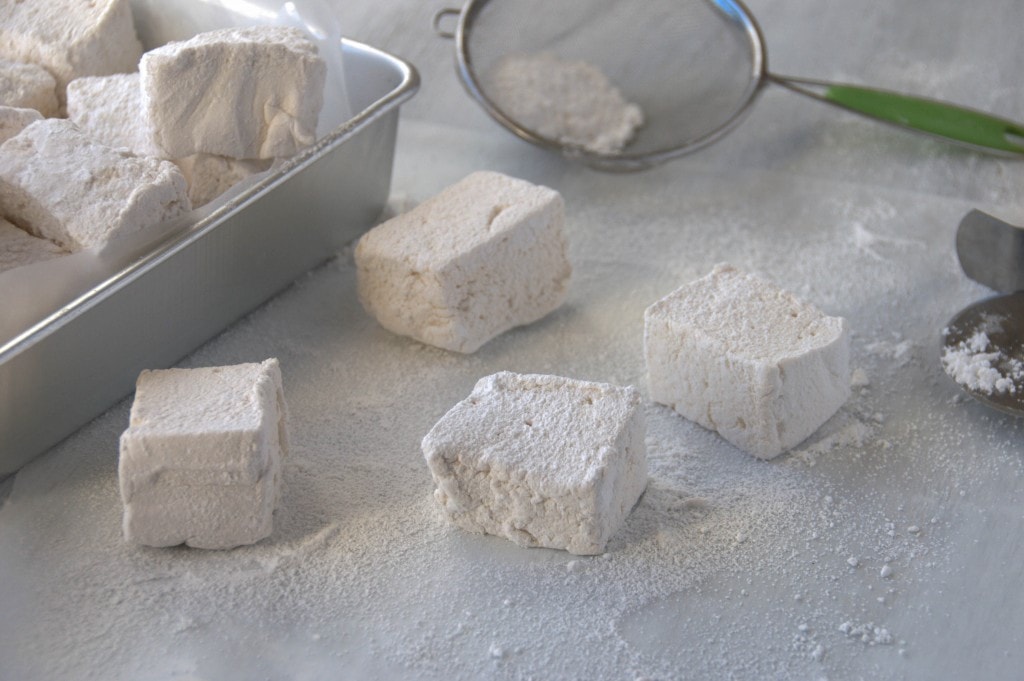 "Recipe"
Homemade Honey Vanilla Marshmallows
Soft, pillowy melt-in-your mouth homemade vanilla marshmallows made with honey instead of corn syrup.
Equipment
1 candy thermometer

1 4 qt high sided saucepan

1 stand mixer

1 8x8 or 9x9 cake pan
Ingredients
21

grams

unflavored gelatin

3 packets

240

ml

cup of ice cold water

divided

200

g

granulated organic sugar

340

g

organic honey

¼

teaspoon

Kosher salt

1

Tablespoon

vanilla extract

use high quality like bourbon vanilla

Seeds scraped from one vanilla bean or 1 teaspoon vanilla bean paste

optional

50

g

confectioners or powdered sugar

cooking spray

olive oil or sunflower oil spray
Instructions
Coat a 9x13 pan with cooking spray and generously dust with powdered sugar, set aside

In a bowl of a stand mixer combine the gelatin with 120 g ( ½ cup) of the cold water and have the whisk attachment in place.

In a high sided sauce pan, 4-6qt size, combine the rest of the water (the remaining 120 g), the granulated sugar, honey and salt.

Stir to combine and clip on a candy thermometer to the side and set the pan on the stove.

Set heat to medium and stir until the sugar dissolves, then let the mixture bubble and heat up until it reaches 240 deg F, watching carefully so it doesn't boil over.

Once the mixture almost reaches 240 deg F start the mixer on low to break up the gelatin and once its at 240 remove from heat and slowly pour into the mixer, careful not to splatter.

Once all the honey syrup is in let sit for only 2 minutes to cool slightly and melt the gelatin. Slowly raise the speed to high and whip until the mixture is very thick and white and the mixer bowl is lukewarm to the touch, about 12 minutes

Add in the vanilla extract and whip 1-2 min more

Quickly spread the marshmallow into the prepared pan, using a greased silicon spatula.

It is sticky so try to scrape the sides of the mixing bowl and whisk as well as you can, and smooth out the mixture in the pan so it is even.

Generously dust with powdered sugar again and let dry out at least 4 hours to over night.

Once they are dry take the slab of marshmallow out of the pan onto a cutting board.

Using a greased knife or pizza cutter, slice the slab into strips then squares, dusting the cut parts with more powdered sugar.

Marshmallows will keep up to two weeks in an air tight container at room temp.

They also keep well in the freezer
Notes
I have only made these with packet granulated gelatin not sheet gelatin so I cannot offer the conversion or method for using sheet gelatin. Same with agar agar.