Making your own homemade hibiscus simple syrup really is just that, simple.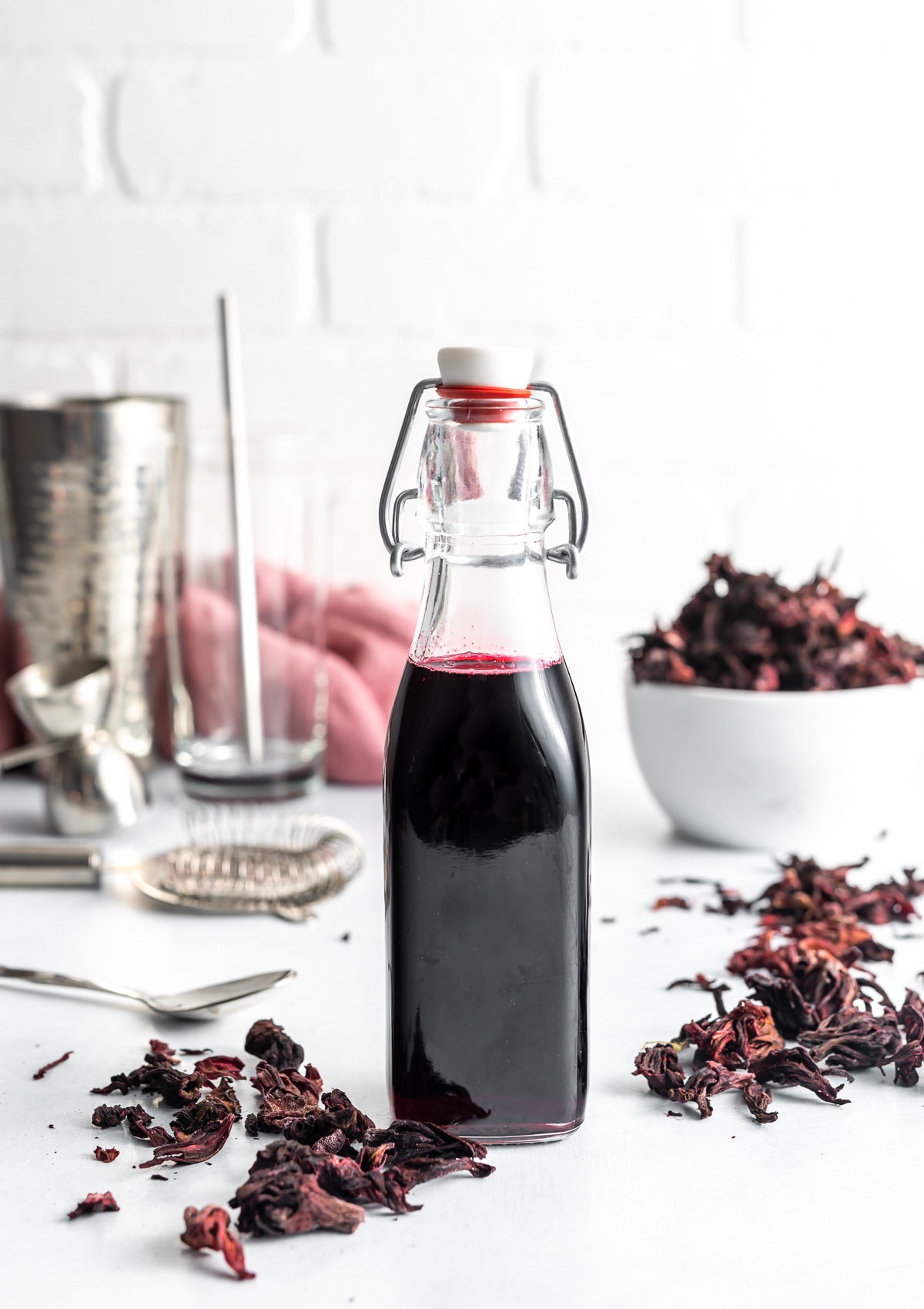 Hibiscus are often associated with tropical islands, the yellow hibiscus is the state flower of Hawaii, but hundreds of varieties are found all over the world from Africa, Indonesia, India and Southeast Asia to Latin America and the Caribbean. There are 232 species of Hibiscus flowers but not all are edible. Roselle or Hibiscus Sabdariffa is the variety used most in culinary applications.
They are gorgeous flowers that come in all shapes and sizes. But the one used for this simple syrup recipe is the roselle variety. It is what is found in teas, sold in bulk online and in well stocked Mexican and International grocery stores.
Hibiscus used in Mexican and Latin cuisines is called Jamaica/flor de Jamaica ( pronounced ha-my-kuh) has been used in cooking, baking and drink making for years and years.
It is known as Sorrel in parts of Latin America and the Caribbean and most used in drinks and teas, often with spices added and sometimes rum.
The calyx, flower petals and leaves are the edible components. The calyces are dark red, and what are used in teas, as food colorings, and also dried and or candied, used similar to raisins or dried cranberries. The flowers of Hibiscus Sabdariffa are a pale pink or pale yellow with a dark red center. They really are a beautiful flower.
I keep a pound of dried hibiscus I buy from an amazing well stocked local Mexican grocery store in my pantry at all times. I use it in many recipes, one of which is hibiscus simple syrup.
How do you make hibiscus syrup?
For this hibiscus simple syrup recipe I like to make a rich simple syrup. Simple syrup is typically a 1:1 ratio of sugar to water. I like to go with a 1.5:1 sugar to water for a richer syrup.
I add the sugar and hibiscus to the pan then add the water. I use regular white granulated sugar for this recipe, you can also use Demerara sugar if you like.
The hibiscus already starts to cast a red hue in the water before the syrup is cooked. Hibiscus is used along side beets in natural food dyes and you can see why, it is such a strong beautiful red color.
I heat the syrup until boiling, stirring to dissolve the sugar, then I lower to a simmer to thicken the syrup slightly. About 10 minutes of simmering.
Remove from heat, cover pan with a lid and let steep for an hour. Or overnight if you forget the pan is on the literal back burner of your stove. The longer you steep the richer the flavor and color.
Strain into a bowl, cup, jar etc. I strain into a large measuring cup first since I tend to make a mess. You can see how plumped up the hibiscus is after being simmered and steeped. These now have a chewy texture to them and can be eaten like dried cranberries or cherries. They are pretty sticky at this point so keep that in mind if keeping them to snack on.
You could also keep these in a jar with the syrup and use for cake decorations or cocktails later on. I might play around with making my own candied hibiscus using these rehydrated calyces. Usually candied hibiscus is made from fresh hibiscus calyces, not dried and rehydrated. I will let you know how it comes out.
How do you store hibiscus syrup?
Once the syrup is strained I will store it either in a mason jar or a fun swing top bottle seen here. These have a stopper and keep the syrup air tight, and I have found it tends to last longer in the fridge than any other container. And they are easy to pour from.
What do you use hibiscus simple syrup for?
Simple sodas with a tablespoon or so of the syrup over ice with sparkling water or soda water added. A refreshing beverage year round as well as a great non-alcoholic option.
Add to cocktails in place of regular simple syrup for a floral and fruity flavor, or to make it more tropical tasting. You can riff many classic cocktails with the addition of hibiscus simple syrup.
Hibiscus syrup can be used to sweeten and color cake and cupcake frostings, used to color and flavor cookie icing.
You can use it for ice creams and sorbets, either in the recipe or drizzling over the top
Hibiscus syrup is great in savory applications too such as

bbq sauce

and marinades.
Use it to add moisture and flavor to cakes. Brush over the tops of cake layers or the bottom of a freshly baked bundt cake.
Make a tropical fruit salad and drizzle a little of the hibiscus syrup over the top to add a touch of sweetness and floral notes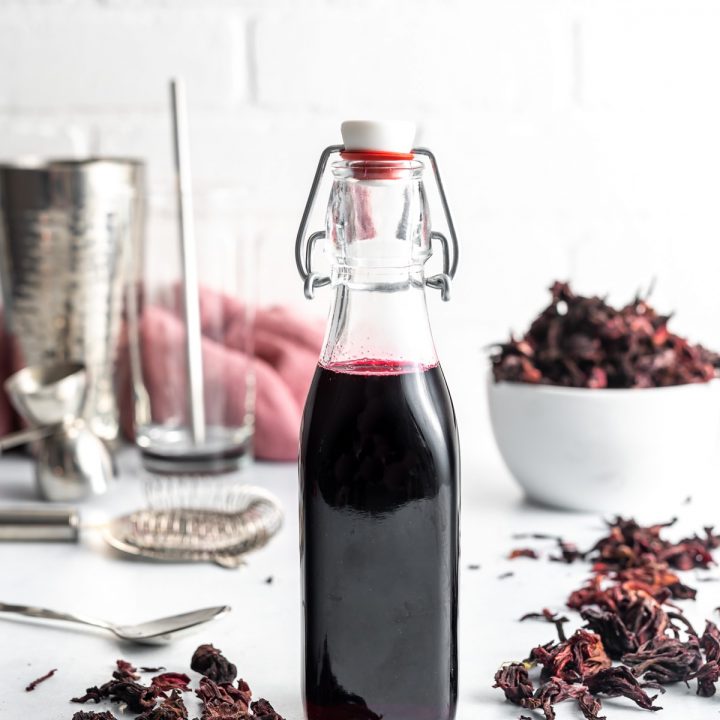 How to make Homemade Hibiscus Simple Syrup
A sweet, tart and floral hibiscus simple syrup perfect for cocktails and mocktails, tea, sorbets, marinades and more.
Ingredients
1 ½

cups

granulated sugar

10.6 oz/300g

1

cup

water

8oz/250 ml

1

ounce

dried hibiscus flowers

a little over half a cup
Instructions
Combine all ingredients in a saucepan over medium heat. Stir until the sugar has dissolved. Bring to a boil then lower to a simmer and simmer for 10-15 minutes.

Remove from heat, cover pan with a lid and steep for at least an hour.

Strain unto jars or bottles that have airtight lids. 

Simple syrup will keep in your refrigerator up to a month. Keep chilled at all times. 
Notes
You can make the traditional simple sugar ratio if you like, just reduce the sugar to 1 cup (7.1 oz/200g). 1 cup water and 1 ounce of the dried hibiscus.
You can add whole spices such as vanilla bean, cinnamon stick, cloves, star anise, nutmeg, fresh ginger, etc. for a spiced version for holiday drinks. These get strained out before pouring the syrup into jars or bottles. 
Orange or lemon zests are also lovely to add to the simmering syrup. These might need to be double filtered out depending on what size strainer you use.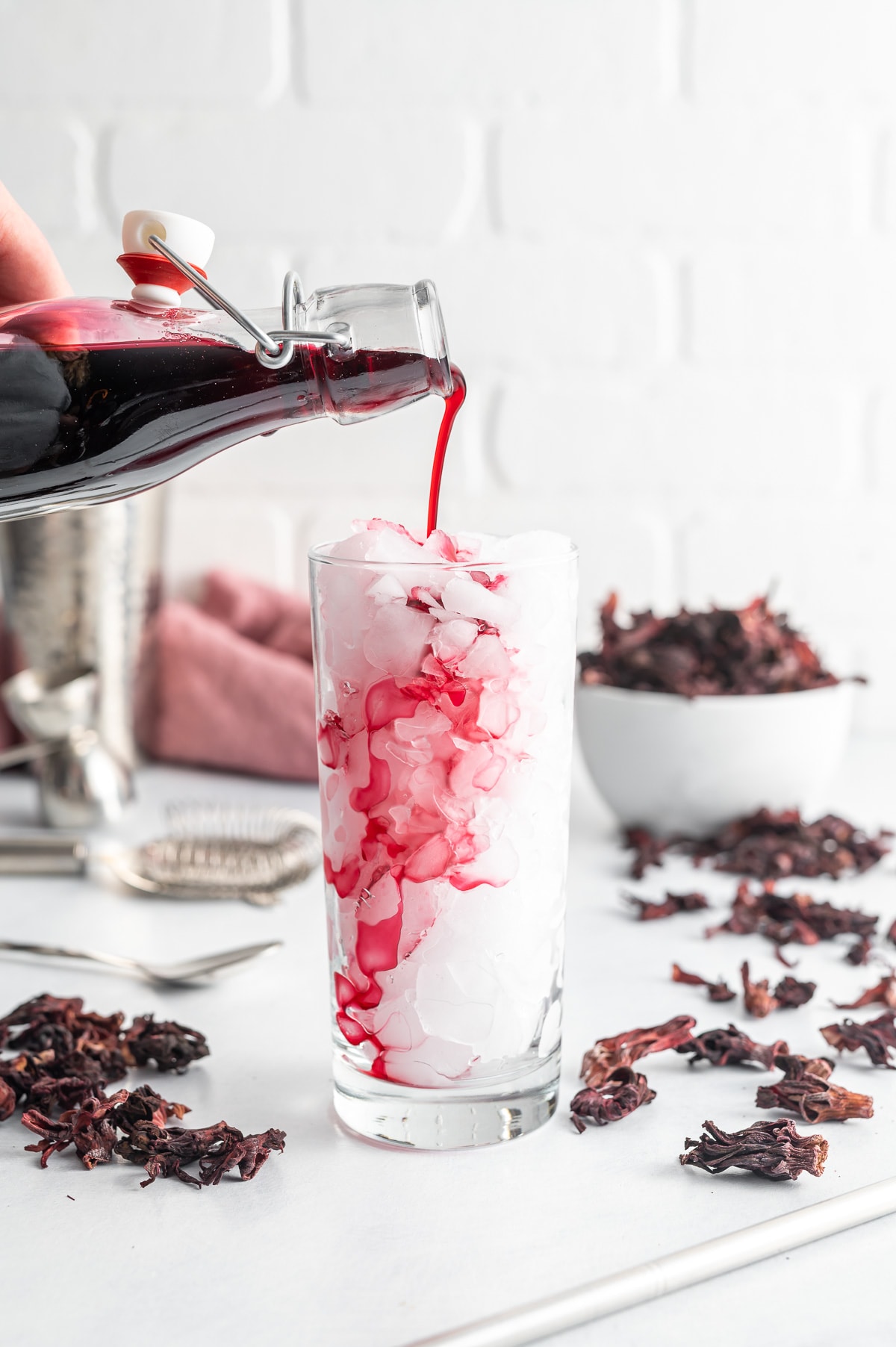 Can you freeze simple syrup?
Sure but, why? Its best kept in the refrigerator so it stays at a liquid state. If made in a 1:1 ratio it will freeze solid.
What if the simple syrup has crystalized?
Probably past is best freshness time, but you can set the jar or bottle in a pan of simmering water to re-liquify.