Jerk Chicken Drumsticks with Pineapple Mango Slaw.
A perfect summertime meal.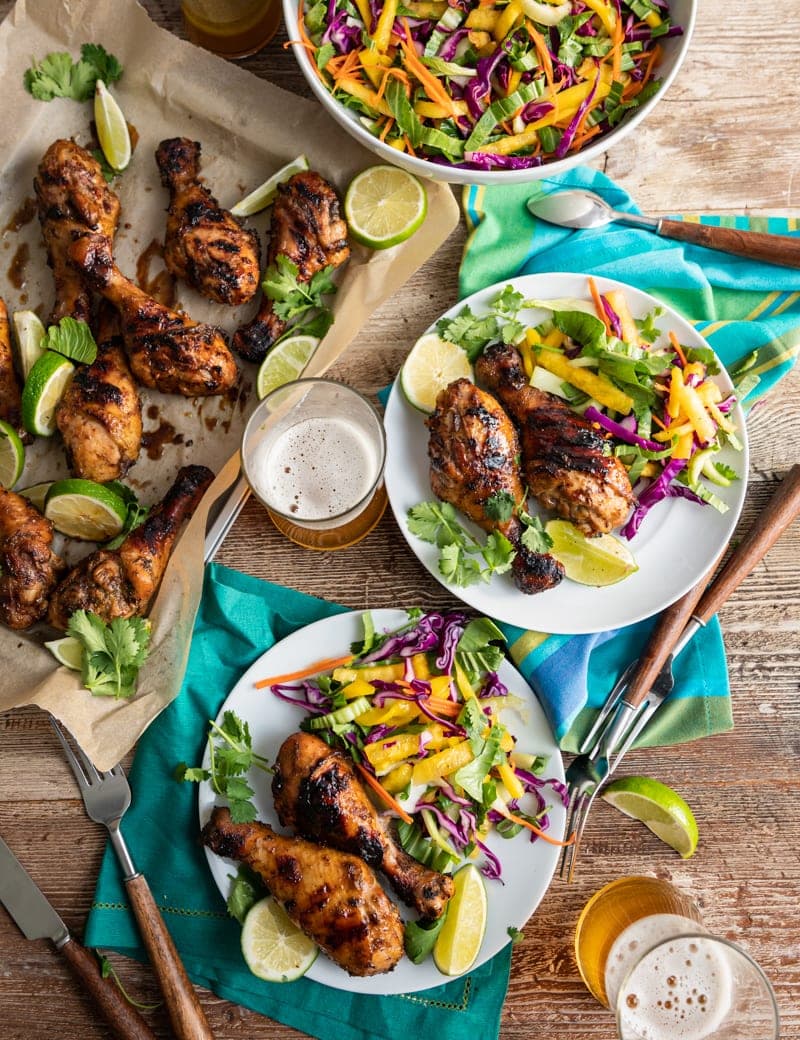 Chicken drumsticks are a fave to grill all summer long. We love to make them a variety of ways with different seasonings, spiced, sauces etc. Jamaican jerk seasoning is a fave and it goes so well with the tropical flavors in the slaw. I love the heat from the spice and with a recipe like this one you can use as little or as much as you want.
The weather here in Vegas has been kinda crazy these past few weeks. Hot one day then cooler the next, then hot then cooler... So we have been taking the advantage of the 80 degree days to grill outside. Those 100 deg days are inside with popsicles ha ha.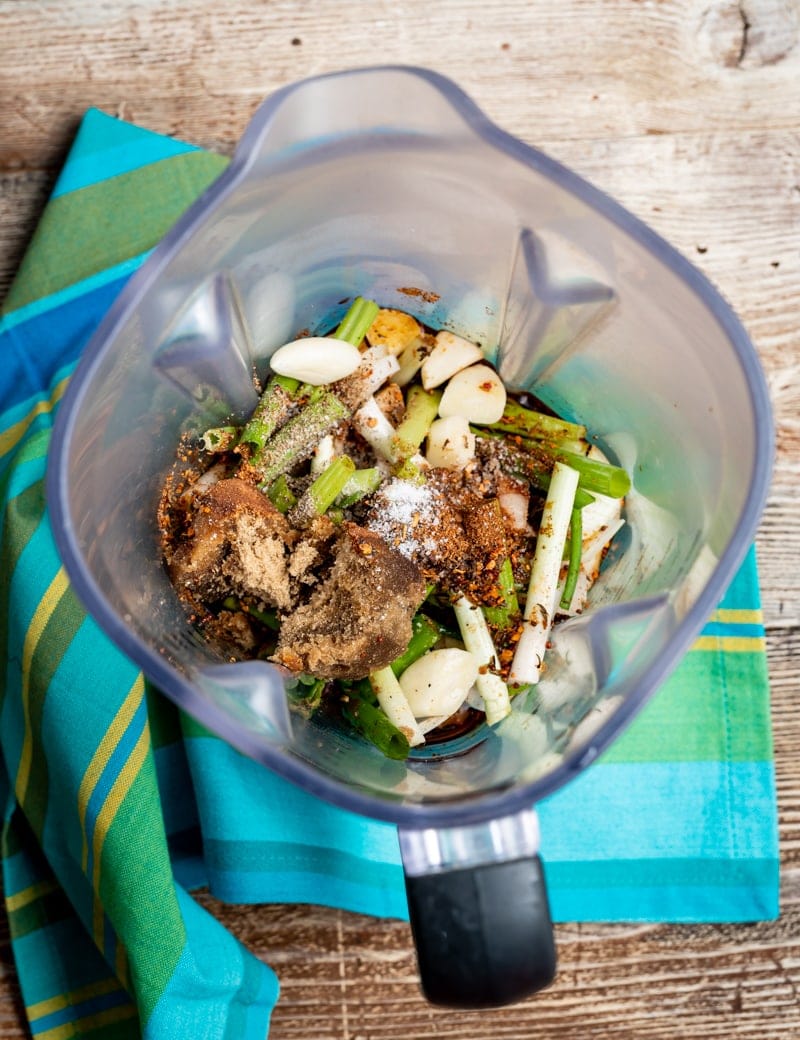 There are many different brands of Jerk seasoning blends, use what you like best. I used one from Spice Hunter for this recipe, its great but it is salt-free. With salt-free spices I will add in additional salt before grilling. Other great brands of jerk seasoning are Walkerswood, Grace, Reggae Spice and Spice islands. I add the seasoning mix to my blender along with onion, scallions, brown sugar, soy sauce, cider vinegar, cloves, olive oil, salt and pepper. There are so many ways to make jerk marinade. This is how I do it.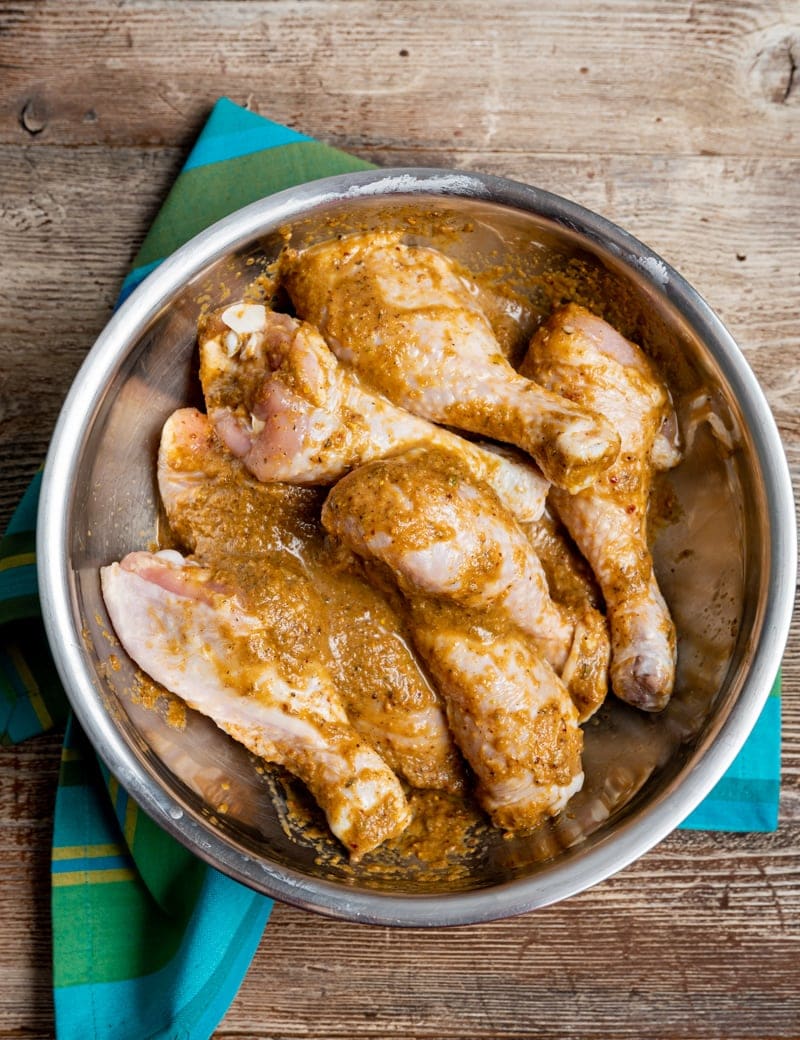 Jerk seasoning or Jamaican Jerk seasoning is a combination of scotch bonnet peppers ( also known as habanero), allspice, onion, scallions, thyme, salt, black pepper and a variety of other spices. The main spices being allspice and those hot scotch bonnet peppers. Different brands of spice blends will have different ingredients, but will always have the scotch bonnet and allspice.
Originating in Jamaica, the spice blends used what was grown on the island and depended on what was grown during what season and what area. Some blends are hotter than others.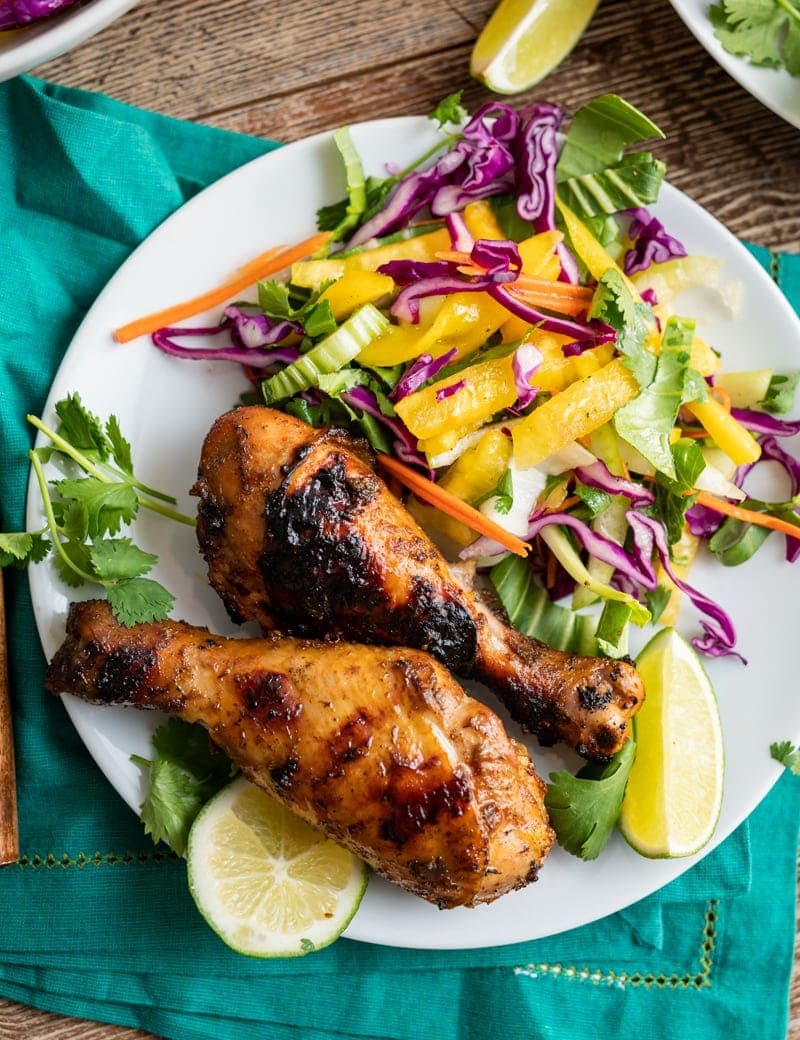 Jerk refers to the method of seasoning and cooking meat. Seasoning it a specific way, poking holes in larger pieces of meat for the seasonings to penetrate better during cooking or grilling. It also originates from the method of seasoning and smoking meat in strips to preserve the meat. The Spanish word for dried or jerked meat, Charqui, ended up as 'jerky' in English. Food history fascinates me. I love learning the origins of recipes.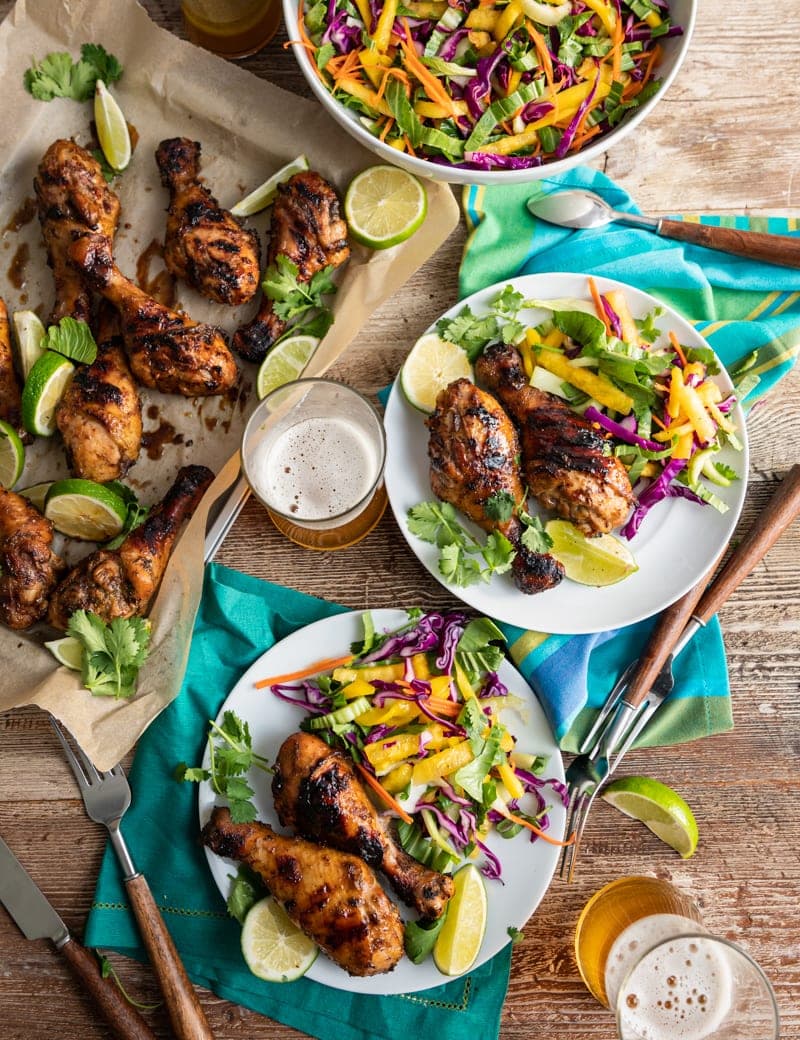 Another way to contrast the heat from the jerk chicken legs is my tropical pineapple mango slaw. I love this slaw. Crunchy bok choy and red cabbage, sweet manto, tart pineapple and honey sweetened dressing. I will eat a bowl of this slaw on its own but it goes so well with any spicy grilled meat.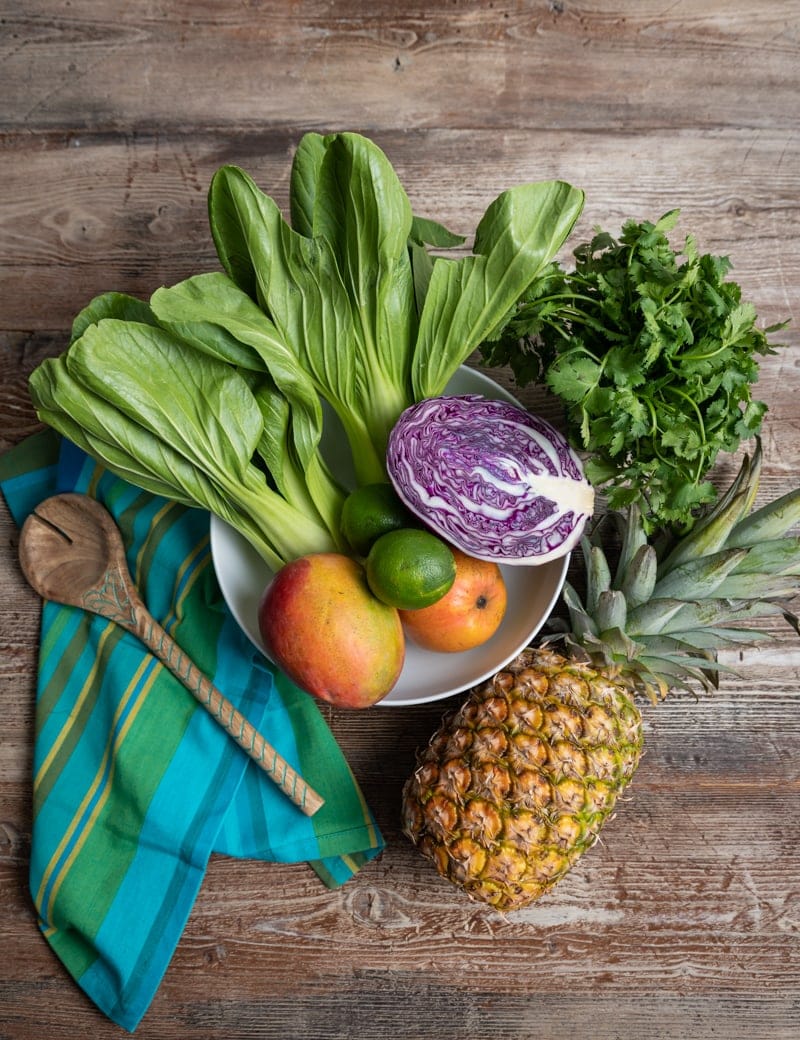 The sweetness of the mango goes so well with the tart pineapple in this slaw. I love using baby bok choy in place of green cabbage and the carrots and red cabbage add a nice contrast in color and tastes. If you add in the dressing too early it will turn a lovely shade of pinkish purple due to the red cabbage. This is why I prep the dressing and slaw separately and add the dressing right before I serve it.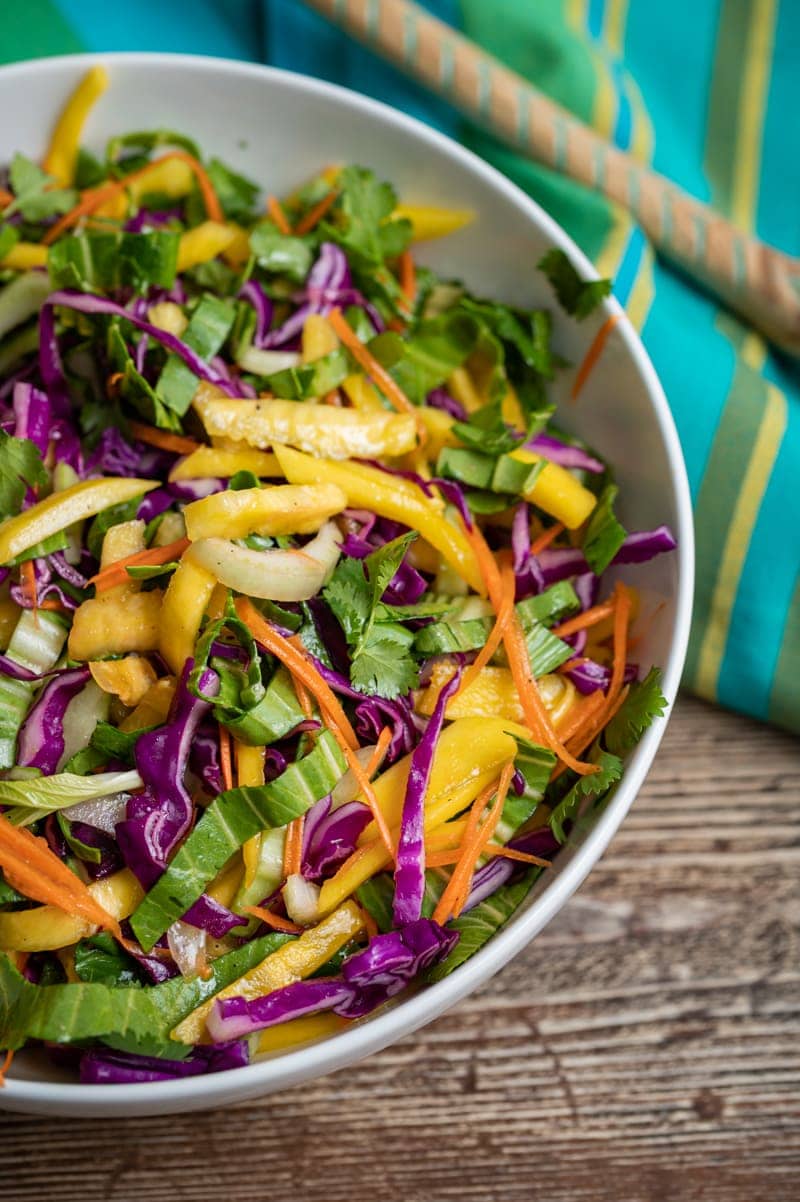 Jerk seasoning can be very hot! I love the flavors but I don't add so much that I can't actually taste my food. I season lightly but if you like the heat then go for it with more seasoning. If you for some reason go heavy handed with your spice on your chicken there are a few ways to cool the heat. Starchy carbs such as plantains, rice or potatoes help. Whenever I make a spicy meal I will often make white sticky rice to with it.
"Recipe"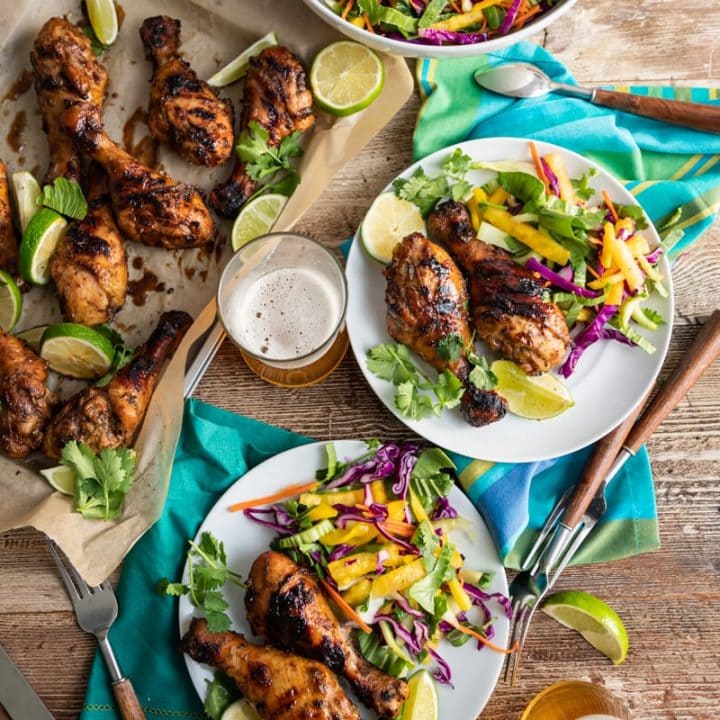 Jerk Chicken Drumsticks with Pineapple Mango Slaw
Spicy grilled jerk seasoned chicken drumsticks with a refreshing tropical slaw. A perfect summer meal.
Ingredients
For the Drumsticks:
3

lbs

chicken drumsticks

Marinade:

½

cup

yellow onion

6

scallions

diced

¼

c

light brown sugar

¼

c

soy sauce

3

tablespoon

Jamaican Jerk Spice blend *

2

tablespoon

cider vinegar

3

garlic cloves

2

tablespoon

olive oil

1

teaspoon

sea salt

½

teaspoon

ground black pepper
For the Slaw:
2- 3

heads baby bok choy

trimmed and thinly sliced (3-4 cups)

3

cups

shredded red cabbage

½

of a peeled

cored fresh pineapple, julienned, about a cup and a half

1 ½

cup

julienned mango

1

cup

cilantro

roughly chopped

½

cup

julienned carrot

2

tablespoons

cider vinegar

1-2

tablespoon

lime juice

¼

cup

olive oil

2

tablespoon

honey

1

teaspoon

salt

1

teaspoon

freshly ground pepper
Instructions
Pierce the drumsticks all over with a fork then place in a large bowl or large resealable bag. Combine the marinade ingredients in a blender and blend until mostly smooth. Pour the marinade over the chicken flipping the chicken to make sure it is well coated. Marinate in the refrigerator 6 hours up to overnight. The longer the better. 24 hours is best.

When ready to grill, preheat your grill to 450 Deg F. Prepare the slaw while the grill is preheating. Remove the drumsticks from the refrigerator as well. You want them to get to room temperature before grilling. 

Combine the slaw dressing in a small bow, whisking to mix. Add in more lime and honey if desired. In a large bowl combine bok choy, cabbage, pineapple, mango and cilantro. Keep chilled until ready to serve. When ready to serve whisk the dressing again and drizzle over the slaw. Toss well to combine. Season with a little more salt and pepper.

When the chicken is ready to grill place the drumsticks on the grill a few inches apart. Pour any excess marinade over the tops. Turn every 5-7 min until a meat thermometer inserted into the thickest part of the drumsticks is 185 Deg F. About 20-25 min depending on the thickness of the chicken.

Once the chicken drumsticks are fully cooked, Transfer to a platter and cover with foil. Let rest for 5-10 min before serving. 

Serve drumsticks with a large serving of the slaw. Additional sides could include roasted plantains, rice, potatoes. Carby starches help dissipate the heat if you opted to use even more spice on the chicken. 
Notes
An option for more spice is to place the marinated drumsticks on a baking sheet and sprinkle with another tablespoon or so of the spice ( obviously use more or less depending on how spicy you want it) and more salt and pepper. OR if you are really brave add in habanero peppers to the marinade.
I grill my chicken on a gas grill since that is what we have. If you only have a charcoal grill, which is the more authentic way to cook jerk chicken, prepare your coals according to your grill's specifications and then grill following the same instructions as above. Time to grill will depend on the temperature maintained from the charcoals.
I hope you love these jerk chicken drumsticks with pineapple mango slaw as much as we do!