Lemon Blackberry Sandwich Cookies.
These cookies almost didn't make it. As in I did several attempts to making these work and I was having issues. Major issues. Like three times the charm rule applied here. And now I know why my mom HATED me asking to make spritz cookies when I was a kid. Spritz presses kind of suck.
I was posting my failures on instagram. I love the comments of " I bet they still taste good" and they do! My husband loves when recipes fail for the blog. It means he gets to eat them sooner since I won't be photographing them. So really one person's fail is another persons win? ha ha
See? Stupid spritz press.
Posted on instagram hence the hazy pic. My iphone needs to be cleaned - all my pics look hazy. Pretty sure there's a thin layer of flour on my phone. Possibly butter too.
I like REALLY wanted this swirl cookie to work. But after multiple attempts I used a different disk. The butterfly one didn't work AT ALL. And many are holiday themed and I didn't want a Christmas tree, a pumpkin or a menorah so I chose a flower.
I also had trouble with my gluten free ones. See, originally I was going to make these gluten free only, but this happened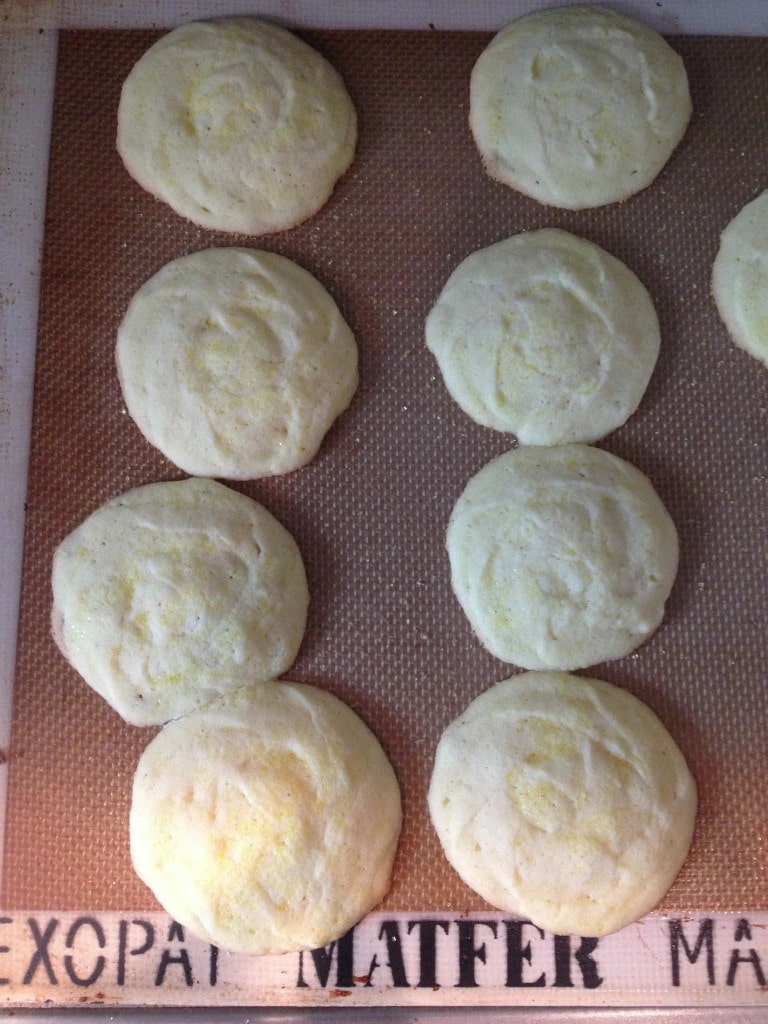 Which started out like this before baking
Piping cookie dough is tough and I am pretty strong but dang that wasn't easy!! I had attempted my gluten free cookies in the spritz press and lets just say that I may have taught my kids some new swear words that day. Then I realized that I left out a MAJOR ingredient in my gluten free all purpose flour mix ( recipe found here) and when I added it back in they worked perfectly like this
And the gluten free ones that didn't work out really didn't taste very good. The texture was way off. I hate wasting ingredients. But after these multiple attempts I am thrilled with how the cookies came out. I can now cross spritz cookies off the list and donate the press to a thrift store for someone else to enjoy......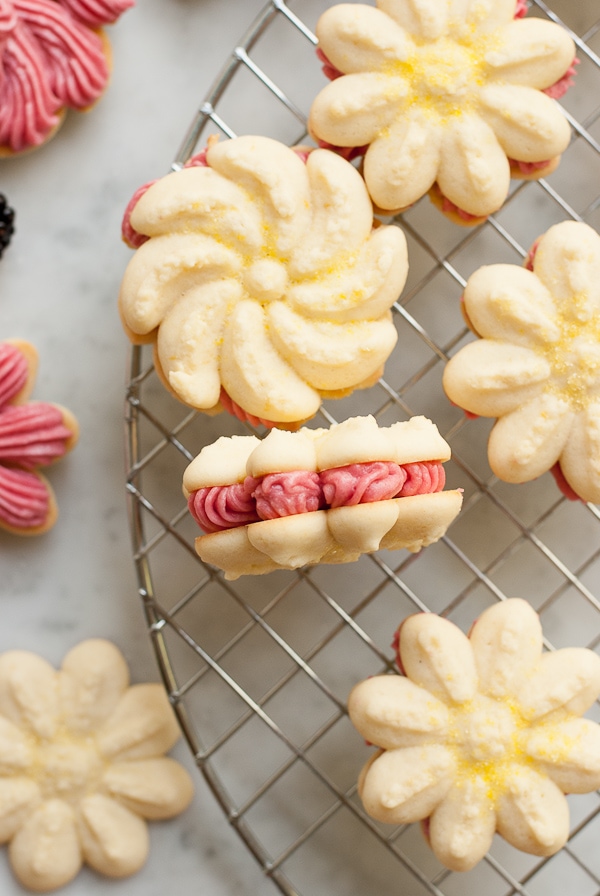 So whether you want to attempt these with a press
Or pipe swirls, make sure you have extra patience on board, small children not within earshot, and a sense of humor and people to help eat the fails. Failure never tasted so sweet.
"Recipe"
Lemon Blackberry Sandwich Cookies
Lemon Blackberry Sandwich Cookies Makes about 30 sandwich cookies
Ingredients
For the Lemon Spritz Cookies:
1

cup

227 grams unsalted butter, room temp

½

cup

cane sugar (I use Zulka

1

large egg

room temp

2

teaspoon

lemon juice or 1 teaspoon lemon oil

can also use lemon extract

2 ¼

cups

all purpose flour OR gluten free all purpose flour

Zest of 2 large lemons

¼

teaspoon

salt

Yellow sanding sugar

optional
Blackberry Sauce:
1

cup

fresh blackberries

½

c

sugar

¼

c

water

Zest and juice of one lemon
Buttercream:
4

sticks butter

1 lb, slightly softened

4-6

cups

powdered sugar

½

teaspoon

vanilla extract

¼-⅓

c

blackberry sauce

Pinch

salt
Instructions
Make the blackberry sauce
In a saucepan combine the blackberries, sugar, water and lemon zest. Bring to a boil and lower heat to a simmer. Stirring and mashing the blackberries to release all the juices. Simmer until slightly reduced and thickened. Strain the sauce into a pan ( optional if you don't want the seeds) and let cool completely.
Make the Buttercream:
In a bowl of a stand mixer whip the butter until light and fluffy. Add the powdered sugar 1 cup at a time and beat well once it is incorporated in. Srape down the sides of the bowl and repeat until all the sugar is mixed in. Add the small pinch of salt and blackberry sauce (or Jam) starting with ¼ c and adding more if desired.
Make the cookies:
Preheat the oven to 375 deg f. and set out a few ungreased cookie sheets. You can use parchment or silicon bake mats if desired not necessary for these cookies though.

Combine the lemon zest and sugar and rub together with your fingers to release the lemon oils into the sugar. Add sugar lemon zest to a bowl of a stand mixer (or large bowl if using a hand mixer) and add the butter. Mix on medium until light and fluffy about 2 min. Add in the egg and mix until well combined and then add the lemon juice/zest or oil. The mixture may look a little curdled but that is ok. Don't over mix to make it smooth out. Add the flour and salt and mix until just combined.

If using a spritz cookie press prepare it according to directions. If using a pastry bag to pipe swirls, use a large open star tip (Such as Wilton 1M) and fill the bag halfway, squeezing gently to remove air bubbles.

Spritz press or pipe swirls on the baking sheets about 1' apart. Sprinkle a little sanding sugar over the top of each cookie Bake for 6-8 minutes until just barely golden, do not over bake. Cool on baking sheet a few minutes then transfer to wire cooling rack. Cool completely.
To assemble:
Fill a pastry bag fitted with a small open star tip (I used Wilton 22) and pipe frosting around the bottom of one cookie and top with the other and gently press down so the frosting doesn't ooze out. Place on a cookie sheet and chill until firm. Repeat with all the cookies and keep chilled in an airtight container or baggie until ready to serve. Can be eaten chilled or room temp.
Notes
you can substitute blackberry jam for the sauce and skip the step of making it. I just happened to have fresh blackberries at home and I have a hard time finding seedless jam I found the dough stuck to my silicon baking mats and parchment worked better. I would hold down the parchment as I pressed each cookie. I also found that chilling the dough just a little bit had a higher success rate of more spritz cookies sticking when pressed.
I was messing around taking pics of these lemon blackberry sandwich cookies since I am always practicing to improve my skills and even though you can't see the cookies that well in this pic, I liked it.