Lemon Ricotta Waffles with Mixed Berry Syrup.
I am on a roll with waffle recipes and I don't see myself stopping anytime soon. These are tender, fluffy waffles with a hint of lemon topped with a warm mixed berry syrup and lightly sweetened whipped cream.
These lemon ricotta waffles are perfect for those lazy weekend mornings when you have a little extra time for breakfast or brunch. These also freeze really well and reheat quick so you can have them for a quick breakfast during the week without the extra time spent making them at that time.
I am all for doubling and tripling breakfast recipes like pancakes and waffles to reheat throughout the week. As long as I have the freezer space.
Waffles are my fave breakfast food. They can be super decadent or super simple. Some days I make them fully from scratch, other days I will use Kodiak pancake mix and add in a few extra items like eggs, fruit etc. All depends on how much time I have, or how many dishes I feel like cleaning. I had leftover ricotta from a pasta dish and figured hey why not add it to waffles?
I have quite a few waffle recipes on my blog but not too many step by step images. I decided to take a few to show you my process for these. They do take a few bowls to make but the mess is worth it for super fluffy waffles. There are a couple steps that make these waffles worth the extra work. And the ricotta makes them extra moist and tasty.
One step when making anything sweet with lemon is I always always always mix the zest with the sugar. I rub the sugar and zest together with my (clean) fingers to disperse the zest fully into the sugar. It releases the lemon oils into the sugar for extra lemony scent and flavor. This takes about a minute to do.
After I make the lemon sugar it goes into the largest mixing bowl with the flour mix. Always combine your dry ingredients in your biggest mixing bowl that you use because you will add your wet ingredients to this bowl. Eggs are separated because medium-stiff whipped egg whites make for a lighter, fluffier waffle. This is a step I never skip.
You can see how fluffy the batter is with the baking powder doing its thing before the whipped egg whites are added in.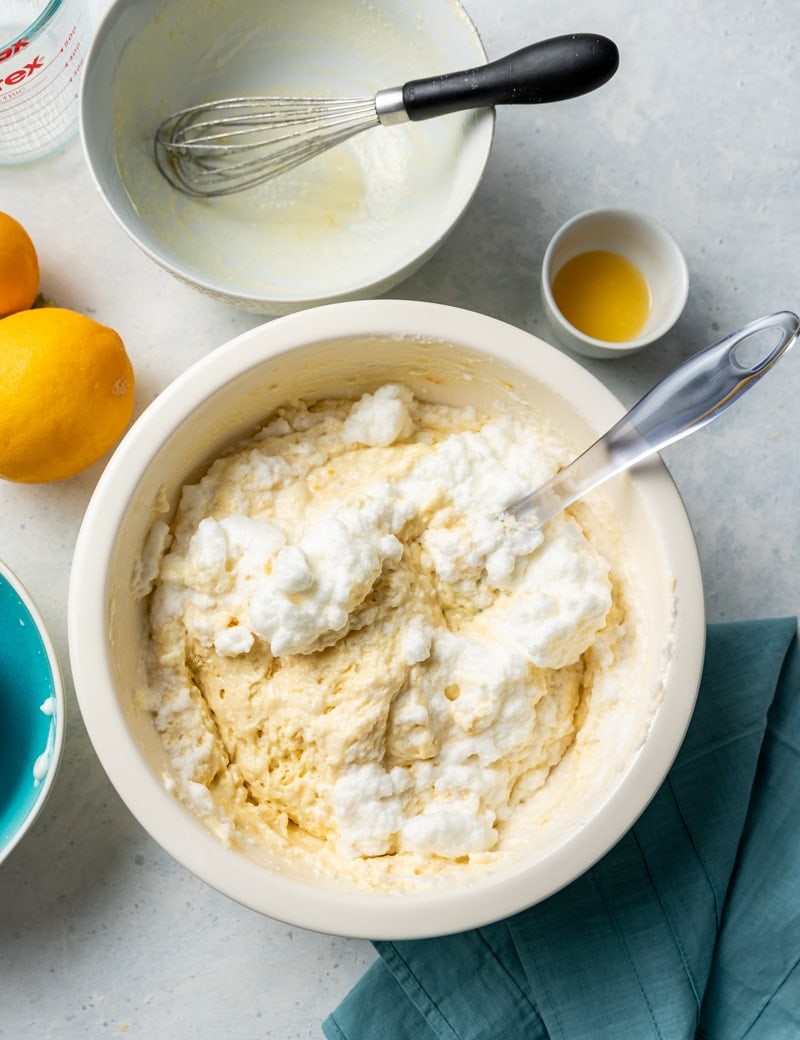 Fold in the egg whites gently with a spatula. The batter will deflate a little but not too much if you don't overmix/over fold. It is ok to have some streaks of egg white left in the bowl
I have a round Belgian waffle iron that makes large one inch thick waffles. I don't always cook according to the manufacturer's directions because I have found out that different waffle batters cook differently. More dense waffles like my Ube waffles take longer than a lighter waffle like these lemon ones. I go by how much steam is coming out of the iron as well as peeking to see color.
I made a sweet-tart mixed berry syrup to go with these lemon ricotta waffles. No step-by step pics for that but detailed instructions are in the recipe. I use frozen berries, no need to thaw them ahead of time. You can make the syrup in advance to save time the morning of making the waffles.
A few notes about these lemon ricotta waffles recipe first:
You can make the berry syrup ahead of time and keep chilled until ready to use. I warm slightly in a pan ( can also be done in a microwave) if you want to have a warm syrup instead of cold.
For amazing whipped cream make sure your cream is very cold before whipping and use a chilled stainless mixing bowl as well as mixing beater blades. I use my hand mixer and put them as well as a medium stainless bowl into my freezer for a few min before whipping the cream. This makes the cream whip up to stiff peaks fast.
Ricotta helps makes the waffles extra fluffy and delicious. You could substitute mascarpone cheese or small curd cottage cheese in its place if you like.
Rubbing the zest and sugar together is a must for extra lemony flavor
Separating the egg yolks and whites make for extra fluffy waffles. I never skip this step. You can mix the whole eggs into the batter all at once, they just won't be as light.
The waffles freeze well. I will cool them to room temperature then place in a freezer bag and freeze. I will thaw for a few min the reheat/re-crisp in the oven or break into smaller sections and toast them until crisp.
"Recipe"
Lemon Ricotta Waffles with Mixed Berry Syrup
A light, fluffy lemony waffle made with ricotta cheese topped with a sweet-tart berry syrup and whipped cream. Perfect for lazy weekend breakfasts and brunch.
Ingredients
For the mixed berry syrup:
2

cups

total of frozen berries

raspberries

blueberries

strawberries

cherries

¼

cup

granulated sugar

¼

teaspoon

salt

2

tablespoon

orange juice/lemon juice/water
For the waffles:
2

cups

all purpose flour

9 oz

1

tablespoon

corn starch

2.5

teaspoon

baking powder

1

teaspoon

baking soda

¾

teaspoon

kosher salt

⅓

cup

granulated sugar

2 ⅓ oz

2

tablespoon

lemon zest

1 ½

cups

buttermilk

12 oz/375 ml

2 ⅓

cups

ricotta cheese

19 ½ oz

3

tablespoon

butter

melted

3

large eggs

separated

2

tablespoon

oil

I use Luigi Tega lemon oil

1

teaspoon

vanilla extract

3

tablespoon

lemon juice
For the whipped cream:
1 ¼

cup

heavy cream

1

teaspoon

vanilla

¼-1/3

c

powdered sugar
Instructions
Make the syrup:
1. In a saucepan combine the berries, sugar, salt and juice or water. Bring to a simmer once the berries are thawed and simmer until slightly thickened, about 5-8 minutes. Strain into a bowl, pressing down on the solids/seeds until all the syrup is strained through.

2. Discard the solids/seeds Can be used warm or chilled. It will thicken slightly as it chills. This can be made ahead of time and will keep up to a week or so in the refrigerator in an airtight jar or container. 
Make the waffles:
1. Preheat your waffle iron. 

2. In a large mixing bowl whisk together the dry ingredients and set aside

3. In a separate bowl combine the sugar and lemon zest and rub together with your fingers to disperse the zest into the sugar. Add to the flour mixture and whisk to combine

4. In another bowl combine the remaining ingredients, except egg whites, and mix well. Make a well in the center of the flour mixture and pour in the wet ingredients. Mix until no flour streaks remain. Whip the egg whites until medium-stiff peaks then fold into the remaining batter with a spatula. 

5. Spray your waffle iron with cooking spray or brush with melted butter. Scoop a half a cup or so of batter in the middle and cook according to your waffle iron's instructions or 3-4 minutes. You want them just golden.

6. Keep in a warm oven ( 180-200 deg F) until all are finished cooking. 
To make the whipped cream:
1. Whip the cold cream until medium peaks form, add in the vanilla extract and ¼ a cup of the powdered sugar and whip again until mixed to stiff peaks. Taste and add more sugar if a sweeter whipped cream is desired. Keep chilled until ready to use. 

Serve the waffles with mixed berry syrup and lightly sweetened whip cream. 
Notes
You can make the syrup ahead of time if you like so that is less time spent while making the waffles. I will often start the syrup and while each batch of waffle is cooking, I will strain the syrup so it is ready when the waffles are.
You can also make the whipped cream ahead of time. Use super cold cream, a stainless mixing bowl and cold beaters to ensure a thick, whipped cream.