Super Moist Lime Glazed Avocado Bread. A lightly sweetened quick bread with avocados with a tangy lime glaze.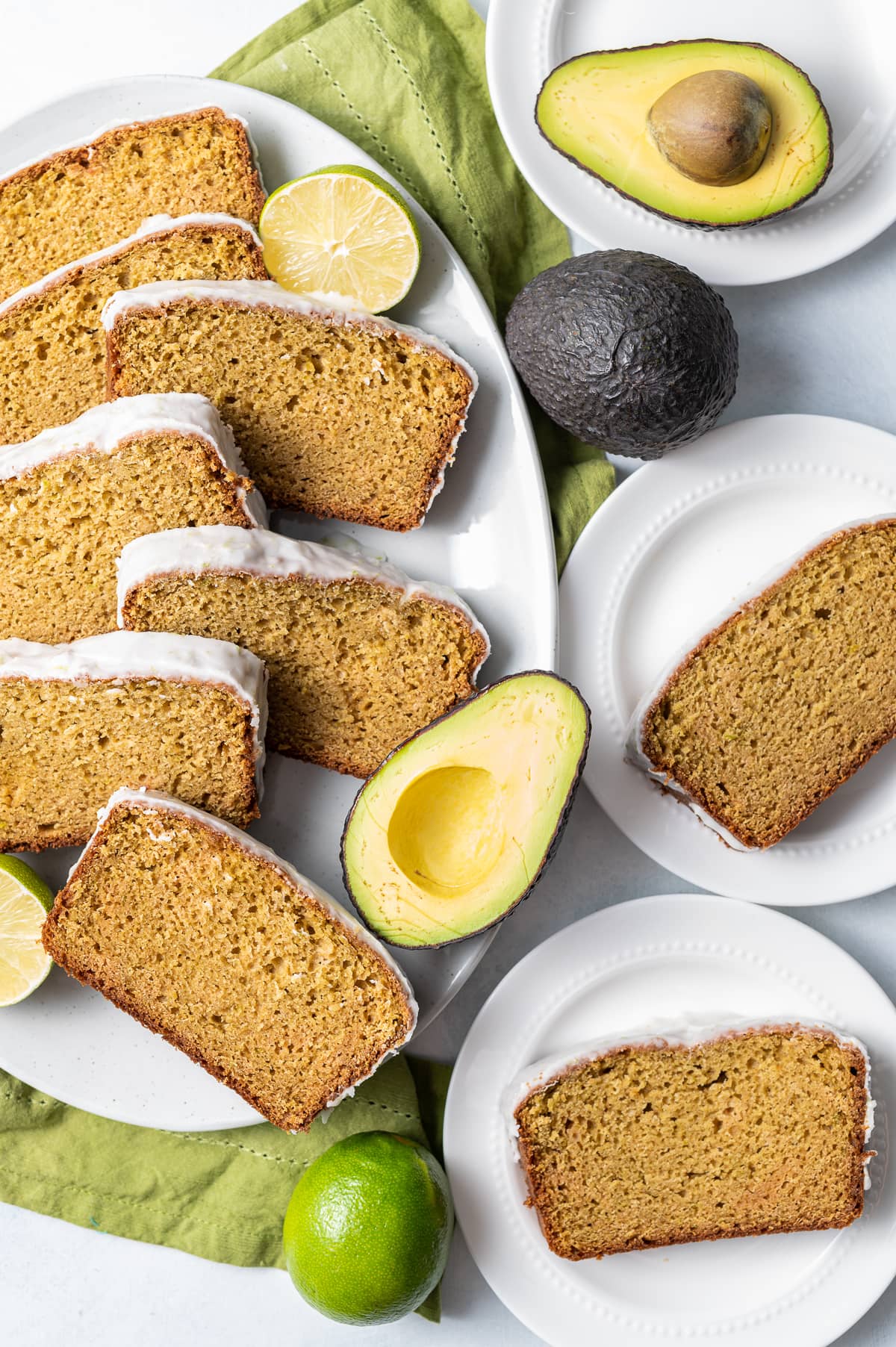 I love making quick breads such as banana bread and mango bread. Easy to make, and great for breakfast, brunch or snacks. The avocado flavor is very subtle as well as the green color from the avocados.
Avocados are an amazing ingredient to use in baked goods. The add a richness as well as keep them super moist. For this bread to extra added fat is needed such as butter or oil.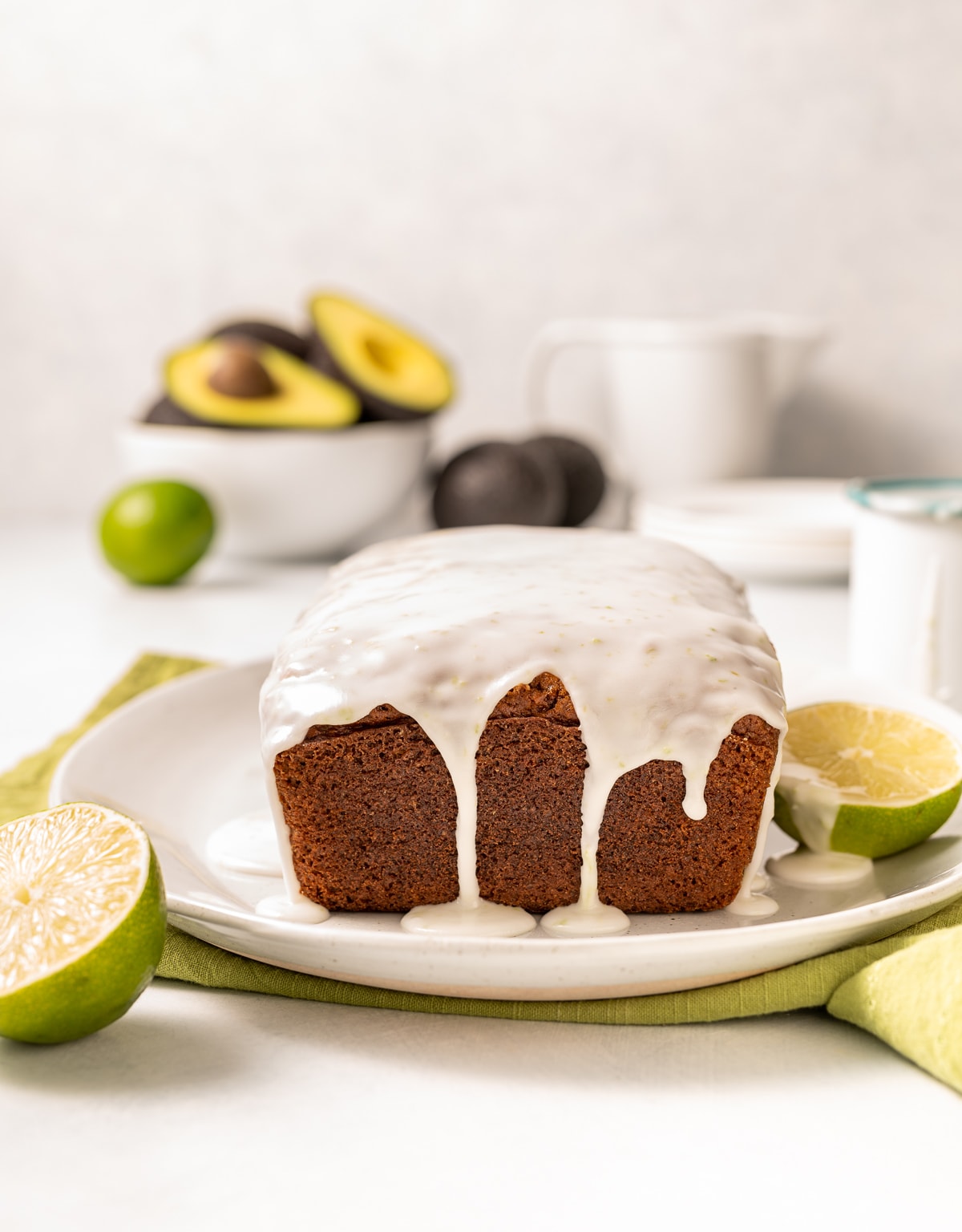 This buttermilk avocado bread is amazing on its own, but with the lime glaze? Chef's kiss perfection.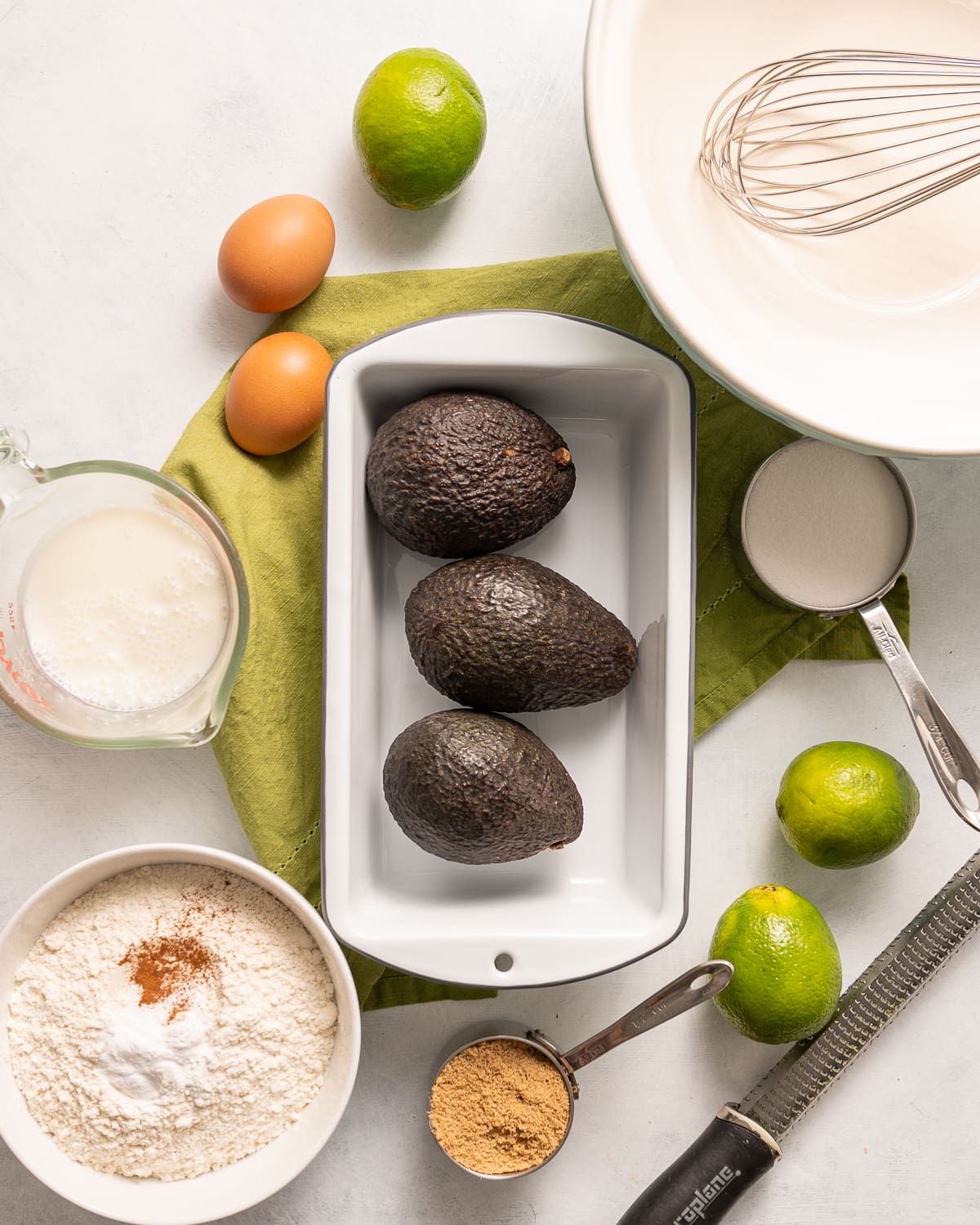 I still have a pile of amazing avocados from Rincon Tropics that even when they look overripe they aren't. They are still so perfect when the skin turns from green to blackish-green. Firm but starting to get softer. Perfect for guacamole, sauces or for baked goods.
When I told my kids I was making avocado bread they were excited. The love avocado in all forms, and they love when I make chocolate avocado muffins. Probably more because of the chocolate than the avocado, but they love to eat them so that is what counts the most.
How do you make avocado bread?
The ingredients for this recipe is made in three steps:
Dry ingredients such as flour, leaveners, salt and a dash of cinnamon are whisked together in a small bowl.
Sugars, eggs and lime zest are whisked together in a larger mixing bowl.
The avocado and remaining ingredients are blended until smooth. I use either a blender or food processor for this step. You want it super smooth, no lumps leftover.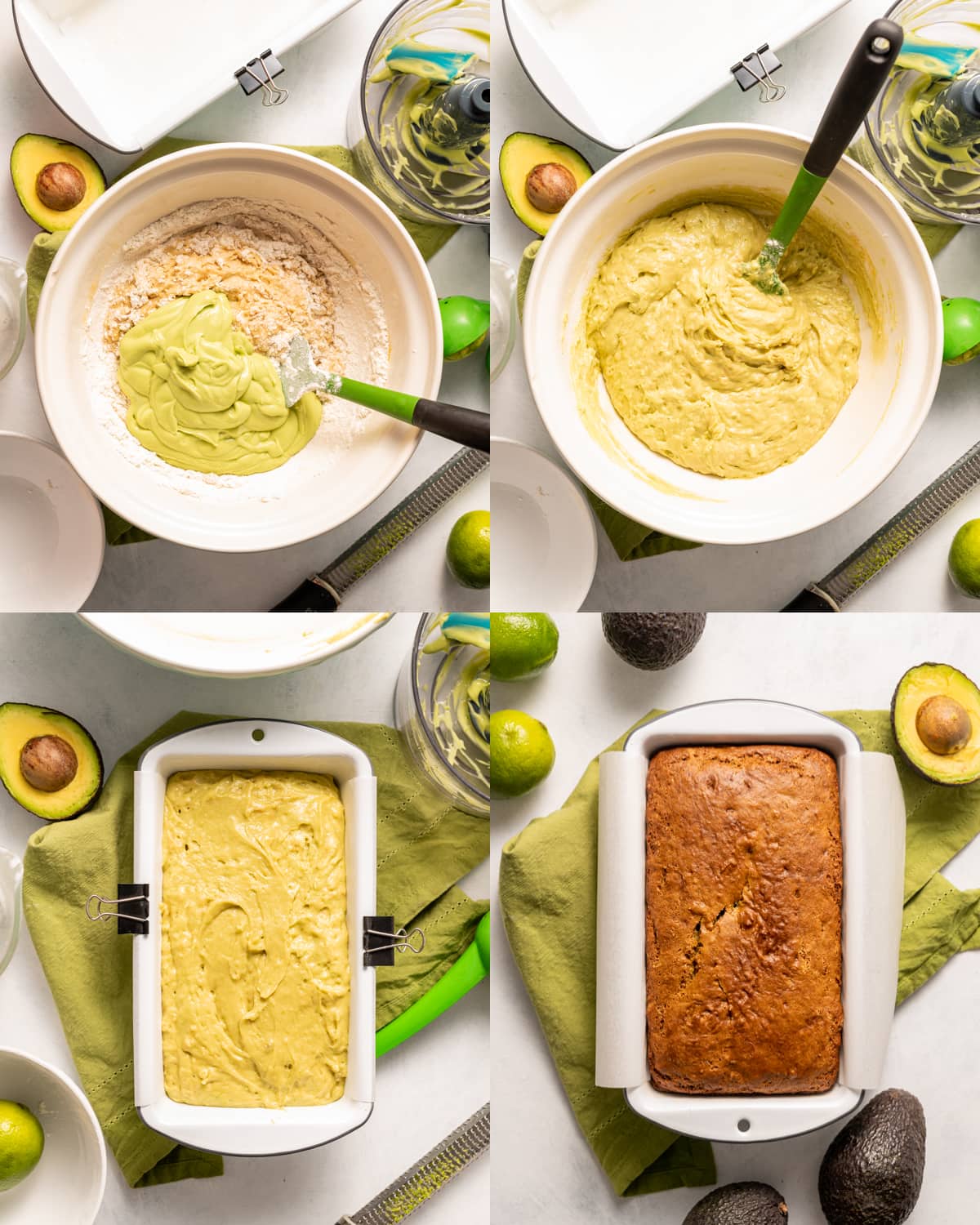 The rest of the recipe is really straight forward, similar to most other quick bread or pound cake recipes. Everything gets mixed into the big mixing bowl, poured into the prepared pan then bake.
I like to use parchment as well as greasing a loaf pan. I first butter the bottom of the pan so the parchment sticks. Next, I cut a piece of parchment that will hang over the long sides of the pan by a few inches and then I butter and flour the entire inside of the pan and on top of the parchment.
I use large binder clips to hold the parchment to the pan so it doesn't fall into the pan as I pour the batter in, just don't forget to remove them before baking!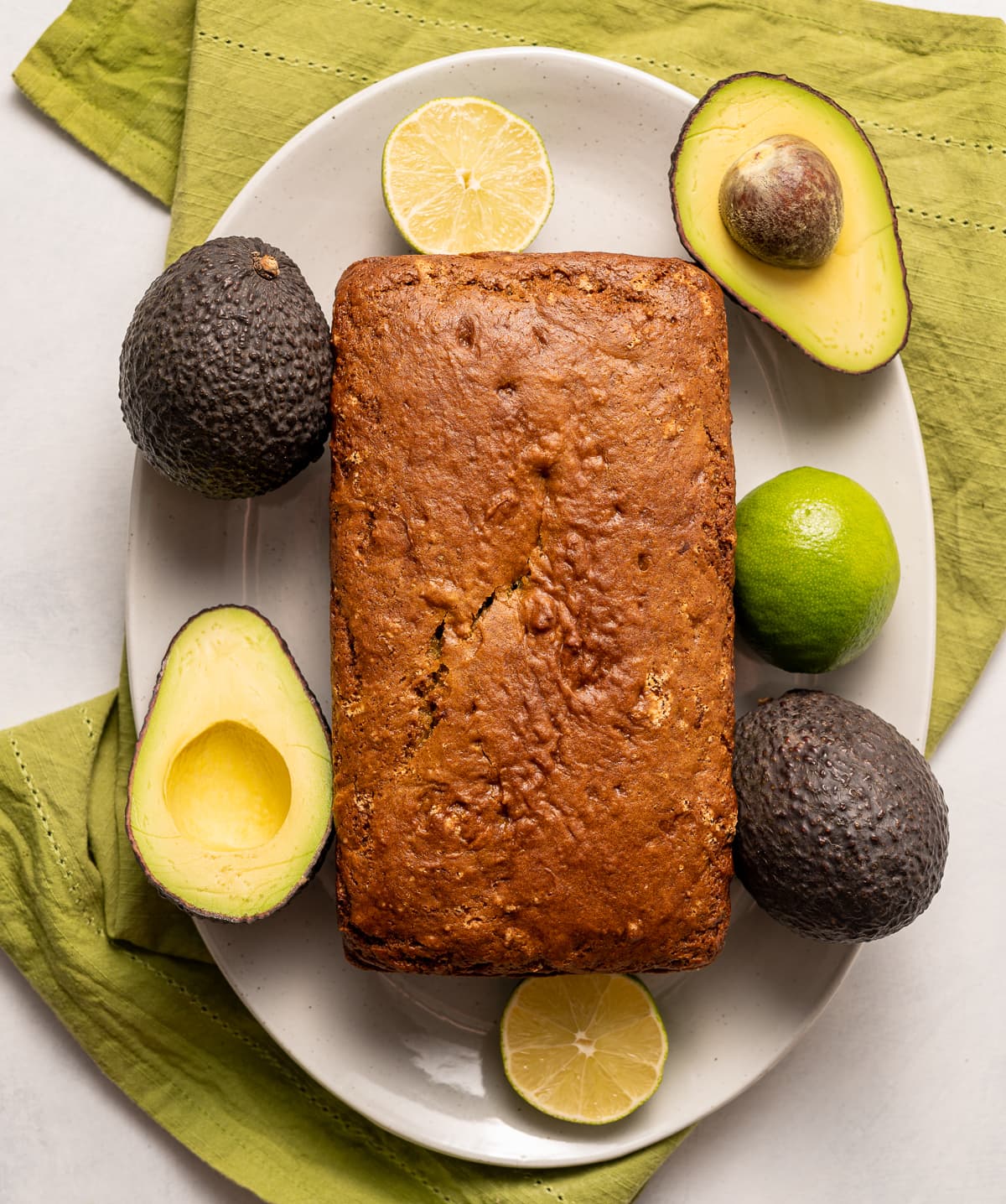 Just look at that gorgeous loaf! This avocado bread gets a really nice crust as well as turn a lovely golden brown while baking. You can eat it as is like here or add a sweet-tart lime glaze like I did.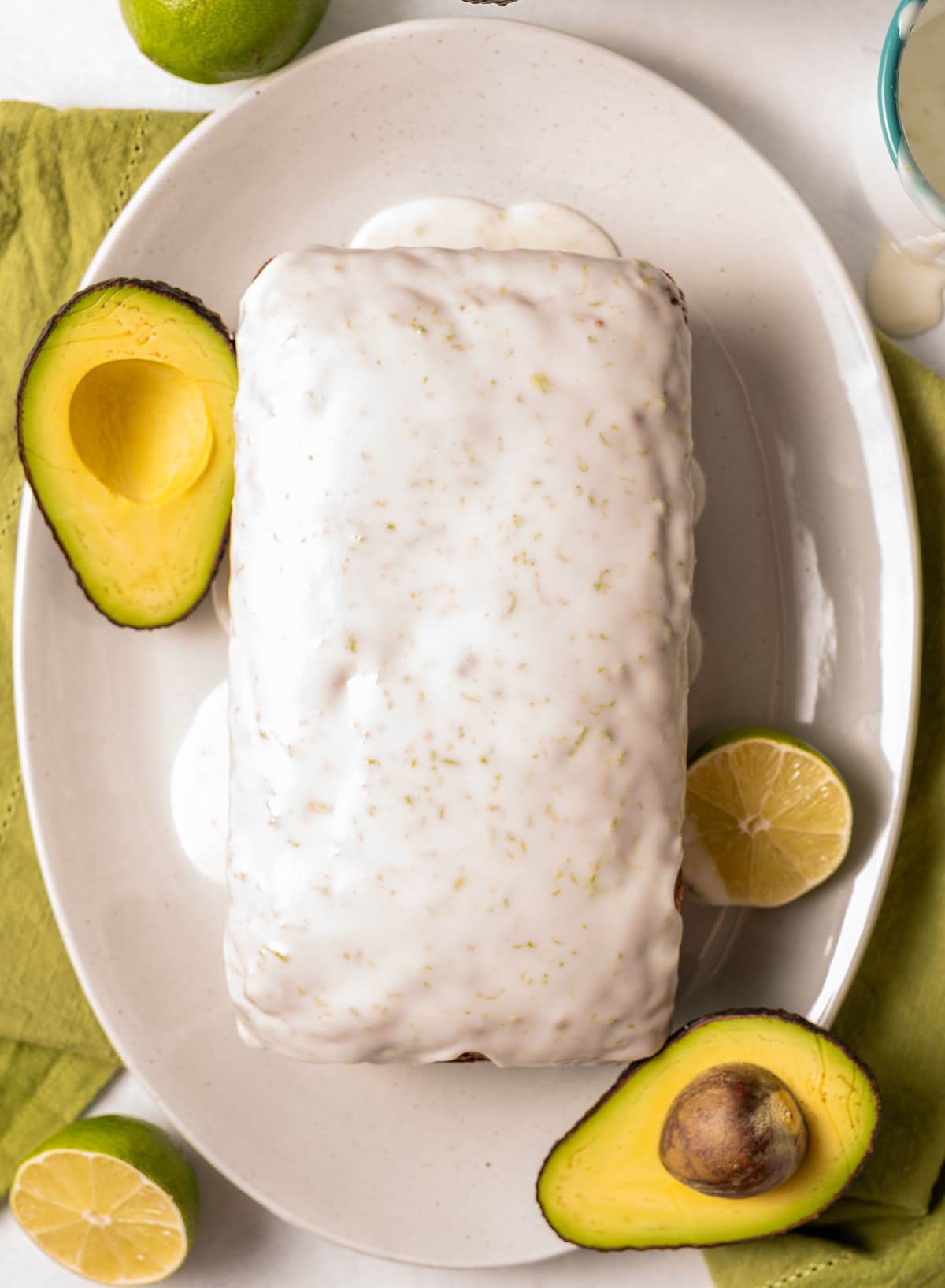 I love a quick bread with a glaze like my meyer lemon bread. It adds another level of sweetness and the tart lime goes so well with the avocado. I like my glaze on the thicker side, you can make it any consistency you like.
The glaze is made of confectioners sugar, aka powdered sugar, lime juice, lime zest and a teeny pinch of salt. I always add salt to anything sweet to balance the flavors.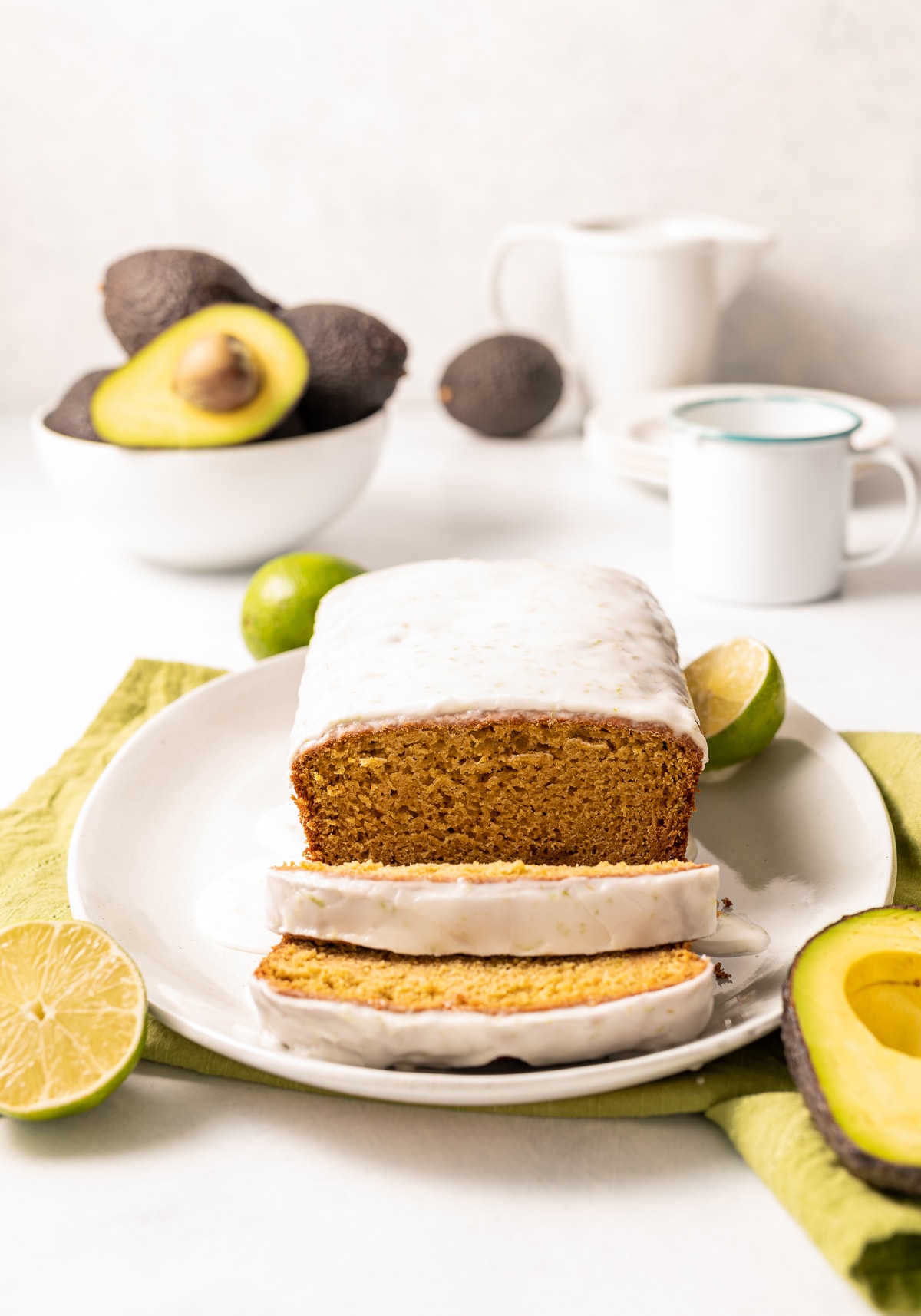 This avocado bread is great for breakfast, brunch or an afternoon snack with coffee or tea. You could even eat it for dessert if you like. It isn't overly sweet, the glaze does make it sweeter, if you want a less sweet bread omit the glaze.
What ingredients are in avocado bread?:
Avocados - I use 8 ounces of avocado, I weigh it out first with a food scale then add to the food processor. I find this to be more accurate than saying "two avocados" or "a cup of avocado" because neither really tell you how much exactly to use. All avocados are different sized, and a cup of avocado could mean one to three avocados. Again, depends on size. So weigh them out.
Sugar - I use both white and brown sugar. Using all white would lead for a greener bread and all brown would be a browner bread. I like the color from using mostly white and the caramel notes from the brown. Feel free to experiment with different amounts of each but still keep the total amount of sugar the same.
Flour - I use all purpose flour here. Feel free to substitute a gluten free flour if you need to do so for dietary reasons. I have not tested this recipe with anything other than all purpose flour so I cannot guarantee same results if something else is used.
Buttermilk - I love the tang and richness from buttermilk in baked goods. You can substitute with whole milk or a non-dairy milk of choice. Full fat coconut milk would be excellent here.
Eggs - two large eggs are used. Eggs help the bread raise, give the bread a nice crumb and texture as well as some added fat. I have not made this bread vegan so I cannot offer any substitutes here.
Lime - Lime goes so well with avocado in both sweet and savory applications. I use both zest and juice in the bread and glaze.
Other ingredients - the usual baking suspects here with Kosher salt, baking powder and soda, vanilla and a dash of cinnamon.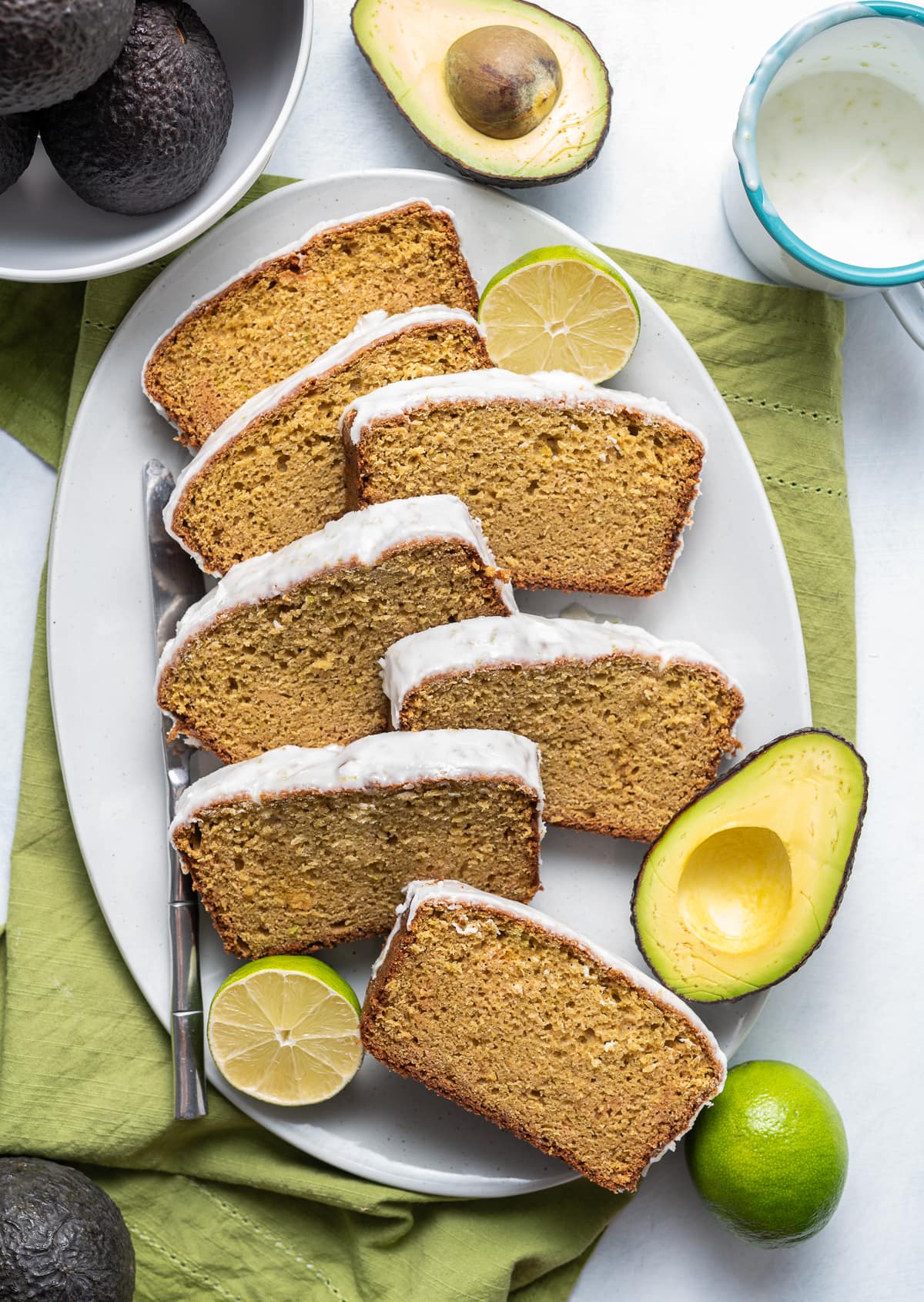 A few more notes about this Super Moist Lime Glazed Avocado Bread Recipe first:
I have only tested the recipe as is, no other substitutions. In the post above I have made some suggestions, however I cannot guarantee same results if you make substitutions.
There is no added fat in this recipe besides the avocado. No oil or butter. It is not needed
The batter is thick like banana bread or muffins. Don't add any extra liquid to it, it will not come out the same
This bread is awesome at room temperature or heated up a little. Heating will melt the glaze.
You can omit the glaze if you like your bread less sweet.
This avocado bread freezes well. Wrap in plastic wrap then in a freezer safe bag or container. That in refrigerator or at room temperature.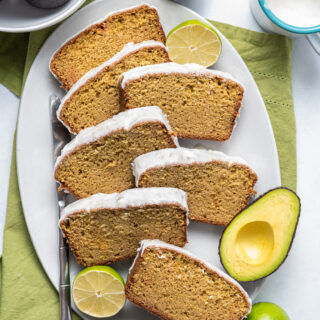 Super Moist Lime Glazed Avocado Bread
A moist and delicious lightly sweetened quick bread made with avocados, buttermilk, limes and glazed with a sweet-tart lime icing.
Ingredients
For the bread
2 ¼

cups

all purpose flour

292 g

1 ½

teaspoons

baking soda

½

teaspoon

baking powder

½

teaspoon

kosher salt

I use Diamond brand

½

teaspoon) ground cinnamon

¾

cup

white sugar

150g

½

cup

light brown sugar

106g

2

large eggs

room temperature

2

teaspoon

lime zest

zest of one large lime

1

cup

avocado

8oz (approx 2 avocados)

¾

cup

buttermilk

room temperature (180ml)

2

Tablespoons

lime juice

juice from one large lime

½

teaspoon

vanilla extract
For the Glaze
1 ½

cups

powdered sugar

180g

2-3

Tablespoons

lime juice

1-2 limes

2

teaspoons

lime zest

Pinch

salt
Instructions
Prepare a 9x5 inch loaf pan with butter, parchment paper hanging over the long edges then butter and flour the parchment. Set your oven to 350 Deg F. 

In a small mixing bowl whisk together the flour, baking soda, baking powder, salt and cinnamon. 

In a larger mixing bowl whisk together the sugars and eggs until well mixed then mix in the lime zest.

Cut the avocados in half, remove pit and scoop out and mash into a measuring cup or weigh. Add to a food processor or blender wit the buttermilk, lime juice and vanilla and process or blend until very smooth and no lumps remain. 

Add the flour mixture to the sugar mixture and mix until just combined, then add the avocado mixture and stir well until no flour streaks remain. 

Pour batter into prepared pan and smooth the top so its evenly distributed. Bake for 40-45 minutes until toothpick comes out with just a few crumbs.

Let cool most of the way in the pan then using the parchment paper overhang, carefully lift the bread out and cool completely on a wire cooling rack. Transfer to a serving plate before adding the glaze

Whisk the glaze ingkrfediets together and when it is a consistency you like pour over the top then spread to the edges. Some will drip off the sides. Let the glaze firm up before serving. 
Notes
If it's your first time making this recipe then make sure you read all of the information in the main post as it includes lots of additional tips, as well as the answers to some common questions.
If you have any further questions then do let me know in the comments and or email me

[email protected]

and I'll do my best to help.
If you choose to make substitutions to the recipe that I have not tested yet please do so at your own risk! However, if they are successful I would love to hear about it and will add to my recipe notes for other readers to try as well.