Linzer Kipferl - Austrian Chocolate Dipped Crescent Sandwich Cookies. A classic Austrian butter cookie.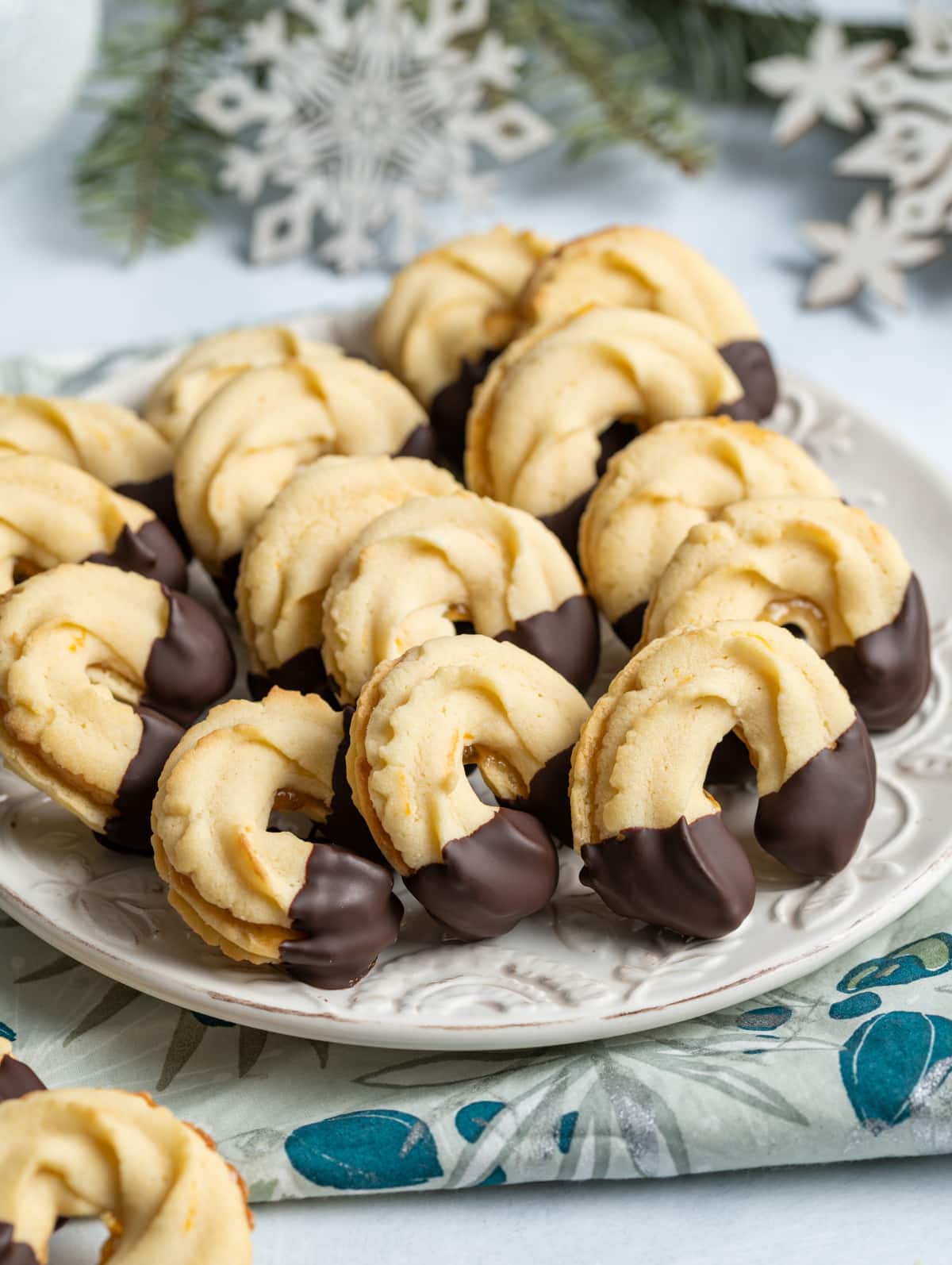 I have made a version of delicious, buttery, Austrian cookies off and on for years now. Sometimes I pipe them into sticks and dip both ends in chocolate, sometimes I make them into sandwich cookies either in sticks, crescents or rosettes. Any way they are shaped they are delicious.
I decided for these this year I would make a recipe from a cookbook I inherited from my grandmother, "The Art of Viennese Pastry". I love vintage cookbooks and baking books and I have made a few recipes from this one since I inherited it. These linzer kipferl have been my favorite recipe so far.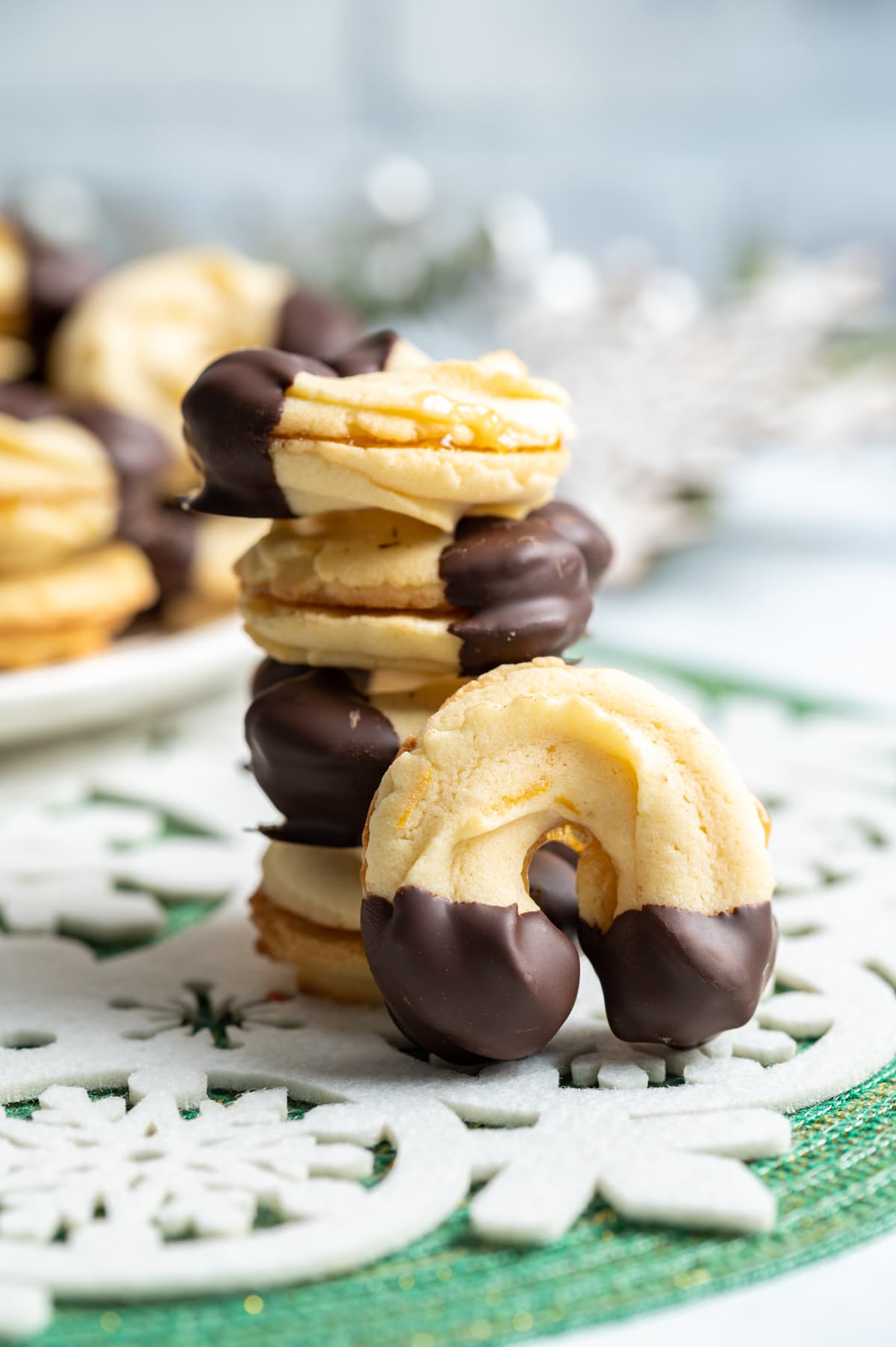 These Linzer Kipferl are very easy to make. Just a few ingredients, no need to chill the dough. Just a little elbow grease to pipe the dough into the crescent shapes, a relatively short baking time and then time for cooling, making into jam sandwiches and then dipping into chocolate. And a little more chilling. I can make a whole batch of these in under two hours easily.
One of the tricks to getting a nice, soft dough that is easy for piping, is whipping the butter and sugar until very light in color and texture. I let these mix on medium high until very pale. These cookies also call for just egg yolks which add to the richness of the cookie as well as color.
These cookies are baked until set, and not golden or browning on the edges. A little golden is ok. They are meant to be a more pale cookie. Similar to my thumbprint cookies.
These Linzer Kipferl have a few special ingredients that make them taste amazing.
One of these special ingredients is vanilla sugar or "Vanille Zucker". These come in packets which you can find at any German or Bavarian grocery store or bakery that sells pantry items or any well stocked international store. I always have a supply of vanilla sugar packets in my pantry. This is great to have on hand for vanilla flavoring in recipes that don't call for extra liquid like vanilla extract but you still want that hint of vanilla flavor. This recipe calls for both vanilla sugar and extract.
The other special ingredient in these is lemon zest. I used Meyer lemon zest since I have a tree bursting with them. You could also use orange zest. Last year I made these with orange and cinnamon in the dough, sandwiched with fig jam and dipped in white chocolate. They never made it to the blog since they weren't exactly what I wanted for that exact recipe.
Not the same recipe as these cookies. Good but almost a little too sweet. I prefer these kind of cookies to be dipped in dark chocolate.
Tips for Linzer Kipferl - Austrian Chocolate Dipped Crescent Sandwich Cookies Success:
The recipe from the book was written in grams, I have both grams and traditional US measures in the recipe. If you have a food scale, which I cannot stress enough that every baker should own one, then use the weighted measures
The key to the texture of these cookies is in really mixing the butter and sugar to extra light and fluffy in color and texture. Don't just mix for a few minutes and think that is good enough. You almost want to turn the mixture off-white.
Use large egg yolks and room temperature. Save the whites for meringue cookies, a

Pavlova

or an omelette.
I used apricot jam since that is what is most traditional with Austrian

linzer cookies

and torte, feel free to use any jam you like, preferably one that works well with dark chocolate. Just make sure its a smooth jam, no large pieces of fruit
For the chocolate I used a 72% dark and melted over a double boiler. Set a pan of water on the stove, bring to a simmer then set a glass bowl or nonreactive metal bowl over but not touching the water. Add in chopped chocolate and stir until melted and smooth. Turn off heat but leave bowl over pan of hot water, add in a little butter and stir. The chocolate will stay melted for a long time. If it starts to harden just turn on the heat and get the water back to simmering again. Turn heat off once the chocolate is melted again.
Freeze the cookies after then have been sandwiched with the jam and again after they have been dipped in the chocolate. I just set them on a baking sheet with parchment paper for this.
"Recipe"
Linzer Kipferl - Austrian Chocolate Dipped Crescent Sandwich Cookies
Linzer Kipferl. Buttery Austrian Chocolate Dipped Crescent Sandwich Cookies with apricot jam and dark chocolate. A classic Austrian cookie. Adapted from "The Art of Viennese Pastry".
Ingredients
Original recipe is written in grams. I have included grams as well as traditional US measure.
For the Cookies
250

g

Butter

2 sticks plus 1 ½ tbsp

120

g

powdered Sugar

1 cup

1

packet vanilla sugar

see notes

3

egg yolks

room temp

1

teaspoon

lemon zest

1.4

cl

vanilla extract or dark rum

1 Tbsp

350

g

all purpose flour

2 ¾ cups

1

teaspoon

corn starch

⅛

teaspoon

salt
Filling and dipping:
Apricot jam

smooth, no bits of fruit ( or jam of choice, use one that goes well with dark chocolate)

6- 8

oz

Dark chocolate

65-75% chopped into chunks

2

teaspoon

butter
Instructions
Prepare baking sheets with parchment paper. Heat over to 350 Deg F convection ( 375 non-convection). Prepare a piping bag with a large open star tip ( Wilton 1A)

In a bowl of a stand mixer or a large bowl using a hand mixer, cream together the butter, powdered sugar and vanilla sugar until very pale and fluffy. This takes about 8 minutes on medium high speed. Scrape down sides of bowl as needed. 

Add in the egg yolks one at a time and mix well between each addition keeping the mixture light and fluffy. Add in the lemon zest and vanilla and mix well again

Mix together the flour, cornstarch and salt then add this to the butter mixture and mix until well combined.

Transfer some of the dough to the piping bags and hold the top about an inch above the prepared baking sheets. Pipe out about 3 inches of dough making a crescent shape as you pipe. Fill the baking sheet with piped crescents an inch apart. Try to get them as equally sized as you can. 

Bake for 8 minutes. They will still be pale in color but they will be baked.

Cool on baking sheets for a few minutes then transfer to a wire cooling rack. Once they are all baked and cooled heat up the jam so it is very easy to spread

On the smooth side of one crescent spoon about a half a teaspoon or so of the jam and sandwich together with a matching crescent cookie. Repeat for all the cookies. Set in the freezer to firm up the jam. About 20-30 minutes.

Once they are set melt the chocolate in a double boiler on your stove. Bring a pan of water to a simmer then place a glass or non reactive metal bowl over the water but not touching. Add in the chopped chocolate and stir with a spatula until smooth. Once it is all melted turn off the heat and add in the butter. Stir until the butter is melted.  Dip the ends of the sandwich cookies in the melted chocolate, let the excess drip off then place back onto the baking sheet. Dip all the cookies then place back in the freezer to set up the chocolate.  These keep best in the freezer so the chocolate doesn't make a melty mess at room temperature.  Thaw slightly before serving. 
Notes
You can find packets of Vanilla sugar or (Vanille Zucker) at any German or Bavarian grocery or bakery that has a dry goods/pantry section as well as any well stocked international market. It is also available on line. Dr. Oetker is the most popular brand.