Sky High Cinnamon Mango Muffins. Moist, full of mango goodness. Perfect for breakfast or a snack.
I love using mango in baked goods, like my Hawaiian Mango Bread. It adds moisture and that tangy tropical flavor that is unique to mangoes.
I didn't want to just use my mango bread recipe and make them as muffins, although that is really good and works really well, I wanted to to something a little different here.
I love those big, bakery muffins that have a crunchy cinnamon sugar top, and I love cinnamon with mango so these muffins had to have a cinnamon sugar topping.
I have had mango muffins before in Hawaii and once got them with a cinnamon sugar streusel and they were amazing.
I decided against a streusel or crumble like topping for these but if you want to add a streusel topping have at it. My jumbo meyer lemon muffins have a crumble topping that is so good!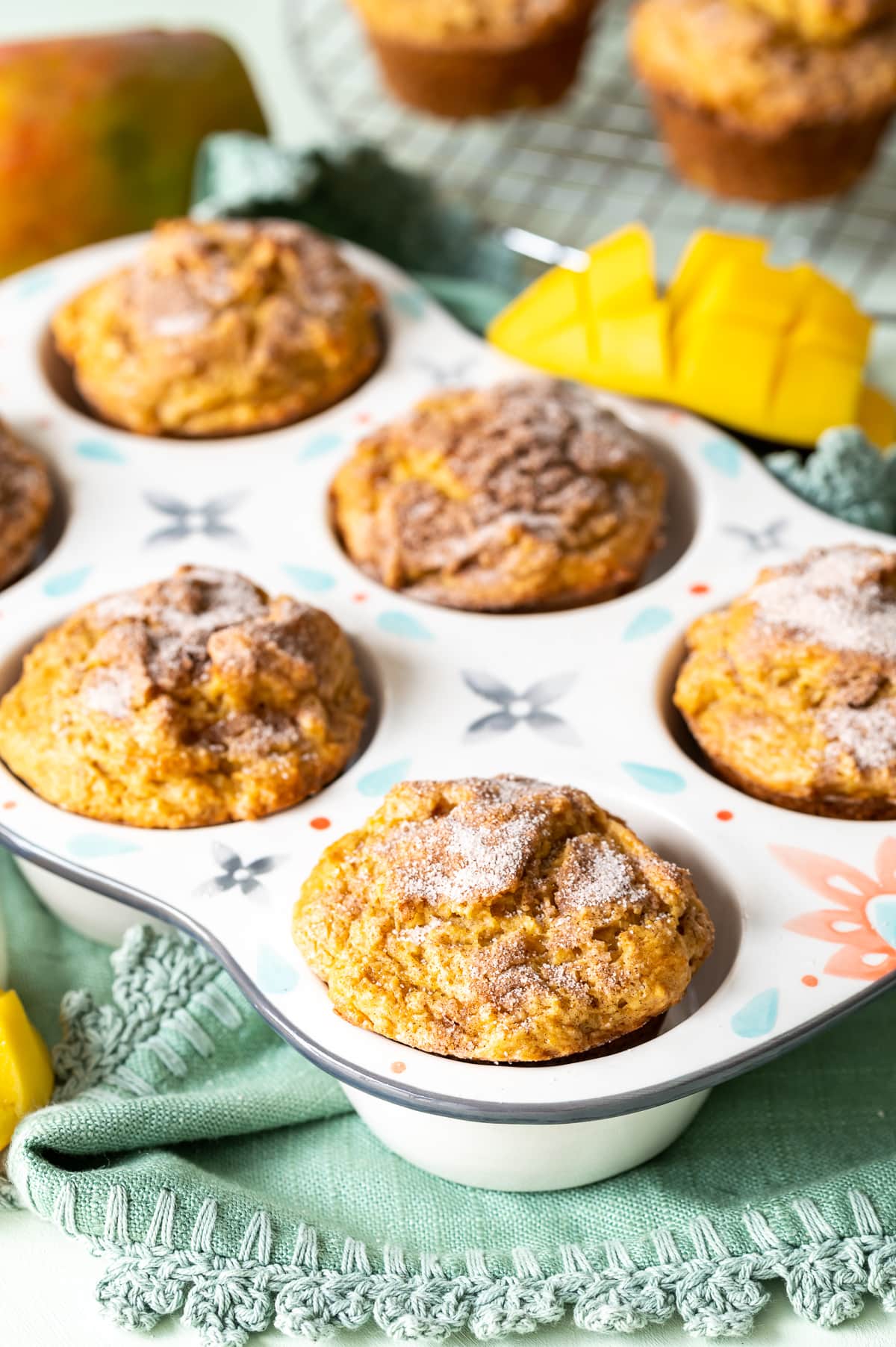 I also debated on making just a muffin with mango chunks in it, but like my mango bread, I love using pureed fresh mango in baked goods.
You can use frozen mango for these muffins, just thaw completely first and drain any excess liquid. I tested these muffins with both fresh and frozen mango.
I prefer fresh when in season but frozen always works in a pinch. See recipe notes for using frozen mango.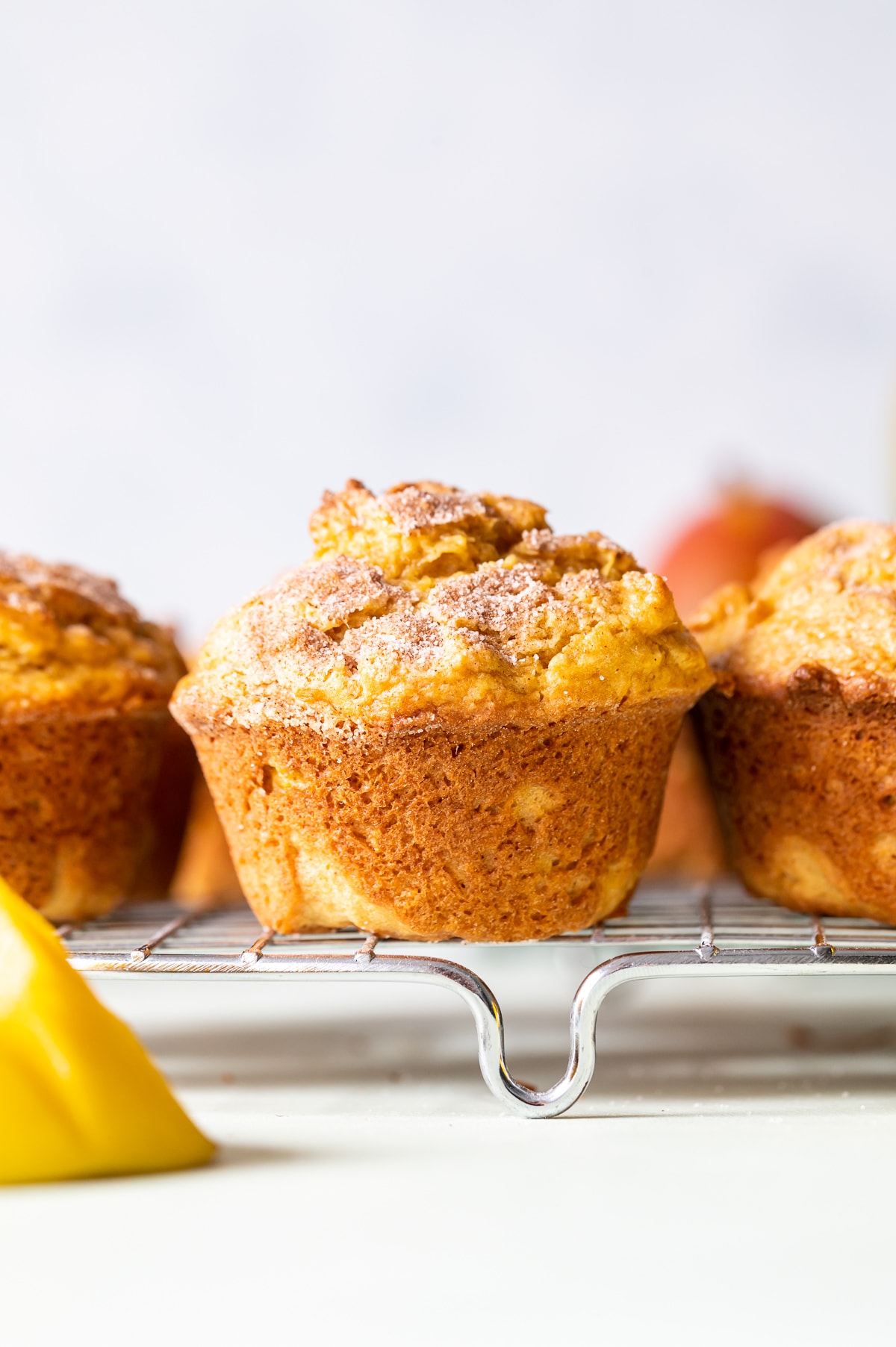 How to bake muffins with high domed tops?
Something I researched while making these muffins. I got a bunch of tips, a bunch of mangoes and tested many batches.
Who doesn't love a muffin with a big, domed top? I tested this mango muffin recipe several times with many of the internet tricks on how to get big, domed muffins.
Some of the muffin baking tips an tricks I used are as follows:
Letting batter rest for an hour before baking, letting batter chill overnight in the fridge then letting come to room temp before baking.
Overnight batter again but baking cold. Extra leavening, filling all the way to the top, spacing out the muffins in the tins so they aren't next to each other. Starting win a high temp, then lowering for rest of baking time.
A few other tricks. While these were great, they weren't worth the extra fuss or wait times and really didn't work that well.
The only "tricks" I used were:
Don't use paper liners. Grease the muffin tins really well with homemade cake release. I use

Grandbaby Cakes

recipe for

cake release

. I used it for an intricate bundt pan and it worked perfectly, I figured why not try it with muffins! And again, worked perfectly.
Fill almost all the way to the the top of the tin with batter and bake at 400 deg F.
Use super fresh ingredients, especially your baking powder and soda. Any of these are old or close to expiration they might not work as well.
Use a little bit of cultured dairy such as yogurt or sour cream to help lift the muffin with the leavenings.
Use all room temperature ingredients, make sure nothing is cold to start. I usually have everything out of the fridge for at least an hour first.
Work quickly to get the muffin batter mixed because as soon as the liquid ingredients are mixed with the dry the baking powder and soda starts to work and you want it working while in the oven.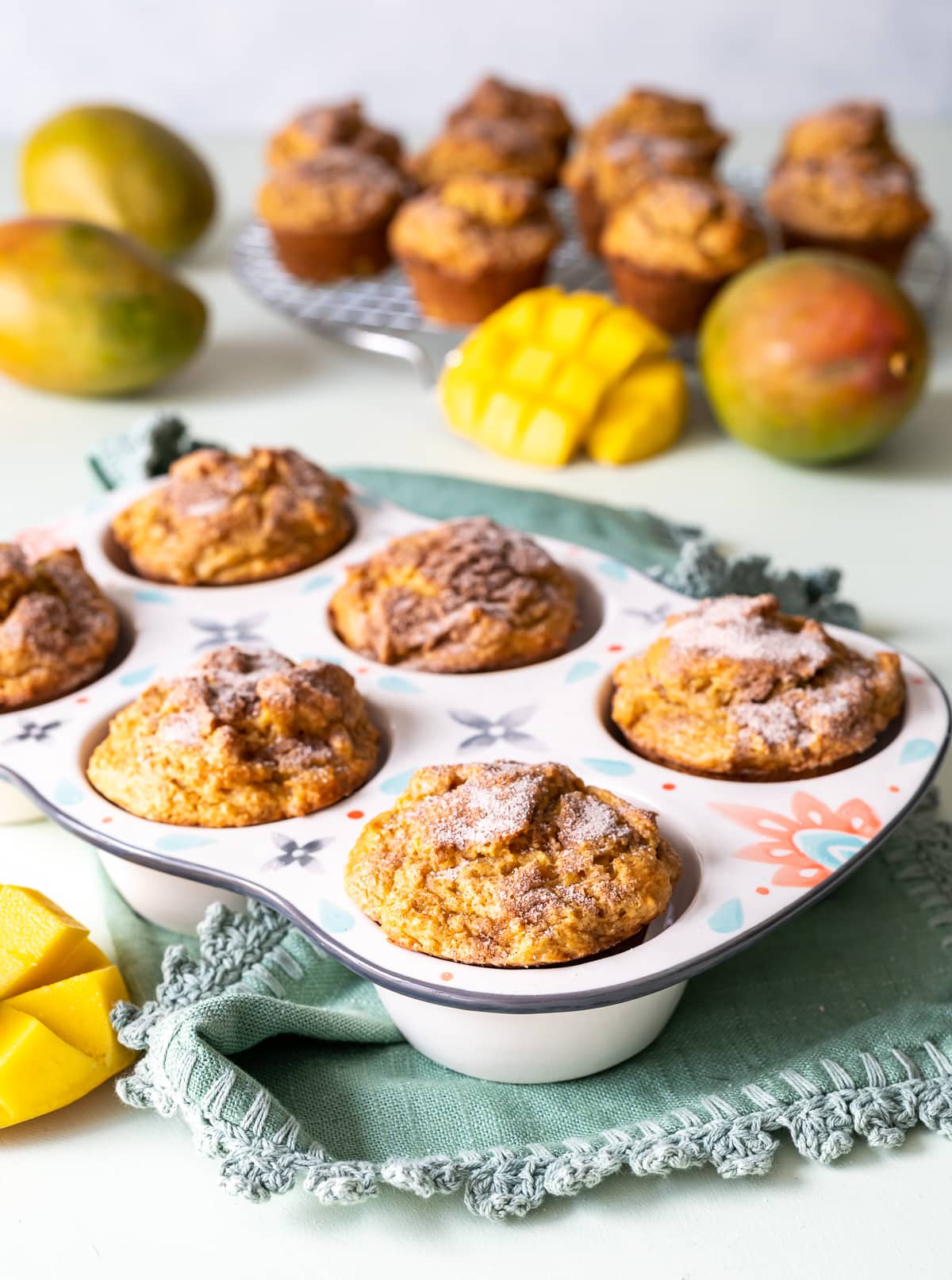 Mango muffins. With high domed crunchy cinnamon sugar tops. Moist and tropical, perfect for breakfasts or snacks. Goes great with a cup of hot coffee.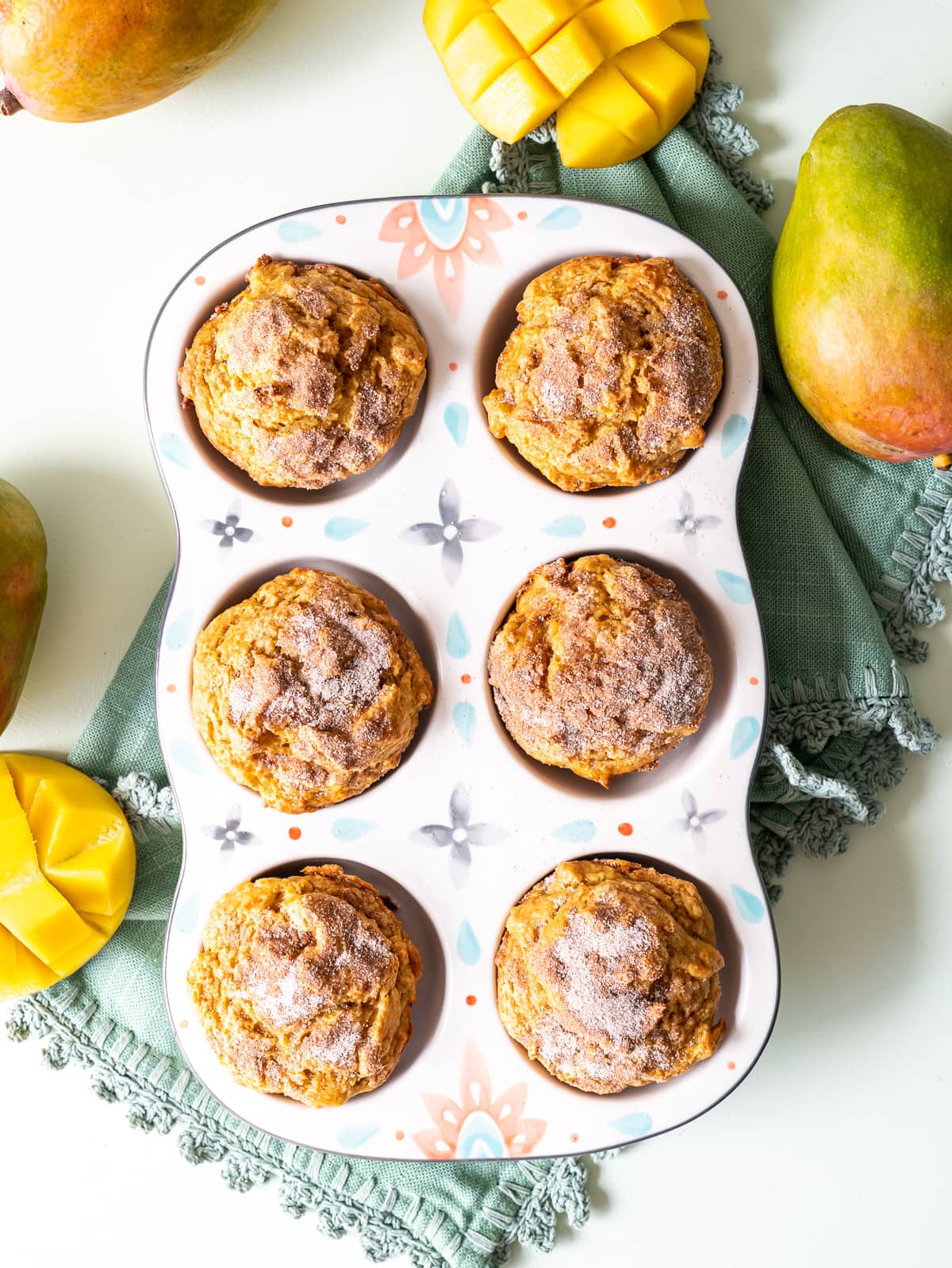 A few notes about these cinnamon mango muffins recipe first:
Make sure all your ingredients are at room temperature first 65-70 deg F. I will take everything out of the fridge about an hour before baking. You can factor this into prep time if you like. Prep time listed in the recipe is what I consider making the batter since its active prep.
Inactive prep time is getting everything to room temp so factor this in to your total time if you are crunched for time to make these muffins.
You can use any mangoes you like for the puree. I used red since that is what was available to me, but any kind or combination of mango is great. I will cut off the sides close to the seed, then cut off the skin, place chunks in blender and blend until super smooth. Any excess mango gets used up in a

smoothie

!
Definitely use the baking spray or

cake release

instead of paper liners. The muffins will rise higher without the paper.
These do use eggs and dairy, if you wish to make them non dairy feel free to use a vegan butter and vegan yogurt. I don't bake vegan so I haven't tested these with dairy and egg substitutes. If you do so and have success please let me know what you used.
"Recipe"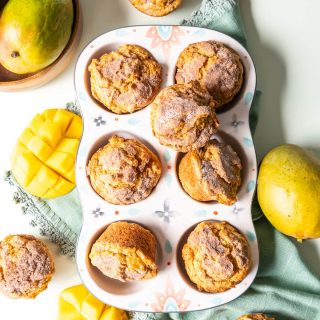 Cinnamon Mango Muffins
Tropical mango muffins with sky high domes and a crunchy cinnamon sugar topping. Perfect for breakfast or snacks.
Ingredients
3

cups

all purpose flour

390 g

2

teaspoon

baking powder

1 ½

teaspoon

cinnamon

½

teaspoon

baking soda

½

teaspoon

kosher salt

1

cup

granulated sugar

200g

½

cup

brown sugar

100g

½

cup

unsalted butter

melted and cooled (113g)

3

large eggs

room temperature, lightly beaten

2

teaspoon

vanilla extract

2

cups

mango puree from fresh mangoes

500 ml *see notes for using frozen

¼

cup

thick yogurt or sour cream

60g
Topping:
3

tablespoon

sugar

1

teaspoon

cinnamon
Instructions
Preheat oven to 400 Deg f (204c).

Prepare muffin tins with baking spray or brush generously with cake release ( see blog posts for information about this). Since this recipe makes 16 muffins, one pan will only have 4 muffins. You can space these out and fill the empty spots halfway with water. 

Sift together dry ingredients in medium sized bowl. Flour, baking powder, soda, cinnamon and salt.

In a separate, larger bowl mix together the sugars and melted butter, you can use a whisk or a hand held mixer for this step. No need to use a stand mixer. 

Add in the eggs and mix well after each addition then add in the vanilla, mango and yogurt. Mix in the flour mixture and stir with a spatula until no flour streaks remain. This is a thick batter.

Scoop the batter generously into the prepared muffin tins, filling almost all the way to the top. 

Mix together the cinnamon and sugar and sprinkle over the top.

Bake the muffins 17-22 minutes until they bounce back when lightly pressed down on the top. Let cool for a few minutes in the pan then gently remove to a wire cooling rack to cool completely. Keep in an airtight container or baggie to keep fresh. Will last a few day at room temperature, up to 3 months frozen. You can reheat slightly in a microwave or warm oven. 
Notes
If using frozen mango, thaw all the way and drain off any excess liquid before pureeing. Use as directed above.