Thanks to
Koloa Rum Company
for providing me with rums to create these fun cocktails for you all.
I know people probably think the pina colada is my favorite drink being that my blog name is pineapple and coconut and all, but that is my second favorite cocktail. My first love is the Mai Tai. It is the quintessential tiki cocktail that has been made over so many ways, and every version is amazing.
That to this day people still dispute where it originated - by Trader Vic's or Don The Beachcomber. I have tried so many different versions of the mai tai and have loved every single one. This is my holiday version. The Mele Kalikimaka Mai Tai aka the Christmas Mai Tai.
The original mai tai had lime juice as its main juice along with either Orgeat, a sweet almond syrup with hints of apricot and orange that lends a very unique flavor that is distinct to mai tais or Falernum, a sweet syrup with almond, ginger, cloves and lime.
Don The Beachcomber's mai tai uses Falernum, Trader Vic's uses orgeat. Both use a more concentrated version of simple syrup. Instead of a 1:1 ratio of sugar to water it's more like a 2:1 so it is a heavier, sweeter syrup. Often called rock candy syrup.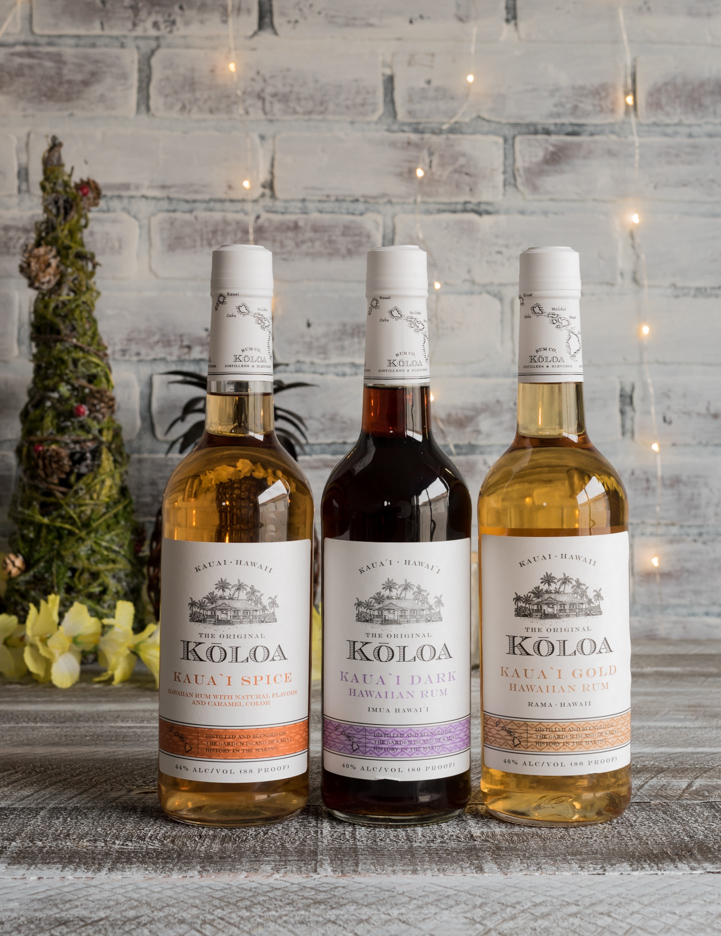 The rums used in mai tais can vary greatly. Trader Vic's original recipe starts with an amber Caribbean rum and finishes the drink with a float of a dark Jamaican rum. Don the Beachcomber uses a gold rum and finishes with Meyer's plantation rum. Trader Vic's is a simpler recipe than Don's.
Both are quite excellent though and I like making a combination of both since I love the simplicity of Trader Vic's and the complexity of Don's with the addition of bitters and grapefruit juice. I made these with Koloa Rum's gold and spiced rum, spiced for that Christmassy touch and a float of the dark.
When I was on vacation in Kauai this summer I shopped at the Koloa Rum Company store several times and on my last day on island I spied this coconut rum cane sugar and bought a few packs. I knew it would be perfect for rimming glasses for cocktails like this Christmas Mai Tai.
I am not the biggest fan of grapefruit so when I make Mai Tai's I substitute pineapple juice and sometimes half pineapple half guava juice. When we were married on Kauai, our signature wedding drink was a Mai Tai with guava juice and we recreate them every year on our anniversary.
For garnish I went with a classic Christmas cocktail garnish of sugared cranberries, pineapple cut into the shape of a pineapple a sugar cane swizzle stick and mint. There are many recipes online for sugared cranberries and I used the one that I used for my Christmas White Chocolate Cranberry Layer Cake a couple years ago.
I also happened to have a small pineapple cookie cutter which I used to cut out pineapple shaped pineapple instead of a traditional wedge. One of my favorite things about tiki cocktails is their garnishes.
I have been to many tiki bars and restaurants and the garnishes have always been fun and over the top. It adds to the tiki-ness off the drinks and I love it.
I also added in Tiki Bitters. I have become a fan of using bitters in cocktails this year and I had no idea that there were so many flavored bitters made until I did a little research. Tiki Bitters have spices such and cinnamon and clove and it is reminiscent of Falernum. I bought the Tiki Bitters off Amazon, but they can also be found in well stocked liquor stores.
"Recipe"
Mele Kalikimaka Mai Tai ( Christmas Mai Tai)
Mele Kalikimaka Mai Tai ( Christmas Mai Tai) #Drinkmas www.pineappleandcoconut.com Makes 2 cocktails
Ingredients
2

ounces

Koloa Gold Rum

2

ounces

Koloa Spiced Rum

1

oz

orange curacao

1

oz

Orgeat

2

ounces

lime juice

1 ½

ounce

pineapple juice

1

ounce

cranberry juice

½

ounce

concentrated simple syrup**

6-8

drops Tiki Bitters

1

oz

Koloa Dark Rum
Garnish:
Simple Syrup

Sugar

Koloa Coconut Rum Sugar

Sugar Cane Swizzle Stick

Sugared Cranberry Skewer

Mint

Pineapple slices

cut into shape of pineapple if desired
Instructions
Fill two large rocks glasses all the way with crushed or pebble ice. Add the gold and spiced rums. Add the remaining cocktail ingredients to a cocktail shaker with ice, shake until well chilled then divide between the glasses. Float a little dark rum on the top of the drinks then garnish with the pineapple, sugared cranberry skewers, sugar can swizzle stick and a large sprig of mint. Serve immediately
Notes
For a more concentrated simple syrup either use 1 ½ C sugar to 1 cup water or 2 cups sugar to 1 cup water and heat until the sugar is completely melted and the syrup has thickened. Chill completely before using.
This recipe can be made into larger amounts for a party. I would suggest combining the orgeat, curacao, juices and bitters into a pitcher or large jar and keeping chilled until ready to use. Make drinks as stated above starting with the rums, add thing the juices and then the float of dark rum.
I joined up with some other fabulous bloggers to share our unique Christmas cocktails. Please give them all a visit!
The Perks of Being Us - Sparkling Pomegranate Raspberry Vodka Martini
Another Tablespoon - Rummy Egg Nog
De Socio in the Kitchen - Winter Wonderland White Sangria
Michelle Sips & Savors - Old Fashioned Apple Cider & Bourbon Milk Punch
NibbleNNest - Grand Royale Champagne
The Migoni Kitchen - Holiday Red Sangria
Krazy Kitchen Mom - Cranberry Margaritas
My Dayly Kitchen - Earl Grey Old Fashioned
Keeping it Simple Blog - Aperol and Soda
Cheers and happy Aloha Friday!!! Thanks again to Koloa Rum Company for providing the rums for the cocktails I have made all week. Two more days left of Drinkmas!!

Mele Kalikimaka Mai Tai. My holiday twist to the classic cocktail that makes it perfect for Christmas!