A simple pan seared sockeye salmon with a smoky spice blend and cooked up in minutes in a cast iron pan. An easy to make wild Alaskan salmon recipe that goes well with a wide variety of side dishes for a tasty dinner.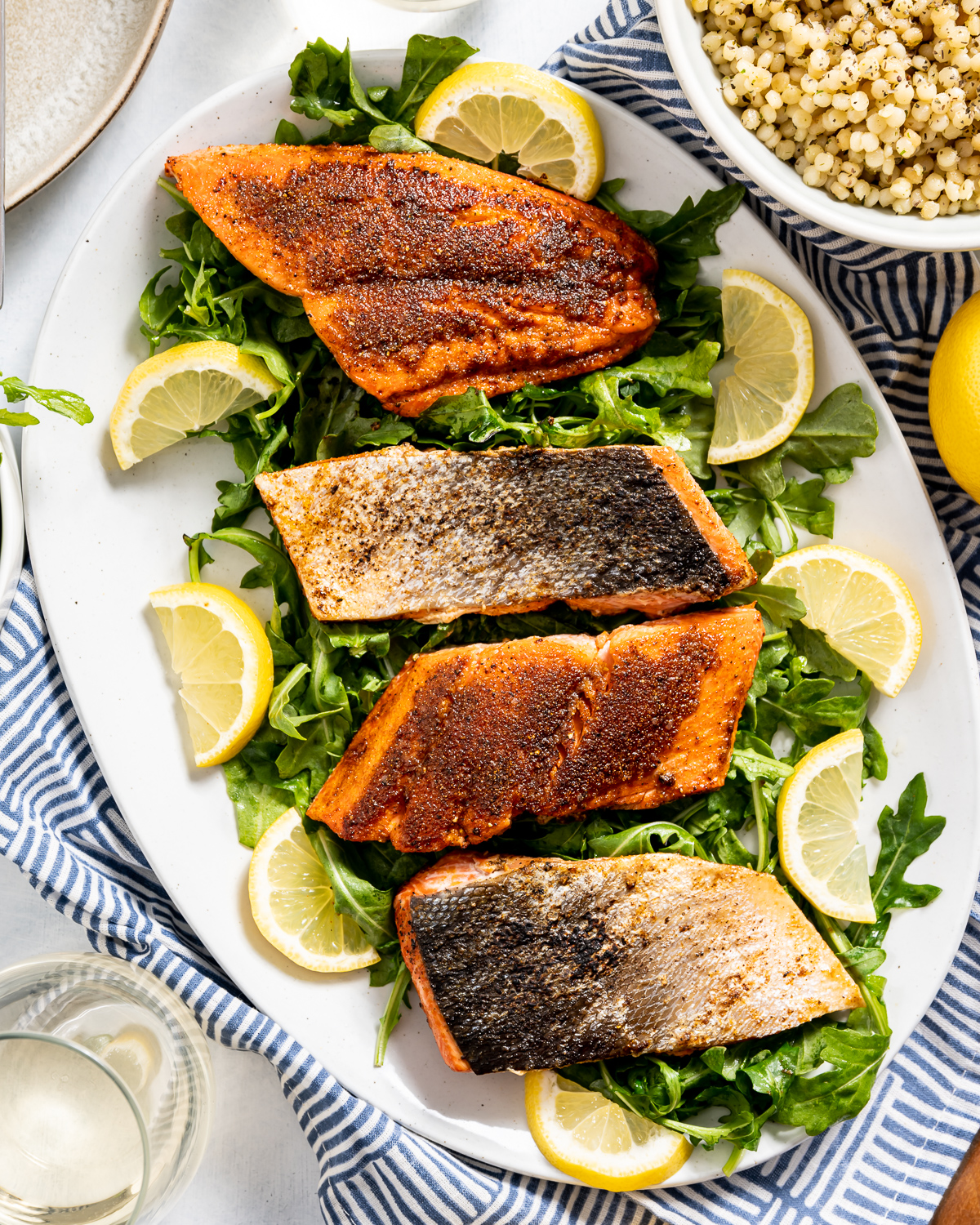 This page contains affiliate links. Affiliate links support Pineapple and Coconut at no additional cost to you. If you choose to make a purchase via these links, I earn a small commission to help keep this blog running and it is much appreciated. I am an Amazon and Adorama affiliate.
You all know how much we love salmon at my house. We eat it at least once a week. Salmon is my 13 year old's favorite food and this is her recipe. My girls are getting to the age where they want to cook more and more, which I love. I told my daughter anytime she wants to cook salmon I am all for it. Especially when it is Copper River wild Sockeye salmon. Wild Alaskan salmon is the best salmon! They sent me two gorgeous fillets from a fish that was caught the day before it arrived at my house! Doesn't get much fresher than that.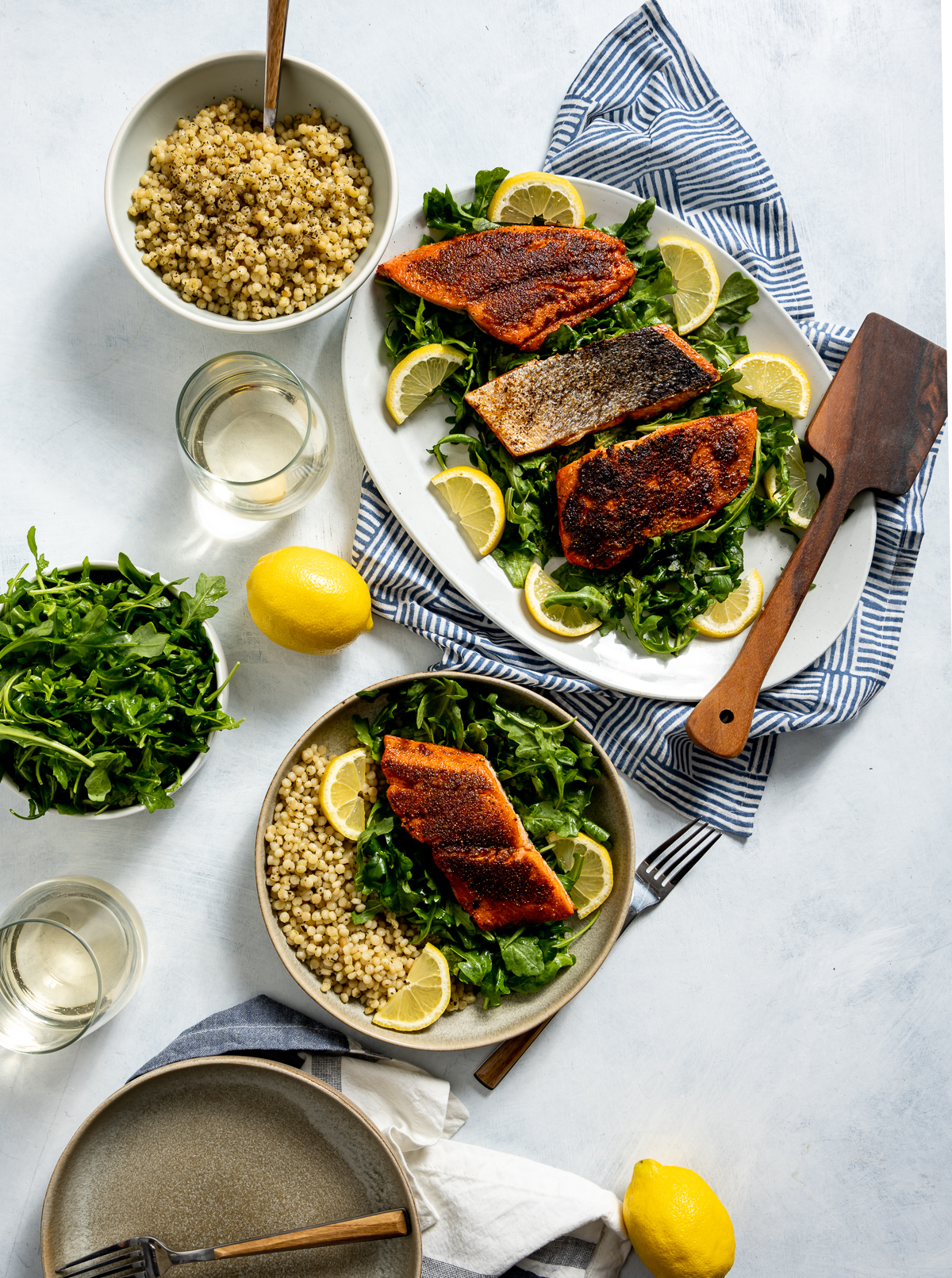 My daughter made up a spice blend and pan seared the salmon one night for dinner. I made the sides, can't remember what we had the first time she made it, but we often make it with herbed Israeli couscous and a veggie of some sort. This time a simple arugula salad.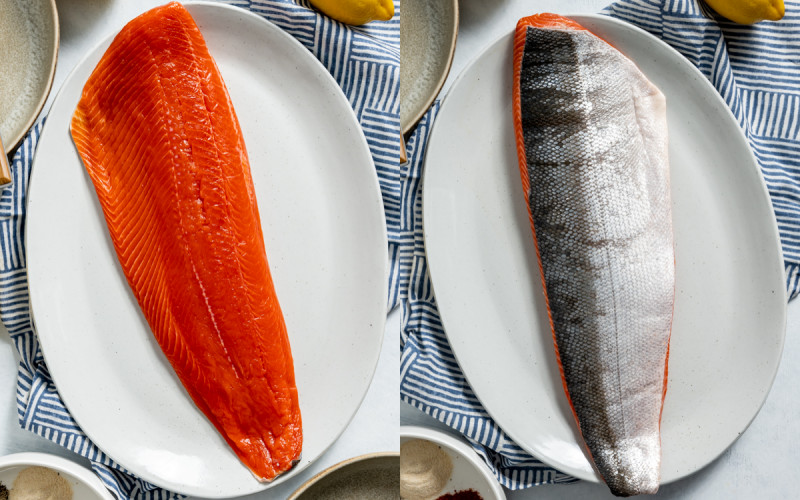 Just look at that gorgeous wild Copper River Sockeye salmon!! It's just stunning and so delicious. Wild Alaskan salmon is the best salmon.
Ingredients for pan seared salmon:
Fresh, wild sockeye salmon fillet - how much is up to you
Oil - olive oil for brushing on the salmon fillets before adding the spice
Lemons - for squeezing over the fillets and slices for the pan during cooking
Spices - Kosher salt, ground black pepper, garlic and onion powders, smoked paprika - its all about that smoked paprika
High heat oil, butter or ghee - high heat olive such as vegetable or avocado. You can also do a combination of oil and butter for the pan.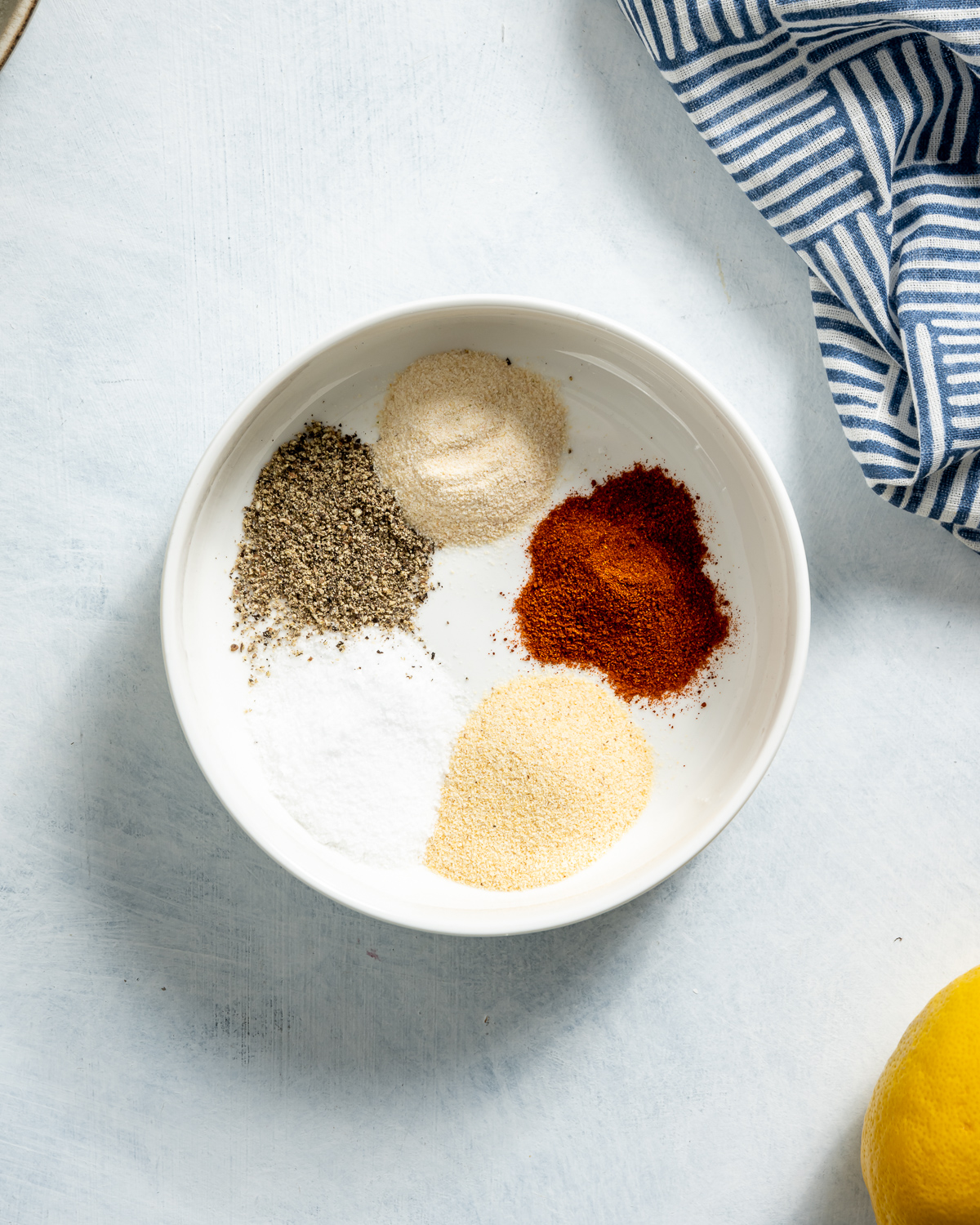 Pro Tip:
This is a really great all purpose seasoning blend that goes great on fish, chicken, pork etc. You can increase the amounts of all the spices as much as you want then add to an empty spice jar, label and date it.
Then anytime you want to use it you can just spoon out or shake out (if your jar as the plastic spice lid with holes) as much as you need/want.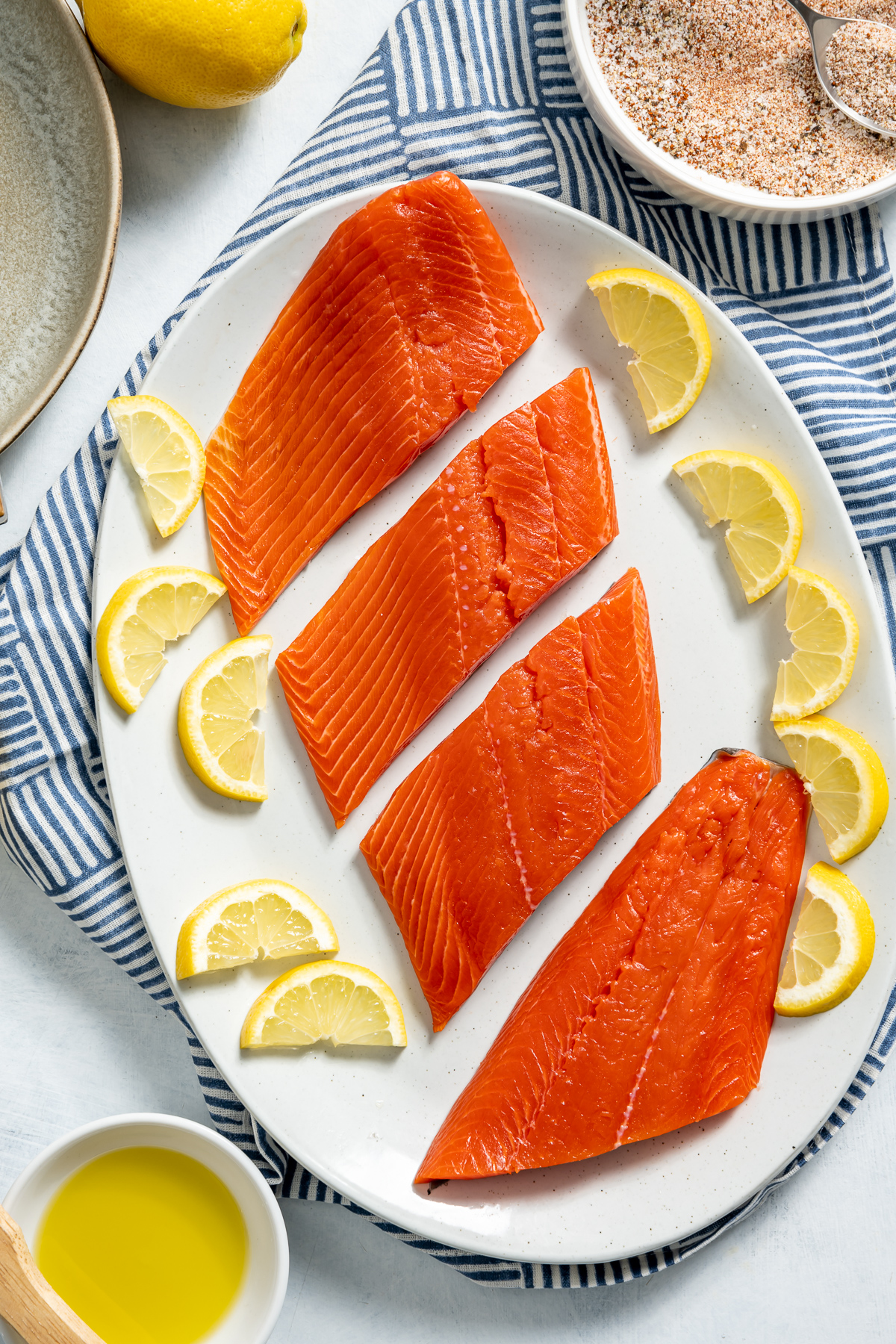 Preparing the salmon for cooking:
Rinse the fillet and pat dry with paper towel. Using thin tweezers remove any pin bones you might fine.
Cut the fillet into evenly sized portions - around 5-6 ounces each (140-170 grams). You want the salmon to be at room temperature before searing.
Brush with olive oil- just lightly brush enough oil so the spices stick.
Season with spice mix - can go quite liberal here.
A squeeze of lemon juice.
Ready to cook. Salt will start to cause the salmon to loose moisture and that will dry it out so as soon as it is seasoned get it in the pan to cook.
How to pan sear salmon:
Get your pan hot - I pan sear with a cast iron, you could technically use any other kind of pan, however I have only done this with cast iron. You want to cook salmon in a hot pan. I go with medium-high heat.
Use a high heat oil - you can use a combo of oil and butter if you like or even Ghee. I will make this with ghee once in a while too. Adding butter once the salmon fillets are in the pan will add a nice richness to the fish.
Start with skin side up - cook the salmon for two minutes then flip. Flip with a thin spatula.
Scatter lemon slices around the pan for a little more acidity.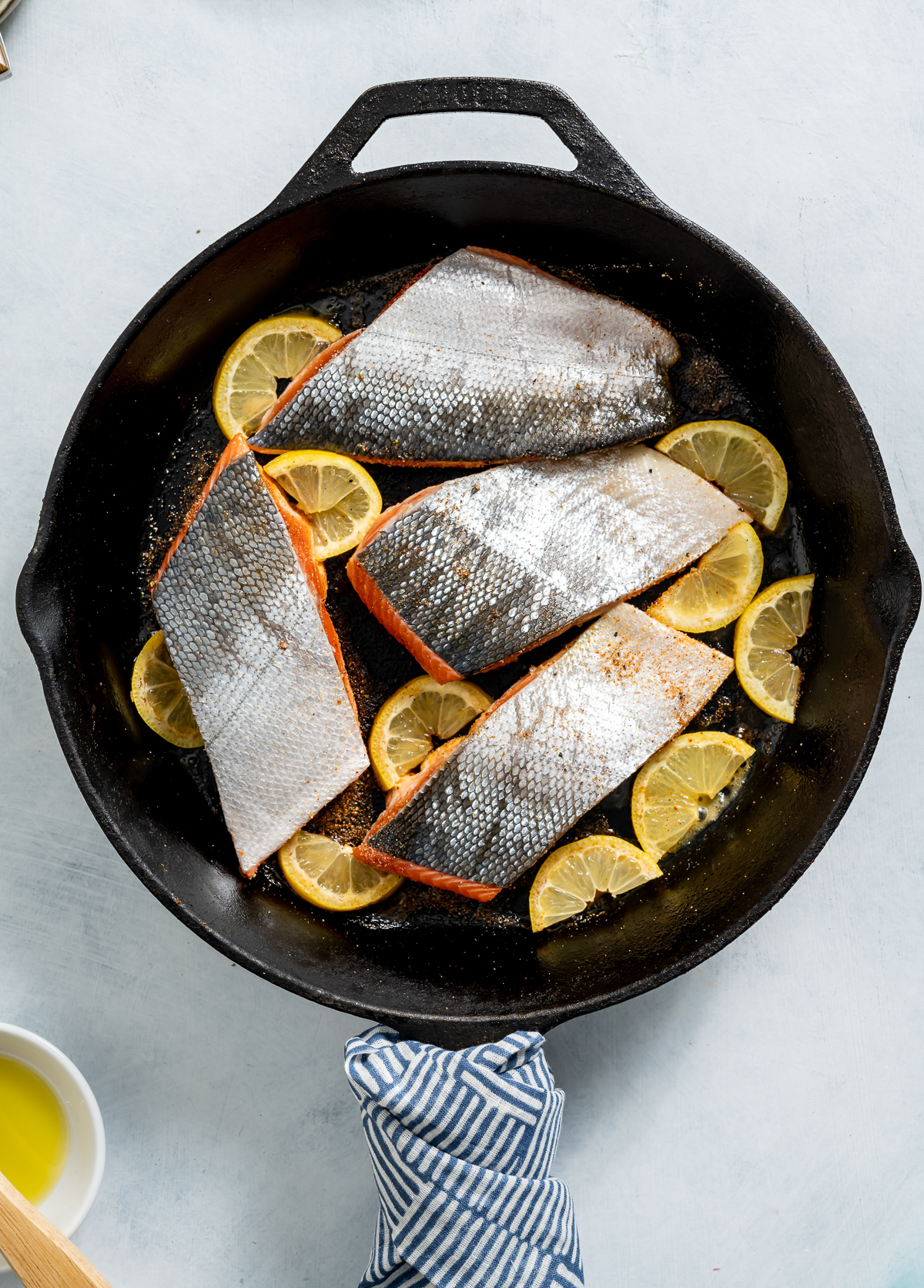 Finish cooking the salmon:
Finish cooking the salmon skin side down so you get that skin nice and crispy and the rest of the salmon cooks through. Cooking the salmon skin side down will ensure that the salmon doesn't get overcooked when cooked at a high heat ( this is why you also grill salmon skin side down for most of the cooking) and it gets you that nice crispy skin too.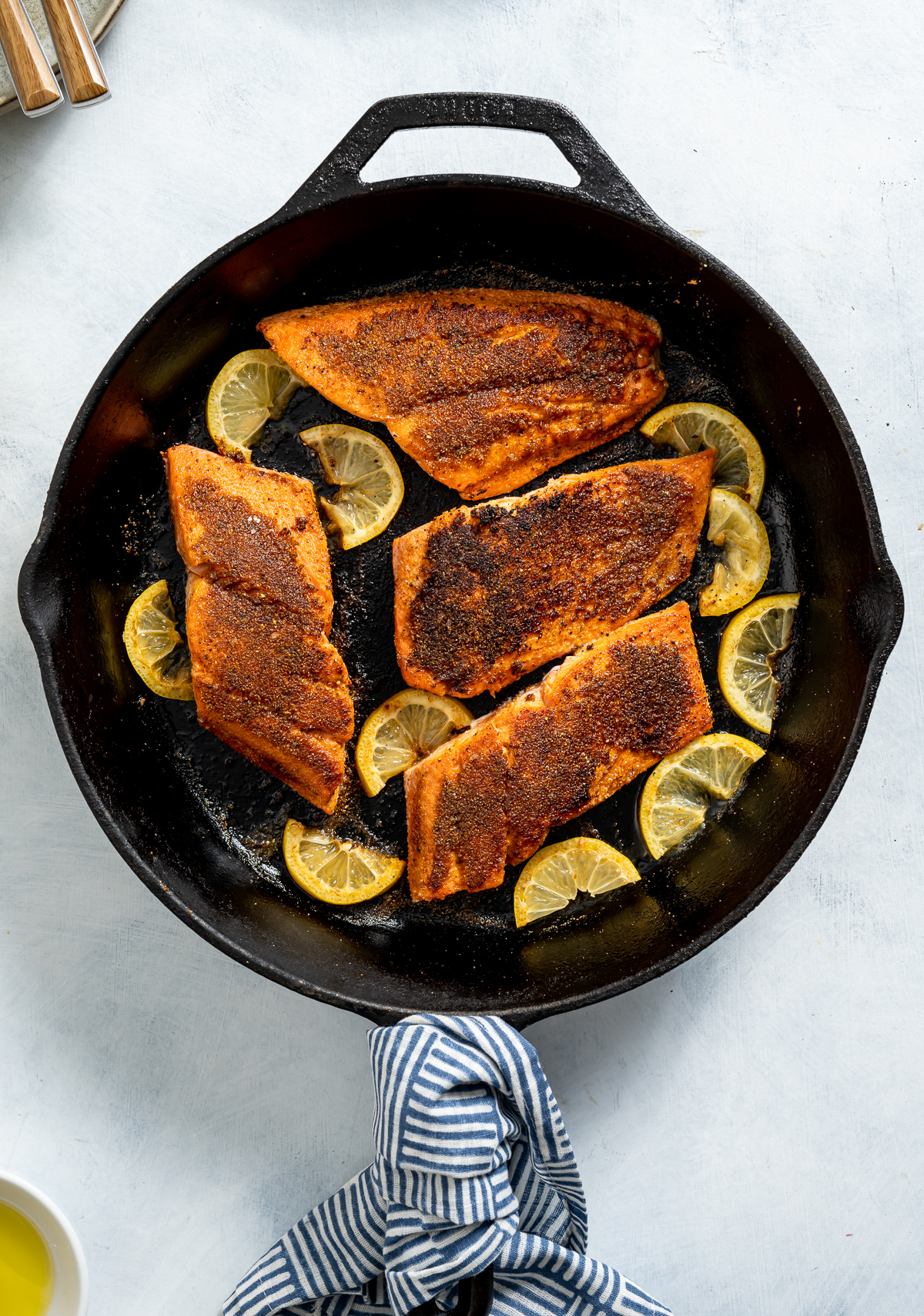 You want the middle of the salmon to just be set. If you start to see any of the white albumin oozing out - the salmon is overcooking.
Transfer to plates and serve immediately. This is really easy salmon recipe that anyone can make.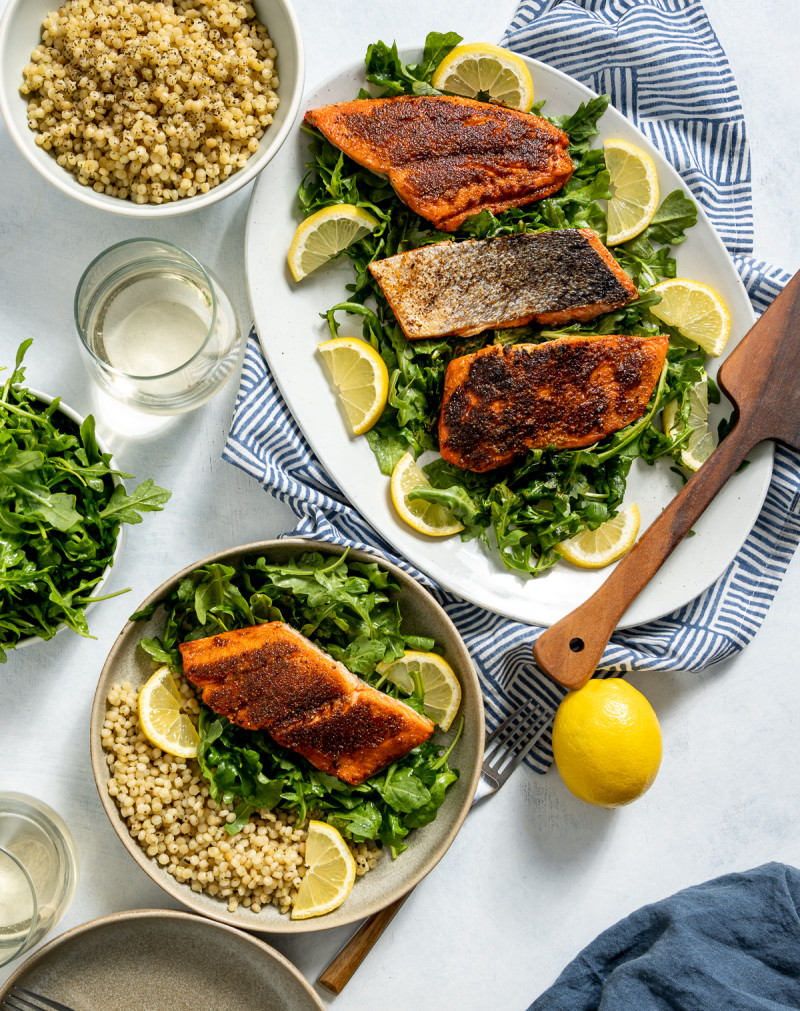 Some salmon FAQs:
How long do you cook salmon for?
Salmon is a relatively quick cooking fish, as like most fish. You don't want to overcook it at all. Overcooking it makes it dry and not that great to eat. If you see the white albumin coming out of the salmon you have cooked it at too high of a temp and for too long. You can cook salmon at high heat, but only for a few minutes. 
I see these recipes online calling for cooking salmon for 45 minutes and I cry a little for the death of that salmon.
Ideally you want the salmon to be just set in the middle so it is still very moist but can flake apart with a fork.
What kind of salmon is best to eat?
I personally think wild Alaskan salmon is the best to eat. It is healthiest, sustainable, and tastes the best. I am not a fan of farmed salmon at all for a variety of reasons, although sometimes that is all that is available depending on where you live.
Often times the farmed salmon has color injected into it and that isn't what I want to be consuming. I am a big fan of wild Alaskan Sockeye, Coho and King salmon.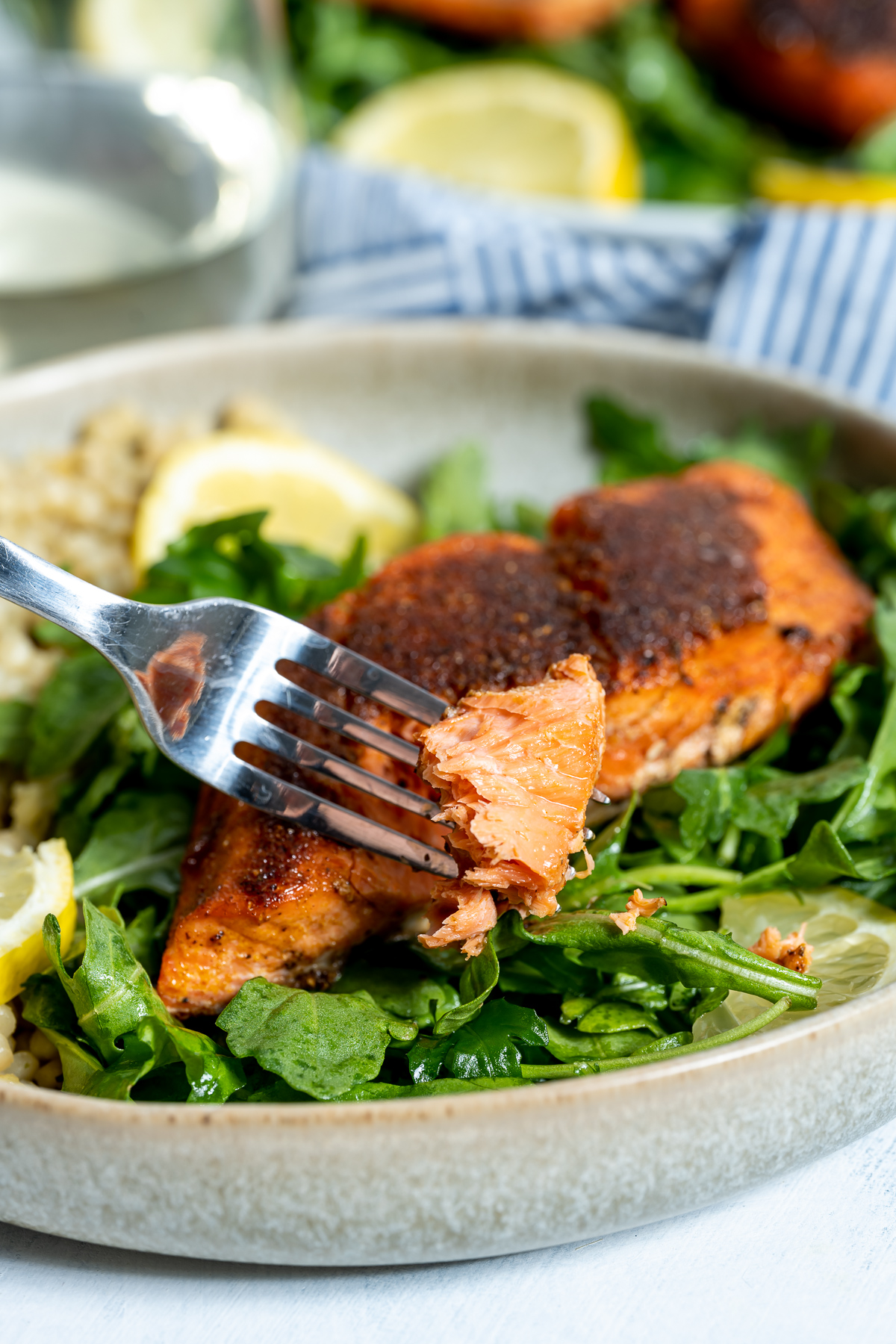 What to serve with pan seared Sockeye salmon:
Salmon is such a versatile fish you can serve with literally anything. I served this salmon with a simple herbed Israeli couscous and a lightly dressed arugula salad.
Other wild salmon recipes you might like:
Smoked salmon tacos with avocado crema - Salmon cooked in a hot smoker make for perfect summertime tacos with creamy, cooling avocado crema.
Vietnamese inspired Salmon Noodle Bowls with Mango Nước Chấm - Loaded bowls with tons of veg, salmon and herbs with a nước chấm made with the addition of mango.
Salmon musubi with passionfruit ponzu shoyu dipping sauce - A favorite Hawaiian snack with salmon in place of the salmon and a killer passionfruit ponzu shoyu dipping sauce.
Creamy Lemon Vodka Sockeye Salmon Pasta - A creamy and bright lemony pasta with generous pieces of salmon and peppery arugula. Quite possibly my favorite pasta dish.
Herb and Citrus Roasted Salmon - from my good friend Sam of "Little Ferraro Kitchen" - another cast iron salmon recipe with citrus and an herb blend on the salmon. Looks so good.
I have many more salmon recipes on my blog to choose from , these are just a few.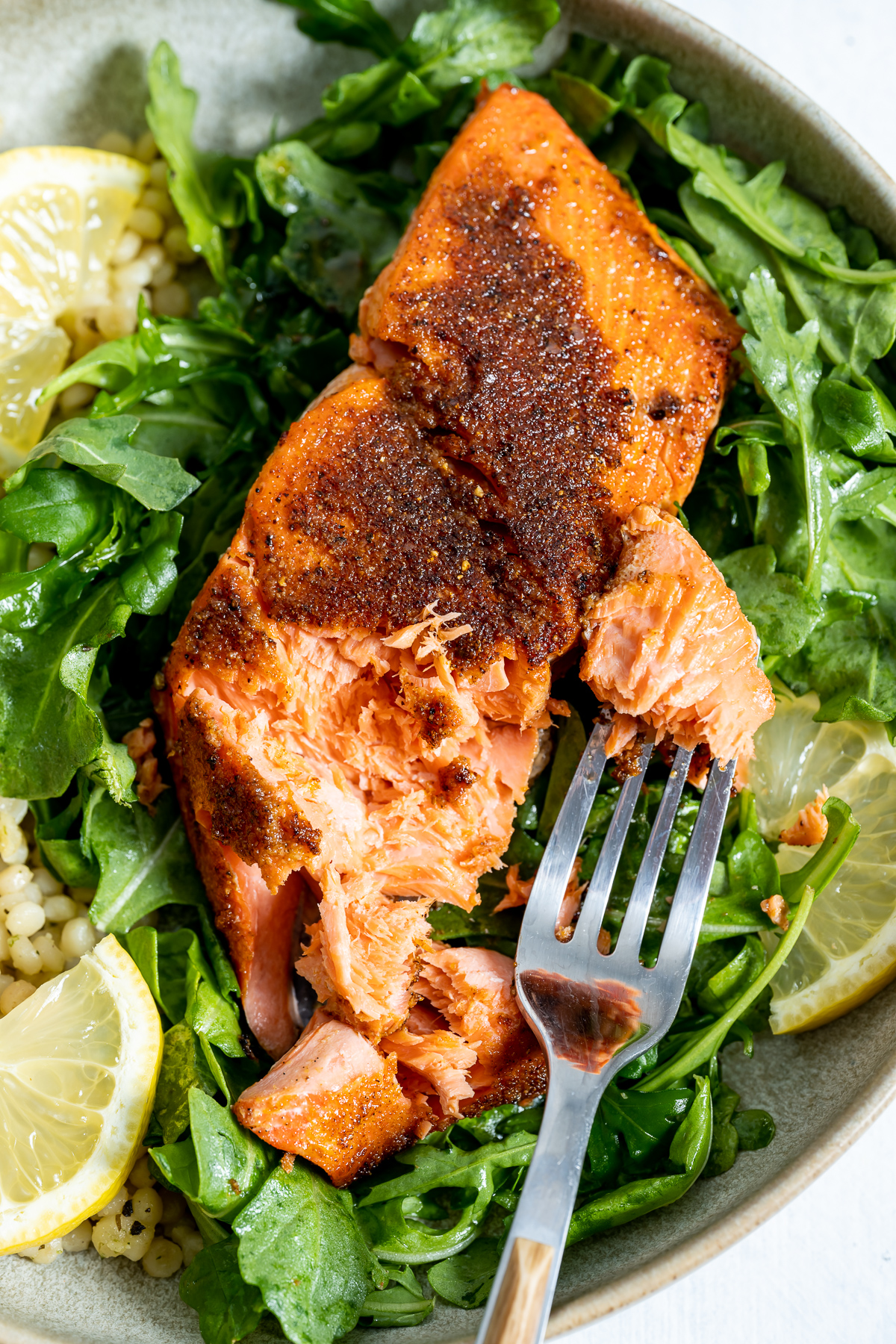 Pan Seared Sockeye Salmon Recipe: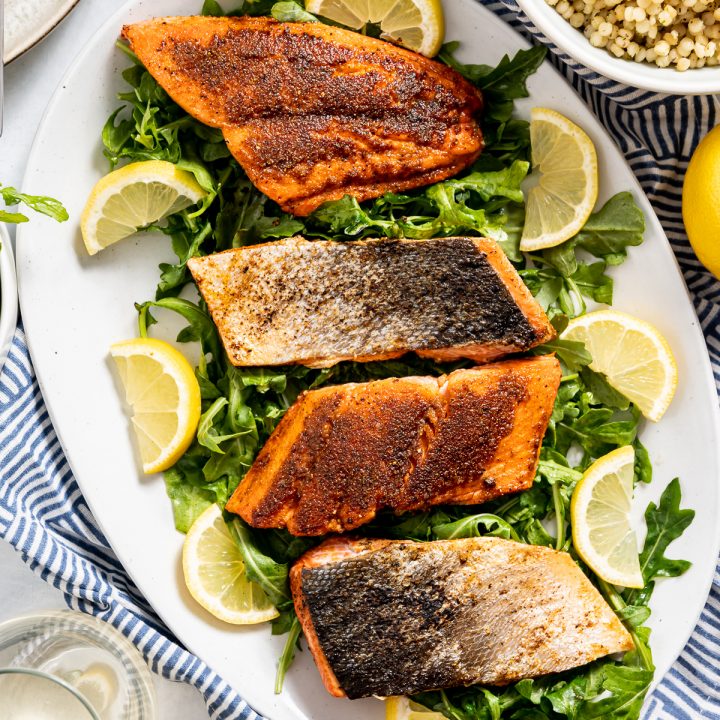 Pan Seared Sockeye Salmon
A delicious easy to make pan seared wild Alaskan Sockeye salmon. A simple spice mix and a quick sear in a cast iron pan gets this salmon on your plate in twenty minutes!
Ingredients
1.5

pounds

wild Alaskan Sockeye salmon fillet cut into 5-6 ounce fillets

453-907 grams for whole fillet, 141-170 grams per cut fillet.

1

tablespoon

olive oil

1

teaspoon

Kosher salt

1

teaspoon

ground black pepper

1

teaspoon

garlic powder

1

teaspoon

onion powder

1

teaspoon

smoked paprika

1-2

lemons sliced

Vegetable or avocado oil

butter and or ghee for pan
Instructions
Place a large cast iron pan on your stove and set heat to medium-high.

Rinse the salmon fillet and pat dry with a paper towel. Remove any small pin bones with tweezers.

Cut the fillet into 4 even pieces, lightly brush with oil.

Combine the spices in a bowl and mix then sprinkle evenly over the fillets. Slice the lemons into half circles and squeeze one or two slices over the salmon fillets.

When the cast iron pan is hot add a few tablespoons of a high heat oil ( I like using avocado oil) and a tablespoon of butter, or ghee. Place the salmon fillets skin side up ( seasoned side down) place half the lemon slices around the pan next to the fillets and cook the salmon for 2 minutes. Carefully flip the fillets using a fish spatula or other thin spatula and cook for 4-5 minutes. You want the salmon to be just set inside, no albumin leaking out. Press on the fish for firmness and to see if it will start to flake apart. These fillets take at max 8 minutes to cook.

Once done, transfer to plates and serve immediately with the rest of the lemon slices.

Serve with your choice of sides. Any grain such as couscous or rice, vegetables such as sautéed or a salad goes great.