Embossed Pandan Sandwich Cookies. A buttery pandan shortbread with coconut and hibiscus buttercream fillings. Holiday cookies but make them tropical.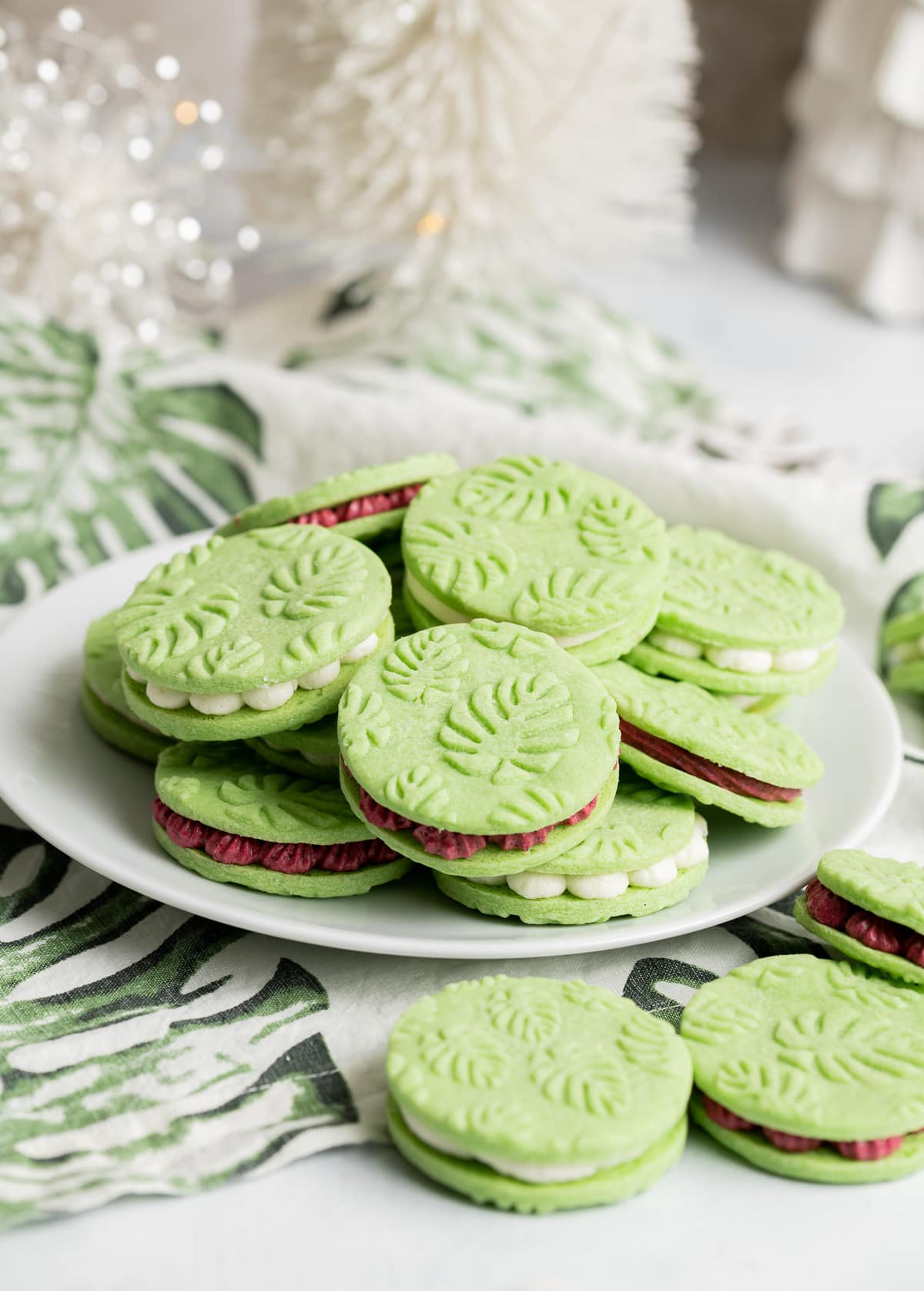 This page contains affiliate links. Affiliate links support Pineapple and Coconut at no additional cost to you. If you choose to make a purchase via these links, I earn a small commission to help keep this blog running and it is much appreciated. I am an Amazon and Adorama affiliate.
Jump to:
I splurged this year and bought myself two gorgeous embossed rolling pins from sellers on Etsy. The monstera leaf roller is from Rolling Pin Collection. They have a wide variety of embossed rolling pins in their shop and I had my eye on this monstera leaf rolling pin since last year.
Finally decided to go for it and I am so glad I did. The cookies hold the embossed shape perfectly! The other rolling pin I bought is a tropical leaf one that I haven't used yet. It is from the Etsy shop Carving Rolling Pin.
Both shops are located in Poland and I was pleasantly surprised at how affordable the shipping was and how fast it was too.
None of this is sponsored, just sharing so you all can get stunning embossed rolling pins from these shops as well.
Ingredients for Pandan Sandwich Cookies:
All Purpose Flour
Confectioners Sugar
Butter
Egg Yolks
Kosher Sald
Suncore Foods Emerald Pandan Leaf Powder
Sunfor Foods Fuchsia Hibiscus powder
Butterfly Pandan extract and coloring
Pandan extract is optional but it does add another punch of flavor and color.
How to make pandan cookies:
Everything gets mixed in a bowl - similar to Mürbteig dough, no electric mixer is needed since you end up kneading the dough by hand until smooth, then dividing into discs to chill.
The dough needs to be chilled so it will roll out without sticking. The chilling steps are the most important steps of this embossed cookie recipe. These are similar to all my roll out cookies with chilling after rolling, embossing, then cutting to ensure the cookies don't spread and hold their shape as well as the embossed detail.
How to make embossed cookies:
For these pandan sandwich cookies I rolled out one disc to about ¼th of an inch thick. Not too thin so the dough wouldn't emboss and not too thick that would make a too big of a sandwich cookie.
I roll out the dough between pieces of wax paper - I always do this with roll out cookies so I am not adding in extra flour to the dough. I do dust the dough lightly with flour to keep the dough from sticking to the embossing rolling pin. I also dust the rolling pin just a little. This adds way less extra flour than adding flour for rolling out before embossing.
It does take a little practice to get the right amount of pressure to emboss the dough. Only roll once starting with the dough closest do you then even pressure while rolling away. Do not roll back over it. Just roll once.
I then chill the dough for 5 minutes. Just slide the dough still on the wax paper onto a small baking sheet.
Next, I use a round cutter - about two and a half inch diameter. You can use any size you want. Cut out circles close to each other.
The cut circles then gets chilled again until firm. If you have the space just chill in the freezer, I find the frozen dough is much easier to work with once rolled out and cut.
I use a thin spatula to pop out the circles and place on a baking sheet lined with parchment paper. DO NOT bake on the wax paper unless you want a melted wax paper mess.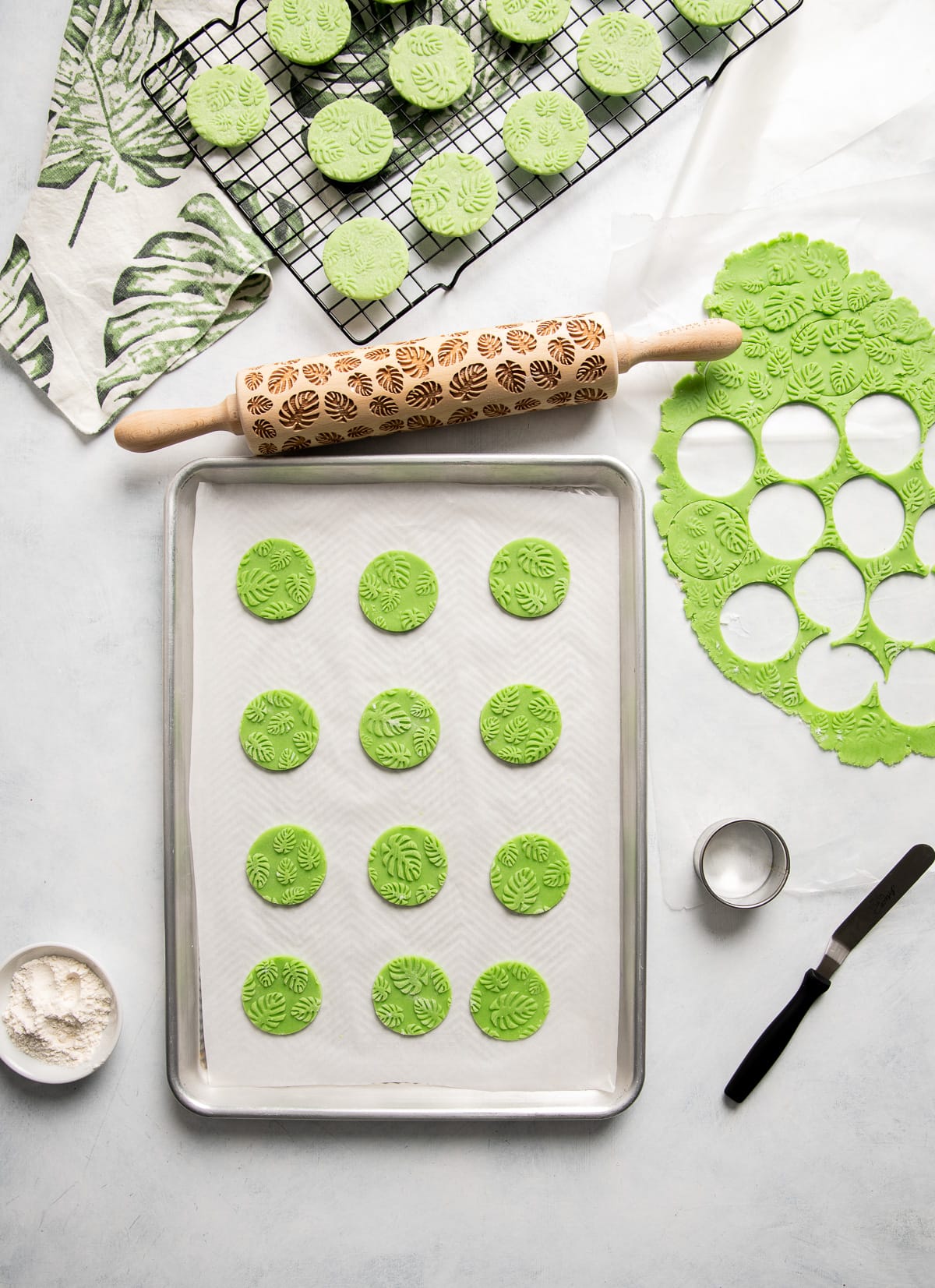 If the cut out circles start to thaw a little after being placed on the parchment lined baking sheet, freeze again until firm.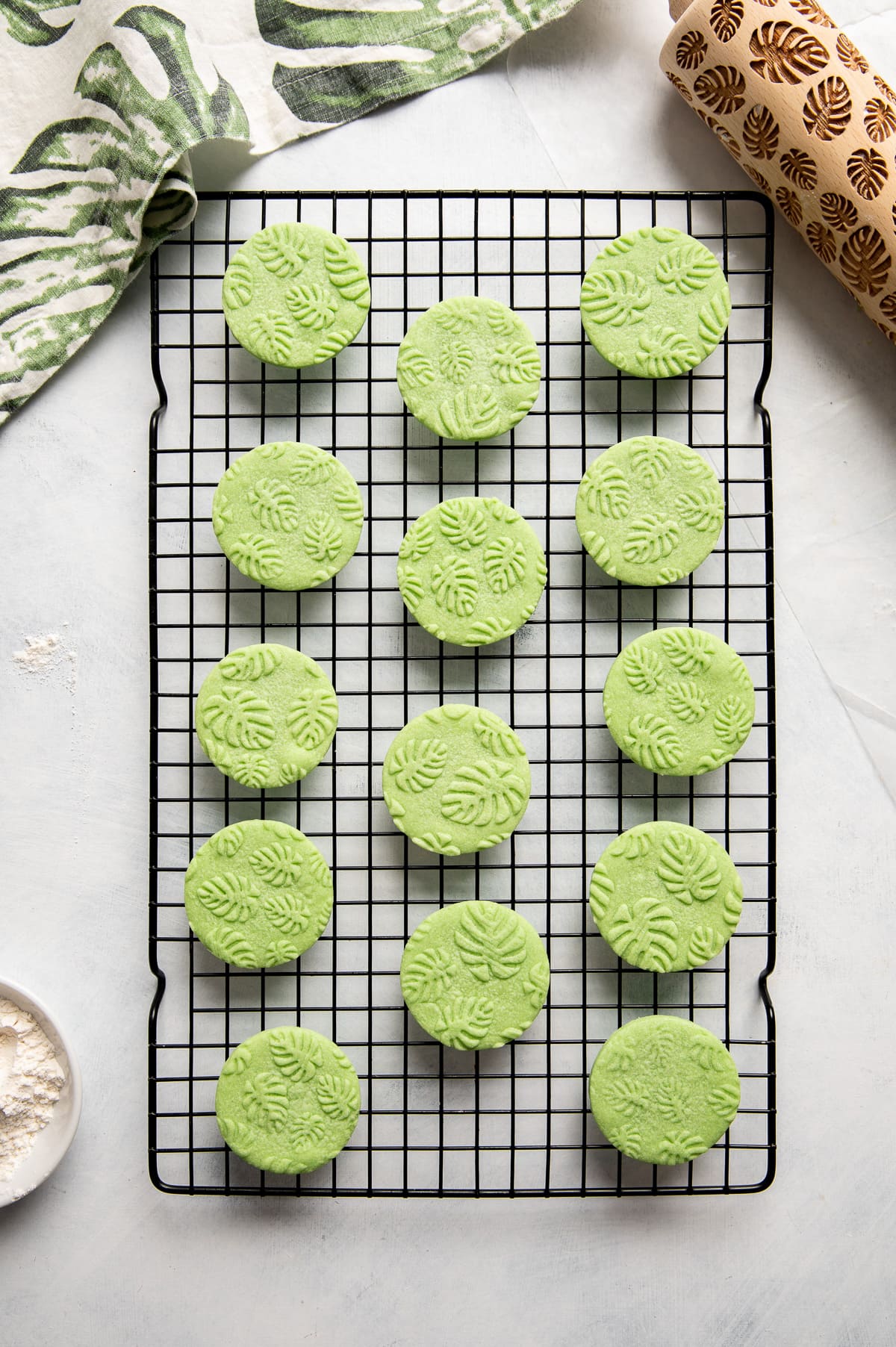 Pro Tip:
Because this is a shortbread cookie recipe with no leaveners - no baking soda or baking powder, and the dough is frozen before baking, they hold their shape, no spreading and the embossed pattern holds up really well.
Some of the leaves aren't as prominent and that has to do with either being from dough that was re kneaded and re rolled or from the edges of the dough and the pressure wasn't as great when rolling. Again, it takes lots of practice. Which I have had a lot of recently since I made many batches of these cookies to practice and get just right.
Next up was filling these pandan cookies. I was only going to originally sandwich them with coconut buttercream, but decided to make half the buttercream with hibiscus powder since I had also bought some hibiscus powder from Sunccore foods.
The base buttercream recipe is coconut, and half has hibiscus powder added to it. You can make these with just coconut buttercream if you like.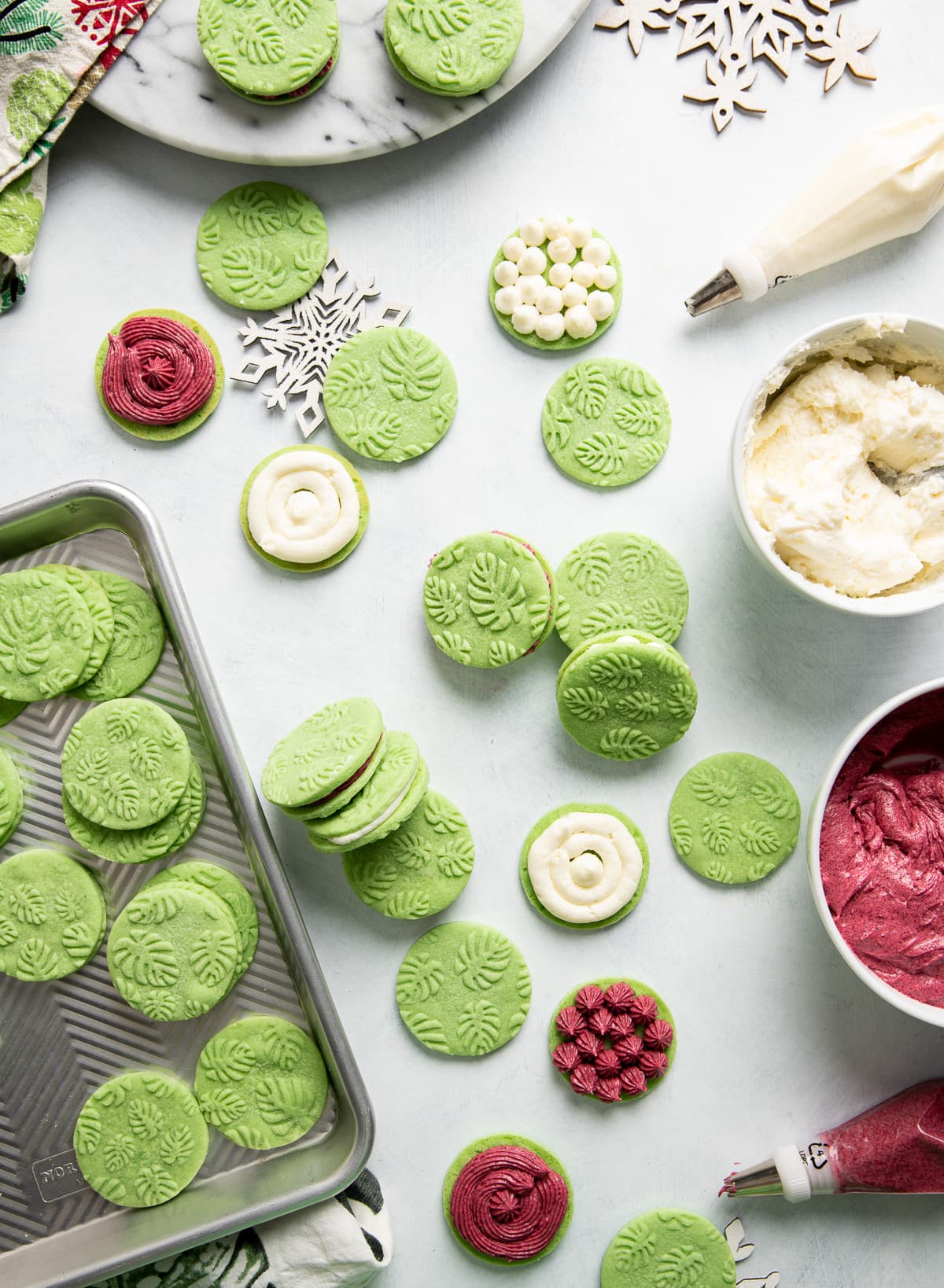 More pink than red for Christmas colors, but it totally works for a tropical christmas cookie. The tartness of the hibiscus works so well with the coconut and pandan.
What exactly is pandan?
Pandan is a tropical plant abundant in Southeast Asia. It is seen in many sweet and savory recipes from Singapore, Malaysia, the Philippines and Indonesia. 
The juice is extracted from the blade like leaves to season and color many dishes. Pandan has a unique aroma and taste, floral, grassy with hints of vanilla and coconut.
The leaves on the plant grow in a fan like formation and aren't very tall. The would make for a neat looking tropical house plant.
Pandan leaves can be found in the frozen sections of well stocked Asian markets that carry a variety of different Asian cuisines. I had a hard time finding them in Las Vegas and this is why I went with the Suncore powder and the Butterfly extract.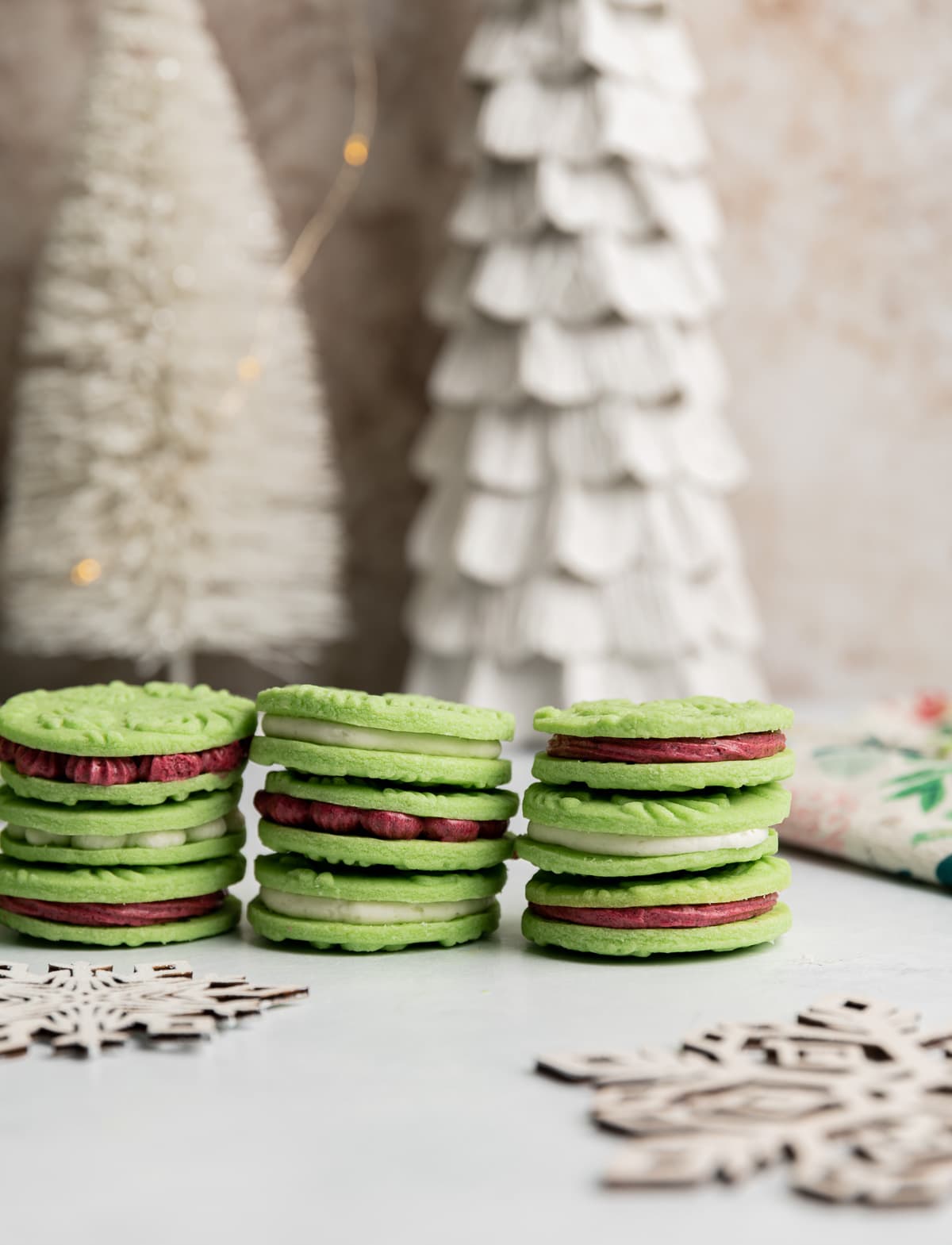 I had a blast making these cookies. I love making tropical versions of holiday cookies. Here are a few more to try:
Guava Macadamia Linzer Cookies
5 Spice Pineapple Jam Thumbprint Cookies
Chocolate Dipped Caramel Cream Filled Coconut Shortbread Cookies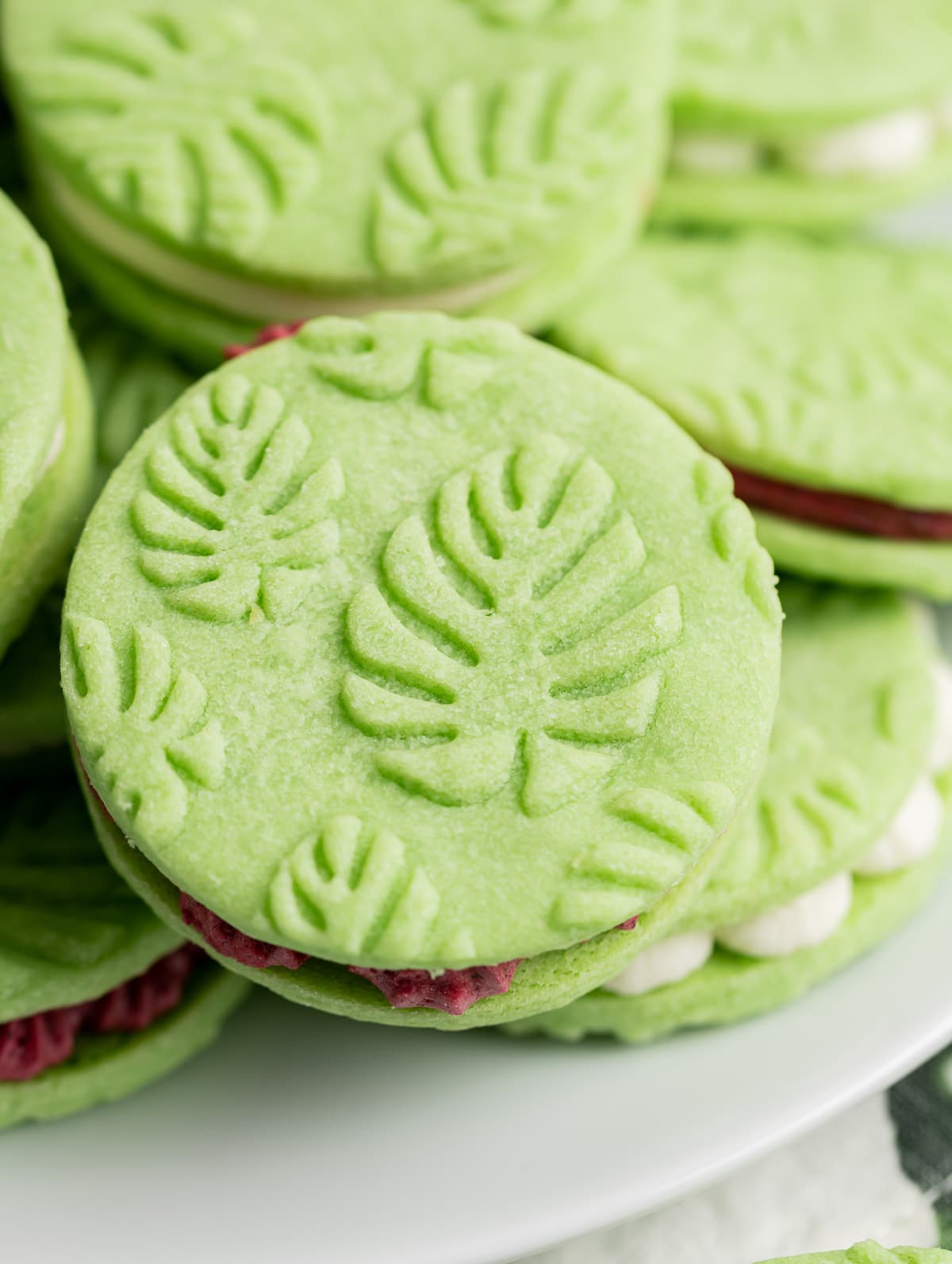 Please read the above post before making the cookies. I know a lot of people like to scroll past blog posts or jump to recipe which is fine, but if this is your first time making rolled out and or embossed cookies there are lots of tips as well as step by step photos in the post.
"Recipe"
Embossed Pandan Sandwich Cookies with Coconut and Hibiscus Buttercream
Buttery Pandan Shortbread cookies with an embossed monstera leaf pattern filled with coconut and hibiscus buttercreams. Christmas cookies but make them tropical.
Ingredients
For the cookies:
120

grams

confectioners sugar

just under one cup

240

grams

unsalted butter

1 cup or two sticks plus one tablespoons, soft but cool

360

grams

all purpose flour

sifted ( three cups)

2

large egg yolks

save the whites for another recipe

¼

teaspoon

kosher salt
Flavoring and coloring options: ( use one or both)
32

grams

Suncore Emerald Pandan Leaf powder

½-1

teaspoon

Pandan extract
For the buttercream filling:
113

grams

butter

½ cup or 1 stick

260

grams

confectioners sugar

2 cups

2

Tablespoons

cream of coconut

The sweetened kind used in cocktails

2

teaspoons

coconut extract

3-4

Tablespoons

coconut milk

⅛

teaspoon

salt

2 -3

tablespoons

Suncore Hibiscus powder for the Hibiscus buttercream.
Instructions
Times are approximate since there is time for making the dough, chilling it ( either a few hours or overnight) and the chilling time between rolling, cutting and cooling after baking. Also depends on how many cookies you bake at once.
Make the cookie dough:
In a small bowl, whisk together the flour, salt and pandan leaf powder. 

In a large mixing bowl mix together the butter and sugar - you can use a spoon, whisk or a hand mixer on low speed for this. Add in the egg yolks and mix until combined.

Add in the liquid pandan extract and mix then add in the flour mixer. Mix until combined then knead with hands until a smooth dough is formed. 

Divide the dough into two sections, form into discs, wrap in plastic wrap and chill for at least two hours, up to overnight. 

When ready to bake, heat your oven to 350 Deg. F. Line baking sheets with parchment paper. 

Working with one dough disc at a time, roll out between pieces of wax paper to just under ¼ of an inch thick. 5 mm. 

Remove the top piece of wax paper and lightly dust the rolled out dough with flour. Lightly flour the embossed rolling pin. Starting at the end of the dough in front of you, press down with an even firmness and slowly roll along the dough to the top of the dough then lift off the rolling pin. Do not roll backwards or roll again. Just roll one time.

Slide the embossed dough onto a cookie sheet and chill for a few minutes. This can be done in either the refrigerator or freezer. 

Cut out the cookies. Leaving the embossed dough on the baking sheet, use a 2 inch or 2.5 inch round cookie cutter (5-6.5cm) and cut out circles, gently pressing all the way into the embossed dough. 

Place this into the freezer to firm up the dough. For about 10 minutes. 

Pop the cut out circles with a thin spatula then place on the parchment lined baking sheets. These cookies don't spread so you can place them close together to bake a lot of them at once. IF the dough has gotten a little soft, freeze again until firm. 

Bake the cookies for 8-10 minutes or until set and the tops look dry. You don't want them browning at all. 

Cool on the baking sheets for one minute then carefully transfer to a wire cooling rack to cool completely. 
While the cookies are cooling, make the buttercream:
Combine all the buttercream ingredients into a mixing bowl or a stand mixer, besides the coconut milk and the hibiscus coloring if using. 

Mix until light and fluffy, adding in the coconut milk a little at a time until smooth but still thick. 

Take half of the buttercream and add in the hibiscus powder and mix well. 

If you want to pipe the buttercream between the cookies, fill two piping bags with each buttercream, using an open round or star tip for either bag. 
To assemble the cookies:
Pipe or spread a generous tablespoon of buttercream on the underside of one cookie (non embossed side) then carefully sandwich with another cookie. Repeat for all cookies until all sandwich cookies are made. Set on a baking tray and chill until buttercream is set. 

Keep cookies chilled in an airtight container until ready to serve or add to a cookie tray or box. 
Notes
If it's your first time making this recipe then make sure you read all of the information in the main post as it includes lots of additional tips, as well as the answers to some common questions.
If you have any further questions then do let me know in the comments and or email me

[email protected]

and I'll do my best to help.
If you choose to make substitutions to the recipe that I have not tested yet please do so at your own risk. I cannot guarantee the same results if you change a lot of the ingredients or method. However, if any of your changes are successful I would love to hear about it and will add to my recipe notes for other readers to try as well. 
These pandan sandwich cookies are dedicated to my friend Corbin who should never ever stop asking me to make recipes with pandan in them.