Passion Fruit Lamingtons. I am convinced Australia and New Zealand have the best desserts.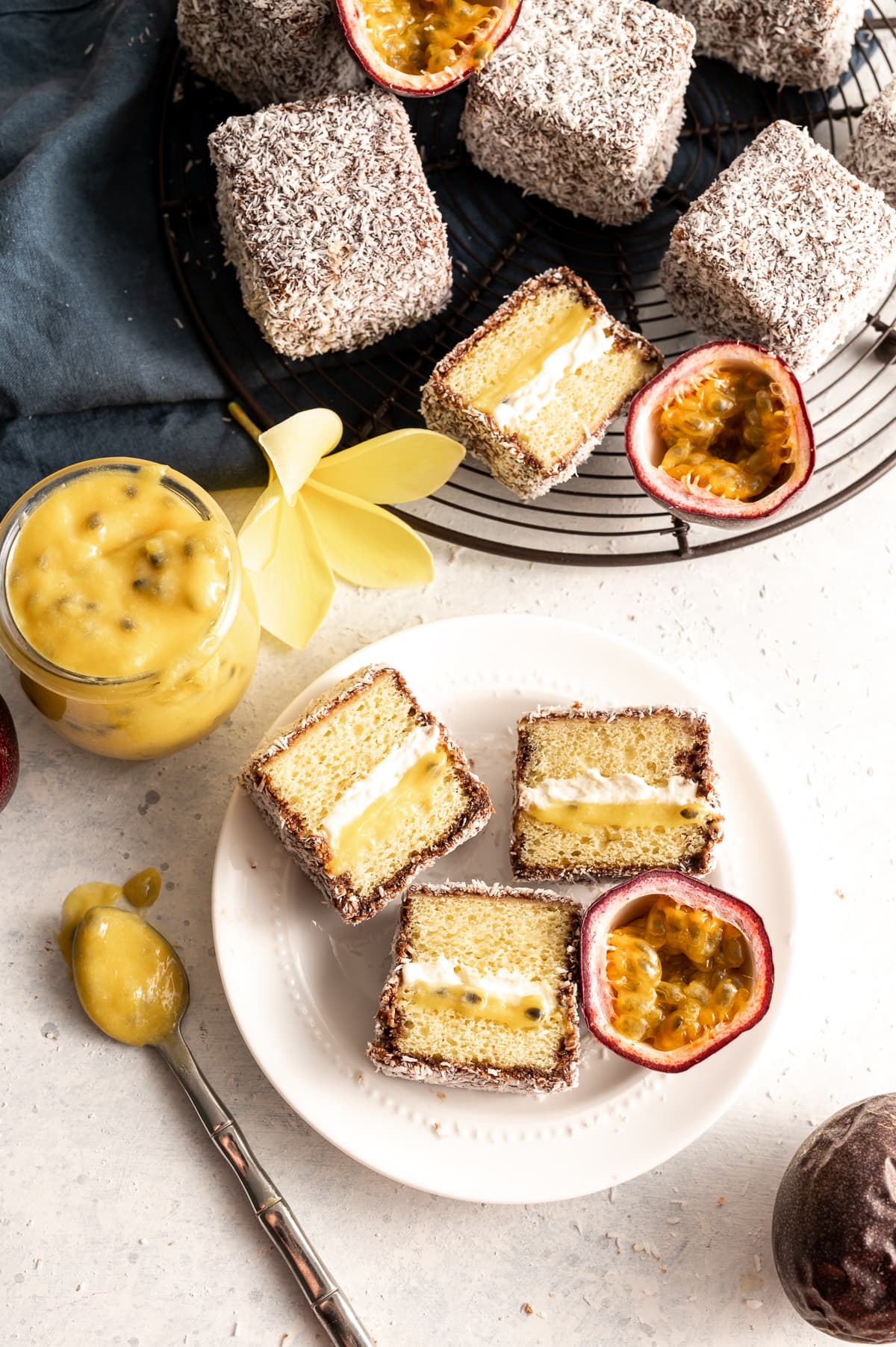 Don't get me wrong, I do love flaky French and Austrian/German/Bavarian pastries but I am having a serious love affair with Australian and New Zealand baked goods these days. One day I will make it to both countries and try them all in person. Especially Lamingtons.
Lamingtons are said to have been invented in Queensland, Australia around 1900. Named after Lord Lamington, an early governor of Queensland. One of his chef's had created it to serve to guests. It is such a revered dessert that Australia even named July 21st as "National Lamington Day". Other sources say the dessert was created in Wellington, New Zealand.
A friend of mine had sent me a New Zealand baking book while back and when I spied the Lamingtons recipe I knew that was going to make it into my list of passion fruit recipes to make. I had seen Lamingtons online over the years but had never made them or eaten them. A soft buttery sponge cake covered in chocolate and coconut. Sometimes made with a jam or cream filling or both. I went with curd and cream.
The recipe in the book called for a pre-made cake with a recipe for the chocolate icing, and for a much smaller cake too. The book also has several different sponge cake recipes so I figured I would try them to go with the icing recipe. I got to recipe testing for both the cake and the icing. The filling was already planned out with my passion fruit curd and sweetened whipped cream.
How do you make Lamingtons?
When doing my research on how to make Lamingtons every Australian and New Zealand recipe I came across said to use a Lamington pan. Since this isn't an American recipe the pan sizes differed and a few of the recipes I made weren't enough for my 9x13 inch pan which is the closest size to a lamington pan - 20x30cm. I played around with my recipe until I got one scaled for my pan, which is a common cake size pan here in the U.S.
The cake gets baked, cooled then frozen. Many Lamington recipes call for day old cake. Some call for freshly baked. The freshly baked tend to crumble a lot more in the chocolate icing so I used a trick to make the cake day old but still taste freshly baked.
Some of the Aussie and New Zealand recipes online state that it came from using up day old, slightly stale cake as a way to refresh it. My trick to keeping cake fresh and moist but baking the day before is to freeze the cake while still warm from the oven. I let it cool for a little bit in the pan, then on a wire cooling rack until it is just warm but not fully cool.
I keep the parchment on the bottom of the cake, place the pan back over it and flip it back over so the cake is back in the pan. Wrap well with plastic wrap and freeze for a few hours or up to overnight.
This method keeps the moisture in and keeps the cake from crumbling too much when cut. Trim the edges of the cake then cut into 2 inch squares. Cut those in half to make little sandwiches.
Some recipes online have you cutting the whole slab of cake in half, some do the individual squares like I have. Either way works, I was more comfortable with cutting into squares first. I layered on the filling with some curd first then the whipped cream, a little over a tablespoon of each. Once all sandwiched they get frozen to firm up before dipping in the icing.
I make the icing while the cake squares are in the freezer. It is a simple, thin chocolate icing that just coats the cake. You don't want too thick of an icing. I did a combination of dark chocolate and cocoa powder. I found this to be the best flavor and consistency. The recipe from the book was just cocoa powder, butter and boiling water. It was ok but I wanted it to be a little richer.
I used this nifty chocolate dipping fork I got just for these passion fruit Lamingtons to dip them in the icing without making too much of a mess. The first few tries I used a regular fork and spoon and they were a massive mess. This little tool is perfect.
Working quickly each cake square gets dipped in the chocolate icing, let excess drip off then quickly roll in the desiccated coconut. The trick is to get the coconut on all sides as fas as possible so the icing doesn't have a chance to drip off into the bowl of coconut. Some will drip off and you will have to change out the coconut a few times to keep it able to stick to the cake.
You can serve the passion fruit Lamingtons one dipped and rolled in coconut or keep chilled until ready to serve. The longer they sit the more likely the curd and cream will soak into the cake, so serve within a day of making them. You can make them without the filling but they are so much better with it. Sure these are a little messy to make but they are so worth it.
A few notes about this Passion Fruit Lamingtons recipe first:
This cake is made in a 9x13 inch cake pan with 2 inch high sides. I scaled the recipe to fit this pan since traditional Laminton pans are slightly smaller. I have only tested this recipe in this size pan.
There is fresh

passion fruit

juice in the cake in place of some of the milk. You can use juice/puree from frozen if you don't have access to fresh passion fruits.
I use

passion fruit curd

for the filling, the recipe is on my blog. You can use store bought or passion fruit jam if you don't feel like making your own curd.
Freezing is the way to go to keep the cake from dropping crumbs into the chocolate icing. Freezing is a must after filling the cake squares so the filling firms up and doesn't fall into the icing as you dip the squares
Use a fork or chocolate dipping tool for dipping the frozen cake squares then quickly cover the squares in the icing pressing the dessicated coconut into the square as well as gently rolling it in the coconut.
These are best served same day you make them. They can be kept frozen and then thawed to cool room temperature before serving.
Cake and chocolate icing recipe adapted from Edmonds Baking Book.
You can make your lamingtons with any filling - jam or curd, or any icing not just chocolate. For instance these Lemon and White Chocolate Lamingtons from Anchored Baking look amazing!!
Passion Fruit Lamingtons
Classic Australian/New Zealand Dessert. A buttery sponge cake filled with passion fruit cured and sweetened cream then dipped in chocolate icing and rolled in coconut. The best little snack cakes ever.
Ingredients
For the sponge cake:
2 ½

cups

all purpose flour

320g

¼

cup

corn starch

30g

1

tablespoon

Baking powder

20g

½

teaspoon

Kosher salt

4

large eggs

room temperature

1 ¼

cups

Caster sugar

250g

2

sticks butter

225g

½

cup

whole milk

118 ml

¼

passion fruit juice

60ml

2

teaspoon

Vanilla extract
For the filling:
Passion Fruit Curd

⅔

c

Heavy Cream

3-4

tablespoon

Powdered sugar
For the icing and topping:
2

ounces

dark chocolate

2 ½

tablespoon

butter

½

cup

milk

3

tablespoon

cocoa powder

3

cups

powdered sugar

3-5

cups

Desiccated coconut

finely shredded, unsweetened
Instructions
Prep and additional time depends on if you freeze the cake overnight or make everything same day. I suggest making the cake and the curd the first day, letting them chill overnight so making the icing and assembly is much quicker the next day. It took me about an hour to cut, fill, freeze, dip and roll all the cake squares.
Make the sponge cake:
Heat oven to 325 Deg F

Butter and line an 9x13 inch (or 8x12 inch) pan with parchment paper hanging over the long edges. 

Whisk together the flour, corn starch and baking powder and salt in a small bowl. 

Cream together the butter and sugar  then add in the eggs one at time, mixing well between each egg. Stop the mixer and scrape down the sides of the bowl when needed. 

Mix together the passion fruit juice, milk and vanilla. Add this into the butter mixture alternating with the flour mixture until just combined. 

Spread into prepared pan and smooth the top with a spatula. Bang the pan against your counter a few times to release air bubbles.  Bake for 20-25 minutes

Cool in pan for 10 minutes then invert onto a wire rack to cool until still warm to the touch, keep the parchment paper on the cake.  Place the baking pan on the cake and flip back over so the cake is back in the pan. Wrap in plastic wrap then freeze completely, 3-4 hours up to overnight. 
Lamington assembly:
When ready to make the Lamingtons, thaw the frozen cake slightly on a cutting board.

While the cake is thawing make the sweetened cream. Whip the heavy cream and powdered sugar together until stiff.

Trim off the edges of the cake and cut into two inch squares. Cut each square into two halves - top and bottom.  Spread a generous tablespoon of  curd on the bottom half, then spread a generous tablespoons of the sweetened cream on top of it then add the top half of the cake to make a mini sandwich. Repeat with all the squares.  Place on a parchment lined baking sheet and freeze again. 
Make the chocolate icing and finish the lamingtons:
In a bowl set over a pan of water or a double boiler add the chopped chocolate and butter together and stir until melted then add the milk and whisk. In a separate bowl sift the powdered sugar and cocoa powder together. Whisk this in to the chocolate butter mixture and stir until smooth then transfer to a deep bowl. Add a cup and a half of the desiccated coconut in a wide shallow bowl. You will be changing out the coconut a few times as it gets sticky with chocolate icing.

Working with one cake square at a time dip carefully in the chocolate to cover all sides, let excess drip off then quickly roll in the coconut to cover completely, pressing the coconut into the cake as you roll. Set the Lamington on a parchment lined baking tray and repeat with the remaining cake squares. 

Serve immediately or chill and then thaw slightly before serving. Best served within a day or two of making. 
Notes
If it's your first time making this recipe then make sure you read all of the information in the main post as it includes lots of additional tips, as well as the answers to some common questions.
If you have any further questions then do let me know in the comments and or email me

[email protected]

and I'll do my best to help.
If you choose to make substitutions to the recipe that I have not tested yet please do so at your own risk, if they are successful I would love to hear about it and will add to my recipe notes for other readers to try as well. 
Hope you try these passion fruit lamingtons and enjoy them as much as I do!