Citrus Passion Fruit Vodka Soda Cocktail. Refreshing and tropical. Thanks to Rincon Tropics for sending me a giant box of their gorgeous passion fruits to create recipes with them.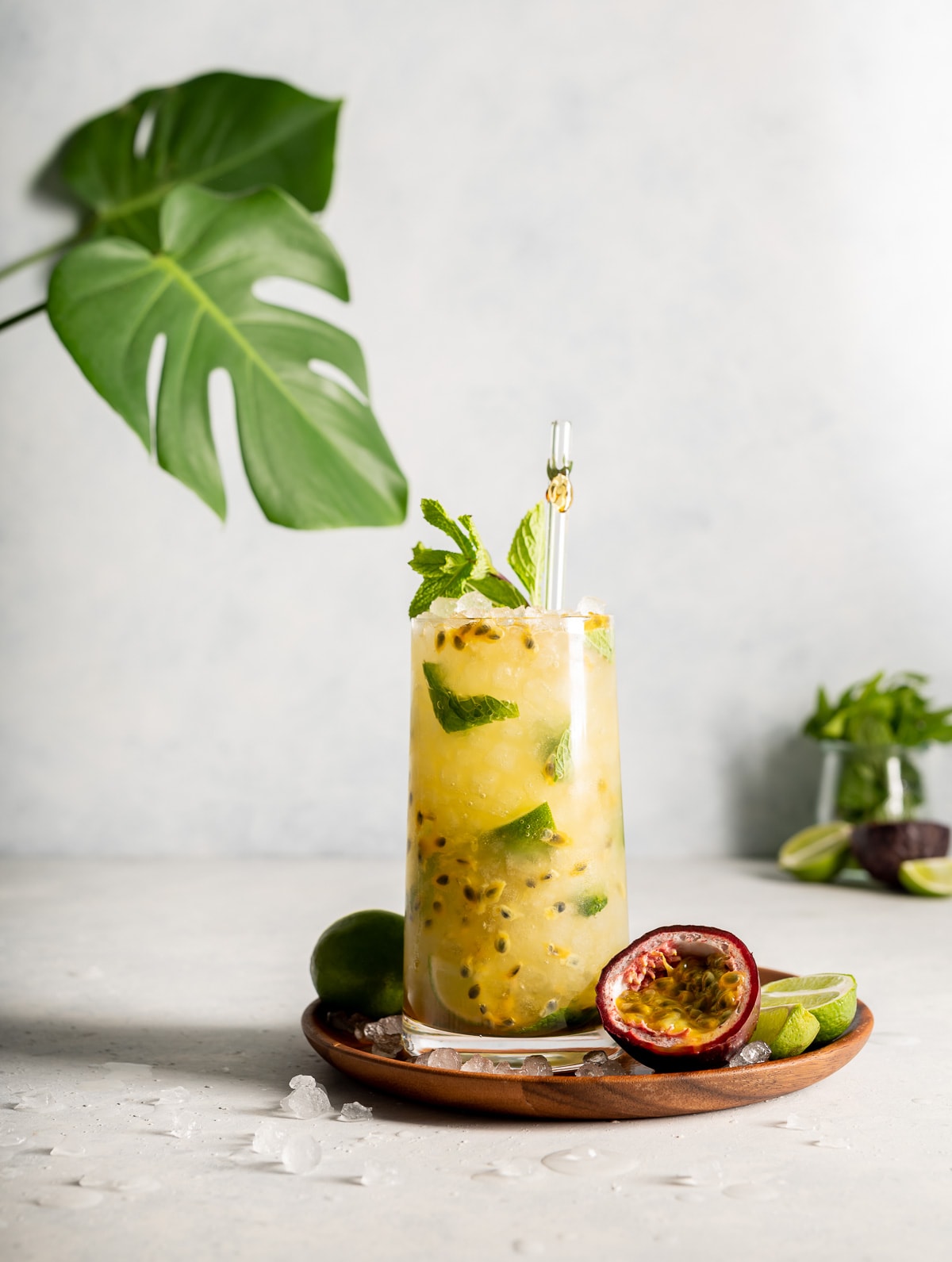 When I saw my friend Alana post about Rincon Tropics and their gorgeous passion fruit on Instagram my curiosity was piqued. You see, I grew up in Santa Barbara, Ca and Rincon is a very famous surf spot there. I spent a lot of my childhood on that beach and in the ocean there. I had to see if they were associated with the area since Alana lives in Southern California.
I was right. They are located in Carpinteria above Rincon beach which is just minutes down the coast from Santa Barbara. It is absolutely gorgeous there.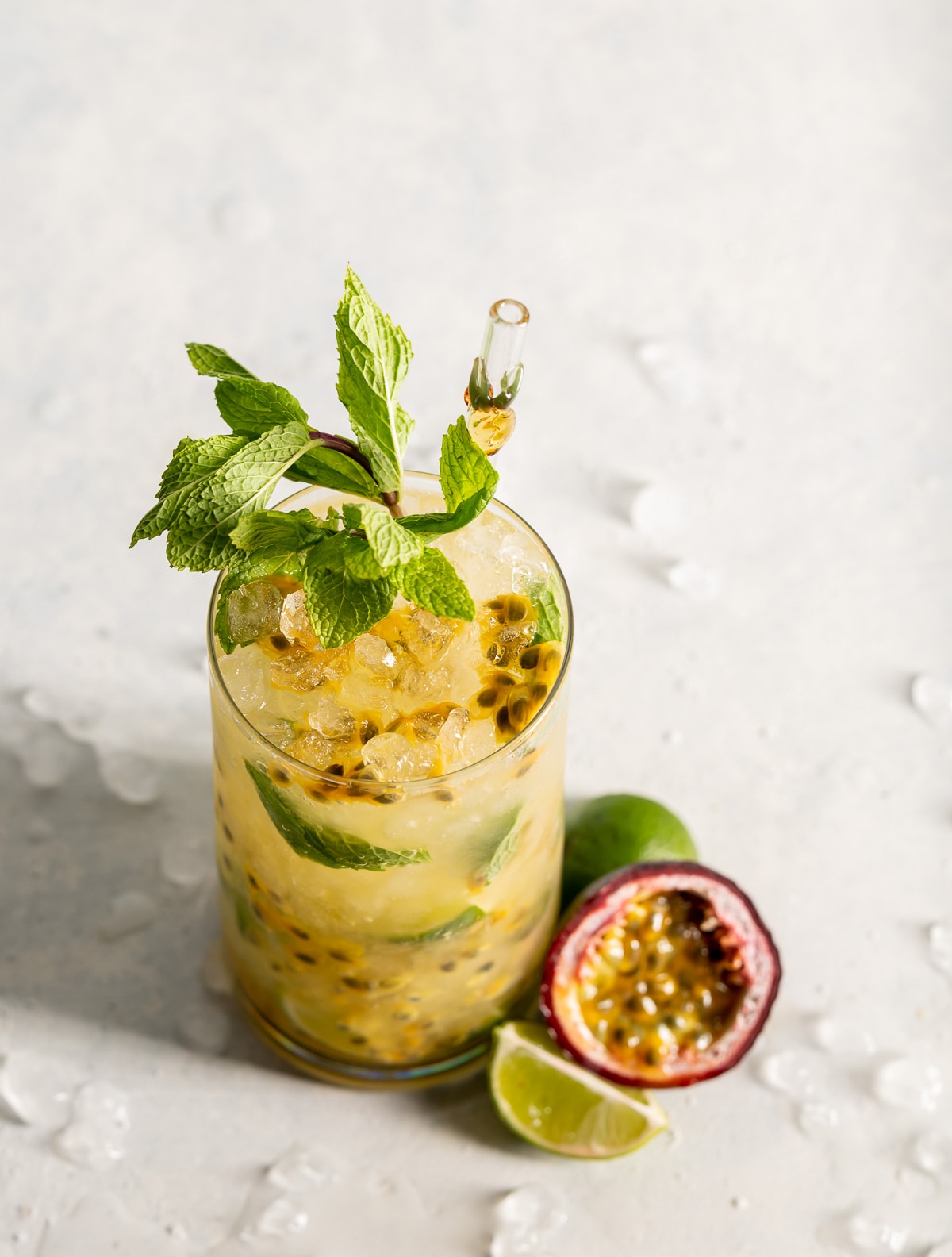 I immediately followed them and sent them a message saying I loved their photos and how I grew up on that beach. I had zero intentions of getting a box of passion fruits shipped to me for free. My intentions were purely to show support and appreciation for a farm where I grew up. I was planning on purchasing a box.
They offered to send me a box if I covered shipping. No problem. The most gorgeous box of passion fruits arrived at my house a few days later. They smelled so amazing, I could smell them before opening the box.
I adore passion fruit, I love cooking and baking with them as well as making cocktails and just eating the pulp and juice with a spoon. I have made a ton of recipes with these gorgeous fruit and first up is this citrus passion fruit vodka soda cocktail.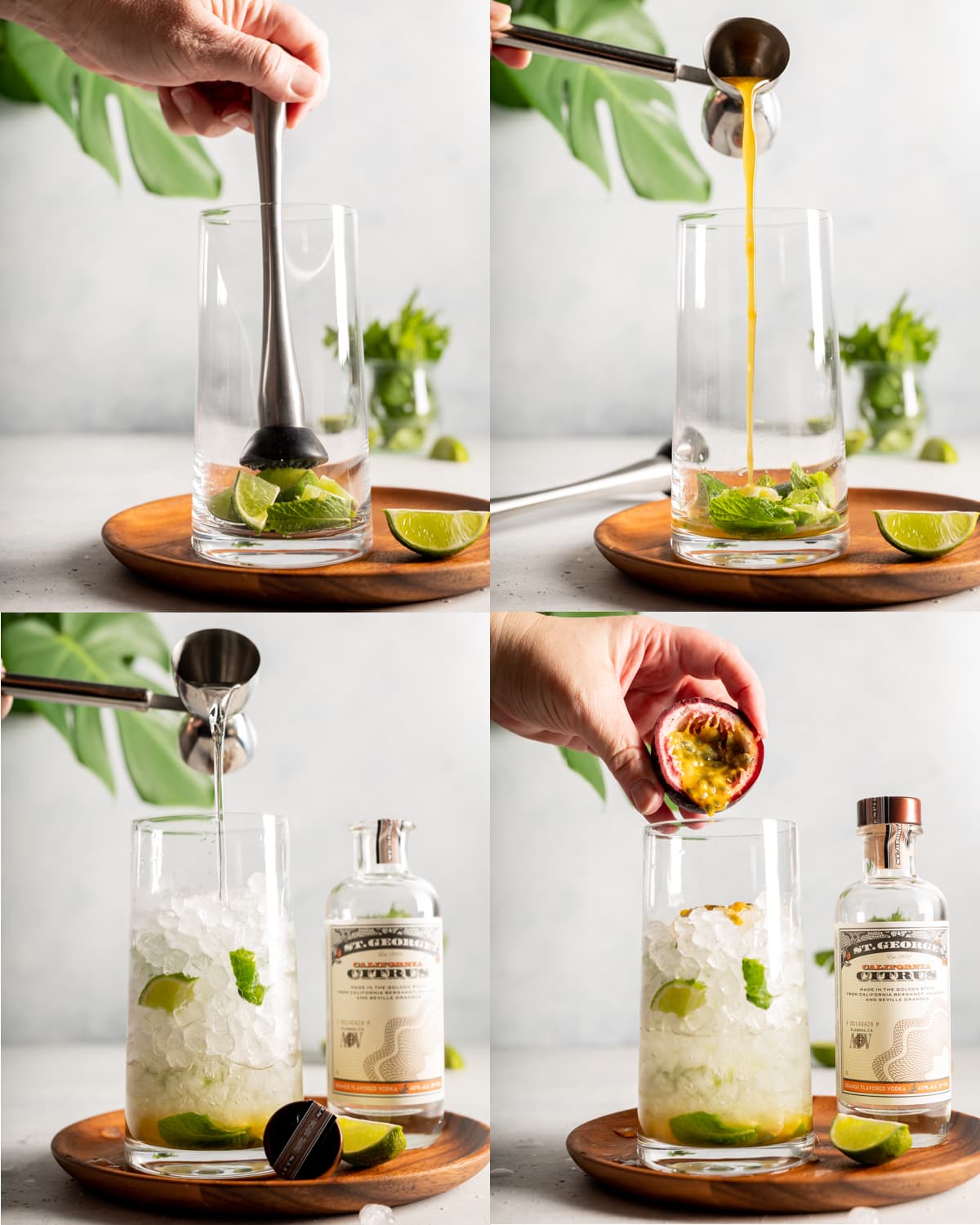 This vodka soda cocktail is a relatively simple cocktail. Muddled limes and mint (I used Persian limes, calamansi would also be amazing), passion fruit simple syrup, citrus vodka (From St. George Spirits, another California company) and passion fruit La Croix. I did add a little citrus bitters, forgot to take a pic of the bitters but you get the idea.
I love a refreshing vodka soda and the tropical hit from the passion fruits take this cocktail to the next level.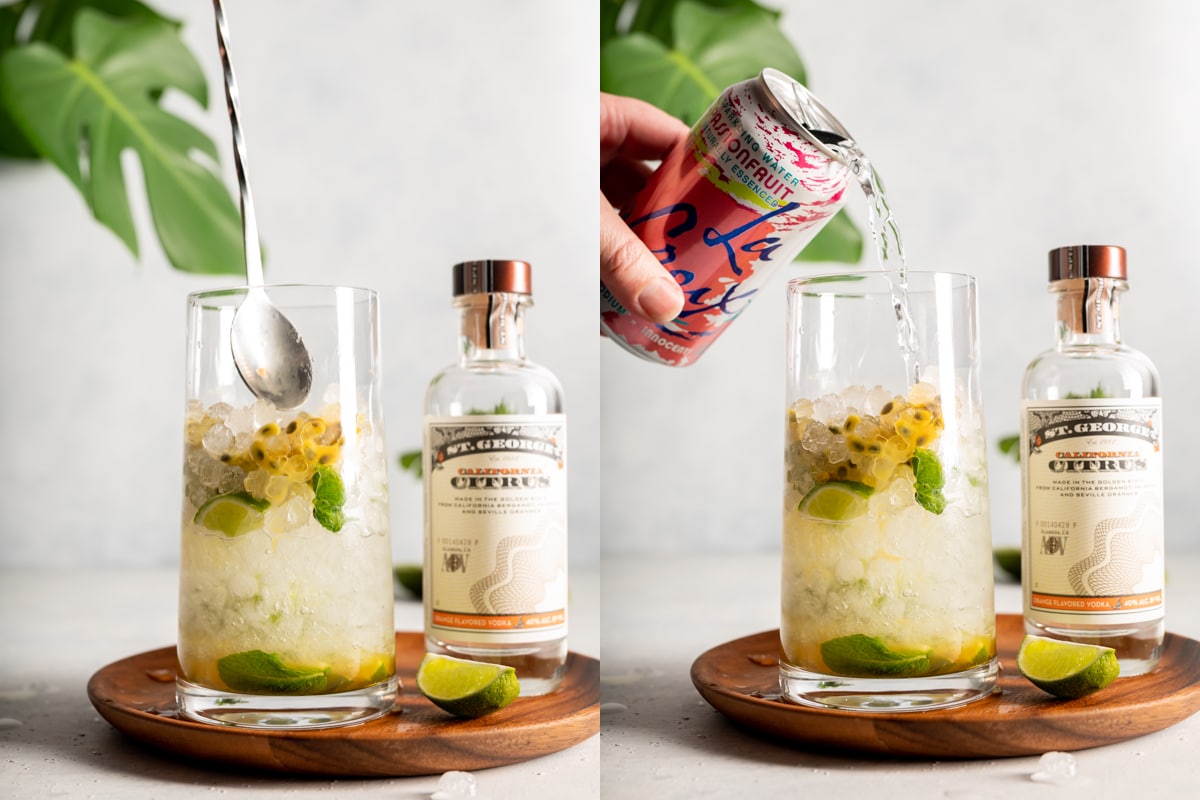 The citrus vodka is so smooth and flavorful, not a fake citrus flavor at all like many flavored spirits can be. It really highlights the flavor of the passionfruit too.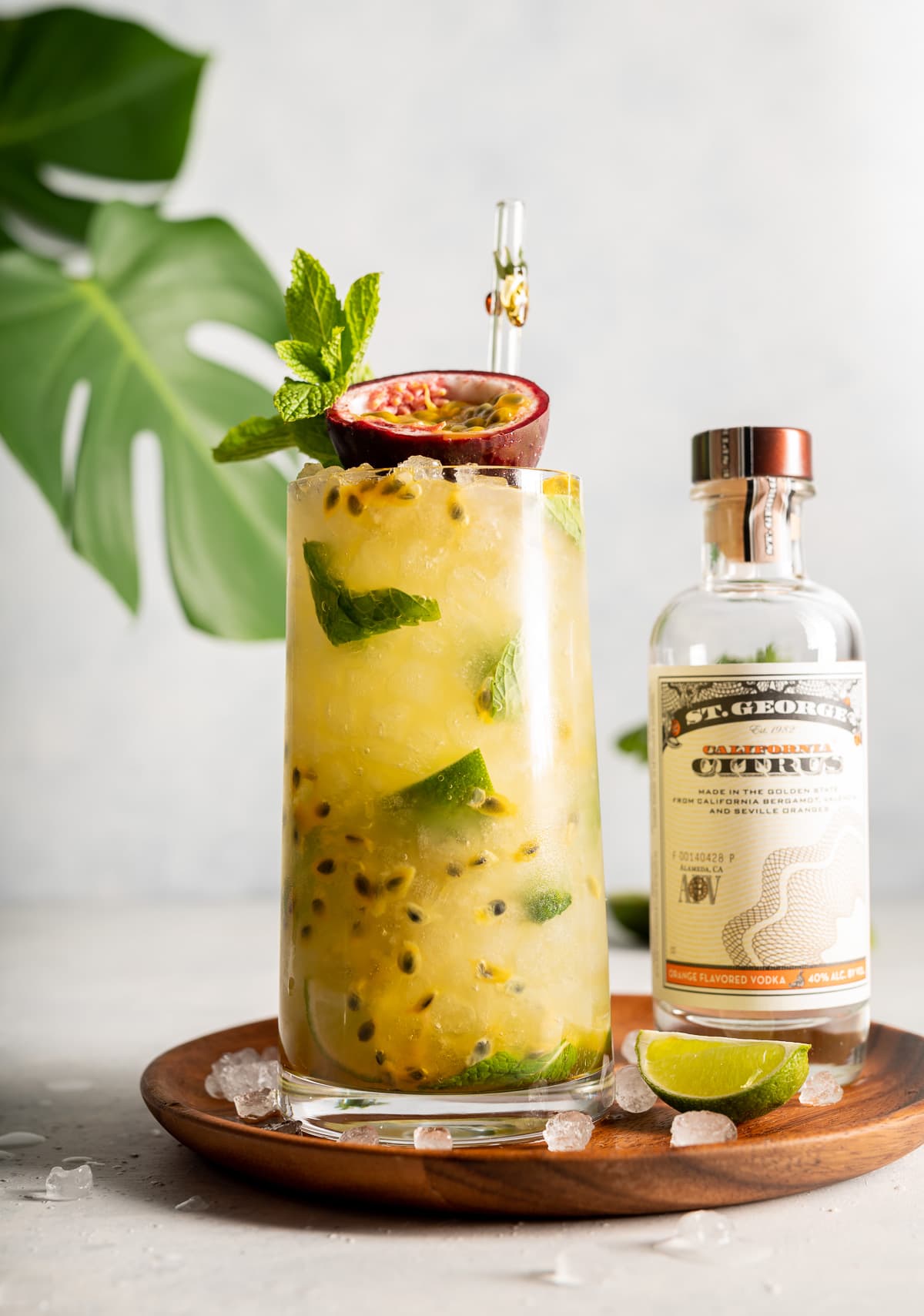 Passion fruit is liquid sunshine. They have been one of my favorite fruits since I was a little kid. The kind that Rincon Tropical sent me are purple skinned, known as Franklin, a variety passion fruit. Yellow is the kind grown in Hawaii, known as Liliko'i in the Hawaiian language, and many other tropical climates.
They are also known as Granadilla ( There are sweet and giant granadilla), Maracujá in Portugese and Maracuyá in Spanish. They are very popular in New Zealand and Australian cuisines too.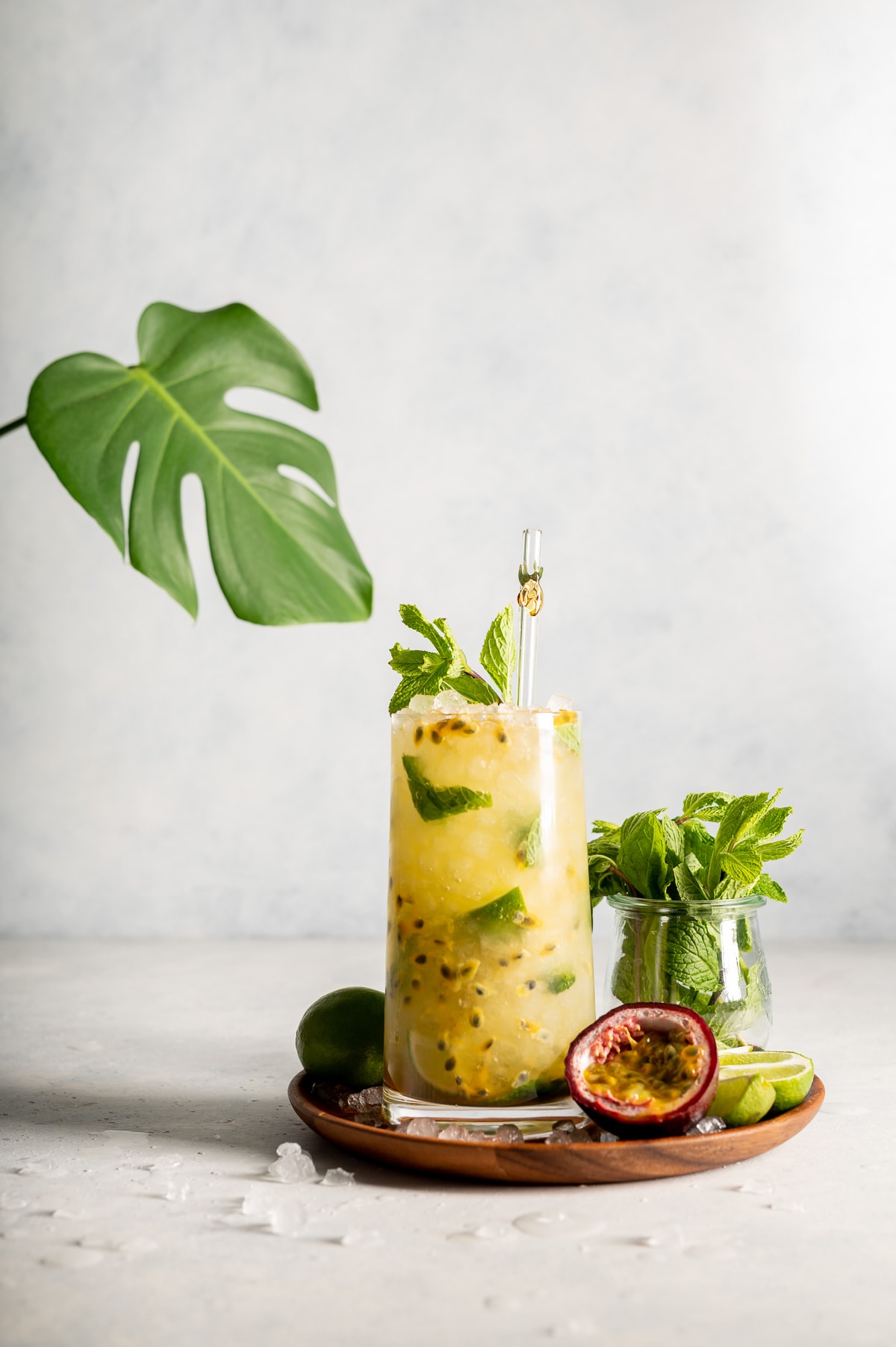 The sweet, tart juice is perfect for so many recipe applications from baked goods, sauces and marinades, salad dressings, cocktails and more. I love using them in a variety of ways as well as just eating them as soon as I cut one open. The seeds are edible, but you can strain them to separate the seeds from the pulp and juice.
A great trick for easily separating the seeds is to whiz in a blender on low for a few seconds. This separates the seeds from the pulp and juice without breaking apart the seeds. You can add in a second step of straining after blending to make sure you got all that good liquid gold without a single drop wasted.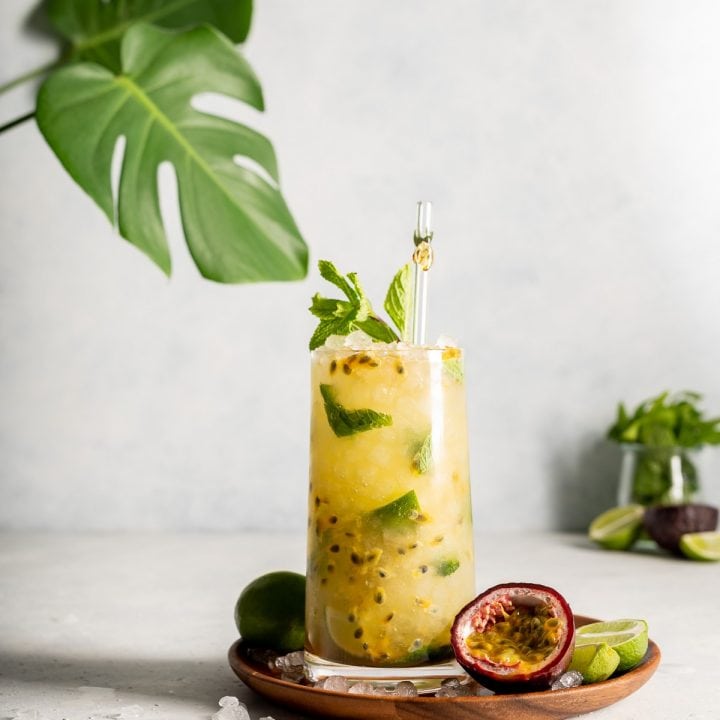 Citrus Passion Fruit Vodka Soda Cocktail
A tropical vodka soda with passion fruit and citrus vodka and a bit of fizz. Refreshing and delicious.
Ingredients
2

Persian limes

one cut into 8ths, the other juiced

small handful of fresh mint

2-3 Tbsp

1

ounce

passion fruit simple syrup

see notes

2.5

ounces

Citrus Vodka

I used St. George Spirits

1

whole fresh passion fruit

cut in half

few dashes citrus bitters

2-3

ounces

Passionfruit La Croix
Instructions
Add all pieces of the cut up lime, the lime juice and half the mint into a glass and muddle with a cocktail muddler.

Add in the passion fruit syrup and muddle again lightly. Fill the glass halfway with pebble ice and layer in some of the mint as you fill the glass.

Pour in the vodka, give it a stir then top with pulp and seeds from half a fresh passion fruit.

Top with the rest of the ice and pour in the soda water.

Garnish with fresh mint and the other half of the fresh passion fruit. Drink immediately.
Notes
For passion fruit simple syrup combine ½ cup passion fruit pulp- juice and seeds (6-8 passion fruits) ½ cup water and 1 cup sugar in a sauce pan and place over medium heat. Stir until sugar is dissolved. Bring to a simmer then remove from heat. Strain into an airtight container or jar. Let cool completely before using. Keep refrigerated. Should last 2-3 weeks kept well chilled.