Tender, melt-in-your-mouth passionfruit flavored cookies ( or biscuits) sandwiched with a rich vanilla bean buttercream and sweet-tart passionfruit curd. Easy to make and oh so delicious.
This page contains affiliate links. Affiliate links support Pineapple and Coconut at no additional cost to you. If you choose to make a purchase via these links, I earn a small commission to help keep this blog running and it is much appreciated. I am an Amazon and Adorama affiliate.
I made this super cute spring cookie box, because cookie boxes should be year round, not just for Christmas and or winter holiday time. The cookie box is a mix of spring flavors as well as some tropical treats. I wanted to include some macarons, but those still elude me. They are a tough cookie to make! I will keep practicing though. These passionfruit melting moments are much easier to make.
Jump to:
I have been wanting to make these passionfruit melting moments ever since I saw a recipe for melting moments in my New Zealand Edmonds baking book a friend sent to me. The recipe in the book is for a vanilla version and I wanted to jazz it up a bit and make it passionfruit flavored as well as have two fillings with a vanilla bean buttercream and a passionfruit curd.
What are melting moments?
Melting moments are an unleavened, egg-free cookie, or biscuit, that has a high volume of cornflour in it to give it that tender, melt in your mouth texture. It only has a few ingredients, they mix up quickly and have a signature look from indenting the tops with a fork before baking.
They most commonly are vanilla flavored, both the cookie and filling, but there are many flavor varieties such as these passionfruit ones. Also known as butter cookies or cornstarch cookies, they have both Australian and New Zealand origins.
Ingredients needed:
Butter - you can use unsalted or salted. If you use unsalted add a tiny pinch of Kosher salt to the recipe.
Flour - All purpose works here. I upped the flour amount just a little bit to keep the consistency of the dough the same because of the addition of liquid from the passionfruit juice.
Corn flour - also known as corn starch in this application. This makes the cookie texture super tender.
Confectioners sugar - AKA icing or powdered sugar. This helps lend to the extra tender melt-in-your-mouth texture.
Passionfruit juice - from a few fresh passionfruits. Adds a nice tropical tang to the cookies.
Vanilla bean buttercream - a quick and simple buttercream using vanilla bean paste.
Passionfruit Curd - You can use store bought or a homemade recipe
Pro Tip:
Make the passionfruit curd a day ahead of making these cookies so they are ready to assemble once the cookies are baked
After filling and sandwiching the cookies set in the freezer on a tray before putting in a freezer safe container with a lid. The buttercream and curd will set up nicely and not ooze all over once frozen.
Weighing ingredients Vs using cups:
I use my food scale and weigh out ingredients in grams because this is the most accurate way to get the best quality baked goods. Cups aren't accurate because not only are all cups not the same the sizes vary from brand to brand as well as from different countries. I have done tests with different brands of measuring cups and they all came out with different weights after I did the spoon and level as well as scoop method and then weighed in grams.
Baking is a science and science needs accuracy. Weighing is accurate and precise. Not to mention a lot easier. Another issue with cups is that I have no control over how people use measuring cups to measure dry ingredients especially flour. You could pack in way too much which would result in a sub-par baked good. Too much flour could throw everything off. Same with not enough. Not to mention also some ingredients are difficult to measure in cups such as nuts, dried fruit, chocolate etc. This is why weighing in grams is the most accurate.
I also use grams for most liquid measure since 100 grams equals 100 ml of water. Smaller amounts of items measured in teaspoons I usually leave as teaspoons, tablespoons are sometimes listed in grams as well but for the most part the different tablespoons I have used have all resulted in the same amount. Aside from cute, decorative ceramic tablespoons and teaspoons are never accurate. Those are better as decoration than for being used for baking.
Let's make some cookies:
The cookie dough is really easy to make - you can mix it together in either a stand mixer or a large mixing bowl with an electric hand mixer. Sift the powdered sugar to make sure there are no lumps - for both the cookie dough recipe as well as for the buttercream recipe.
The dough is soft and only slightly sticky and easy to roll out, but you can choose to chill for a little bit to make sure it doesn't stick at all when rolling out.
I weigh out each piece of dough to 16 grams before rolling into a ball. This is about two teaspoons of dough. I have made these bigger and they are great on their own made with a tablespoon size of dough ( around 30 grams) but those are too big for sandwich cookies.
I dip the fork in flour before pressing into the cookie dough balls. You only press the fork down about halfway not all the way through the dough.
The cookies only bake for 10-12 minutes until just set, you don't want them to bake more than that or they will be very tough.
Cool the cookies completely before filling. Hot cookies would only cause the buttercream to melt. These cookies are really good as is, especially with the passionfruit juice flavoring them, but they are extra good filled and made into sandwich cookies.
Making the cookies into sandwiches:
I fill a pastry bag fitted with a size 12 open star piping tip with half of the buttercream. You can use any shape tip you like. I pipe a circle of the buttercream around the edge of the cookie leaving a well for the passionfruit curd. I only fill the bag halfway so I don't heat it all up with my hands at once and so I don't overfill the bag either.
You could use just the buttercream and spread it on with a small spatula and omit the curd, but these are so much better with a stronger passionfruit flavor with the curd. It is an extra step but makes these cookies so much more worth it with both the vanilla bean buttercream and the passionfruit curd.
Storing the cookies:
Since I freeze these as soon as they are filled and sandwiched, I will make them in batches on a tray that I pop into my freezer to set the cookies before transferring to a freezer safe container with a lid.
These cookies are best stored chilled to keep the buttercream and curd chilled. Keep in the refrigerator or freezer up to three months.
Why use fresh passionfruit?
Fresh passionfruit will give you the strongest passionfruit flavor. Most concentrates, purees or juices are either watered down, muted in flavor or have added juices, water and sugars. Fresh passionfruit is sweet-tart and has that strong tropical flavor that you can only get from a fresh fruit. This is important especially when added to a baked good to keep the flavor from becoming muted in the final product.
Passionfruit curd recipe note:
For this recipe I made a half a batch of my passionfruit curd recipe since the original batch makes a lot more than needed for these cookies. I still ended up with extra which is fine with me since it goes great over ice cream, waffles, yogurt etc. You can use store bought curd if you like.
Are these gluten free?
No. I use regular all purpose flour. You can substitute gluten free flour, be warned I haven't tested them with GF flour so I don't know how they will taste or what the texture will be like.
Can I make these ahead of time?
Yes. You can make the cookies and keep them frozen before sandwiching. You can also make the buttercream and curd and freeze them. Thaw in refrigerator before using both the curd and buttercream. Remix the buttercream to get it back to a fluffy texture.
How many cookies does this recipe make?
Measuring out the dough to 16 grams each ball, I got 50 cookies for 25 sandwich cookies.
What is the difference between melting moments and yoyos?
Yoyos are another popular Australian/New Zealand butter cookie that has the same fork indents made before baking. Yoyos contain custard powder while melting moments do not.
And now the easy Passionfruit Melting Moments recipe: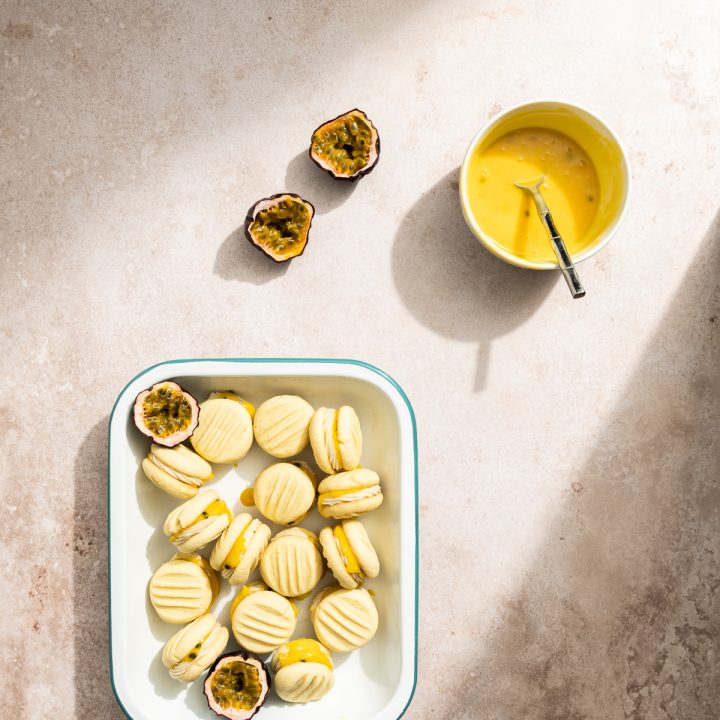 Passionfruit Melting Moments with Vanilla Buttercream and Passionfruit Curd
Tender, melt-in-your-mouth passionfruit flavored cookies ( or biscuits) sandwiched with a rich vanilla bean buttercream and sweet-tart passionfruit curd. Easy to make and oh so delicious.
Ingredients
For the cookies:
220

g

butter

soft

100

g

powdered sugar

sifted

30

ml

fresh passionfruit juice

1

teaspoon

vanilla extract

250

g

all purpose flour

75

g

corn starch

¼

teaspoon

baking powder

¼

teaspoon

Kosher salt

only if you use unsalted butter
For the vanilla bean buttercream:
225

g

powdered sugar

sifted

75

g

butter

soft

1

tablespoon

vanilla bean paste

Pinch

kosher salt

if using unsalted butter

2-3

tablespoons

heavy cream or milk
Filling:
Passionfruit curd

homemade or store-bought. See my recipe for homemade - linked in post
Instructions
Preheat oven to 350 Deg F. You can wait to do this step if you chill the dough first. Prepare baking pans with parchment paper. 

Cream butter and sugar together in either a large mixing bowl with a hand mixer or using a stand mixer. Add in the passionfruit juice and vanilla extract and mix again until well combined. Sift together the flour, corn starch and salt then add this to the butter mixture and mix until fully incorporated. The dough will be soft and just barely sticky. You can either shape the cookies at this point or chill for half an hour or so. They won't spread out if not chilled, but I find chilling just a little bit helps them be less sticky when rolling and pressing. 

Make the buttercream next

In either a large mixing bowl or using a stand mixer, cream together the butter and powdered sugar. Add in the vanilla bean paste and salt if using unsalted butter and mix well until very smooth. Add in heavy cream or milk a tablespoon at a time until you reach the consistency you like. It should be stiff but not too stiff you can't pipe it onto the cookies. Prepare a piping bag with a #12 sized piping tip - either round or open star, and fill with the buttercream. Tie the top with a rubber band or piping bag clip and set aside until ready to use. 
To make the cookies:
Roll out spoonfuls about 16 grams each - about two teaspoonful, and roll into a ball. Place a few inches apart on a cookie sheet lined with parchment paper. Using a fork, dip the underside in a little flour then lightly indent into the cooking, pressing it about halfway down the dough, repeat with the rest of the cookie dough balls. 

Bake the cookies for 10-12 minutes, you don't want to overtake them and make them too golden brown or else they will be too firm. These will be a pale colored cookie once baked.

Once baked, let cool for a few minutes on the baking sheet then transfer to a wire cooling rack to cool completely. 

When ready to assemble, pipe a circle of buttercream around the bottom of one cookie, spoon about a teaspoon of the curd into the middle then gently place the other cookie on top to make a cookie sandwich. 

Set the cookie sandwiches on a tray and freeze until set. Transfer to an airtight container and keep chilled, either refrigerated or frozen. Thaw slightly before eating. 
Notes
If it's your first time making this recipe then make sure you read all of the information in the main post as it includes lots of additional tips, as well as the answers to some common questions.
If you have any further questions then do let me know in the comments and or email me

[email protected]

and I'll do my best to help.
If you choose to make substitutions to the recipe that I have not tested yet please do so at your own risk. I cannot guarantee the same results if you change a lot of the ingredients or method. However, if any of your changes are successful I would love to hear about it and will add to my recipe notes for other readers to try as well.