German Pfeffernüsse Cookies. Also known as German spice cookies. If I had to pick one favorite Christmas cookie of all the cookies I make and love, this would be it.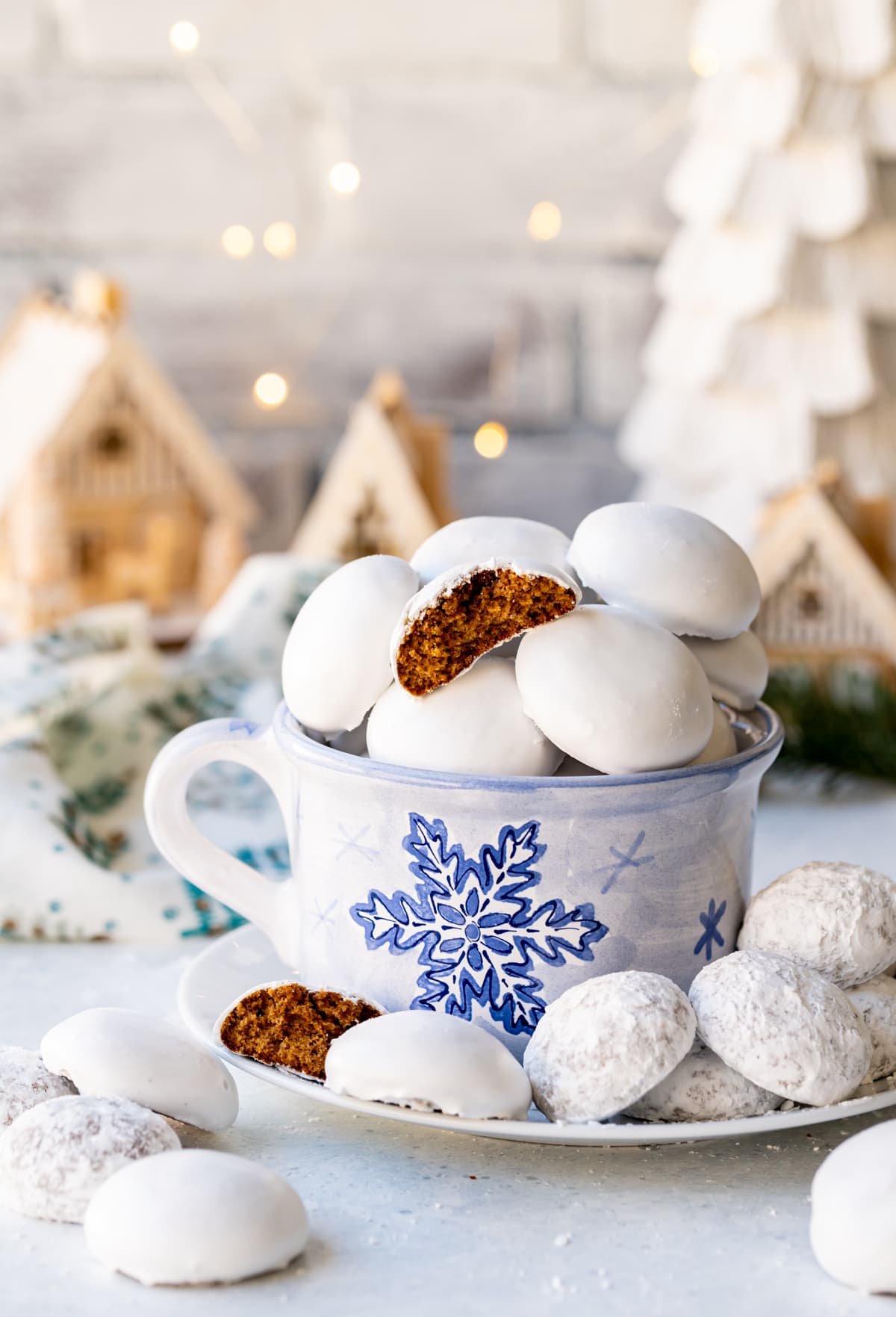 I adore Pfeffernüsse Which translates to "pepper nuts" in German. These have a nice kick of pepper along wither other classic gingerbread spices. These are very similar to gingerbread, with a lot of similar spices and ingredients, however classic gingerbread has more molasses, Pfeffernüsse has more honey. And pepper.
I have had these cookies on my blog since 2012 and they were long overdue for new photos. I also altered the recipe just a little and added in the option to dip in icing.
Pfeffernüsse are either rolled in powdered sugar or covered in a glaze that dries hard. Not too hard you can eat it, the glaze definitely melts in your mouth, but I am sure you have seen bags of iced Pfeffernüsse cookies in stores before around the holidays. I love them both ways and for this recipe I decided to go with rolling half the recipe in powdered sugar and half dipped in icing. I made at thin royal icing for these.
One thing I love about making these cookies that because they don't spread much when baked, I can load up my cookie trays and bake a lot at once. I weigh out the dough to ½ ounce (15-16gram) sized pieces , about a tablespoon size, and roll them as round as I can. They bake for 8 minutes at 350 Deg F ( 177 Deg C).
The ones that are rolled in powdered sugar get rolled after cooling for only a minute or two after so the sugar will stick. Then rolled again once cool.
Don't worry about the cracks in the cookies. It gets covered up with the sugar and the icing.
For the other half I make a small batch of royal icing with just a touch of honey and lemon juice in it. Thin enough with water to be able to dunk the cookies in, or alternatively you can spoon the icing over them. I like to dunk.
Let the excess icing pour off, scrap the excess from the underside off on the side of the bowl and place on a wire rack set over a baking sheet. These will stick a little to the wire rack so I try to move them a little when they are getting closer to drying.
My trick for drying these faster is once all the cookies are dipped in the icing, I set the trays in my oven ( cool, not hot at all) and prop the door open so the fan will run. I will leave them like this overnight to fully dry. If any are stuck to the tray, I just wiggle loose with a knife slid carefully under them. The bottoms wont has as much icing. That is ok.
You can spread a little icing on the bottoms if you like and then dry again with the bottoms up. I would just place these on a piece of wax paper on a tray to dry this way so the wire rack doesn't make marks on the tops.
Tips for making perfect German Pfeffernüsse cookies everytime:
These cookies have a lot of spices in them, some you only use a tiny bit of. If you choose to omit any, they won't have the classic Pfeffernüsse flavor but will still be good.
You can use German gingerbread spice mix in place of measuring out each individual spice if you like. Many online baking shops and well stocked international markets have it
Follow the steps of the

recipe

as is. These don't start like a lot of cookies with creaming butter and sugars first. The butter, sugars, honey and molasses get melted together in a pan first.
When measuring out the honey and molasses, one trick I use is to rub a teeny bit of butter inside the measuring spoons or cups. This way none of the honey or molasses gets stuck.
Chill chill chill. This dough gets better the longer it sits. Minimum of two days in the fridge. I divide the dough into two sections, its quite soft at first and wrap in plastic wrap then put in a resealable bag. Pop in the fridge for a few days. All those flavors come together the longer it sits. A few hours won't do it. And the dough firms up long enough to pull pieces off and roll them.
You can roll them all in powdered sugar, cover them all in icing or do half and half like I did. Up to you.
My trick for drying the icing is to set the trays of freshly iced cookies in my oven (off and cool) and prop the door open a little with a towel. The fan runs and dries the cookies. Another trick from a friend of mine who makes gorgeous sugar cookies all year long is to set in a food dehydrator at 95 Deg F for 5 minutes.
These cookies taste best a few days after baking. They are soft but dryer cookie, that almost taste borderline stale, but they aren't. They are just so good. And great with coffee or tea.
"Recipe"
German Pfeffernüsse Cookies ( German Spice Cookies)
Classic German Christmas cookies. Pfeffernüsse cookies. A soft, spice cookie with hints of honey, molasses and pepper rolled in powdered sugar or dipped in icing.
Ingredients
2 ¼

cups

all-purpose flour

10 ⅛ oz/290g

¼

c

blanched almond flour

1 oz/30g

1

teaspoon

ground cinnamon

¾

teaspoon

ground white pepper

½

teaspoon

ground allspice

½

teaspoon

freshly ground nutmeg

½

teaspoon

ginger

¼

teaspoon

ground cloves

¼

teaspoon

ground cardamom

¼

teaspoon

ground star anise

¼

teaspoon

ground mace

¼

teaspoon

baking soda

½

cup

1 stick unsalted butter, room temperature (4 oz/113g)

½

cup

firmly packed light-brown sugar

4 oz/115g

¼

cup

honey

85 gl

2

tablespoon

unsulfured molasses

35g

2

tablespoon

heavy cream

1

large egg

1

teaspoon

pure vanilla extract

1

tablespoon

lemon zest
For the royal icing
2

pasteurized egg whites

or 1 tablespoon meringue powder

3

teaspoon

lemon juice

2

teaspoon

honey

2

c

powdered sugar

3

tablespoon

hot water
Instructions
In a stand mixer bowl, combine flour, spices and baking soda. 

Combine butter, brown sugar, honey and molasses in a saucepan over medium heat. Stir until melted. Remove from heat and stir in cream well.  Let cool for 5 minutes then mix in egg, vanilla and lemon zest.

With mixer on low speed, pour in butter mixture and mix until just combined. The dough will be sticky. Remove half the dough and place on plastic wrap, form a disk then wrap well, repeat with other half of dough. Chill for up to two days. 

When ready to bake, heat oven to 350 Deg F. Line two baking sheets with parchment paper. Pour powdered sugar in a bowl for half the cookies.

Scoop out dough in scant tablespoon amounts(½ oz/15-16g each); roll into. Arrange balls 1 ½ inches apart on prepared baking sheets.

Bake until cookies are golden and firm to the touch with slight cracking, about 8-10 minutes. Cool cookies on baking sheets about 5 minutes. Roll in powdered sugar then cool on wire racks. Roll again when completely cooled.  For the cookies that will be dipped in icing, transfer to wire racks to cool completely before icing.

For the royal icing - whip the egg whites with lemon juice and beat until frothy . Add in the powdered sugar a little at a time until fully incorporated. Then mix again until stiff and glossy. 7-8 minutes.  This will be a thick icing. Add in the honey and mix another minute. Thin with hot water one teaspoon at a time until it is pouring consistency but still thick. There will be air bubbles in the icing so transfer to a bowl and place a damp paper towel over it then cover with a lid. Let sit for a bit to get the bubbles out.

Take the half of the cookies and dip in the icing using a fork. Fully coat the cookies then scrape the icing off the fork on the edge of the bowl. Place back on the wire rack set over a baking sheet until set. You can set these in your oven ( not hot) with the fan on to speed up the drying process.