Piña Colada cookies bring tropical flavors to your cookie trays and exchanges this holiday season.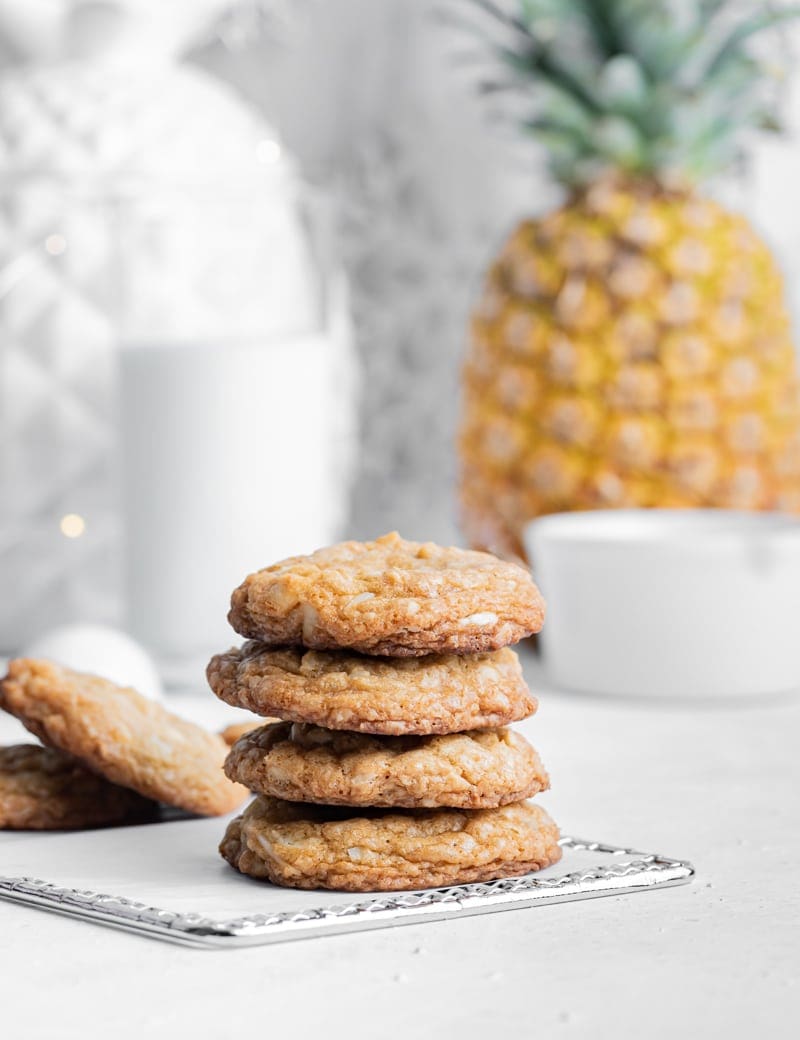 I know pineapples and coconuts aren't the first flavors people think of when it comes to holiday baking. To me, they are year round flavors, not just summertime. I had to add these to my holiday cookie list.
I actually made these piña colada cookies last year and never got around to blogging them so I tweaked the recipe a little and remade and photographed them for you all this year.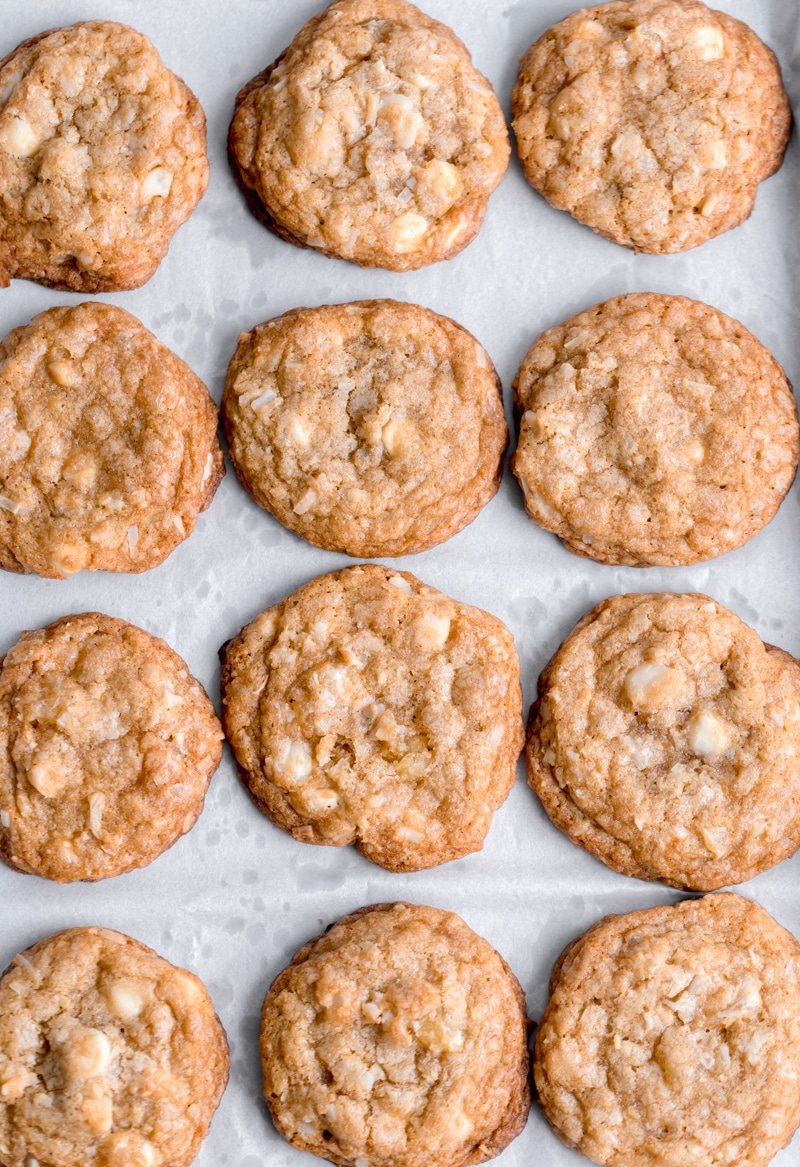 There are so many fancy Christmas cookies out there in the interwebs and in recipes passed down from generation to generation, that it is great to have a great simple base recipe to go off of for many cookies.
Especially when in a hurry and need a cookie recipe quick for that last minute holiday party, kids need treats at school, or you almost forgot to make cookies for Santa.
This is what is so great about these piña colada cookies; the base recipe starts out like chocolate chip cookies.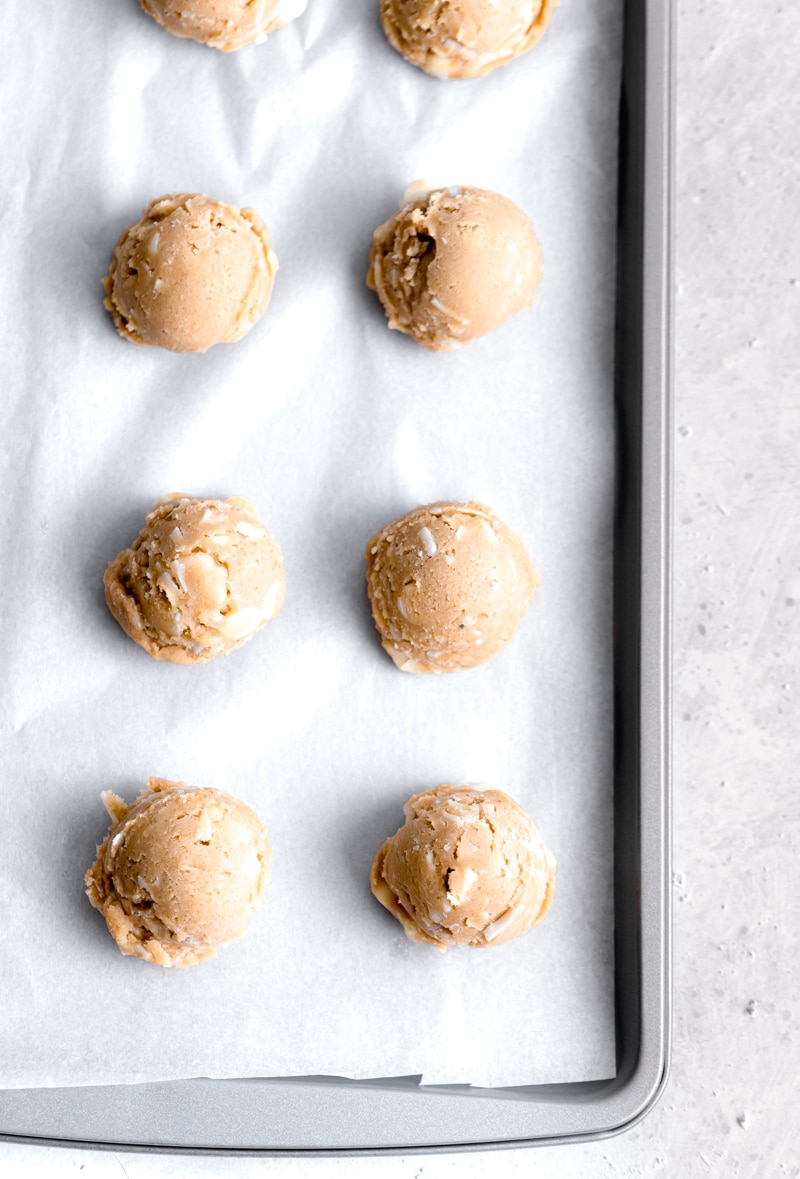 There is all purpose flour, butter, white and brown sugars, salt, eggs, vanilla. Those are the best ingredients to a start to really any recipe. Then from there you can add in anything you want from different spices, all kinds of chocolate chunks or chips, dried fruit, nuts etc. The possibilities really are endless.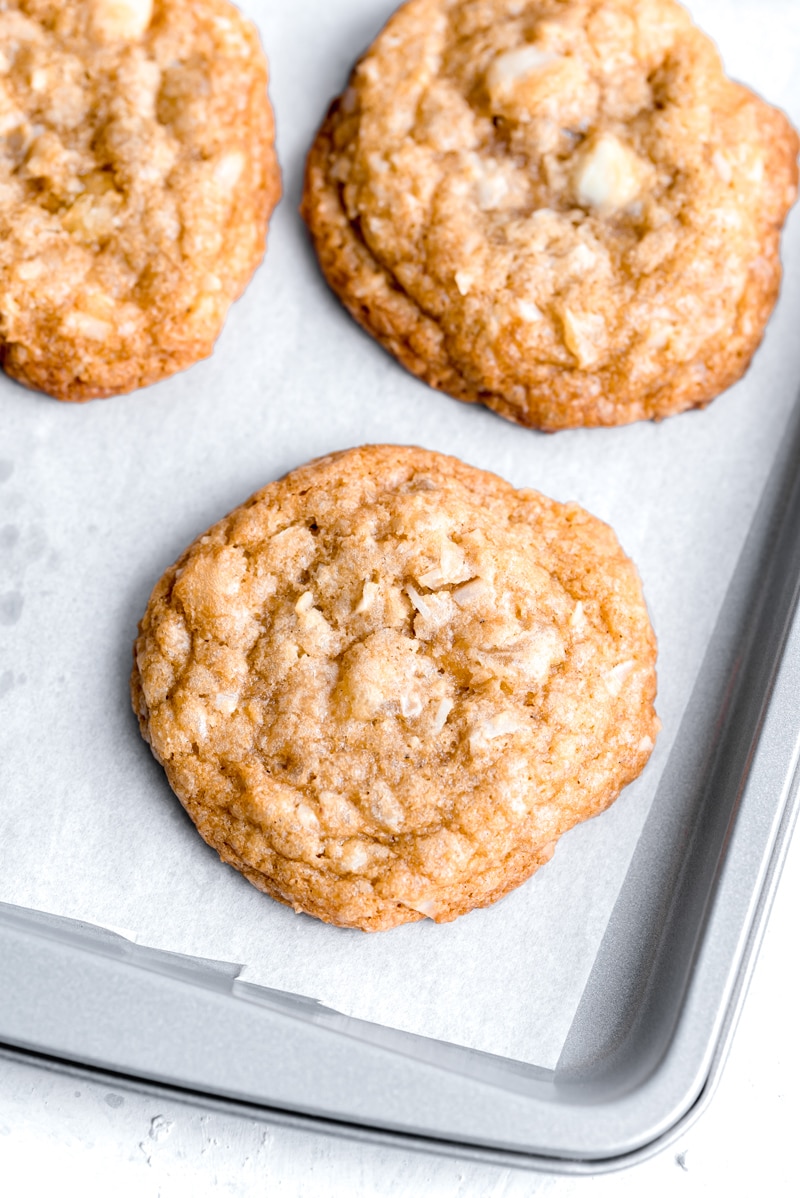 For all my drop cookie recipes my go-to cookie scoop size is medium or #40. It is a one and a half tablespoon size scoop and the cookies almost always come out uniform in size and shape and around 3". The perfect cookie size.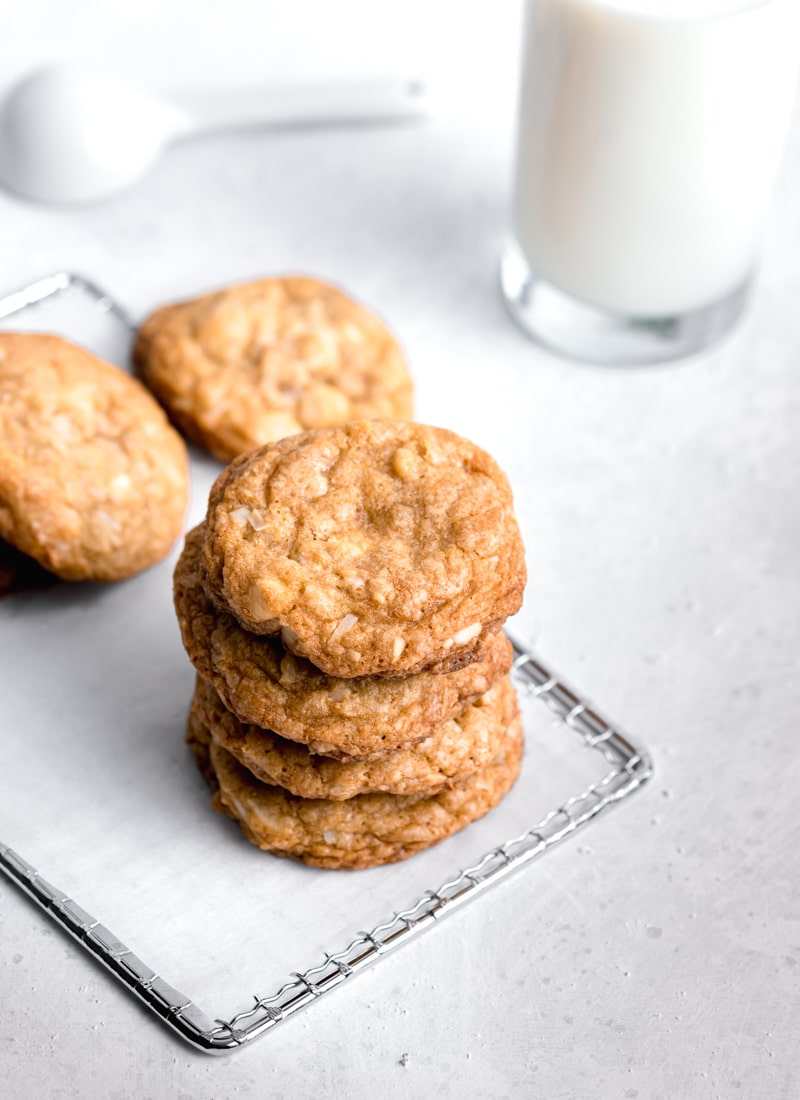 For these piña colada cookies, I added in some of my fave rum, Koloa gold rum along with vanilla and a little coconut cream. They lend to the pina colada flavor along with the diced pineapple and coconut flakes.
I use unsweetened flakes because I find sweetened to be way too sweet. And because these are cookies and not the actual cocktail, I added in some roasted, salted macadamia nuts and creamy white chocolate chips. These cookies have it all.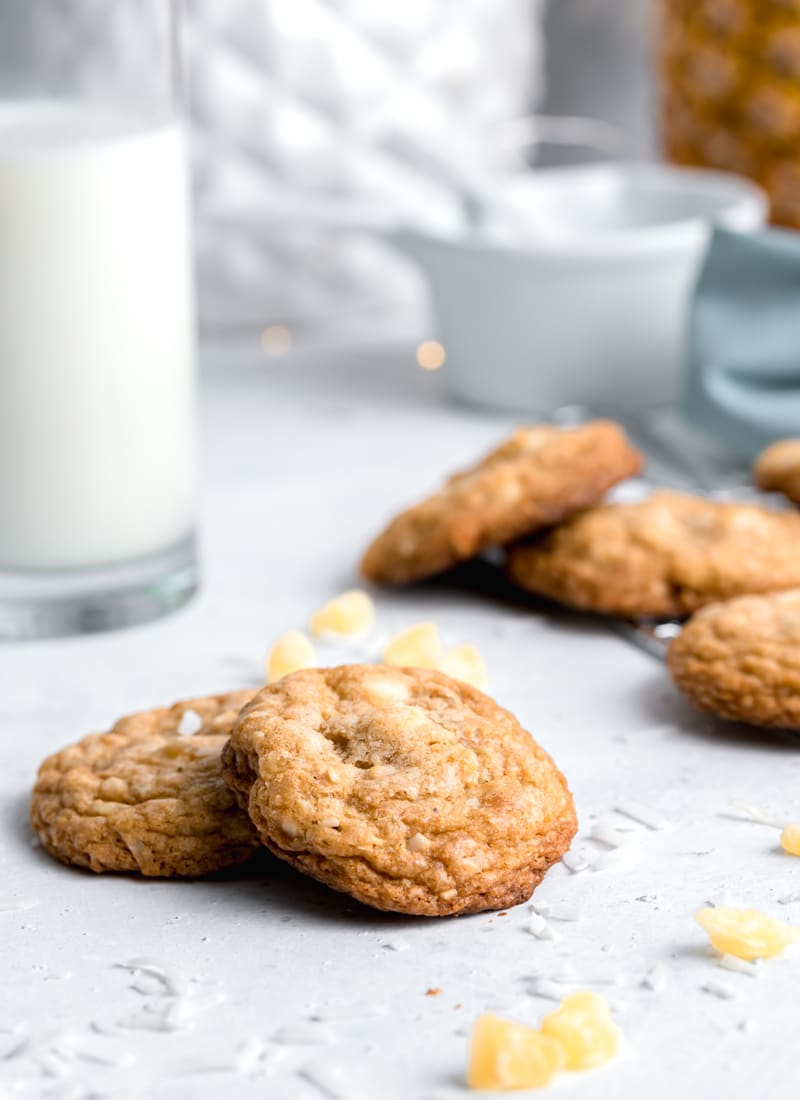 Another great thing about these cookies is they freeze well. You can freeze the dough in balls and keep in an airtight container or bag, take a few out and bake straight from the freezer when you only want a few cookies. Or make them a month or so ahead of time and when it's time for holiday baking all you need to do is bake! Or you can bake ahead of time and freeze. I am all for saving as much time as possible during the holidays.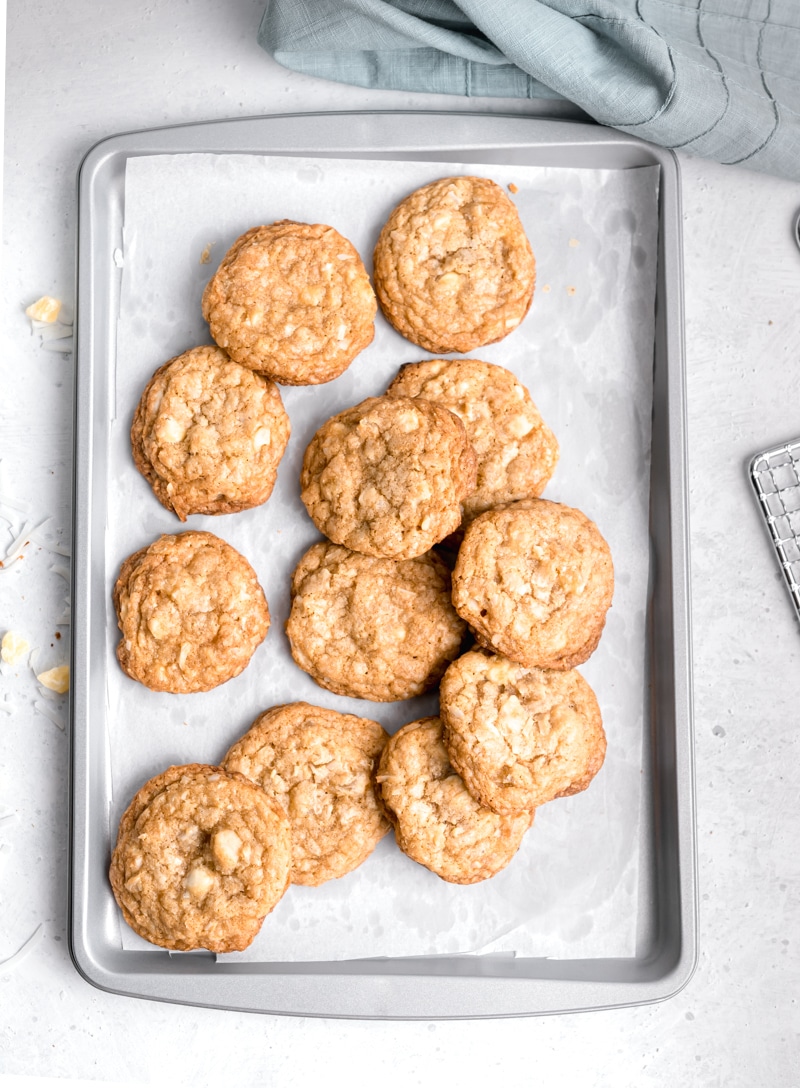 A few notes about the recipe:
Why use cornstarch in cookies? These cookies have a little bit of cornstarch, just two teaspoons, which helps keep them soft, more tender. I love a cookie with crisp edges and a soft middle and cornstarch helps achieve that effect.
Do I have to add in coconut flakes? No. You can make these how you like. If you aren't a fan of coconut flakes but still like coconut, sub some of the vanilla extract with coconut.
Not a fan of nuts? Go ahead and leave out the macadamia nuts.
For the pineapple I like using the sweetened candied pineapple, I love the sweet, tropical chewy flavor and texture they lend to the cookies. You can use unsweetened if you would like.
Can I use fresh pineapple in cookies? I haven't tried using fresh pineapple in these cookies before. Fresh fruit tends to be watery and will change the texture and outcome of the cookies. If you do make these with fresh please let me know in the recipe comments.
"Recipe"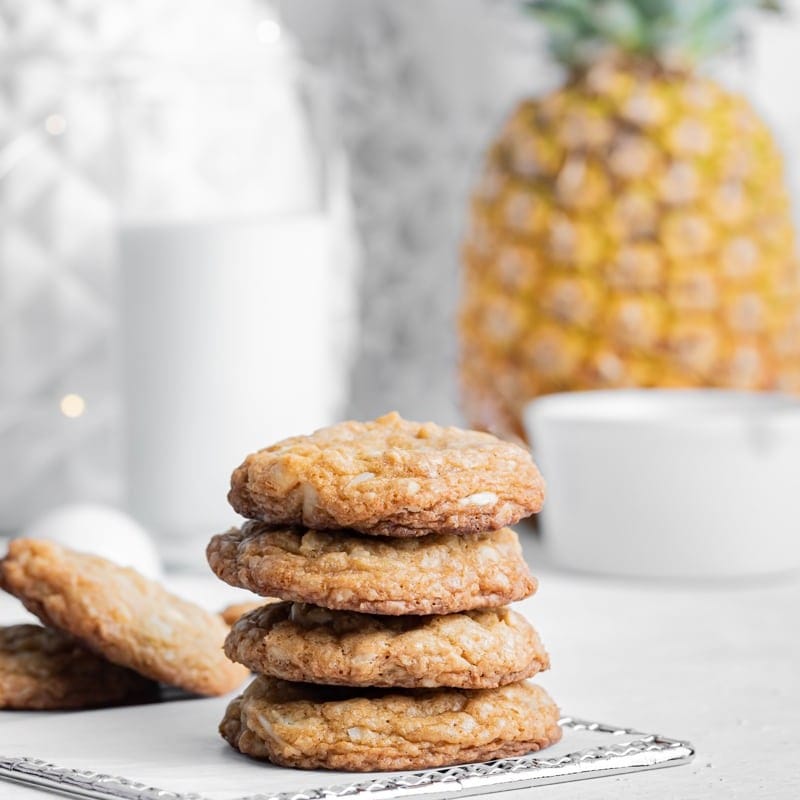 Piña Colada Cookies
Holiday cookies made tropical with candied pineapple, coconut flakes, roasted macadamia nuts, creamy white chocolate and of course, rum!
Ingredients
2 ½

cups

all purpose flour

11.25 ounces

2

teaspoon

cornstarch

1

teaspoon

baking soda

½

teaspoon

kosher salt

¼

teaspoon

nutmeg

2

sticks butter

8 ounces, room temperature

1

cup

light brown sugar

8 ounces

½

cup

granulated sugar

3.75 ounces

2

large eggs

room temperature

1

teaspoon

vanilla extract

1 ½

tablespoon

gold rum

1

tablespoon

coconut cream
Add-ins
1

cup

white chocolate chips

⅔

cup

chopped roasted

salted macadamia nuts

⅔

c

candied pineapple

diced

⅔

cup

unsweetened coconut flakes
Instructions
Combine flour, corn starch, baking soda, nutmeg and salt in a bowl, whisk well and set aside

Cream together the butter and sugars until light and fluffy on medium high speed. 3-4 minutes. 

Add in eggs one at a time, mixing ell between each and scraping down sides of bowl when needed. 

Add in the vanilla, rum and coconut cream and mix again well

Slowly add in the flour mixture on low and mix until just combined. Fold in the chocolate chips, macadamia nuts, candied pineapple and coconut flakes. Chill dough for 2 hours up to overnight

When ready to bake heat oven to 350 Deg F. Prepare baking sheets with parchment paper. Using a medium size cookie scoop, scoop out  about 1 ½ tablespoon of dough and place on prepared baking sheet 2-3" apart. Bake for 10-12 minutes until edges are golden and the cookie is just set in the middle. 

Cool on pan for 5 minutes, transfer to wire cooling rack to cool completely. Store in an airtight container or resealable bag  at room temperature for a few days or in a freezer up to 3 months.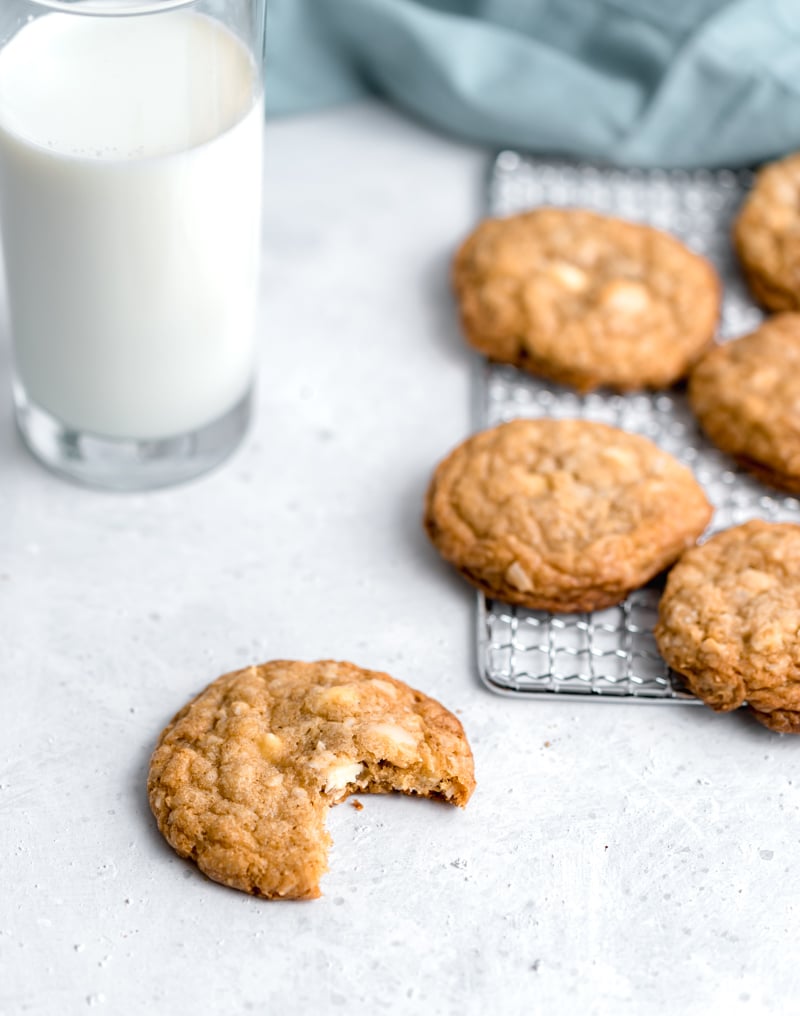 I know Santa would love to see these piña colada cookies left out for him on Christmas eve, don't forget the glass of milk to go with! Or a Mai Tai... One of these years we are going to spend our holiday in Hawaii. I would love to have a Hawaiian Christmas and these would be the perfect Hawaiian Christmas cookies.