This tropical pineapple avocado smoothie hits the spot in a two ways: Helps me get off to that healthy start at the beginning of the year and takes care of my cravings for all things tropical and summery.
I am a smoothie year round kind of person, not just in hot weather. Same as how I am a hot soup year round, ice coffee year round, ice cream year round... You get the idea. I am all for seasonal ingredients, but love recipes that can be for year round.
Mid winter the all things tropical craving hits hard though and that is where this pineapple avocado smoothie comes in to play.
These pineapple avocado smoothies are chock full of healthy ingredients, are non-dairy, and taste amazing. We love avocados in our house in every shape and form and we love how creamy they make smoothies.
What ingredients are in a pineapple avocado smoothie?
Pineapple - of course, you can use fresh or frozen
Avocado - ripe but not too ripe, too firm with take longer to blend and wont be a creamy
Banana - I keep a bag of peeled bananas in my freezer just for smoothies>
Ginger - I love using a little bit of fresh ginger for its health benefits as well as the zippy taste it adds.
Coconut milk - I use either from a carton such as So Delicious or Pacific or canned. Depends on what I have. If you go with the carton kind go with unsweetened.
Honey - I use just a touch of honey to sweeten. The pineapple and banana are already sweet but I like to add a little honey too. If you use less-ripe banana and pineapple you can add more sweetener to your liking.
One thing I love about smoothies is how customizable they are. I tend to just throw in whatever I have rather than follow a recipe, most of the time.
Other times I want to try new smoothie recipes. One tip I have for extra creamy, flavorful smoothies is to use frozen fruit. This way you can use less ice and still get that smooth, ice-cream like consistency.
I still add ice but not so much that it takes away the flavor. I find that too much ice makes the smoothies taste, well, watery.
A few notes before this tropical pineapple avocado smoothie recipe:
Do I have to use avocado? Well. No. But this smoothie is extra creamy because of the avocado and you get that boost of healthy fats from it. If you want to substitute the avocado I suggest adding a little more of the coconut milk or maybe adding in a favorite nut butter for those healthy fats. This is an avocado smoothie so if you don't like avocado this isn't the smoothie for you.
Frozen fruit is where it's at. You don't want to water down your smoothies with too much ice. I only use a half a cup.
Prepare your fruit ahead of time. I always keep a bag of banana halves in my freezer to use in smoothies.
Pineapple - you can either dice up a fresh one and freeze the chunks or buy frozen pineapple chunks. I have used both and both work the same. Depends on how much work you want to do ahead of time. Frozen means less ice can be used.
I keep bags of fruits in my freezer ready to grab and add to smoothies. You can even make up smoothie packs with all the ingredients in a freezer safe container. Just add the liquids and honey when blending.
Avocados are super easy to freeze. Check out this guide on

freezing avocados

. I don't usually freeze them for smoothies though.
Do I have to use fresh ginger? If fresh ginger isn't available or is a little too strong you can add in some ground ginger but the health benefits from fresh are better. The zing from the fresh ginger really brightens up the smoothie.
Can I add protein powder? Of course. Want to make this more of a meal, by all means add your protein powder of choice. I suggest sticking with a neutral flavor such as vanilla so it doesn't overpower the other flavors. Although chocolate would be good- I do love chocolate with pineapple and chocolate and avocado do go well together.
Vanilla extract has gotten expensive. Can I leave it out? You can!
Don't like honey? Use maple syrup.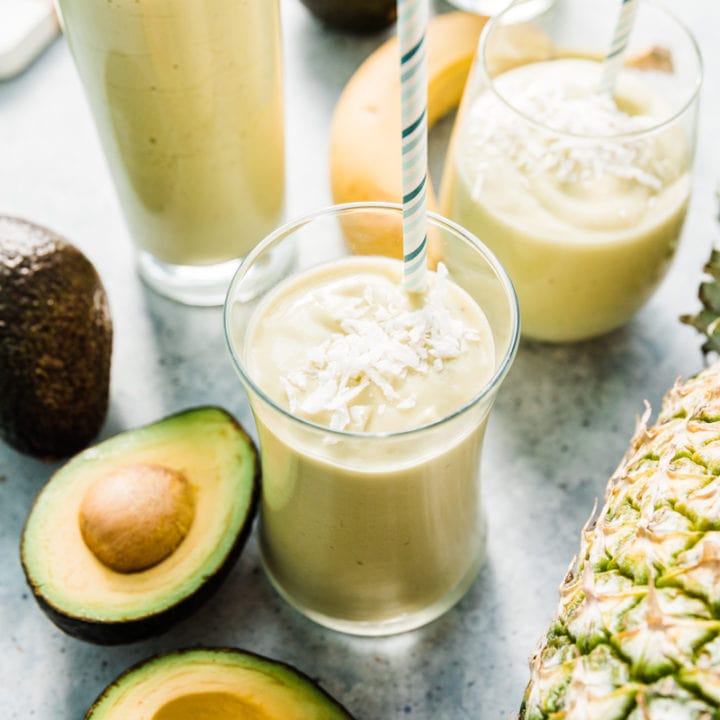 Tropical Pineapple Avocado Smoothie
A creamy tropical smoothie with pineapple and avocado. Non-dairy. Makes 4 smoothies.
Ingredients
2

bananas - peeled and frozen

cut in half

1

cup

pineapple - fresh or frozen

2

large avocados

peeled and pits removed, cut in half

1

teaspoon

freshly grated ginger

1

teaspoon

vanilla extract

optional

2-3

tablespoon

honey

½

C

Coconut Milk

if using full fat

½

C

coconut water

or full cup of coconut milk if using light or less fat

ice - per your liking. I used a half a cup.

vanilla protein powder

optional, serving size depends on brand used
Instructions
Combine all in a blender and blend until smooth. Pour into glasses, garnish with shredded unsweetened coconut. Serve. 
Notes
You can use all fresh fruit but you would have to add more ice to make it a frosty smoothie. This will make the smoothie have a less strong taste, it is already a pretty mellow taste as it is. I suggest frozen fruits, you can even freeze the peeled avocado for smoothies. 
You can add in protein powder for an extra boost of protein and nutrition. I suggest plain or vanilla to go with the flavors in the smoothie.