5 Spice Pineapple Jam Thumbprint Cookies. Buttery thumbprint cookies with a homemade 5 spice pineapple jam. Christmas, but make it tropical.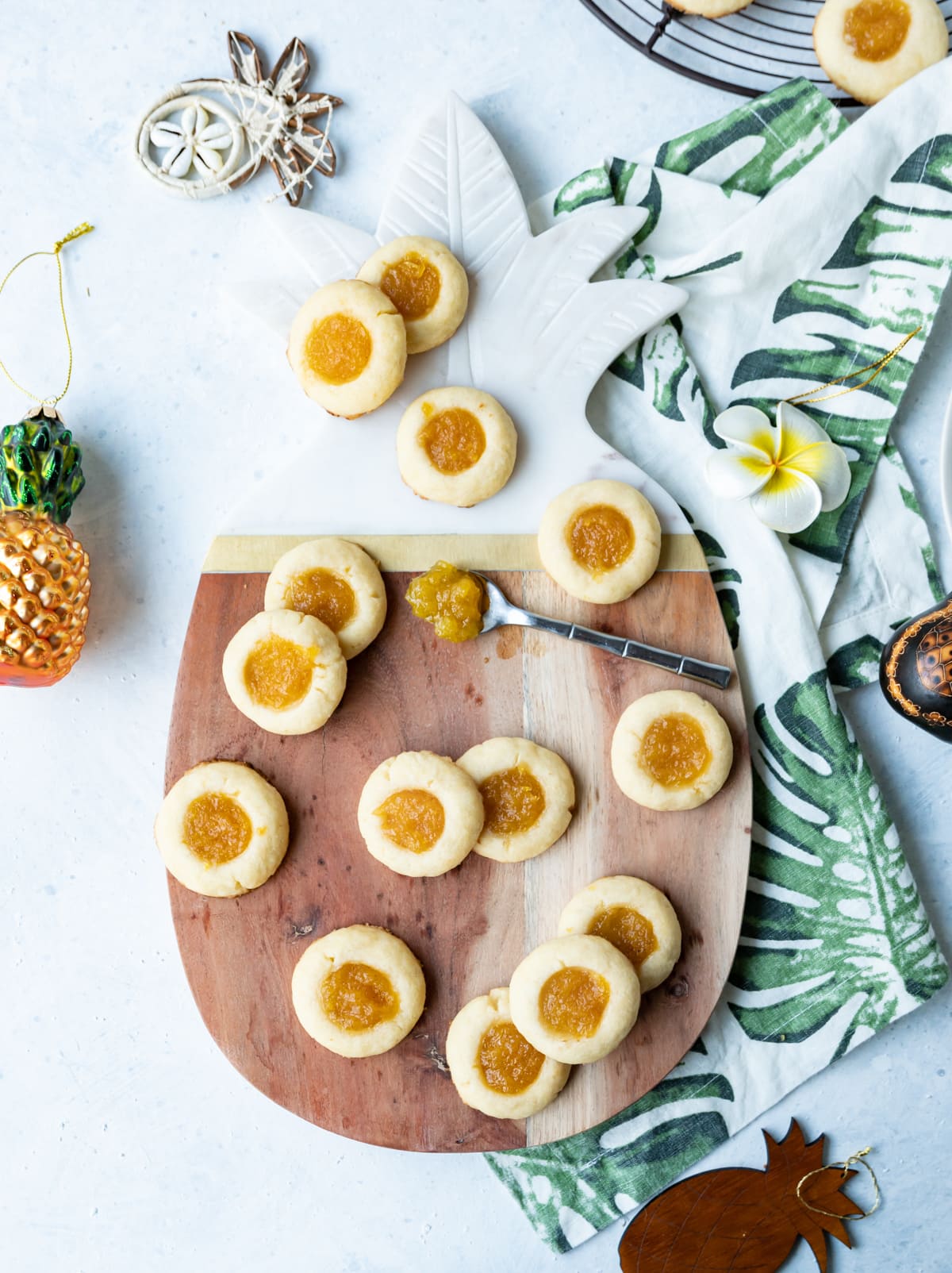 I think everyone has a good thumbprint cookie recipe they make every holiday season every year. I haven't made thumbprints in a few years myself, but I have seen so many floating around online this year. From jam to chocolate to caramel filled. There are a lot of amazing recipes.
I have been making this 5 spice pineapple jam off and on over the years just to have on toast and I knew I wanted to make thumbprint cookies with them this year.
Homemade 5 spice pineapple jam is a lot easier to make than you would think. It is only a few ingredients, fresh pineapple, sugar, lemon juice and 5 spice seasoning, rum is optional, and the rest is just time. Time cooking and time cooling. No need for pectin or pressure sealing jars.
Steps to making amazing 5 spice pineapple jam:
Start with 4 cups fresh pineapple. Peel, cut into quarters, cut off center core, then dice into one inch chunks. Place in a low saucepan. I use a saucier pan for jam. Once day I will have a fancy French copper jam pot.
Let the pineapple sit for 10 minutes with the sugar, lemon juice, and 5 spice seasoning and little water for a few min first before turning on the heat.
Bring to a boil then let simmer for one hour. There will be a lot of liquid and that is ok. Add in rum now if using. You can also add in vanilla extract if you like.
Transfer the pineapple chunks to a blender or food processor and add in some of the reserved liquid. Just enough for a thick jam consistency. Process or blend as smooth as you like. I still like seeing little bits of the pineapple. If you want you can add in a little more of the liquid now for a thinner jam. Strain and reserve the liquid to use in cocktails!
Transfer the jam to a jar or resealable container ( I like using a mason jar but a glass bowl with a lid works great too) and chill overnight. Once ready to use in cookies let sit out to come to room temperature first. The jam melts better with the cookies as they bake when it isn't totally cold.
Spread the remaining jam on toast at breakfast time. It is so good.
For the thumbprint cookies I use my food scale to measure out the dough so they are uniform in size. Well as close to uniform as I can get. I measure out ½ ounce portions (15-16 grams) then roll. I immediately indent with the back of a ½ teaspoon as seen above then fill with a scan teaspoon of jam.
If the cookie dough cracks a little when pressed you can smooth that back with your finger if you want. I don't mind a few cracked edges and a few tend to spread more than others no matter what I do. It is ok to have a little imperfection with these cookies.
How to make thumbprint cookies to come out perfect every time:
Weight out your ingredients so you don't end up using too much flour or sugar. Any slight error will cause the cookies to either be too dry or spread too much
Because there are only a few ingredients in these thumbprint cookies and no chilling is necessary you can have the dough made and cookies baking in just a few minutes
Cornstarch in the dough helps keep them soft and tender while also helping keep shape when baking
I went through a few trial and errors with these cookies to get the correct temperature and time. As well as what kind of baking sheet to use.
I found that 375 Deg F is the perfect temp as well as 9 minutes for baking. You don't want them turning golden, they will be over baked. These cookies are a pale color. But they are fully baked.
To get even color and shape, I baked these pineapple jam thumbprint cookies on a light colored aluminum baking tray with a smooth surface ( no ridges) and with parchment paper
I found that darker pans, pans with ridges and silicon bake mats either caused burning or spreading.
Because of the high butter content you don't want to chill the dough and you want to bake at a higher than usual temp for cookies so they set as they bake instead of the butter melting first then the cookies will spread
Cool on the baking sheets for only a minute then transfer to a wire cooling rack to cool completely
Optional - you can dust these with powdered sugar if you like
I truly love these cookies and the 5 spice pineapple jam I made to go with them. The recipe easily doubles for lots more cookies. The freeze well too.
"Recipe"
5 Spice Pineapple Jam Thumbprint Cookies
5 spice pineapple jam thumbprint cookies are soft, buttery bite sized cookies filled with the most amazing homemade pineapple jam ever. Easy to make, easy to eat a dozen in one sitting.
Ingredients
For the jam:
4

cups

diced pineapple ( 1 whole pineapple

peel and core removed, diced into 1 inch pieces

1 ½

c

granulated sugar

2

tablespoon

lemon juice

1 ½

teaspoon

5 spice seasoning

½

teaspoon

vanilla

1

teaspoon

pineapple rum

optional - could also use vanilla extract instead
For the cookies
1

cup

butter

8 oz/226g

⅔

cup

sugar

1

teaspoon

vanilla

1

egg yolk

2 ¼

c

flour

10 ¼oz/290g

1

tablespoon

cornstarch

½

teaspoon

salt
Instructions
Prep times are same for both cookies and jam, cooking time for jam is one hour, baking time for cookies is 9 minutes. The extra time is for chilling the jam overnight.
Make the jam a day before making the cookies:
Add all but rum to a saucepan, bring to a boil, lower heat to a simmer and simmer for 45 minutes. Strain all but 2 tablespoon of the excess liquid ( keep liquid for cocktail syrup) and place the pineapple plus 2 tablespoon liquid in a food processor or blender and blend until almost smooth. Can still be chunky. Transfer to an airtight jar and chill overnight to set. Bring to room temperature before using in the cookies.
For the Cookies:
Heat oven to 375 Deg F. Line baking sheets with parchment paper.

In a stand mixer, or large bowl and using a hand mixer, cream together the butter, sugar, vanilla and egg yolk until light and fluffy. Mix together the flour, cornstarch and salt. Add to the butter mixture and mix until combined. This is a soft dough. Don't over mix, since you will be rolling the dough into balls and don't want to make the cookies too tough. 

Roll the dough into 1" balls ( ½oz/15g). Indent the middle by ½ an inch with thumb or back of a ½ teaspoon. Fill with a scant teaspoon of the 5 spice pineapple jam. Work with one cookie at a time, you want to fill with jam as soon as you make the indent. Place cookies two inches apart on a parchment lined baking sheet. 

Bake at 375 on a flat light aluminum baking sheet with a piece of parchment paper on it for 8-10 minutes

Cool cookies on baking sheet for a few min then carefully transfer to wire cooling rack to cool completely.

Optional - you can dust with powdered sugar if you like. 
Notes
This recipe doubles easily for making lots of cookies. It also freezes well in a resealable bag.